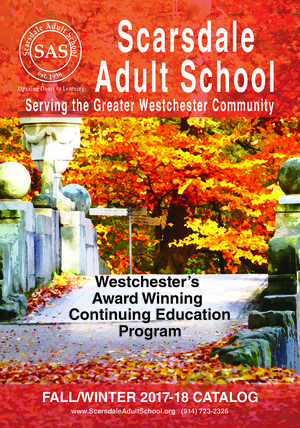 ---

Like us on Facebook and post to our page.
---
---
Peruse the course catalog and register for upcoming classes by visiting our secure website:
ScarsdaleAdultSchool.org
---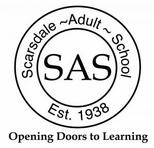 ---

Classes Starting in January at SAS
Please register now to secure your spot
on the class roster or the wait list!
Follow the link to view all classes in our catalog.
*asterisks denote classes added to catalog after printing
January 1-6
January 7-13
January 14-20
January 22-27
January 28-31
Announcements
Classes in red text above have been added to our online catalog but do not appear in the printed mailing from last fall. Registration is now open for all of the newly added courses, which fill on a first-come/first-served basis. Even more new classes will be starting later in January and throughout February, so please visit our website for a
full listing of winter session offerings
.

Please note the following additional changes to our catalog:



Italiano Conversazioni
(Course 5498) with Ettore Viazzo has changed venue and will be held at Scarsdale Public Library instead of Temple Israel New Rochelle, beginning Monday, January 8, 2018.



Beginner Spanish
(Course 5482), starting Wednesday, January 10, 2018, with Maria Salzinger has changed venue and will be held at Scarsdale Public Library instead of Temple Israel Center.



Watercolor Techniques: Batik Effect
(Course 5389), scheduled to begin Thursday, January 11, 2018, with Hope Friedland has shifted times by 15 minutes and will now run from 9:30 a.m. until 12 noon.
---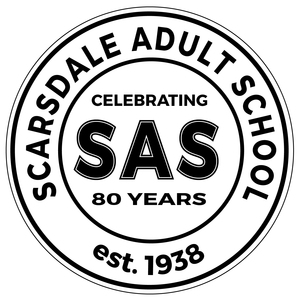 The Spring/Summer 2018 catalog will be mailed in mid January, but you do not have to wait for the mail to see our amazing new classes. On Friday, January 12, 2018, you may not only preview our next semester's offerings online but you may, as an e-newsletter reader, be among the first to register.

Mark the date on your calendar, have a terrific New Year's Eve and see you back in the classroom in 2018!