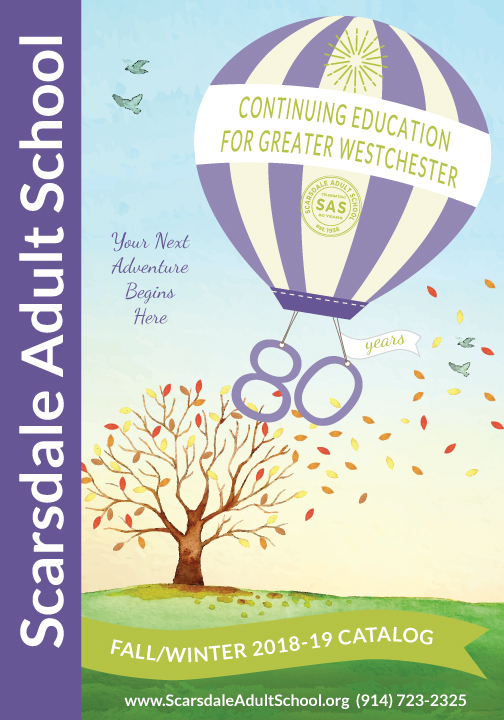 ---
In this Issue
---
Quick Links
---

Like us on Facebook and post to our page.
---
---
Peruse the course catalog and register for upcoming classes by visiting our secure website:
ScarsdaleAdultSchool.org
---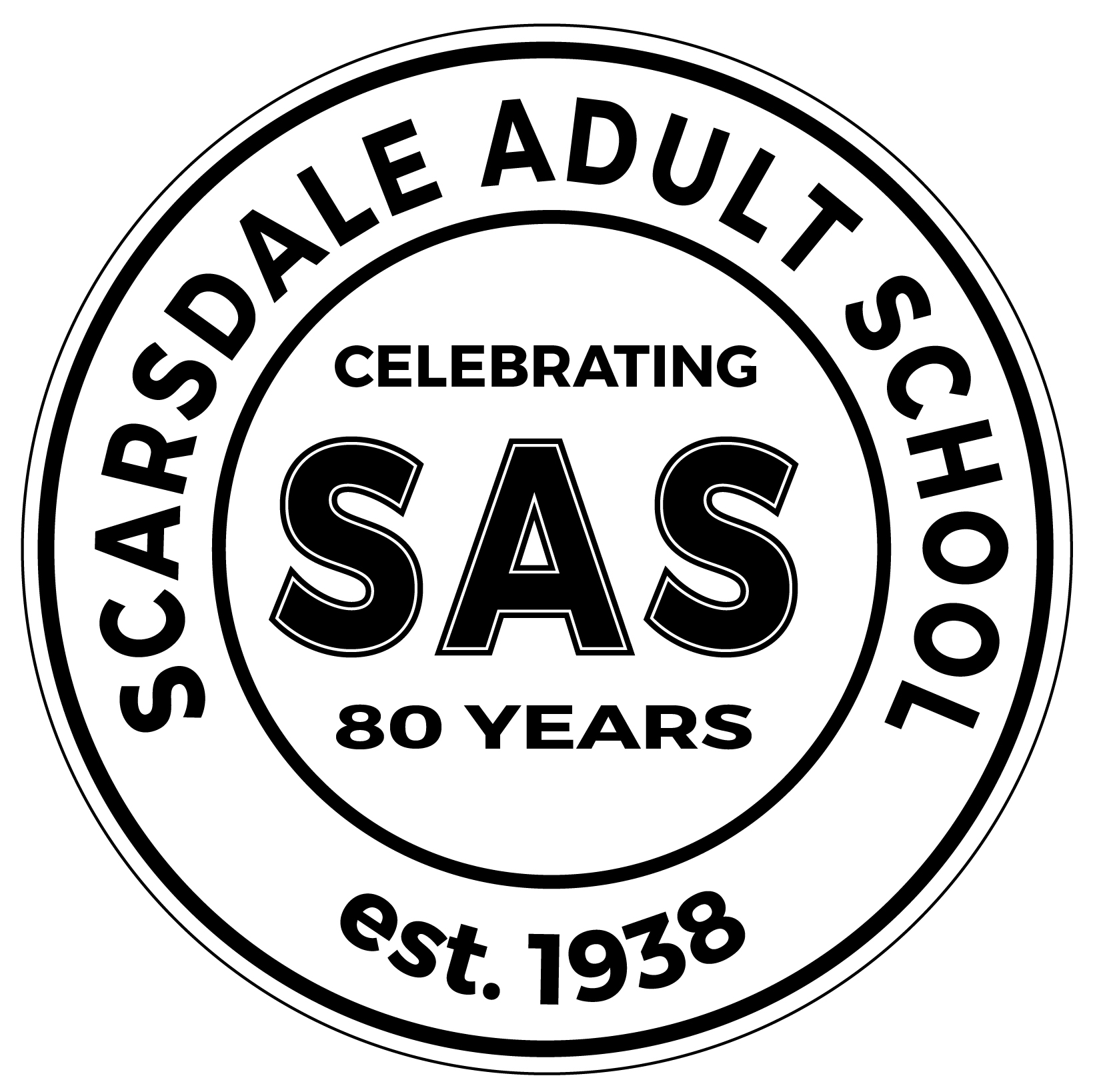 ---

Scarsdale Adult School E-News
Greetings Lifelong Learners,

Fall registration has been underway for just over a month and classes are filling quickly. If you find that your preferred class is already full, please add your name to our wait list so we know you are interested. Whenever feasible, we accommodate demand by opening new sections. You will not be charged tuition until you are admitted into the class, so the wait list option is truly a low risk/high reward opportunity.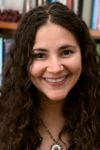 Space is still available in our 80th Anniversary Academy on Sunday, October 14, 2018, at Hitchcock Presbyterian Church, featuring keynote speaker Laurie Santos, Professor at Yale University. After the one-hour mini-version of her popular course, Psychology and the Good Life, students may choose between Alfred Hunt's Around the World in 80 Days with Mark Twain and Page Knox's Alfred Stieglitz and His Circle. The afternoon celebration ends with Daniel Blake and his jazz ensemble, the Digging, for an annotated concert of Benny Goodman's 1938 hits as well as delicious appetizers prepared by cooking instructor, Jensina Olson.

If you did not receive our printed catalog, limited additional copies are available at Scarsdale Village Hall and the Scarsdale Library Loft at Supply Field.

Classes resume on Wednesday, September 12, 2018, and follow the Scarsdale School calendar for holidays, vacations, and weather closings. Looking forward to seeing you back in the classroom in just a few short weeks!

Regards,
Jill Serling, Executive Director
Catalog Addendum and Changes
The following classes were added to the catalog after printing and are now open for registration: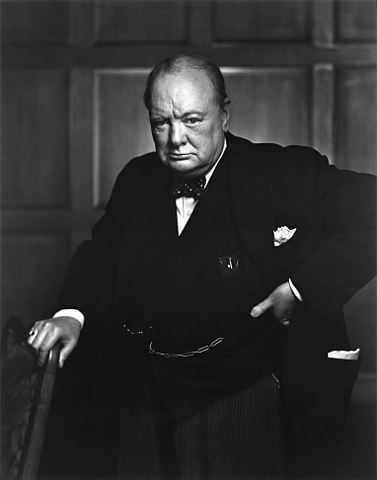 Churchill, Britain's Incomparable Leader (Course 6963), originally scheduled to begin on Thursday, September 27, 2018, will be postponed until the spring semester. The new start date for this two-week class is Thursday, March 28, 2019.

Please also note the following changes and corrections, not reflected in the printed catalog:

The instructor bios for
Jill Kiefer
(
Italian Renaissance
, Series 60) and
Michael Malina
(
Revisiting Genesis
, Course 6975) were omitted from the print catalog but are available online. In addition, all classes appearing on page 40 of the print catalog will be led by
Marc Sky
.

Page Knox's
Museum Preview: Jewelry: The Body Transformed at the Met
(Course 6983) will start at 1:15 pm rather than 1 pm.

The Tuesday evening
Zumba
class (Course 6895) with Lauren Corrigan now has additional skip dates of October 9, 2018, and December 11, 2018. Class will still run for 10 weeks and will now end on December 18, 2018.
Crochet for All Levels
(Course 7157) with Melissa Shinsato now has an additional skip date of October 25, 2018. Class will still run for 6 weeks and will now end on November 15, 2018.
---
Enjoyable Excursions
Lace up your walking shoes for more tours than ever this semester. We start with a
Japanese Garden Stroll and Tea Ceremony at Hammond Museum
in upper Westchester on Friday, September 14, 2018. The following month, a docent will take SAS students for an insider's view of the 16-acre campus of
Lincoln Center
, home to the New York Philharmonic, New York City Ballet, Metropolitan Opera, the Vivian Beaumont Theater, and many more treasures.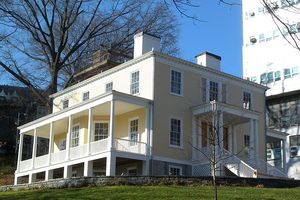 The catalog includes two VIP Experience guided bus tours. The first,
Hamilton Musical Bus Tour
, scheduled for the week after Thanksgiving, combines the music of Lin-Manuel Miranda's smash hit with anecdotes and historical sites relating to Alexander Hamilton's life. The second will be in mid January when SAS students can tap their toes to the singing by an Actor's Equity performer who, along with the bus tour guide, will visit various theaters and bring the city's musical cultural heritage to life in the
Broadway Musical Bus Tour
.

Architectural tours this term include
SoHo, the World's Cast Iron Capital
, and
Art Deco of Central Park West
. Both those tours will be led by returning instructor Anthony Robins, who served for many years at the New York City Landmarks Preservation Commission and currently teaches at NYU and Columbia.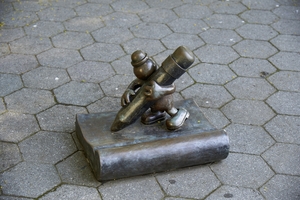 Outdoor art tours include a Friday afternoon visit on September 21, 2018, to the
Public Art in Battery Park City
to compare installations at Penny Park, Teardrop Park, and the Irish Hunger Memorial. On Thursday, November 15, 2018, art educator Riva Blumenfeld goes below ground to see the
Works in the MTA's Arts & Design Collection
without repeating any of the sites visited in last semester's 2nd Avenue and Times Square tours. This trip will include Grand Central Terminal, art installations along the #7 train to the New York Public Library, and additional art projects on the way to Penn Station.

Students have two different opportunities to explore the Galleries of Chelsea near the new Whitney and the High Line --
Thursday, October 4, 2018 with Riva Blumenfeld
and
Wednesday, November 7, 2018, with Margaret Mathews-Berenson
.

Ronnit Vasserman will explore the studios and galleries of Greenpoint, one of Brooklyn's hottest neighborhoods, on Monday, November 5, 2018. Along the way, the
Greenpoint Art Scene
tour includes stops at some of the area's famed cafes and eateries. Vasserman returns on Wednesday, February 27, 2019, to visit four prominent galleries in the
Bowery and Lower East Side
, taking in the edgy street murals along the way, and ending at the marketplace within the Public, an Ian Schrager hotel.

In addition, artists and art historians will highlight the latest exhibits at the Met, the Met Breuer, the Whitney, MoMA, the Museum of Arts and Design, and the Asia Society Museum with many paired museum previews and walking tours:
Walking tours do have limited capacity so please do not delay your registration.
---
Not to be Missed
View all classes in our catalog
. Starting up again in September are classes in the following categories:


Humanities
History, Culture and Current Events

Literature and Film

Museum Previews, Exhibits, and Walking Tours

Music Appreciation

Religion
Skill Development and Enhancement
Arts and Crafts

Computers, Technology, and the Internet

Cooking and Baking

Languages

Performing Arts

Photography and Videography

Writing
Personal and Professional Growth
Career and Business Development

Health, Wellness, Stress Reduction, Nutrition

Hobbies and Edutainment

Home and Garden

Personal Finance, Aging, Retirement Planning
Recreation
---
Back to School eGift
Commemorate the beginning of a new school year with an eGift for a friend or family member. When you
purchase an eGift
in any amount on our secure website, we will send the card by e-mail or USPS, your choice. Then sign up for classes together to kick off a semester of new beginnings
.