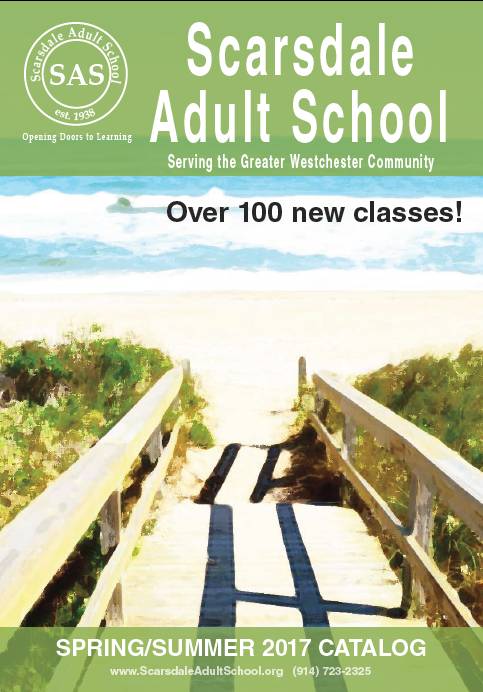 ---
In this Issue
---
Quick Links
---

Like us on Facebook and post to our page.
---
---
Peruse the course catalog and register for upcoming classes by visiting our secure website:
ScarsdaleAdultSchool.org
---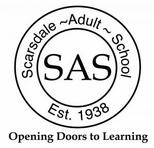 ---

Scarsdale Adult School E-News
Greetings Lifelong Learners,

We are currently putting the finishing touches on our fall/winter print catalog, which should be arriving in mailboxes during the latter half of July. However, as a newsletter reader, you need not wait for the postman. Mark the date on your calendar, s'il vous plaît -- online registration will open on Bastille Day, July 14, 2017. This fall, we will continue to offer many of our fan favorites while introducing new topics, many designed exclusively for SAS. Don't delay registration; many of our most popular classes fill up quickly.

If you have taken a class this spring/summer semester, please follow this link to fill out a completed course survey form online. With a few clicks of a button, you can provide feedback anonymously.

See you out and about and in the classroom!

Regards,
Jill Serling, Executive Director
Summer Selection
If you have not checked out our summer classes recently, you will find them all online. Many were added in the last few weeks. Our own version of "summer camp" offers something to keep both your minds and bodies well exercised, engaged, and "edutained" as you await our fall semester.

Shakespeare, Bridge, Canasta, Body Sculpting, and Spanish classes all began this week. But there is still much more in store.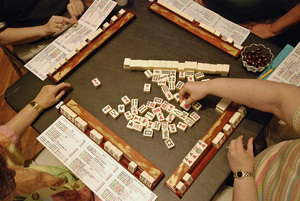 Games players will have more opportunities in mid July to take Mah Jongg for Beginners, starting on Wednesday, July 12, 2017, or Supervised Play, starting on Thursday, July 13, 2017, both with Katie Goldberg.

Bridge players have three opportunities to learn new tips from Robin Brown in Supervised Play, Intermediate Bridge Workshops, or Advanced Beginner Bridge, all starting on Tuesday, July 25, 2017.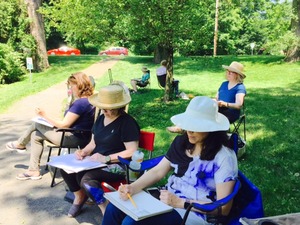 Arts & Crafts will now include two more offerings from Quincy Egginton: Thursday morning Expressive Landscapes: Draw, Print, Paint and Thursday afternoon Printmaking, both beginning on July 6, 2017.
Mixed Media Madness with Katie Goldberg begins on Wednesday, July 12, 2017. For a "one and done" experience, try Basket Weaving in One Sitting with Robin Ingram on Tuesday, July 18, 2017.
Jeannine Palermo will keep you in shape with a four-week summer session of Fit Blast: Cardio, Strength and Abs at the Girl Scout House on Mondays from 1 to 2 p.m. starting July 10, 2017.

Jordana Kagen joins SAS to help keep your mind in shape with a new Poetry Writing Workshop over two Tuesdays from 1 to 3 p.m. starting July 11, 2017. Alfred Hunt leads two more sections of his ever-popular Let's Talk Current Events: Topics in the News discussion group. Both the morning and the afternoon sessions begin on Thursday, July 6, 2017.

Sarah Miller Desimini will lead Grant Writing: How to Get Funding for Your Organization on Thursday, July 13, 2017. Learn how to put your best foot forward when seeking money for your nonprofit.
---
Out and About
If you are itching to get out of town, Scarsdale Adult School offers two walking tours this summer.

On Tuesday, July 18, 2017, Susan Birnbaum will guide students on a tasting tour along the most culinarily diverse streets in the city. Walking Tour: Astoria Queens and the Museum of the Moving Image will end with a "Behind the Screen" tour of the Museum of the Moving Image with a museum educator.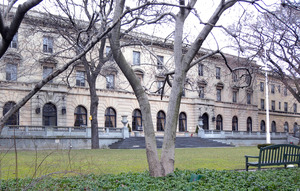 Discover the Boulevard of Dreams, the Bronx home of art deco architecture, numerous historic landmarks, and a fascinating history. Boasting an Italian Renaissance styled 1924 palazzo, the Bronx County Courthouse, the Bronx Museum, the fabulous 1929 Loew's Paradise Theater, and the former home of Edgar Allan Poe, Walking Tour: Grand Concourse Historic District promises a memorable stroll through history. So lace up your walking shoes on Tuesday, July 25, 2017, and join instructor Susan Birnbaum for an architectural feast.
---
Marc Sky Is Out of this World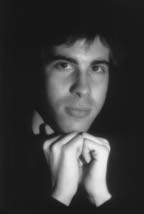 Marc Sky has been exhibiting his unique mindreading talents for many years, specializing in workshops, psychic house parties, seances, and hypnosis. He returns to SAS this summer on Monday, July 10, 2017, for a fun-filled evening of other-worldly adventure at the Scarsdale Public Library.

At 6:45pm, he will lead Psychic Powers: Learn to Read Minds and Predict Your Future. This class is suitable for the true believer or those who just want to be entertained by the idea of moving objects with your mind and answering questions about your future.

Immediately after, at 8:30pm, Sky will launch into Discovering Who You Were: Reliving Your Past Lives. Past life regression and self-hypnosis may help you find your soulmate, learn who you were in a prior life, or just enjoy a new experience.

Register for both classes as Series 13 to save $10.
---
Not to be Missed
We've already told you about the classes coming up in the next month. Do keep an eye out for the next e-blast when we share some secrets with our readers about classes in store for the fall! The printed catalogs will not be out yet but newsletter subscribers will get a sneak preview.
---
Donate to Campaign 2017
We officially launched our fundraising Campaign 2017 in June. Since our founding in 1938, SAS has been totally self-supporting. We receive no funding from the School District, the Village, or any public source. We pay for our comprehensive program, the facilities we rent for classes, and our faculty solely from course fees and tax-deductible donations.

Your donation to to Campaign 2017 will help us to continue offering a year-round program of over 250 courses a semester for residents of Scarsdale and the greater Westchester community.