---
Grantee Spotlight: All One Ocean
The World Health Organization startled the world this year with its report on finding tiny plastic pieces in 83% of the world's tap water. At sea, reports of marine life killed from the ingestion of or entanglement in plastic debris continue to reveal the negative effects of plastic pollution on aquatic ecosystems. All One Ocean is using a Rose Foundation grant to mobilize youth to clean up beaches in several counties in and around the Bay Area.

 Elementary school students in the organization's Ocean Warriors and Beach Clean Up programs gain insight into the effects of plastic pollution and learn how to stop pollution at its source. They also visit coastal areas to clean up litter themselves. Students learn about how lifestyle choices including avoiding single-use plastic bags, straws, and bottles can reduce plastic consumption. Straws might seem innocuous, but the US uses 500 million straws a day – enough to fill 46,000 school buses and create a serious environmental impact when not disposed of properly. Students also learn about biology and other sciences through studies of marine life and how plastic impacts them, boosting schools' CORE and STEM curricula. By the end of the 2017-2018 school year, All One Ocean hopes to reach 1,000 students in California with its hands-on curriculum.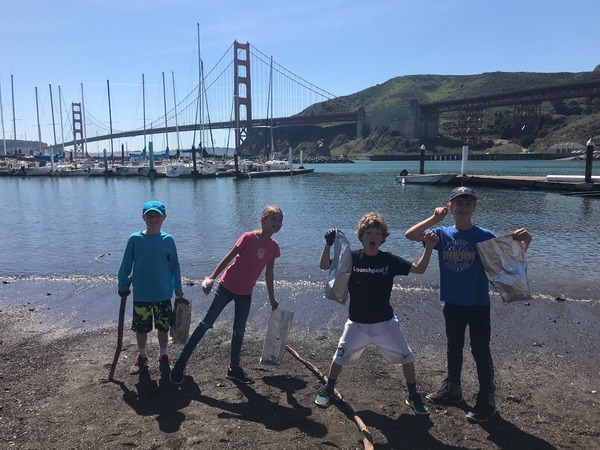 Getting youth energized on reducing litter, All One Ocean helps keep plastic out of the San Francisco Bay and the Pacific Ocean.

We are proud to support All One Ocean's education of California's youngest environmental stewards through the Northern California Environmental Grassroots Fund, a fund that supports small grassroots groups tackling California's toughest environmental challenges.
---
New Voices Needs You!
This past Tuesday, we kicked off our crowdfund campaign "Fired Up for the Change We Need!" to support New Voices Are Rising's 2018 Summer Climate Justice Youth Leadership Academy. Thanks to our enthusiastic Crowdfunders and generous donors, we've already raised over $3,000 towards our goal of $25,000! We have until May 31st to reach our goal.

Join the crowd and donate today to provide16 Oakland youth with a unique 6-week environmental justice training program. Students will gain hands-on experience through field trips, including a visit to the Central Valley to connect with water rights activists, and through externship placements with community partners. They'll also learn about river advocacy while rafting down the American River, and spend a night communing with nature while camping under the stars.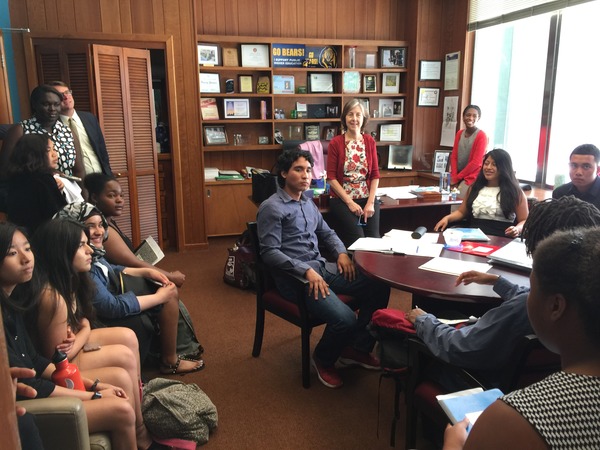 Students in the Academy meet face-to-face with decision-makers to discuss environmental justice. Last summer, our students met California State Senator Nancy Skinner.

How Can You Support Oakland Youth Environmental Leaders?

1) Make a tax-deductible donation to our crowdfund campaign: rosefdn.org/firedupfornewvoices. Every dollar you donate supports a packed and impactful summer curriculum for our 16 students.

2) Forward the campaign to others: On our crowdfund campaign page, click on the "Share" button to see a variety of ways you can easily share the campaign with your friends, family, and colleagues.

3) Become a Crowdfunder! We have 12 Crowdfunders on board, and we would love for you to join them! Every dollar you raise supports the 2018 Summer Academy, and helps us reach our campaign goal of $25,000. When you sign up as a Crowdfunder, you receive a toolkit and many other resources to make your fundraising efforts fun and easy! Call Roscoe at 510-658-0702 to sign up, or visit our crowdfund campaign page and click on the "Join the Campaign" link.
---
Come Hang Out with Us!

RSVP to Our Office Warming Party
Please join us at our new office in the Jack London Square area of Oakland. Wine/beer, snacks, and friendly conversation will be waiting for you! Bring your friends, family, and colleagues — we'd love to meet them!
May 16, 2018 (Wednesday)
4:00 - 6:00 PM
201 4th Street, Suite 102
Oakland, CA 94607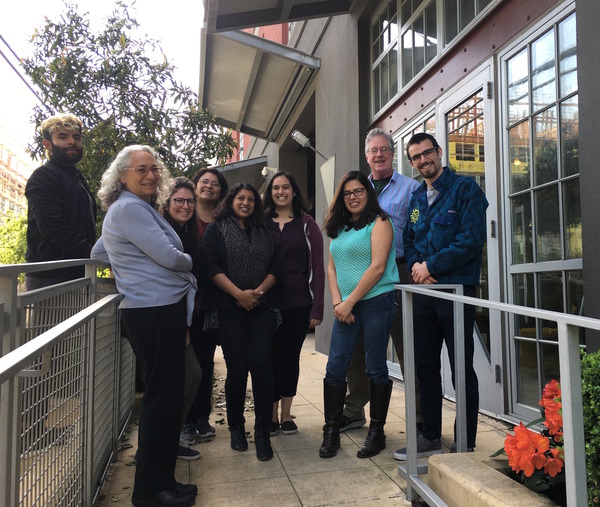 We're excited to see you at our new office on May 16!
---
Exigiendo servicios básicos



Todos pagan impuestos y a cambio esperan que el gobierno les brinde los servicios básicos necesarios para sobrevivir y vivir una buena vida. Desafortunadamente para muchos en comunidades no incorporadas, la falta de infraestructura básica es una realidad de la vida cotidiana. Las comunidades no incorporadas no son parte de ninguna ciudad en particular, sino que dependen del condado local para obtener agua, electricidad y otros servicios. El Comité Progreso de Lamont, un grupo que se ha beneficiado por la financiación de Rose Foundation, exige justicia para las comunidades que viven en las comunidades no incorporadas de Lamont, California.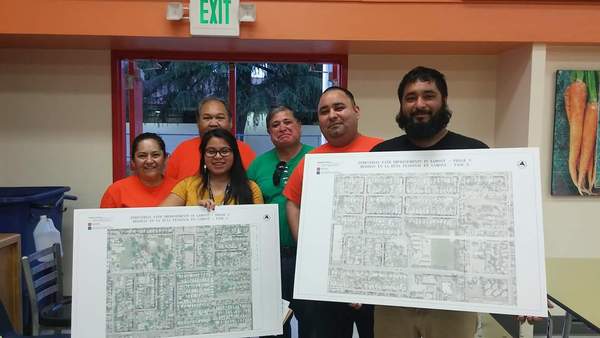 Miembros del Comité Progreso, Pati Leal and Gustavo Aguirre, sostienen mapas del proyecto para proveer aceras a la ciudad de Lamont.
Las comunidades no incorporadas como Lamont reciben poca atención por parte de los legisladores, pero el Comité Progeso trabaja para elevar las voces de las comunidades marginadas. Las personas de color de bajos ingresos, muchos de ellos trabajadores agrícolas, conforman gran parte de la población de Lamont. La contaminación producida por la producción de petróleo y gas y las centrales lecheras locales ponen en peligro la calidad del aire y del agua del área. Trabajando con socios locales y Californians for Pesticide Reform, Comité Progreso aboga a nivel de condado por aire limpio, infraestructura básica y agua limpia para su comunidad. Uno de los principales éxitos del Comité Progreso incluye recaudar fondos para instalar aceras para las calles de Lamont. Si ha caminado en las aceras durante toda su vida, es posible que ni siquiera las haya notado, pero cuando la lluvia convierte los bordes de las carreteras en lodo, moviblizarce puede convertirse en un problema real. El trabajo del Comité Progreso le da voz a una comunidad que la política a menudo mantiene al margen, pero que tiene los mismos derechos que cualquier otra a un medio ambiente limpio y saludable.
Los enfuerzos del Comité Progreso son apoyados por el fondo de Rose Foundation Northern California Environmental Grassroots Fund.
---
Meet the Rose Community:

Marybelle Nzegwu
Each month we're featuring a member of the Rose Foundation community. We hope that through these interviews, you get to know a little more about the dynamic people who make the Rose Foundation's work possible. You are a part of the Rose Foundation community! If you want to be featured in an upcoming newsletter, let us know by replying to this email.

Marybelle Nzegwu has served on our Northern California Environmental Grassroots Fund funding board since 2015, and we were excited to welcome her onto the Rose Foundation board of directors earlier this year. After graduating from UC Hastings College of the Law, Marybelle began her legal career at the Center on Race, Poverty & the Environment. In 2017 she founded her own consulting firm, Environmental Justice Solutions.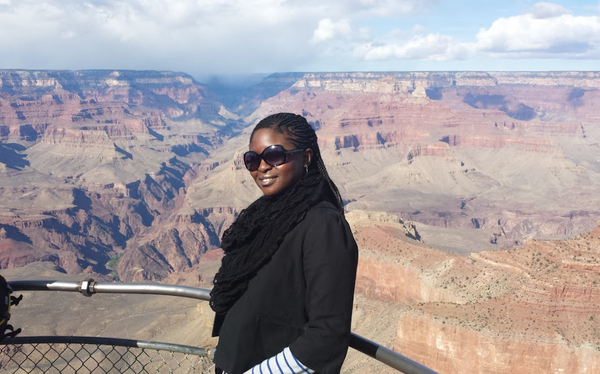 Marybelle takes in the spectacular views of the Grand Canyon. Serving on the funding board of our Northern California Environmental Grassroots Fund and our board of directors, Marybelle brings her extensive experience as an advocate for environmental justice to the Rose Foundation.
1. What brought you to the Rose Foundation?
I first encountered the Rose Foundation through the passionate and moving advocacy delivered by New Voices youth. I wanted to work with the adults who were inspiring young people and help them gain knowledge and experience in local environmental campaigns.

2. What inspires you most about the Rose Foundation?
I'm deeply inspired by the fact that Rose enables so many positive changes that would not otherwise be possible. The foundation did not start with an endowment and raises most of the money it awards to grassroots community organizations that have tiny budgets and few other funding sources.

3. What are you up to when you're working with the Rose Foundation?

In my spare time, I do a lot of creative writing: music, poetry, short stories. I can also be found reading a good book, taking long walks and hikes, or dancing until I drop.

4. What is your favorite animal?

Giraffes capture my fancy. Their long necks and distinct markings are truly beautiful. They also have lethal kicking skills and can outrun some of the fiercest predators, including lions.
---
Miranda Kraus Joins Our Team!
We are excited to welcome Miranda as our new grants assistant. Miranda is a recent graduate from the University of Puget Sound, where they studied environmental policy, economics, and math. Along with exploring Washington's abundant natural areas and DJing for the university's radio station, Miranda discovered their passion for environmental justice and inclusive city planning. As an avid community radio and podcast listener, Miranda is also cultivating skills in DIY audio production and citizen journalism in their free time. Outside of work, they enjoy volunteering for their neighborhood community garden, biking around the bay, and playing the piano. Miranda shared, "I'm ecstatic to join the Rose Foundation team and work among such inspiring people!"