Change is in the Air
---
Announcements & Deadlines

​
August 1

: Northern California Environmental Grassroots Fund applications due
---


Grantee Spotlight: City of Arvin and

Central California Environmental

Justice Network
Change is in the Air
Haga clic aquí para leer este artículo en Español
Although California-based companies continue to pioneer electric vehicle technology, communities that can't afford a $70,000 Tesla Model S have yet to enjoy the benefits of gasoline-free vehicles. Residents of Arvin, CA, a city with higher poverty than 99 percent of California cities, face exposure to some of the highest levels of ozone and particulate matter in the state. The Rose Foundation has provided a number of grants to organizations working in Arvin to create solutions for the city's air quality issues, including the City of Arvin and the Central California Environmental Justice Network.


We recently helped the City of Arvin add four hybrids to its fleet to build its electric vehicle infrastructure for the future. The hybrids, part of the local police department's community outreach program, have a small emissions footprint and showcase the city's commitment to improving air quality. Arvin also has plans to install new electric charging stations to make electrically-charged vehicles accessible to the community. "The City continues to fight pollution on all fronts as demonstrated by our pursuit of Urban Forestry, Urban Greening Grants, and non-motorized transportation solutions. We plan to actively pursue the conversion of our transit buses from diesel to electric," shared City of Arvin Finance Director Jeff Jones. We are excited that Arvin is showcasing what municipal government can do to address serious air quality issues.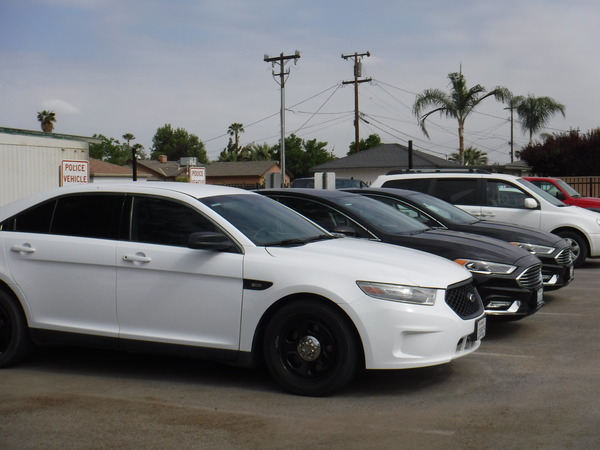 The City of Arvin's new hybrid vehicles will allow law enforcement to connect with the community while leaving behind a smaller carbon footprint.

While the City of Arvin works to create green infrastructure, the Central California Environmental Justice Network's (CCEJN's) new air quality monitoring system provides residents with valuable information about local pollution. The Rose Foundation introduced CCEJN to our fiscally-sponsored project Blue Tomorrow (an environmental consultant group) who installed the monitors and continues to assist in the logistics of the project. CCEJN's new website streams air quality data, including ozone and nitrogen oxide measurements, in key areas of central Arvin. Before CCEJN's efforts, only one station collected air quality data in the city, and collected data in a mostly unpopulated area. The new sensors will provide valuable data to identify pollution sources throughout the region and will notify the most impacted communities. CCEJN also continues to educate and involve the community in the process of improving air quality; last weekend they took local residents on a tour of the new sensors.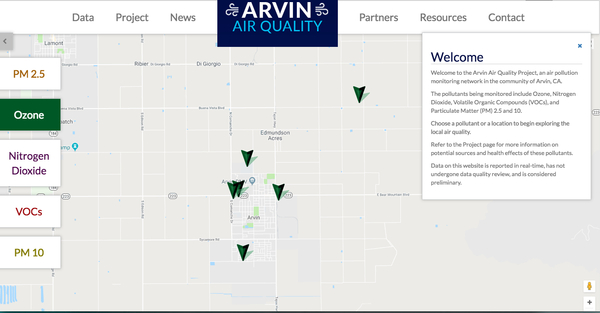 Click the image above to view data from CCEJN's air quality sensors in Arvin.

Grants to the City of Arvin and the CCEJN were provided through the Rose Foundation's Kern County Air Pollution Mitigation Fund.
---
One More Day to Get Fired Up For New Voices!
We've extended our New Voices Are Rising crowdfund campaign "Fired Up for the Change We Need!" until tomorrow, June 8th. Help us reach our goal of raising $25,000 for young environmental justice leaders in the 2018 Summer Academy – donate today!

In the Summer Academy, 16 high school students from low-income areas of Oakland will participate in a 6-week intensive environmental justice training program. The Academy takes students on a deep-dive into local environmental justice issues, while building their leadership and advocacy skills along the way. Click here to learn more about the Summer Academy and 'join the crowd' in support of youth environmental leaders!
---
Chris Hwang Awarded

the 2018 Anthony Grassroots Prize
On May 10th, the East Bay's Bike to Work Day, our Executive Director Tim Little and a small Rose Foundation party biked over to Frank Ogawa Plaza in downtown Oakland to award bicycle champion Chris Hwang the 2018 Anthony Grassroots Prize. As the chair of Walk Oakland Bike Oakland, Chris has put her inexhaustible energy into making biking and walking in Oakland easy. She's built strong partnerships with local businesses and community groups to make low-pollution transportation fun and safe. Visit our website to learn more about Chris Hwang and her work. Congratulations, Chris!

Rose Executive Director Tim Little (right) presents Chris Hwang with the Anthony Grassroots Prize which includes public recognition and a $1,000 cash prize. Chris selected Walk Oakland Bike Oakland to receive the prize funds.
---
Times are Changing in Tacoma:

Rose Foundation Grantees

Promote Environmental Health
From challenging fossil fuel infrastructure to taking a sledgehammer to pavement, our grantees in Tacoma, WA are working to build healthier and more just communities. Join Rose Foundation Program Officer Laura Fernandez on a trip through the area to meet Earth Ministry, and Washington Physicians for Social Responsibility:

The City of Tacoma, about an hour's drive south of Seattle, WA, is a port city and a major shipping hub where goods moving along the Pacific Rim jump between barges, trains, and trucks. The shipping industry helps drive Washington's economy, but also remains a major pollution source. The Rose Foundation's Puget Sound Stewardship & Mitigation Fund invests in local communities that bear the brunt of pollution impacts. Clean Water Act settlements negotiated by Puget Soundkeeper Alliance (PSA) provide funds to support groups working to protect the watersheds that flow into the Sound. PSA helps pollution dischargers come into compliance with federal water, health, and safety laws, and holds them accountable to the public. So it seemed fitting that our visit to the Puget Sound brought us to the historic Tacoma Tideflats area to meet with grantees who are crafting a new vision for Tacoma vested in green infrastructure and clean energy.

Fossil fuel infrastructure including pipelines, refineries, and storage tanks release toxic pollution into the air and nearby bodies of water, in addition to the threat of leaks and explosions. During our visit with Earth Ministry and Washington Physicians for Social Responsibility (WPSR), we learned about their work to protect Tacoma's historic Tideflats neighborhood (which includes the Port of Tacoma) from fossil fuel expansion. Both organizations work with non-traditional constituents, bringing people of faith and health professionals into the growing movement to oppose dirty energy projects in the area. Recently they've worked together to challenge the placement of a new liquefied natural gas plant. Earth Ministry is also helping religious communities consider water protection as a central tenet of their faith – a resource that is both essential for life and sacred from their religious perspective. For WPSR, the harmful impacts and major human health concerns associated with dirty infrastructure are their main reasons in confronting new and expanded industrial facilities. Visit our website to read the rest of Laura's story.


Tacoma residents express their opposition to
a newly proposed liquefied natural gas plant.
---
Meet the Rose Community:

Shreya Shankar
Each month we're featuring a member of the Rose Foundation community. We hope that through these interviews, you get to know a little more about the dynamic people who make the Rose Foundation's work possible. You are a part of the Rose Foundation community and we want to tell your story too! If you want to be featured in an upcoming newsletter, let us know by replying to this email.

Shreya Shankar works at Rooted In Resilience, a long-time partner of the Rose Foundation's New Voices Are Rising program. Rooted in Resilience empowers communities to rise to the challenges of climate change. Their programs support local clean energy and urban farming, and train youth to prepare for the socio-economic effects of climate change.

Shreya Shankar of Rooted in Resilience continues to work with our New Voices students in our Summer Academy and in our "Growing Justice" class at Emiliano Zapata Street Academy.
1. What brought you to the Rose Foundation?
Rooted in Resilience has been collaborating with the Rose Foundation over the last 3 years on New Voices Are Rising's Summer Climate Justice Youth Leadership Academy, and on the year-round Growing Justice internship program!

2. What inspires you most about the Rose Foundation?

Our shared values and vision of cultivating the environmental justice leaders of tomorrow and centering communities of color in planning for climate resilience is inspiring. We also love the Rose Foundation's strategy of empowering grassroots organizations and youth to build a more resilient future!

3. What are you up to when you're not working with the Rose Foundation?

In my spare time, I do a lot of creative writing: music, poetry, short stories. I can also be found reading a good book, taking long walks and hikes, or dancing until I drop.
4. What is your favorite animal?

The falcon, for its incisive vision and speed. And because falcons are both cute and terrifying as predators. Fun fact: Female falcons are usually larger than male falcons.

---
Rose Welcomes a New Office Mascot!
We are elated to welcome Rosie the bear to our team as our new office mascot. Rosie draws on extensive experience foraging, hibernating, and rubbing up against trees to get a good scratch. She serves as an organizer of bear communities living in California's Sierra Nevada mountains. "I've never met an office mascot more qualified for the job and more committed to environmental justice. I'm honored to turn the position over to Rosie," said former Rose Foundation Office Mascot Mr. Moose.
Where in the World is Rosie?
We'll be taking Rosie with us on vacations and site visits. If you can guess where Rosie is in a given month, we'll mail you a free Rose Foundation stainless steel pint cup. Rosie will also share a fun environmental fact about the area she visits. So, where in the world is Rosie this month?
Hint: The continental divide runs right through the park Rosie visited, in the only state in history to turn down an opportunity to host the Olympics.
---
Los vehículos híbridos de Arvin van permitir que el departamento de policía conecte con la communidad, mientras disminuyen su huella de carbono.