Advocacy Update
T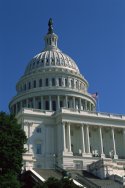 hank You!
A huge thank you to our many advocates and their willingness to go the extra mile and participate in Summer In-District Lobby Visits. We were able to engage over 50 advocates interested in contacting or visiting their congressperson this summer. Our efforts were focused primarily on those members who are serving on the appropriations committee, who would have the greatest influence in ensuring that the Congenital Heart Futures Act receives the funding it deserves. Our efforts are working: despite the tight fiscal climate, the Senate has included $2 million dollars to help fund the Futures Act. We must continue to make our voices heard: You have a story to tell—get involved today! To join other advocates in action, email advocacy@achaheart.org.
Advocacy Action Alert—Vote!
A simple advocacy activity can make a world of difference. For more information about making your vote count, click here.
—Amy Basken
---
Research Update
New Research Study Listing
Are you an adult with CHD interested in participating in research studies? ACHA provides an online listing of studies reviewed by its Research Committee. A new listing has been added for a study on heart failure in ACHD at Oregon Health and Science University – click here to learn more.
We encourage researchers interested in listing studies or clinical trials on ACHA's website to submit notices for review. Click here for submission instructions.
Parent Knowledge Study Wrap-up
The Parent Knowledge study has completed enrollment at nine participating pediatric centers. Five hundred parents and guardians were surveyed on their knowledge of care guidelines regarding their children's future health care needs. Results have been submitted to a medical journal. ACHA congratulates the incredible volunteer research team behind this effort on their achievement. Learn more about the study here.
New Research Committee Co-Chairs
Last month Stephen Cook, MD, and Steve Crumb, MSN, CNP accepted nominations to become ACHA's new Research Committee co-chairs. Both have served on the Committee for years and both are on the Adolescent and Adult Congenital Heart Disease Program team at Nationwide Children's Hospital in Columbus, Ohio. ACHA thanks Dr. Cook and Mr. Crumb for taking on these new roles. We also thank Dr. Michelle Gurvitz, who stepped down from her Chair role after several years leading the Committee, for her committed service. Dr. Gurvitz will continue to serve on the Committee.
—Rachel Linstead Goldsmith
---
Members Making a Difference
ACHA is very pleased to announce the formation of our Heart to Heart Ambassador Program. It is through this very special program that we provide nationwide, supervised peer support and personalized information to adult CHD patients and their family members. ACHA's peer volunteers, or "Heart to Heart Ambassadors," are CHD patients who are trained and equipped with the information required to assist members seeking short-term emotional support or who are looking for information to assist them in coping with their illness.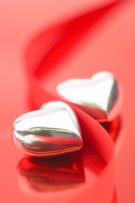 If you or anyone else you know could benefit from being matched with an Ambassador, we'd love to hear from you. After contacting us, an application will be mailed out and once it is returned, our Program Coordinator will do everything possible to make an appropriate match. We will attempt to locate an Ambassador having a similar diagnosis or surgical/medical history or will simply be someone who has had to adjust to a comparable change in lifestyle and/or physical restrictions. The Heart to Heart Ambassador Program offers members the opportunity to connect with others who can relate firsthand to what it is like to deal with the stressors of having congenital heart disease. For more information on being matched with an Ambassador, please email paula@achaheart.org.
—Tracy Livecchi
---
Walks Update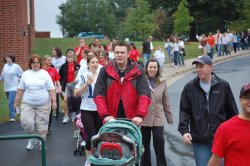 As we announced earlier, this year we launched our new, national initiative, the Congenital Heart Walk. This exciting national campaign is designed to provide hope for the millions of families who face the challenges of our disease. The Congenital Heart Walk is also way to show the nation how a team of inspired individuals can make a difference.
For a Facebook photo album from the Greater Washington DC Walk on Sept. 12, which includes the picture above, click here.
To date, almost 1,500 people and over 200 teams have registered for our inaugural event and with five sites still to happen, our numbers continue to grow. That's right, there is still time to register and walk this fall, either at our Central Ohio, Delaware Valley, Greater Cincinnati or Phoenix Metro site or in your own community through our exclusive Virtual Walk. To register, simply goto www.congenitalheartwalk.org to register and get started today.
Don't see a walk in your area? Interested in bringing the Congenital Walk to your community during 2011? Please contact Anthony Buffone at anthony@congenitalheartwalk.org to find out how.
—Anthony Buffone
---
Giving Makes the Heart Grow Fonder!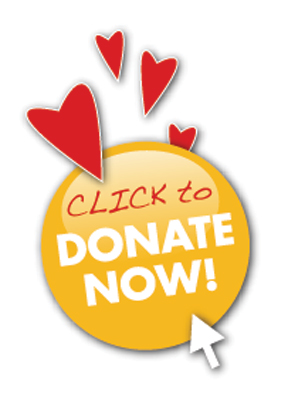 ACHA is beginning its Fall fundraising campaign! If you or someone you know has been helped by ACHA's many services, please consider making a donation. Whether it's $5 or $5,000, every tax-deductible contribution is spent efficiently and effectively to improve and extend the lives of adults with congenital heart defects. Simply visit our website to make an online donation or send your check, payable to ACHA, to 6757 Greene Street, Suite 335, Philadelphia, PA 19119.
Your donation impacts ACHA's ability to reach out to heart defect survivors lost to care, provide improved member/patient customer service, develop new educational materials, and work with researchers.
—Jessica Phelan