DIRTIER ....The Newsletter


Volume 46 April 30, 2013

Dianne B

The Little Bulbs they call them…
and thrilling they are despite their size.
Of course, it requires some very nimble scampering about to get close enough to them to get a picture, or heaven forbid,
try to sniff the scent.

Here is a breathtaking little fritillaria michailovskyi under a hellebore. Look closely, it is wine red and gold.


And this, an irresistible tiny 1st year hellebore, tenderly Yellow
and A Double!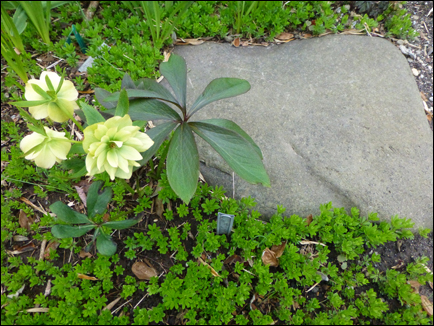 Yellow is more appealing in Hellebores than in Daffodils but this dwarf has plenty pizzzazzzz and could only do it by being yellow...
why it is named after sleepy
Rip Van Winkle is beyond me.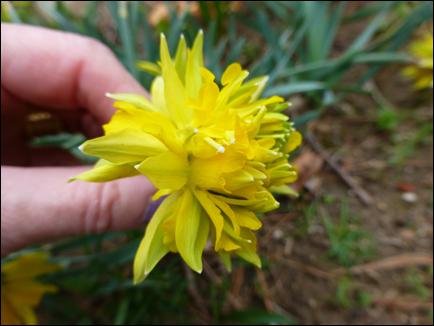 One lonely species tulip 'Persian Pearl'...
precious, isn't it?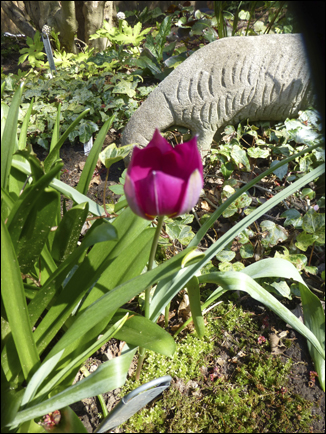 One stands-on-its-own Muscari 'Blue Magic'.






And talk about tiny…only a spring flower nut like me could be enthralled by this little liverwort. Those little things you see growing behind it are new stalks of moss ... that's how petite is this Hepatica.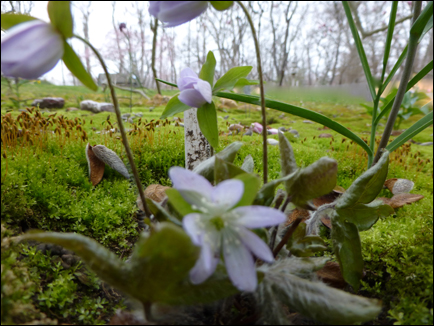 But you can forget about this one...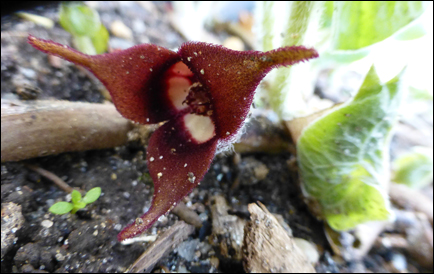 This is the "flower" of a just emerging Asarum. Totally insignificant except for maybe the one day before the leaf rapidly covers it up...
When you see photos in catalogues of this, believe me....the people that go crazy for these are real fanatics
.
It's the Asarum leaves, though, that make up for
the insignificant hidden 'flower'.
THE BIG THINGS
Giant satin-petaled 'Red Emporer' or 'Madame Lefeber' - this tulip is so big and so red and so blowsy that it deserves two names.
Behind it are a giant daffodil and below it are smashing fiery Anemones coronaria (yes – more of those anemones -
just can't get enough).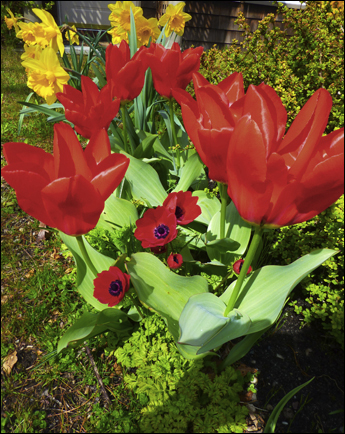 ONLY IN SPRING
And not that forsythia yellow….but yellow is entrancing…
I actually could hardly believe I planted these 'Jetfire' baby daffs
and this tulip called Guiseppe Verdi, which sounds musical if nothing else...well, I did plant them and at least they were first ...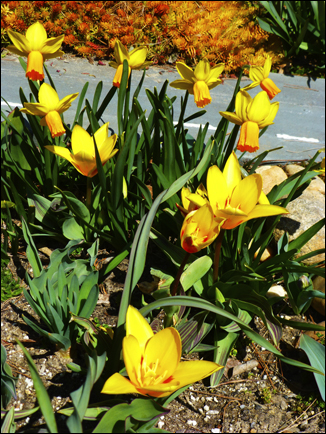 But sunny yellow is...really...just the thing after no color at all.
And it does look great with the 'Angelina' sedum, doesn't it?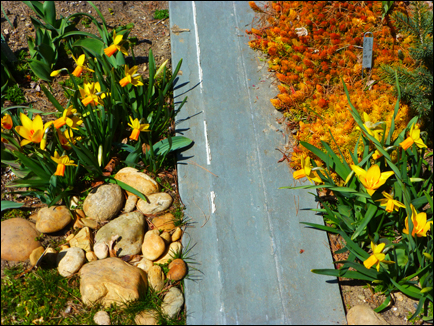 And this peony…I know when it blooms it is the wrong color
(promising coral but delivering that same damn pink),
but somehow I am believer in not moving peonies once they are in
place and happy…
So I doubly enjoy it at this stage of exuberant leaf color and
then just snip the flowers when they bloom…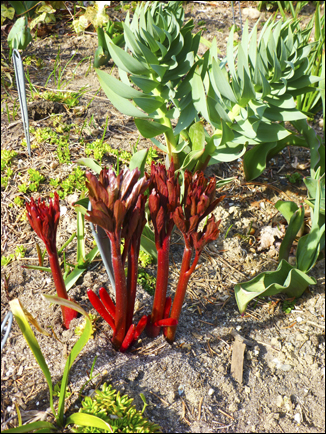 I SWEAR
This is one day's growth…one sunny delightfully warm 70 degree day…but just one day! New growth of the coveted
woodland Peony japonica…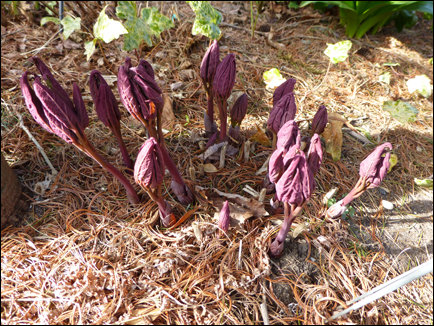 It doesn't look like that much in these pictures...
but it's amazing when you are on your knees.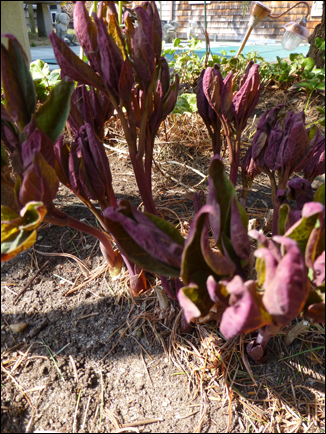 And another version of those gorgeous new growth colors that
cannot be captured on film or with dye or anywhere but in
nature…Look at this Ligularia.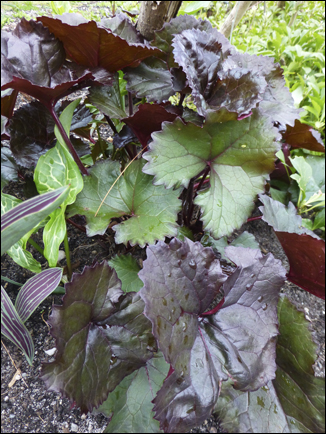 One of the most wonderful things about nature is that there
is so much of it…
and it is always, somehow, different.
WEEDS STILL, I SUPPOSE
When they are totally unbidden, but when they are charming like
this who cares? Bring 'em on…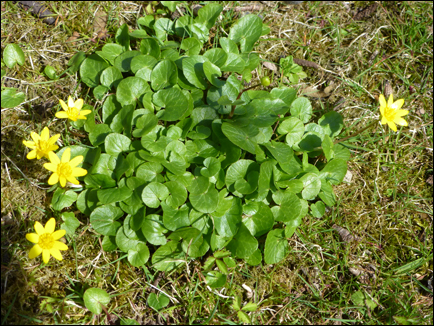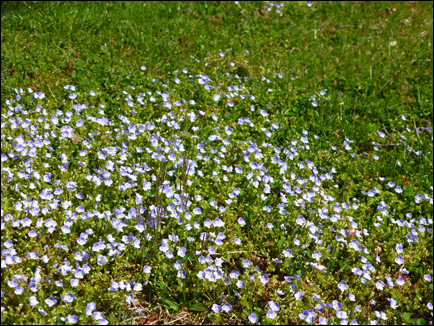 ON THEON THE OTHER HAND

To be polite, we are having a nippy last week of April…in fact – it is so cold on April 23 that all of the flowers have closed up and are huddling as if they are trying to get warm…sweet things.
See how they shiver: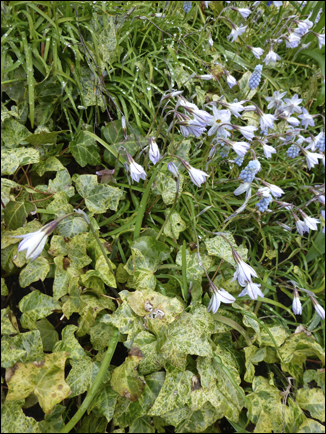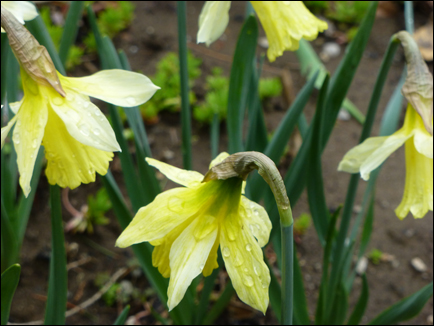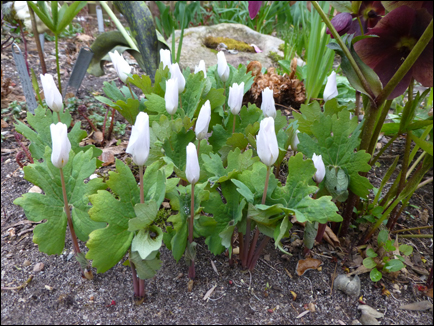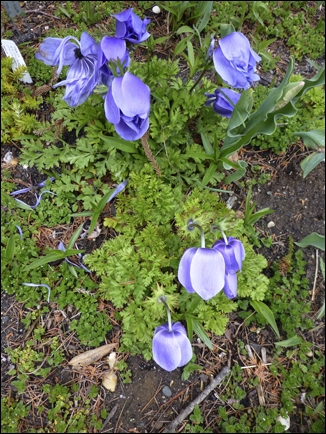 And they ask me if flowers have feelings...of course they do.

Only good aspect of this is…maybe the cold will
keep the magnolia in bloom for the
Garden Conservancy Open Day on May 4.

NEWS FLASHES:

Well, the first is old news……
Last night at Guild Hall I am afraid you missed.
Speaking Shakespeare invited rehearsal…
It was Opening and Closing Night… we were all very excited to be a part of Tristan and Morgan Vaughan's class.
Tis me as the woebegone Eleanor, Duchess of Gloucester in Henry VI.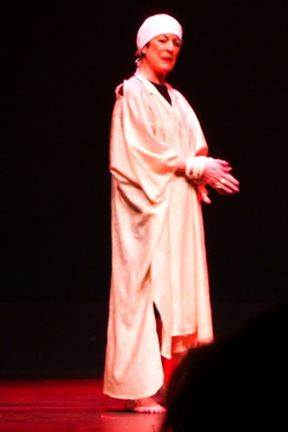 And this just discovered:

A Long Lost Love Poem by Vita-Sackville West to her lover, Violet Trefussis, written 5 years after her celebrated and extremely happy and successful marriage to Harold Nicholson.

Here is the poem :

When sometimes I stroll in silence, with you
Through great floral meadows of open country
I listen to your chatter, and give thanks to the gods
For the honest friendship, which made you my companion
But in the heavy fragrance of intoxicating night
I search on your lip for a madder caress
I tear secrets from your yielding flesh
Giving thanks to the fate which made you my mistress

• Courtesy of the beneficiaries of the Literary Estate of
Vita Sackville-West, 2013

Those were romantic days; read all about it here.
Vita was a better gardener than a poetess.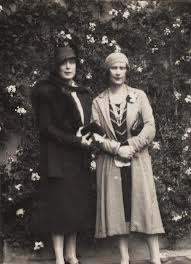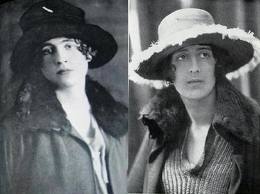 FRITILLARY PHENOMENA....
Suddenly this year several old patches of meleagris have
great swathes of white in them.
Normally the white cost 3x as much…so I feel blessed.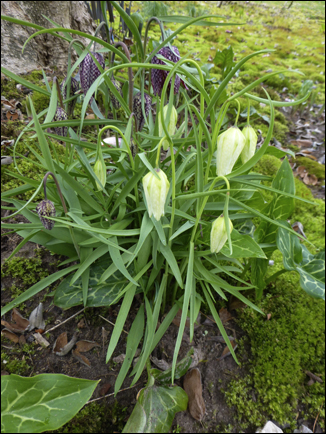 Well, you may not consider a bunch of 6 a swath, but I do.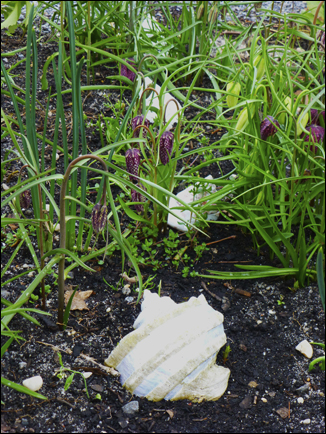 On the other hand
FRITILLARY CONUNDRUM
I splurged and bought several of the persicas (Persians)
from John Scheepers.
Even though I had more or less given up on them because year after year although they do eternally produce a great swirl of almost-blue leaves on their statuesque stems…but they never flower and I do long for those dusky purple hanging bells.

But finally
I am going to have flowers on a few
planted in full sun, but in a rough patch of the garden
where I almost never have any luck....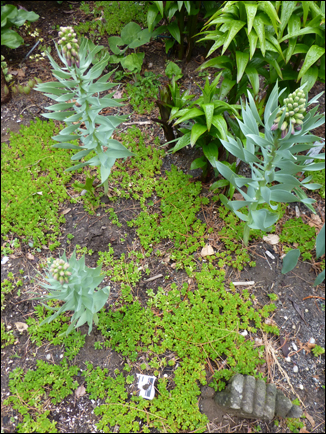 Yet not 10 feet away, in same conditions, but in a richer, mulchier part of the garden – there is nary a sign of a bud. Maybe they like the inhospitable parts? Reminds them of their desert origins...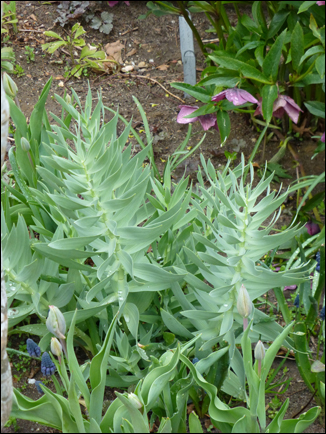 And what about this...the number of frits in this trough has doubled since last season. Who knew they like to be contained?
Or more of that rocky terrain....I suppose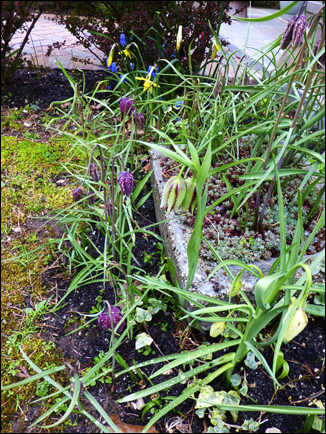 There is definately something to birthright...
Malaysian author Tan Tweng Eng has won this year's Man Asian Literary Prize for The Garden of Evening Mists, set in the
aftermath of the Japanese occupation of Malaysia.

After a year of book festivals and promoting the book he settled down to write "The Garden" and spent years crafting the novel, revising the text and moving the scenes about until he felt he had achieved the right balance.

"When I was writing the book I suddenly realized that gardening is like creative writing -- the pruning, deciding where to put your sentence, your comma, where to begin the next paragraph,"
the 40-year-old said.
"The Garden of Evening Mists" was shortlisted for the
Man Booker Prize 2012.
SOUTH of the HIGHWAY SUFFERING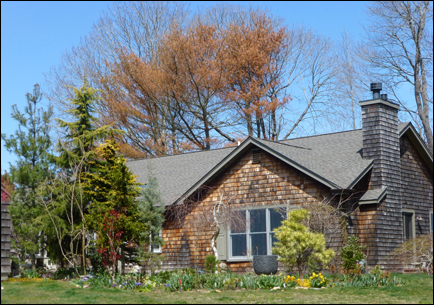 See that giant-pine-turned-brown above the new wing…
that is what has happened to all the white pines after Sandy.
Seems that is the
worse thing, though, that happened to East Hampton near the salty ocean…
certainly we can't really complain about our location,
now can we.
Lys tells me she read that it will be a full
year's cycle before we reclaim our white pines.
Scott Fithian, on the other hand, told me they are toast.
No where is the resurgence of spring more specious than in our
East Hampton Nature Trail.
Below see the picturesque, nay absolutely exuberant, images of new life that are to be installed
this very week into our proud new LVIS
(Ladies Village Improvement Society) Nature Trail kiosk.
On Thursday morning, May 2, at 10AM at our lovely Duck Pond on Davids Lane in East Hampton,
please join Mayor Rickenback and Larry Cantwell for the official Inauguration of The Nature Trail Kiosk
Everyone is invited…
A Walk through the Tulips next door follows…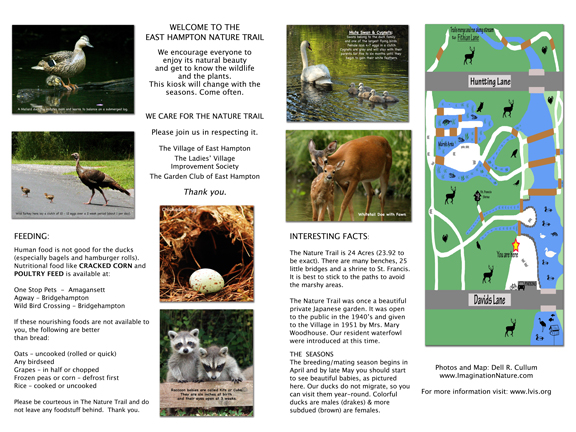 I am very pleased with this project, and gratified too...so I
take this opportunity to especially thank:
Dell Cullum for the spectacular images
Ellen Watson for her graphic intuition
Durell Godfrey for her watchful eye
And the fine gentlemen of East Hampton Village,
Scott Fithian and Mike Bouker, for making the vision come to life.
THE PROGRESS of the ANEMONES

So, last year's plethora of Anemone coronaria was not a fluke…
They are later, but they are abundant, which means they survive perfectly well in a cold winter…what have I been thinking all these years to have imagined a spring garden without them.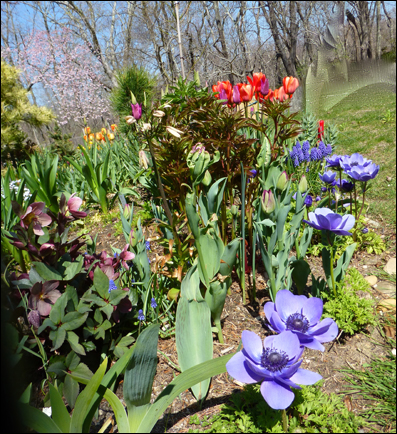 And the Biggest Surprise of the So-Far Spring
A Burgundy Anemone.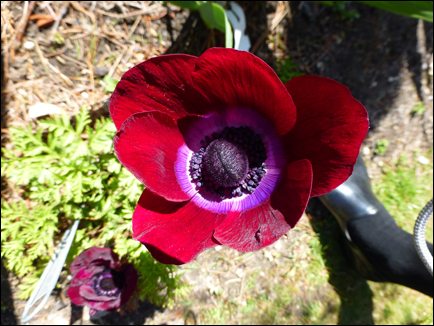 I never dreamed when I took a chance and ordered it from an irresistibly-colored image from Breck's that it would actually be Burgundy and keep that rich winey hue…but here it is.
You can bet I will go back for more.
THE BURGEONING of the BLOODROOT

That way of the new leaves wrapping themselves…hugging really…about the stems…just sends me to heaven.




The sweet flower of the regular species is just as innocent
and charming as a dream...
Belied of course by the fact that Sanguinaria common name is Bloodroot because when you break the stem...it really bleeds.




Have I already shown you the heartbreakingly tender petals of the extravagantly priced 'Pink Form' from those real specialists
Garden Vision Epimediums?
Well, if so, it is worth having another look...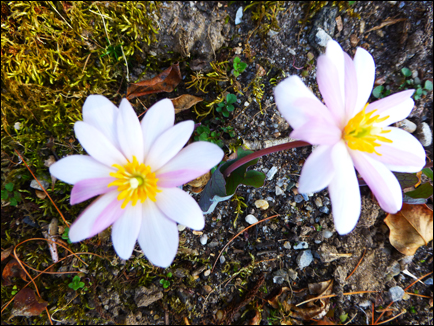 AND THE UNFURLING of the FERNS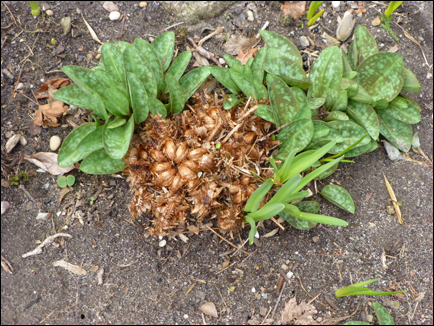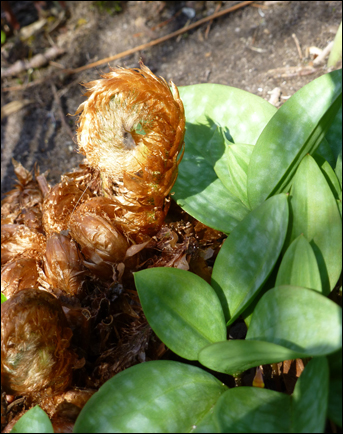 These shaggy unfurling fronds are among
Erythronium that never bloom, but I hold my breath waiting each spring for those mottled leaves--
I love that nascent hirsute glowing quality.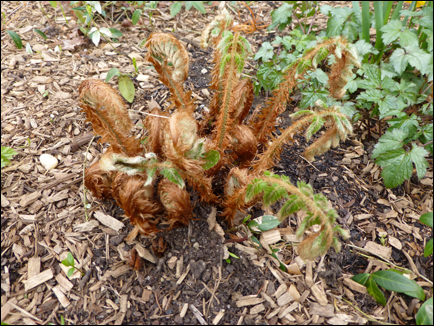 This gorgeous little flower does not look anything like a
dog's tooth, does it? These are definitely in my book of
breathtaking blooms…their upside-downedness, their coyness,
their fabulous spotted leaves. They are called dog's tooth violets because...yes...the tuber looks like a canine.

The easiest-to-grow yellow 'Pagoda'.




A special first-year-for-me delicacy from Odyssey.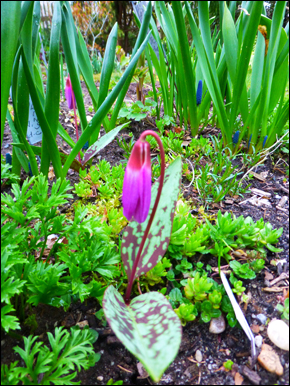 A GARDEN DOG

This sweet little stone Cavalier is in her glory among the
Corydalis blooms and the fresh leaves of the European ginger (Asarum european).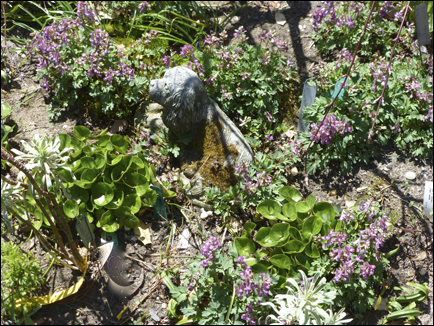 And look how magically the garden fills in...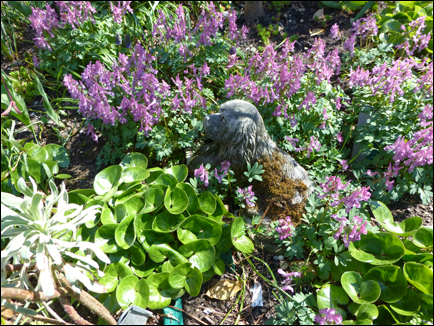 AND THE REAL THING

FLORA among the FAUNA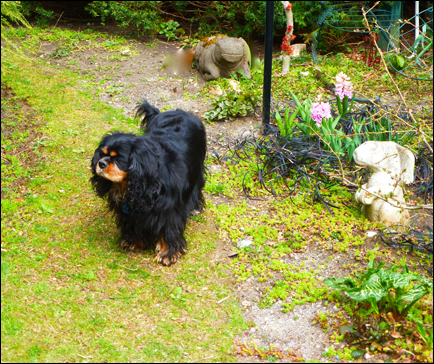 The Guatamalean stone creature and the white marble bunny are mainly used to guide the hose along the borders…but here as
Flora's friends they are evn more appealing.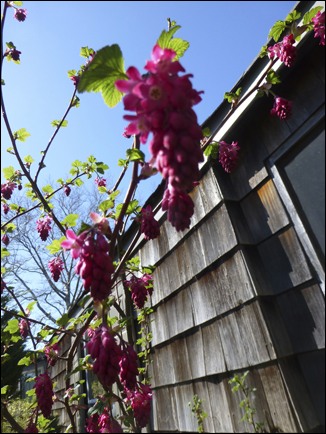 Who can name this? I have completetly lost it...

Another of the great things about DIRTIER, is that there are so many of you wonderful readers with more knowledge than me.

WHAT TO DO IN MAY

FOR ENCOURAGEMENT

Nothing like the right tools to get you in touch with your garden
in the glorious month of May (and as a treat for Mother's Day).....
Until May 12th only......
Take 15% off any of The Twelve Garden Greats at DianneBBest
Use Code 15%OFF.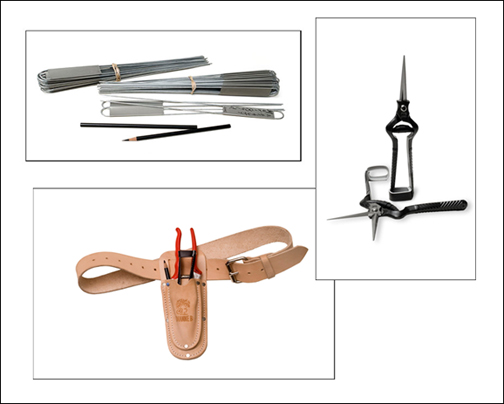 FOR INSPIRATION:

I hope you will support the Garden Conservancy and come to visit
my garden on Open Day Saturday May 4th –
10AM – 2PM

There are several gardens in the area open…check the Garden Conservancy site…and you will be blessed with the first week in
May of a real spring. The first sort of natural seasonal cycle that we have had in a while…

Though you will have just missed the unfurling of this Japanese maple that looks like it is tied up in ribbons.




It is merely the icing on the cake of the enchanted, almost paranormal, continual evolving of the Japanese maple colored leaves --- spring is even better than autumn even though everyone always talks about autumn...

Will the magnolia still be in bloom?




Or will I spend the entire day before removing dead flowers
from the moss?

Will the tulips be at just the right stage to appreciate the
toiled-over color combinations?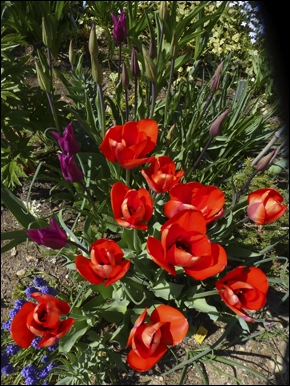 Will any of the big Jack in the Pulpits be up?
This is just a baby.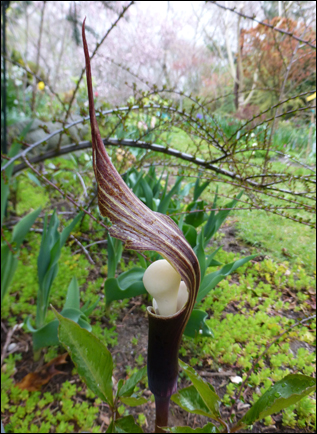 Might there be a breathtaking open Tree Peony?
Even just one usually drives people crazy…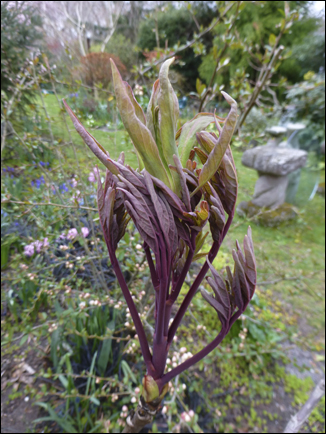 Come and see…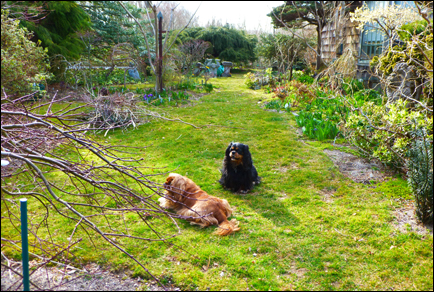 We are all waiting for you...




This Saturday May 4
10 – 2

Admission to each garden only $5 to support The Conservancy.

Echoing Joni Mitchell,

We've got to get ourselves
Back to the garden...

To get ready for you.

And don't forget --- 15% OFF only for a short time
at The Best @ Dianne B.

Don't you need more Yard Bags right now?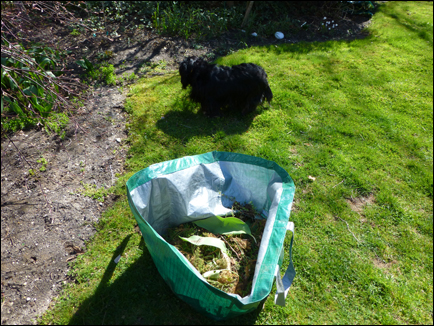 And Peeping Sticks...now is the time you really need one.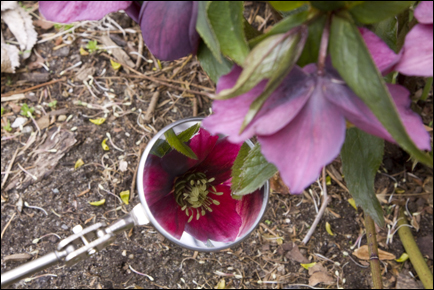 COME AND SEE