Dear

Partners

&

Friends

,
2015 was a big year for MyPath—thanks to all of you for your support and partnership as we continue our work to make our country's youth employment system into a platform for financial inclusion and upward mobility. As we reflect on 2015 and kick off 2016, there are three main lessons driving our work: (1) We have a new experimental design study proving our model works; (2) We have seen effective community practice inform a national movement; and (3) While there is more work to be done, there is growing momentum around youth financial capability at the local and national levels.
1. OUR MODEL WORKS: MyPath has the only model in the country with an experimental design study data that proves its effectiveness in achieving youth financial capability outcomes.
In the coming weeks, MyPath and its evaluation partners at the Center for Social Development, University of Eastern Washington, University of Michigan, the Center for Financial Services Innovation, and the Federal Reserve Bank of San Francisco, will release the findings and lessons from the only quasi-experimental design study to be conducted on a youth financial capability model in the United States. The results show the effectiveness of our model, and the related recommendations point to key shifts that are needed at local and national levels to support the adoption of such approaches in municipal youth workforce systems across the country.
2. COMMUNITY PRACTICE CAN DRIVE A NATIONAL MOVEMENT: MyPath pioneered the idea of integrating banking, saving and credit-building into youth employment settings, and this idea—and our best practices—has taken off at the national level.
In 2013, the Federal Reserve Bank of San Francisco published the results of our pilot, and our best practices and lessons. The paper made it clear that the approach pioneered by MyPath—to integrate account access and savings support directly into youth employment programs—produces financial capability outcomes, as well as youth development outcomes. We used our data to show policymakers what was possible when these opportunities are made available to low-income working youth—they seize the chance to start saving, with 85% meeting their savings goals, many of them first-time savers, and saving on average 30% of their income. Policymakers, field leaders and practitioners alike took note. Since then, two national initiatives that draw upon our best practices have emerged, and now the federal government is requiring municipalities that use Workforce Investment and Opportunity Act dollars to fund their youth workforce programs include financial training. The Consumer Financial Protection Bureau is putting its resources behind a technical assistance (TA) initiative designed to support cities to do just that, and has enlisted CFED and MyPath to provide that TA. With this traction and interest, 2016 promises to be a pivotal year in achieving our vision of youth employment systems as platforms for financial inclusion and upward mobility.

3. THERE IS MORE WORK TO BE DONE: MyPath will continue to partner with low-income youth to advance policy changes we need to reduce barriers to youth financial inclusion.
There are still barriers to achieving this vision. One key barrier is finding suitable youth products for minors, namely non-custodial accounts for 16 and 17 year olds. Drawing on the approach we have used and studied with our current financial institution partners, MyPath is creating Youth Banking Standards to address the product barrier. We will be using the MyPath Youth Banking Standards to support cities in their efforts to get the right products for their programs and to guide our efforts with financial institutions and regulators to advance youth financial inclusion. With growing momentum and interest in youth employment and financial capability, we believe there is real opportunity to reduce these barriers. Our youth leaders are launching a campaign to garner support for youth accounts through youth stories. As our youth leaders put it, "If you are old enough to work, you are old enough to manage your own money."

Again, we thank you for your support and partnership in 2015 and look forward to an even bigger 2016!
Sincerely,

The MyPath Team



MyPath in the Field!
Margaret Libby
, Executive Director of MyPath, shared lessons learned at the Treasury Financial Inclusion Forum
in Washington D.C.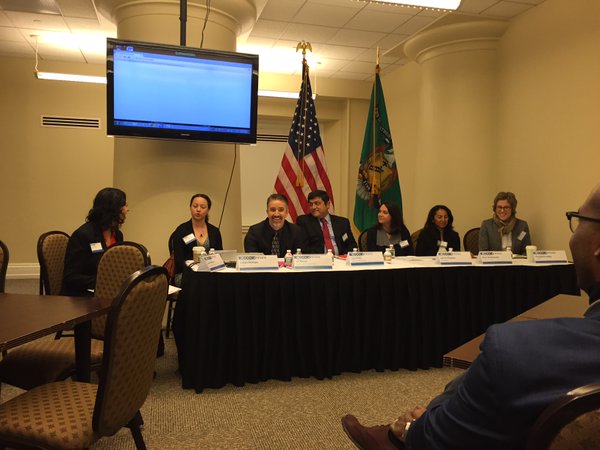 Lauren Larin
, Director of Technical Assistance and Evaluation, participated on a panel discussion on youth financial capability on WIOA at the Federal Reserve Bank of Boston on December 10, 2015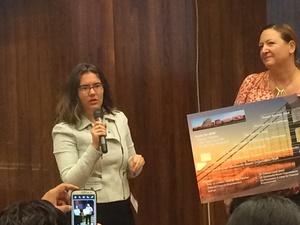 Check out our new video!