Dear Partners, Supporters and Friends,

We are thrilled to share the news that today, JPMorgan Chase announced $1 million to support the expansion of MyPath's youth financial capability model into six cities, including San Antonio, Los Angeles, Newark, New York, San Francisco and Seattle, to give up to 6,000 young people the opportunity to achieve financial health and upward mobility.

As a result of this partnership, youth and young adults aged 14 - 24 in select local youth employment and workforce programs will get access to MyPath Savings. MyPath's tested financial health platform and web-enabled app includes interactive goal-setting, budgeting and saving modules, as well as access to quality, safe youth-owned savings and checking accounts that meet MyPath's National Youth Banking Standards.
"The power of this program is it reaches young people right as they begin earning their first paycheck. This helps explain why the MyPath Savings program has enjoyed such astounding results: 96% of youth enroll in savings accounts and meet their savings goals, and youth save 34% of their income on average," said Morris Camp, market executive for JPMorgan Chase in San Antonio. "By combining financial health with early employment, MyPath Savings turns paychecks into a pathway for upward economic mobility, empowering youth with financial tools that translate into long-term financial stability."
Today, MyPath and JPMorgan Chase are hosting an event at the Federal Reserve Bank of Dallas, San Antonio Branch to celebrate the launch of MyPath Savings in San Antonio.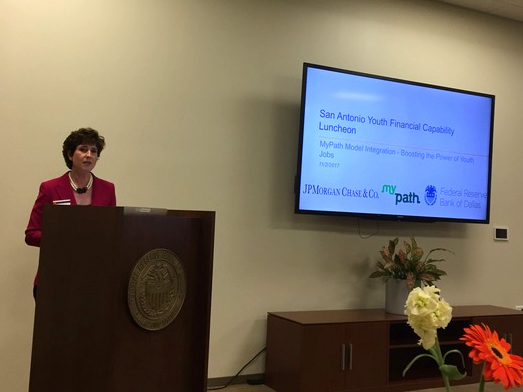 Colleen Dean, Managing Director of JPMorgan Private Bank, announces MyPath Savings partnership in San Antonio.
Kimberly Arispe, Manager of Workforce and Financial Stability at Family Service Association of San Antonio, Inc., shared her excitement about the new partnership: "MyPath is helping our youth participants build a strong financial skillset, healthy banking relationships, and emergency savings, positioning them for lifelong stability and upward mobility."

MyPath is thrilled to expand our partnership with JPMorgan Chase and we look forward to sharing our results as this work progresses.

With gratitude,



Margaret Libby
Founding Executive Director