Zach Erbe is our newest staffer and helps expand our capacity for web site development and web mapping applications. A New Englander who loves to ski and cycle, he's worked his way through a number of positions, ranging from GIS work in Alaska to mergers and acquisitions in New York. Over the past couple years, he's moved actively into the Web 2.0 world which is why we were so interested in his joining the GreenInfo staff. Since early September he's been working on Wordpress-based web sites and other projects, joining our Interactive Solutions Group of Jennifer Strahan and Rhonda Friberg, plus other GreenInfo staffers. Zach's so quick, we could barely get the camera in focus for this photo!
Feeling creative and funny? Test out your cartoon strip creation skills at a The Fun Times Cartoon Ground! Create your very own cartoon strip, publish it, and even share it on your social media website(s).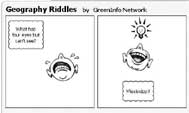 This month we have a collection of tools to share, built by our very own John Kelly. Ever wonder what annotation layer your label ended up in? Want to add a fading buffer to your map but don't want to bother with all the steps? Could you use a quick list of any layers in your map that have transparency to avoid a rasterized image export? Well, John has faced all these obstacles and in each case he's taken the time to create an ArcGIS tool to make life easier for all of us!
Read the Extended Summary.
Dear friend:


With fall quickly setting in, we're feeling creative! In this edition we'll point you to a site where you can convert computer generated maps to sketch images and introduce you to a website that makes creating your own cartoon strips fast, fun, and easy. We've also got tips on how to celebrate GIS day, a list of great geography blogs, and a quick introduction to Zach Erbe, the newest member of the GreenInfo Team.
Geospatial technology is continuing a rapid expansion on the Internet. While this has been going on for some time, only in the past couple years has technology, capacity and audience hit the right balance. GreenInfo has been working on web mapping for a number of years, but we're finding a growing demand now for us to also help build the web sites that feature such mapping (see below!). But we're still strongly engaged in using GIS tools for analysis, data and display, and we expect that to keep growing, too.
GreenInfo has built a number of web sites that feature significant mapping elements (a great example is the Bay Area Open Space Council's web site), a beautiful and rich web home to this dynamic organization that was built by GreenInfo's Rhonda Friberg, working with the Council's graphic designer. In the past six months, we've focused on using the popular blog Wordpress as a base for web sites. The image below is from our forthcoming site for the U.S. Geological Survey's Gap Analysis Program, with whom we've worked closely on protected areas data. Rhonda Friberg, Larry Orman and graphic designer Annabelle Ison have collaborated to create this great new site, which should launch before the end of 2010. Let us know if you'd like to work with us on overall web site design, adding features or creating mapping elements to your existing web site – we've got lots of great and affordable solutions!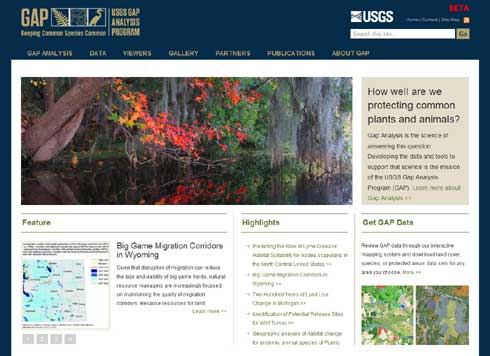 Kids and Geography, Getting Ready for GIS Day
November 17, 2010 is GIS Day, part of Geography Week. If you want to get ahead on some great ideas for engaging kids with map making and geography, this site has a great set of links (hint, choose categories on right side of screen).
Ever miss the days of the quick hand drawn map? While we love detailed maps, we also realize that the best answer can often be the simplest. Check out the Bing Destination Map. The four map styles (Sketchy, European, American, and Treasure) are a great way to show a simple map without all the often unnecessary detail. If only you could print them on a napkin!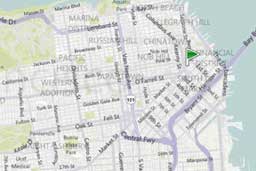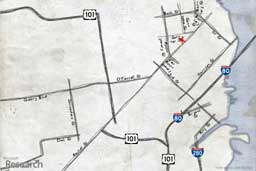 Bay Nature is a quarterly magazine and great web portal featuring stories about nature in the San Francisco area. GreenInfo has worked with them on a number of publication maps created by our own Louis Jaffe. They're offering special gift subscriptions to this wonderful magazine – you can get a two year subscription for as little as $15. These subscriptions make terrific holiday gifts for friends and relatives – Bay Nature has outstanding writing and photos, plus their web site links to groups and activities all over the Bay region.

ESRI Adds Parcel Lines to World Street Map Service
Looking to quickly review parcel lines in your project area, without the hassle of contacting the county assessor for the latest data? Try loading up ESRI's World Street Map Service. It doesn't include parcel attributes, but it does include shapes for some of the counties who still haven't made data publicly available for the cost of reproduction! This is similar to Google Maps parcels, but can be brought right into desktop GIS software, including the free ArcGIS Explorer software noted in the last edition of Map Lines.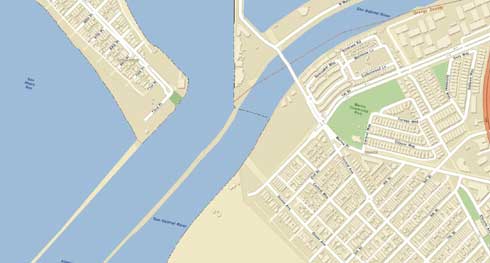 Happy mapping from the GreenInfo Team!
Larry Orman, Amanda Recinos, Tim Sinnott, Jennifer Strahan, Rhonda Friberg, Alex Barnish, John Kelly, Jason Jones, Stephanie Ding, Maegan Leslie Torres, Zach Erbe and Aubrey Dugger
copyright © 2010 GreenInfo Network