Dear Friend,
Welcome to MapLines, our monthly e-newsletter of tips, tricks and tools.
We'd love to keep you on the MapLines list – but if you would like to unsubscribe, no problem, just click click the link at the bottom of this message, and thanks for reading. We also respect your privacy and won't sell or trade your email address.
On to the news!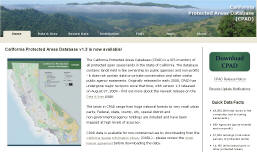 California Protected Areas Database (CPAD) v1.3 is now available!
Released in August, GreenInfo's CPAD v 1.3 has undergone
major improvements, especially in urban areas. CPAD is a comprehensive GIS inventory of all protected open space lands in the State
of California (it's been downloaded over 2,500 times in the past year!). V
isit
http://www.CAlands.org
for more information and to download v.1.3 - and check out
http://www.ProtectedLands.net
for information about national efforts on protected area inventories.
ESRI - ArcGIS Online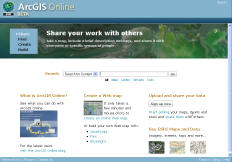 ESRI has recently enabled its online mapping system, ArcGIS Online. For users of ESR
I GIS software, the
ArcGIS Online web site
offers very interesting opportunities, as does a companion site for open
source approaches to online mapping, Mapping for Everyone
. AND, if you are using GIS and don't know how to access the ESRI imagery and other base map data as a service that you bring into your ArcGIS documents, check out this information

.
Type Brewer
What exactly is the right font type and size for map labels?
Good
cartographers know that
labeling can make or break a map. If you've found yourself asking
this question while designing maps, Type Brewer may be a good resource for you. This website provides examples of different map labeling styles. AND best of all, it provides optimal font type names and sizes to get you started.
Gaiagi Driver
Never been to Buckingham Palace? Go there with Google. Use this Google Mash-Up to take a driving tour of London, and then stop over in Paris. This 3D Driving
Simulator uses Google Maps Street view and MS Virtual Earth Birds Eye View to simulate a realistic driving experience for the user. Popular tourist attraction routes can be viewed. Requires installation of Google Earth Plug In.
Safe driving!
MSR MapCruncher for Virtual Earth
Have you ever wanted to integrate your map with MS Virtual Earth? Use the MapCruncher
mash-up to import a map and augment existing roads data and aerial imagery. This
is especially useful for trail maps or building footprints, however any possibilities can
be explored using your very own maps.
GIS and Related Conferences
GreenInfo Network recently attended the NACIS Conference (the organization of cartographers)
and presented at the Land Trust Alliance Rally.
Check out the links for conference summaries.
Happy mapping!
The GreenInfo Team
Larry Orman, Amanda Recinos, Tim Sinnott, Maegan Leslie-Torres, Jennifer Strahan, Rhonda Friberg, Alex Barnish, John Kelly, Jason Jones, Stephanie Ding and Aubrey Dugger
Got great tips for us to put in our newsletter? Send 'em to gin@greeninfo.org!
Check out these other GreenInfo Network managed web sites: www.parkinfo.org, www.landtrustgis.org, www.calands.org, www.protectedlands.net