Gender Equality Council
Amy Ackerman
Attorney

Noni Allwood
Center for Talent Innovation

Antoine Andrews
Gap Inc.

Mary Boughton
Catalyst

Patricia Bovan
Symantec Corporation

Kat Gordon
Maternal Instinct

Aysha Handley
McKesson Corporation

Lori Mackenzie
Clayman Institute for Gender Research, Stanford University

Brian Maxwell
Deloitte Services

Anu Menon
Presidio Knolls School

Sarah Stuart
Google, Inc.

Jeffrey Thompson
Levi Strauss & Co.

Founding Partners

Shawn MacDonald
Verité

Christine De Groot
Calvert Investments

Emily M. Murase, PhD
San Francisco Department on the Status of Women
Department Staff
Ann Lehman
Policy Director

Elizabeth Laferriere
Program Manager
Follow @GEPInitiative

"Like" us on Facebook

Join us on LinkedIn

Gender Equality Challenge Launched at City
Hall
On April 15, 2013, Supervisors David Chiu, Malia Cohen, and David Campos joined the City's Director of Communications and Public Affairs, Christine Falvey, Executive Director of the Department on the Status of Women, Emily Murase, PhD, the Gender Equality Council, leaders from San Francisco companies, and more to launch the Gender Equality Challenge. The goal of the Gender Equality Challenge is to motivate organizations to join the effort to advance gender equality in the Bay Area and to improve the working environment for all women and men. Th

e Challenge will collect and highlight gender-responsive

model practices that can

be measured, shared, and replicated.
Earlier last week, Mayor Ed Lee set the tone for the Challenge, saying: "A thriving 21st Century San Francisco workforce requires that we honor the principles of equality so that both men and women are treated equally in the workplace. Along with our valuable corporate partners, we are committed to creating workplaces in our City that will be recognized models for our entire nation."
Dr. Murase opened the April 15 event on a similarly enthusiastic note. Addressing the packed house at City Hall, Dr. Murase called attention to the global momentum around issues of gender, innovation, and equitable workplaces. She thanked the Gender Equality Council - a working group comprised of representatives from leading Bay Area companies - for crafting the Gender Equality Challenge to tackle these critical issues.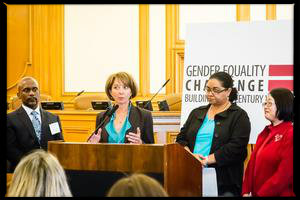 Supervisors Chiu, Cohen, and Campos described the need for a public-private partnership to advance workplace equality. They cited dismal
female leadership and equal pay statistics, and emphasized that the time for change was now.
Ms. Falvey
highlighted Mayor Lee's strong connection with gender equality in San Francisco, and how 15 years ago, as director of the Department of Public Works, he implemented the very first gender analysis of a City department.
Ann Lehman, Policy Director of the Department on the Status of Women, outlined the Gender Equality Challenge and the 7 principles on which it is based. "Gender equality is not just the right thing to do," she said, "It is the smart thing to do." Gender equality in the workplace is essential for:
Achieving better financial performance

Attracting a broader spectrum of talent

Enhancing organizational health

Improving brand and marketplace
Teresa Briggs, the first female Managing Partner at Deloitte in San Francisco, said that Deloitte became involved with the Gender Equality Principles Initiative - the program that is the foundation for the Challenge - because "it was the right thing to do for their people and their clients."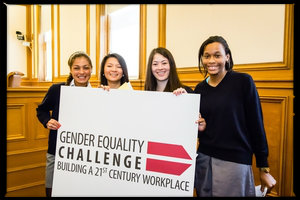 She then described two Deloitte practices that fall under the following principles:
Next, Cecily Joseph, Senior Director of Corporate Responsibility and Compliance at Symantec Corporation, began by saying: "I am a woman who works in an environment where women are underrepresented and often struggle to find their voice...I think that even with [all my achievements], that is still who I am in my job every single day, and I think a lot of us can relate to that." She noted the importance of the Challenge to move corporations in the right direction.

Ms. Joseph explained that
Symantec is actively re-framing how it approaches gender equity and inclusion at all levels in the company. She shared her personal experiences with setting goals, and the importance of having CEO support for practices that promote equality.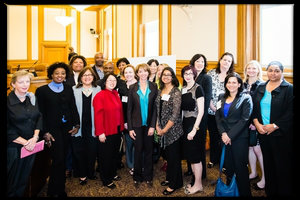 Dr. Murase concluded the event by challenging Bay Area companies to do their part for gender equality and smart business, and apply to the Gender Equality Challenge.
Check out great photos from the event on Facebook.

Read more about the launch on SFGate.
Bay Area Companies: Take the Challenge!
Starting NOW, we challenge Bay Area companies to share a model practice based on one of the 7 Gender Equality Principles.

To participate in year one, companies must complete this brief pre-application form. At this time, only companies with 1,000+ employees and an office in San Francisco are eligible to apply. After the Challenge receives the pre-application form and confirms the company's interest in sharing a model practice, we will provide the full application. Learn more about Challenge program benefits, requirements, and application here.

Know of a Bay Area model practice that should take part in the Challenge? Let us know!
Upcoming Events
Join us as we advance the conversation on 21st century workplaces at a number of upcoming events. For more information, please email Elizabeth Laferriere at elizabeth.laferriere@sfgov.org.

Trafficking, Supply Chains, & Gender: A Roundtable on the 2010 California Trafficking Law
May 21, 2013
8:30 am - 12 pm
25 Van Ness Avenue, Room 610
Learn more about the California Transparency in Supply Chains Acts of 2010

Executive Presence: A Roundtable on Women, Sponsorship, & Career Development (Sponsored by McKesson and the Center for Talent Innovation)
August 2013
Location TBA
Learn more about Executive Presence

2014 Model Practice Forum
January 2014
Location TBA
Forum will highlight a diverse selection of model practices from the 2013 Challenge
Learn more about the Gender Equality Challenge
Thank you!
Thank you to everyone who joined us for the historic launch of this new initiative. We are grateful for the ongoing support of Mayor Ed Lee and Christine Falvey. We are honored by the commitment of Supervisors David Chiu, Malia Cohen, and David Campos to advancing equality in San Francisco. The inspirational words of Teresa Briggs and Cecily Joseph move us and lead us all in the right direction.

The Challenge would also like to thank the Gender Equality Council Members for their dedication and vision; Alexis Koelbl and Nick Despota for their creative insight; the Department on the Status of Women staff for their time and commitment; the Commission on the Status of Women and Friends of the Commission on the Status of Women for their ongoing support; and to all of our private sector partners, present and future, for committing to build a 21st century workplace where women and men can thrive equally.