Rally For A Safer Cambridge Street!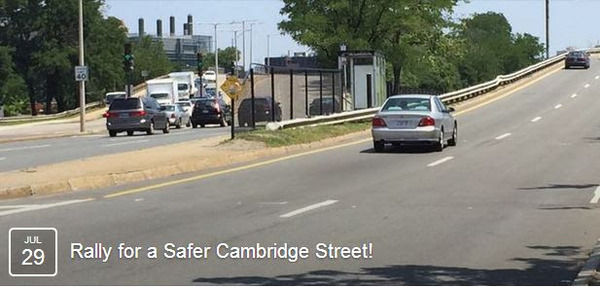 On Tuesday morning at 8AM (tomorrow), let's make it clear that we need to make Cambridge Street in Allston Safer NOW!

MassDOT and the City are designing a new Cambridge Street as part of the Mass Pike reconstruction project and the City's street and intersection project. There have been multiple pedestrian and cyclist deaths on Cambridge Street in recent years.

As we plan for the future, the new street needs world-class design for mass transit and people walking, running, and biking. But safety measures can't wait!

We need #SaferStreets. People who walk, bike, take the bus, and drive a car should all be able to move safely through our neighborhoods right now.

Stop by Tuesday morning on your commute to tell the State & the City to please find interim solutions that can be applied:
- Fix the broken street lights
- Slow the speeds of traffic on and near the Mass Pike ramps
- Make sure users can safely access MBTA bus stops via crosswalks
Please Help Spread the Word on Facebook & Twitter:
See you tomorrow morning, Tuesday, 7/29 at 8AM!