Two Public Meetings With Redesigns Impacting Pedestrians!

WalkBoston, the Boston Cyclists Union, LivableStreets Alliance, MassBike along with many other partners invite you to show up and speak out at two important public meetings this coming week: Cambridge Street in Allston & Causeway Street by the Boston Garden. These are major redesign projects, and your voice matters.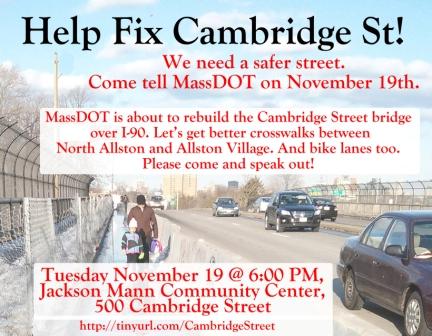 CAMBRIDGE STREET (Allston)
We need a safer street and better crosswalks than the current plan proposes.
DATE:
Tuesday, 11/19 - 6pm
WHERE:
Jackson Mann Community Center
500 Cambridge St, Allston
DETAILS:
MassDOT is about to rebuild the Cambridge Street bridge over I-90 which is listed as "Project File Number 606376".
TO LEARN MORE:
Comment Letter to MassDOT (11/12/13)

Help Make Cambridge Street Safer' info page & petition

"Runner Wants to Build a 'Boston Strong' Memorial Bridge." (7/11/13) The president of the New England chapter of USA Track and Field would like it to go up over a section of I-90. Boston Magazine.
CAUSEWAY STREET REDESIGN (North Station Area)
DATE:
Thursday, 11/21 - 6pm
WHERE:
CBT Architects, 110 Canal St, Boston
DETAILS:
The City of Boston will present an updated plan for the reconstruction of Causeway Street in the Bulfinch Triangle/West End neighborhood as part of the Connect Historic Boston and Crossroads Initiative. The goal is to create a multi-modal corridor that benefits all users with improved mobility and safety.
TO LEARN MORE:
Our suggestions on elements for the new design (11/8/13)

Comment letter for PNF for Boston Garden Project (10/8/13)
---
Massachusetts Smart Growth Conference Is Coming
DATE:
Wednesday, 11/20 - 8:30am-5:30pm
WHERE:
Boston Convention & Exhibition Center
DETAILS:
Join public, private, and civic leaders at the state's premier sustainable development event to explore:
How smart growth can save public and private dollars;

Why segregated development patterns threaten our economy and what communities and regions can do about it; and

What the next generation of smart growth policy and infrastructure will look like.
Wendy Landman will be moderating an afternoon session during the conference, titled:
"We are what we build: The rise of public health in reshaping our communities."

In an effort to make this smart growth event more inclusive, the organizers are offering discounted registration of $50 to all attendees: private firms, public agencies, nonprofits, and students. (Promotional codes are no longer needed.)

TO LEARN MORE:
Smart Growth Conference website
---
New LED Lighting on Northern Avenue Bridge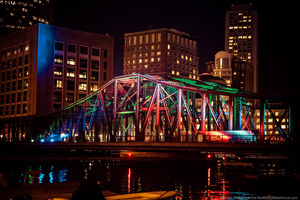 "Lighting the Northern Avenue Bridge not only enlivens the Fort Point Channel and celebrates the architecture of this historic bridge, but it also underscores the growing connection between the Innovation District and the Financial District," Mayor Menino said. "I applaud the work of Light Boston, the Department of Public Works, and all our partners who made this possible."
WalkBoston advocated for the preservation of this historic swing bridge across the Fort Point Channel for pedestrian use when it was slated for demolition in 1997. The Old Northern Avenue Bridge is still an excellent pedestrian connection from Downtown Boston into the developing Seaport District!
See more great photos & coverage of the initial lighting event by
Matt Conti for NorthEndWaterfront.com
---


On Marathon Day, the Boston Athletic Association looks out for the safety of runners; the other 364 days a year it's up to WalkBoston.
WalkBoston has been selected by the John Hancock Non Profit Partners for the valuable opportunity to receive charity bibs for the 118th Boston Marathon™ on April 21, 2014.

Thank you to everyone who has contacted us to join our team or has recommended runners to join us. We welcome any Boston Marathon™ qualified registered runners to also join our team. Charity runners must raise a minimum of $7500 in fundraising. Registered runners must raise a minimum of $1000.

Find out more info on our website, or feel free to email Brendan!
---
Pedestrian Safety
With shorter hours of daylight, it can be more difficult to see (and be seen!) while out walking, running, riding, commuting & driving. We're working on a safety campaign in conjunction with other advocacy groups & businesses throughout Massachusetts. Stay tuned for more info!



Know a group or a business that this would want to get involved?
Email Brendan or call the office at 617-367-9255. Thank you!
---
Thank you to our corporate sponsors: