Town Hall Meeting on Policy Issues with Mayor-Elect Martin Walsh this Saturday; Landman Named to Transition Team

Mayor-elect Marty Walsh will be holding an all-day open town meeting with issue-specific breakout groups this Saturday, 12/14, at the Reggie Lewis Center at Roxbury Community College to supplement his Transition Committee's Issues Working Groups public hearings. The event will give all Boston residents the opportunity to share their ideas with the leaders of the Transition Committee Issues Working Groups about how they would improve the City of Boston. Click here for more info & to RSVP.

Public Hearings will also be held on different topics. At each of these hearings, Boston residents can attend and share their ideas with the leaders of these Working Groups about how they would improve the City of Boston. WalkBoston's Executive Director Wendy Landman is a member of the Transportation Team.

Public Hearings (click for location & to RSVP)

Open Town Meeting: Saturday, December 14, 2013, 10:00AM-5:00 PM | More Info
Transportation: Monday, December 16, 2013, 5:30-7:00 PM | More Info
Environment: Tuesday, December 17, 2013, 7:00-9:30 PM | More Info
Public Health: Wednesday, December 18, 2013, 5:30-8:00 PM | More Info
Basic City Services: Thursday, December 19, 2013, 6:00 PM - 8:00 PM | More Info
Youth: Thursday, January 9, 2014, 6:00 PM to 8:00 PM | More Info
Human Services: Saturday, January 11, 2014, 10 AM-12:00 PM | More Info
Ideas will be collected at each public hearing and integrated into a final presentation that each working group will share with the Mayor at the end of January 2014. Those who are unable to attend may submit their ideas online to: www.boston14.org/share-your-ideas

---
Blackstone Block, Causeway St, Commercial St Meetings

The $23 million Connect Historic Boston TIGER project will reconstruct seven streets in Boston as shared or complete streets to improve access between transit and National Park Service sites. WalkBoston has been following these projects closely, and has proposed a number of changes that have influenced design choices. There are three public meetings next week.

Blackstone Block:
December 16th 6PM at Boston City Hall, 9th Floor, Room 900.
More about the Blackstone Block | Meeting Info

Causeway Street:
December 17th 6PM at CBT Architects, 110 Canal Street.
More about Causeway Street | Meeting Info

Commercial Street:
December 19th 6PM at the Mariners' House, 11 North Square.
(Please note that this is a change from the previously advertised location at the Nazzarro Center).
More about Commercial Street

---
Traffic Advisory Series: Transit Equity with John A. Powell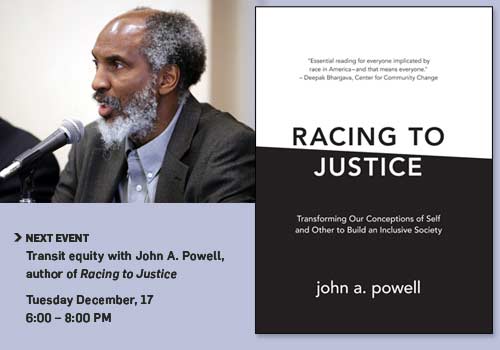 TRAFFIC ADVISORY brings together leading national and regional policymakers, architects, engineers, researchers, and planners to frame Boston's mobility challenges and prospects in this new era of economic, climate, and social transformation.

The third session in the series is called Transit equity and takes place on

Tuesday, December 17

, at

6:00 pm

at BSA Space (290 Congress Street, Boston).

It features John A. Powell, professor of law, African American Studies and Ethnic Studies, and executive director of the Haas Diversity Research Center at the University of California, Berkeley, who will speak about transit equity's key role in Boston's upcoming transportation visioning.

To attend, email rsvp@architects.org with "Traffic 12/17" in the subject line.

Learn more about Traffic Advisory, a component of Overhaul: the 2013-2014 Transportation Series.
---
WalkBoston makes walking safer and easier in Massachusetts to encourage better health, a cleaner environment and vibrant communities.
Our education and advocacy programs give voice to people

to make their communities more walkable.

Working with government agencies, we influence state and local transportation policies and designs.

We develop and implement innovative programs that address accessibility, social and physical barriers to walking.

Our work especially benefits those who depend on walking the most:
people with lower incomes, seniors, children, and people with disabilities.
With your support, WalkBoston can continue to be the resource for pedestrian issues!

Find out
more info
on our website, or feel free to
email Brendan
!
---
Kickstarter is 63% funded - please help us spread the word!
The campaign to bring a healthy walking map to Revere is underway, and if you haven't seen the video yet, take a look. We have two weeks left - and need your help to get there. Please consider making a pledge or sharing with your networks. The more people that see the work we're doing in Revere, the better chance we'll hit our goal.

Shareable Links
Here is a link to the Kickstarter page: http://kck.st/1dBhlJi
If you use Facebook, click to like/share this Facebook photo: http://on.fb.me/1c7kJou
If you use Twitter, click to retweet this tweet: http://bit.ly/1aZMC0T
Recent News Coverage
CROWDLIFTED: Urban Community Wellness Program Takes To Kickstarter To Crowdfund A Healthier Hub
Alliance for Biking & Walking: One Step at a Time, Boston Advocates Boost Walking at the Local, State, National Levels
This Kickstarter campaign is not only about Revere; it also demonstrates how WalkBoston maps continue to be a useful tool for any community. We highlight the town of Milford in our video, and just this past week we received word that the
WalkBoston map for Chelsea is now used in pediatricians' offices to show families how to incorporate physical activity into everyday activities!
---
Thank you to our corporate sponsors:
Racewalkers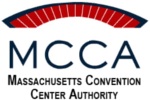 Striders







Strollers
Boston Society of Architects
DLA Piper
Eastern Bank
Fay, Spofford & Thorndike
Goody, Clancy & Associates
HMFH Architects
HNTB
HYM Investments
MassDevelopment
Microsoft NERD Center
Millennium Partners
New Balance
NStar
Partners HealthCare
Plymouth Rock
Sasaki
Stantec
TEC Engineering
The Collaborative
TranSystems
Tufts Medical Center
Vanasse Hangen Brustlin
Zipcar
---
See past enewsletters at www.walkboston.org/enewsletters