We Did It! Kickstarter Success Closes Out 2013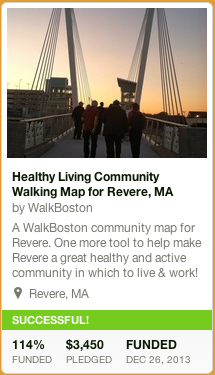 Thanks to many of you - our first try at crowdfunding was a success! With the help of more than 60 backers, we were able to exceed our goal of $3000. We also received a $1000 contribution from MassPort for the map, which means we have made a full match for the $4,250 Tomfohrde Foundation grant!
If any other organizations are considering Kickstarter, don't hesitate to reach out, we'd be happy to share what we learned.

Lesson #1: Video humanizes your story!
We want to give a huge THANK YOU to
Directr
, which helped us create a video to tell the story of WalkBoston's work in Revere. Directr is an app for point & shoot video editing on an iPhone. Check it out!
Kickstarter backers, be on the lookout for a survey in the next week.



---
New Resources Available on Our Site

Some of our highly motivated interns have updated our website to include many additional articles and reports under our Walk Your Way to Health and Good Walking is Good Business sections. We hope you'll find the documents on those pages helpful!
---
WalkBoston makes walking safer and easier in Massachusetts to encourage better health, a cleaner environment and vibrant communities.
Our education and advocacy programs give voice to people

to make their communities more walkable.

Working with government agencies, we influence state and local transportation policies and designs.

We develop and implement innovative programs that address accessibility, social and physical barriers to walking.

Our work especially benefits those who depend on walking the most:
people with lower incomes, seniors, children, and people with disabilities.
With your support, WalkBoston can continue to be the resource for pedestrian issues!

Find out
more info
on our website, or feel free to
email Brendan
!
---
WalkBoston Receives Healthy Aging Grant From Tufts Health Plan Foundation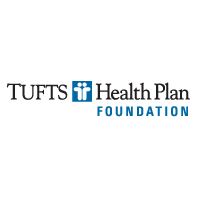 Tufts Health Plan Foundation announced new funding to 39 Massachusetts and Rhode Island based organizations as part of its second cycle of funding in 2013.

"By focusing our grantmaking on healthy aging, we've been able to create a thoughtful pattern of giving that helps older adults in our communities live more meaningful lives," said Jim Roosevelt, president of the Tufts Health Plan Foundation and CEO of Tufts Health Plan. "We hope through the programs we fund, we can continue to make a real difference in the lives of older adults and in encouraging all of our society to see aging as an opportunity for healthy aging rather than aging as a way in which people are limited in their lives."

The Tufts Health Plan Foundation Grant will fund WalkBoston to work with the Brookline Community Aging Network and the Brookline Teen Center on the development of a tool-kit to engage seniors and young people in promoting walking as a crucial form of transportation. See the full press release here.
---
Globe Subscribers: Please Choose WalkBoston for The Boston Globe's Brand New GlobeGRANT Program!

GRANT stands for Globe Readers and Non-profits Together, and is a program built to allow readers to support their favorite non-profit in a meaningful way. GRANT enables readers to show their support for non-profits by choosing which ones are given free advertising space in The Boston Globe.

GRANT distributes gift checks to existing subscribers through the mail and subscribers make the checks out to a non-profit and return the check. The non-profits will then be granted advertising space to promote their organization based on the total amount readers have donated to them.

We'd love you to support WalkBoston! Find out more info at
BostonGlobe.com/grant
---
Thank you to our corporate sponsors: