Enough is Enough: Ask Congress to End Rising Rates of Bike/Ped Fatalities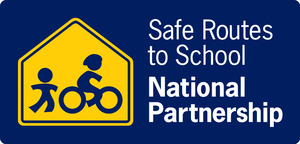 Bicyclists and pedestrians now represent 16.3 percent of all traffic deaths (an increase from 2011), yet states spend just 0.4% of their safety dollars on bicycle and pedestrian safety.

The Safe Routes to School National Partnership applauds Sens. Merkley (D-OR), Ayotte (R-NH) and Schatz (D-HI) and Reps. Blumenauer (D-OR), Coble (R-NC), DeFazio (D-OR) and McCaul (R-TX) for introducing legislation (S. 1708 / H.R. 3494) to require USDOT to set a non-motorized safety performance measure. This is absolutely critical to ensure that every state looks at their trends for bicycle and pedestrian safety and sets a target for reducing these fatalities and serious injuries--and then uses safety money to make it safer for bicyclists and pedestrians.

Please help us build the momentum for this important legislation by contacting your members of Congress to ask them to co-sponsor these bills. It's time that we all stand together to say that the deaths of bicyclists and pedestrians deserve to be counted and prevented too.
TO LEARN MORE:

Contact your member of Congress (enter your zip code)

Safe Routes to School National Partnership post

National Highway Traffic Safety Administration release with 2012 final data and 2013 preliminary data
---
Golden Shoe Nominations Now Open!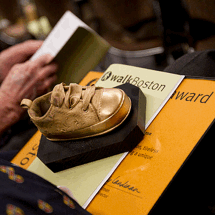 We are now accepting nominations for the Golden Shoe Awards! Golden Shoes are awarded to individuals, municipalities and companies at our annual meeting in March to celebrate and reward those who have bettered the walking environment and who exemplify the ideals that guide WalkBoston.

Last year's winners:
City of Gloucester
Madison Park Development Corp.
The Barr Foundation

To see a full list of previous winners or to make a nomination, head to our site.
---
Faces of Public Health: Wendy Landman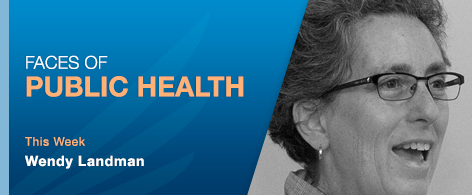 WalkBoston Executive Director Wendy Landman was recently interviewed on the Robert Wood Johnson Foundation's NewPublicHealth Blog.

"NPH: Who needs to be at the table in order for communities to increase walkability?

Landman: One of the first things we do when we provide technical assistance to communities is show them that practically every municipal department is part of the walking equation. We pull in the school, police and public works departments; the senior center; parks and recreation; planning; and arts and culture. We think that the table needs to be incredibly broad.

The good news is that at the federal level, we are now seeing the U.S. Department of Housing and Urban Development, the U.S. Environmental Protection Agency and the U.S. Department of Transportation working together on walkable communities' initiatives.

Another critical participant is the business community. WalkBoston developed a program we call "Good Walking is Good Business," which demonstrates how important walkability is to healthy retail districts and to businesses that are trying to attract young employees. The real estate world is now abuzz with stories about businesses that have moved to less expensive space out in green field sites, and then relocated back to urban centers because they couldn't attract and retain younger employees who want to be somewhere they can walk out the door to get lunch or run errands."
Read the full interview here.
---
WalkBoston makes walking safer and easier in Massachusetts to encourage better health, a cleaner environment and vibrant communities.
Our education and advocacy programs give voice to people to make their communities more walkable.

Working with government agencies, we influence state and local transportation policies and designs.

We develop and implement innovative programs that address accessibility, social and physical barriers to walking.

Our work especially benefits those who depend on walking the most:
people with lower incomes, seniors, children, and people with disabilities.
With your support, WalkBoston can continue to be the resource for pedestrian issues!

Find out
more info
on our website, or feel free to
email Brendan
!
---
Kickstarter is 56% Funded; Help Get Us Over the Top!
The campaign to bring a healthy walking map to Revere is underway, and if you haven't seen the video yet, take a look. We filmed the whole thing on an iPhone!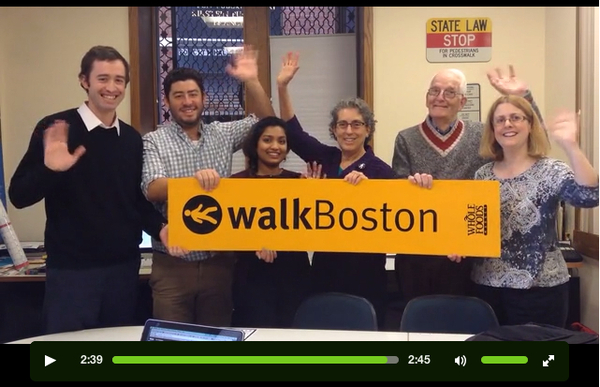 This Kickstarter campaign is not only about Revere; it also demonstrates how WalkBoston maps continue to be a useful tool for any community. We highlight the town of Milford in our video, and just this past week we received word that the
WalkBoston map for Chelsea is now used in pediatricians' offices to show families how to incorporate physical activity into everyday activities!
---
Additional WalkBoston News Coverage
We didn't have enough room for everything in this newsletter, but these articles were certainly worth including, too! Can't wait 2 weeks between e-news? We also share news updates on Facebook or Twitter.

Key Ingredient To A Richer Landscape: Great Walking Environment
Boston Globe, Op-Ed by Wendy Landman, November 17, 2013

WalkBoston: Urban Community Wellness Program Takes To Kickstarter to Crowdfund a Healthier Hub
CROWDLIFTED, December 3, 2013
One Step at a Time, Boston Advocates Boost Walking at the Local, State, National Levels
Alliance for Biking & Walking, December 2, 2013
---
Thank you to our corporate sponsors:
Racewalkers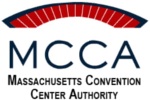 Striders







Strollers
Boston Society of Architects
DLA Piper
Eastern Bank
Fay, Spofford & Thorndike
Goody, Clancy & Associates
HMFH Architects
HNTB
HYM Investments
MassDevelopment
Microsoft NERD Center
Millennium Partners
New Balance
NStar
Partners HealthCare
Plymouth Rock
Sasaki
Stantec
TEC Engineering
The Collaborative
TranSystems
Tufts Medical Center
Vanasse Hangen Brustlin
Zipcar
---
See past enewsletters at www.walkboston.org/enewsletters