Report on All-Cuts Budget Reveals Racial Disparities
Estmad@ Amig@,
The report
Facing Race: How Budget Cuts are Increasing R
acial Disparities
has just been released by
Washington CAN!
The publication explores the impact that all-cuts budgets have had on existent racial disparities in our state. Providing a thorough analysis of the 2011-2013 biennial budget the report presents a disturbing picture of how
budget cuts disproportionately affect communities of color.
As outlined in the report, the income gap has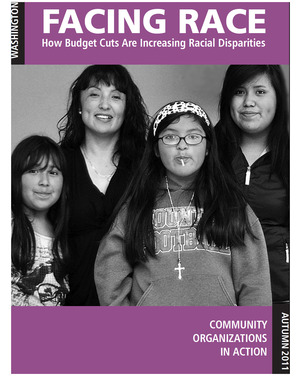 increased over the past decade and the impact of
the recession has not hit the population equally.
Washington's regressive tax structure disproportionately pressures the state's people of color. Due to its inability to use a graduated income tax structure, higher-earners pay a smaller share of their income taxes than middle or low-income households. The report also examines the impact all-cuts budgets have had on education, criminal justice, housing, and more.
It is apparent that ethnic divisions in employment and economic standing have widened dramatically
.
With the reality of budget cuts facing our state, it is made vitally clear by the report that our legislatures must know the impact that all-cuts budgets have on our communities of color. These are issues which impact all communities:
Click here
to read the report and be
come more informed about the impacts of all-cuts budgets.
Siempre bienvenidos, nuestra casa es su casa.
Estela Ortega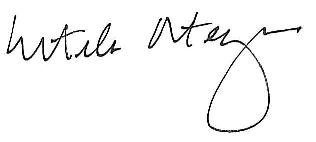 Executive Director
PS - And of course, visit our website to stay up-to-date on the happenings at El Centro and in nuestra comunidad - our community.
Communi-Chi Special Fund Raiser
In celebration of its upcoming
5 year anniversary
in Suite 301 at the El Centro community center and the approximately 15,000 low-cost acupuncture treatments offered to the community during that time, our neighbor, CommuniChi Acupuncture Clinic wishes to recognize and support the interconnectedness and unity of its social service-oriented mission with that of El Centro de la Raza.

Beginning Monday, 12/19 until 12/21
, anyone wishing to experience acupuncture can make an appointment at CommuniChi:
100% of proceeds will go to El Centro!
Offer details:
Appointment required. 1 treatment per person. Dates: 12/19-12/31/11.
Open to all - whether or not you
have visited CommuniChi before
. Donations to El Centro
are fully tax deductible. For more information on CommuniChi, visit www.communichi.org
Or call Communichi at (206) 860-5009. Para informacion en español, click aqui
El Centro Christmas Tree Sale is Underway!
Our selection is stocked with trees supplied by a local tree farm that is owned and operated by
Adrian and Evencio Gonzalez,
two brothers originally from Oaxaca, Mexico.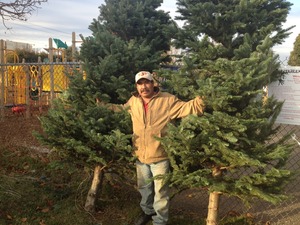 The Gonzalez brothers grow their trees in the area of Onalaska, WA and produce some of the nicest Christmas trees available. Due to their
growing and pruning expertise
,
they are sought after by some of the state's largest Christmas tree growers
. They continue to grow their own small business by producing some of the most beautiful Norman, Douglas, Noble and Grand Firs around.
Thanks to the Gonzalez brothers, we are able to offer our fresh, locally grown trees.
By purchasing your Christmas tree from El Centro
you can support both small, local business, as well as support our many human service and community building programs. You can
call ahead to pre-purchase
by phone (206) 957-4605 or
email
and then
visit El Centro to pick out your favorite tree!
Las Posadas: Community Gathers to Celebrate
* Las Posadas Photos courtesy of Janitzio Garcia photographer
On the evening of Dec. 12
th
El Centro hosted Las Posadas and our 2nd annual Tree Lighting Ceremony. By gathering together we have helped pass on to our children and youth our traditions, celebrations, and symbols to give us all the strength and the courage to keep struggling for
success in building the Beloved Community
. We were delighted to have
more than 500 people in attendance
for the special song and dance performances, posadas, Christmas tree lighting, pictures with Santa, children's activities and community holiday meal.
This well-attended gathering had a
variety of cultural holiday traditions
with representation from Veracruz, Mexico to Peru's El Carmen region. The evening included performances by many artists, such as Ofelia Alanis Torres (El Centro board member), the
Seattle Fandango Project, Danza de Negritos Troupe presenting La Rama, the Beaconettes and A La Carte.
We extend our
deep gratitude to all
who helped make this event memorable, with a special thanks to Jaime Bautista & Carlos Perez for meal preparation and to the Beacon Hill Merchants Association for co-sponsoring the event.

Jose Marti CDC Goes to the North Pole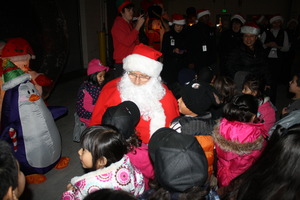 On Tuesday, December 7, through a special invitation by Delta Airlines, 16 adults with
92 children from our Jose Marti Child Development Center
traveled to Sea-Tac Airport for an unforgettable trip to the
"North Pole" via the "Santa Express!"
Click here to read more!
* Mil Gracias to Delta Air Lines, Shuttle Express, and all who made this possible!
iLEAP International Fellowship Program.
The Program's purpose is to strengthen and expand the leadership capacities of
social change leaders from around the globe
. Visitors presented during our weekly Charla on the status of their own countries and the work they are doing in their particular area. Presenters: Vianes Siliesta,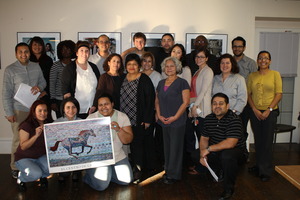 attorney for domestic violence survivors (Honduras); Paola San Martin, civil engineer for rural communities (Honduras); and journalist Susana Vanera of El Salvador. Their visit was a chance for us to
foster international relationships
and to participate with our sisters and brothers of other regions in the struggle to
achieve social justice worldwide.
Everyday our Employment Program at El Centro is
bringing real change to the lives of jo
b-seekers
like *Alonso Estrada. He says,
"I went to El Centro looking for work, looking for help to make a resume and use the computer...As a result I found a place where someone could help me find employment."
Click here to read more
*Name has been changed. / Quote has been translated from Spanish.
SPS: Equity & Race Advisory Committee
Seattle Public Schools is seeking unpaid volunteers from our diverse communities
to serve on the newly-formed Equity and Race Advisory Committee, for terms of up to 2 years. The Committee's purpose is to advise public school staff on issues of equity in education. Work will include periodic evaluations of – and input to – the District's ongoing equity activities and implementation of recommendations. District staff will facilitate once-monthly meetings (with the possibility of more meetings on special issues).
Interested individuals are encouraged to
read more
.
Major Renovation Project Completed for El Centro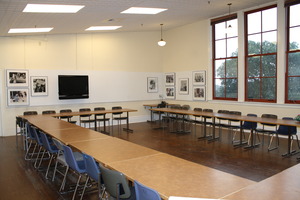 Mortenson Construction and Architects Without Borders were back at El Centro again, and completed a
pro bono renovation project of our main conference room
! The work included a new ceiling, TV monitor for presentations, new whiteboards, gallery wall panel, new lighting and wiring, storage space and a paint job!
Mil gracias to all who contributed volunteer time, funds, and in-kind donations to this project.
Mortenson engaged their subcontractors and vendors to donate time and materials. Architects Without Borders organized a Design Charrette in October to bring together architects, interior designers and decorators to provide input on the project and to design the renovations.
A special gracias
to Mark Drzewiecki, Mortenson Construction; Davide Helton; Architects Without Borders; Stephen Deal; United Way for making this project possible!
To rent El Centro's newly remodeled room 307
for your next meeting, conference or event please call (206) 957-4603 or
email
.
Save the Date for El Centro Events!

Holiday Gift Sale Happening Now!
There is a
special opportunity to do some holiday shopping
and help El Centro in the process.
We have a special selection of items reserved
from the 2011 Legacy Awards and Auction Banquet in September. Items included in our selection are unique and many quality items are available. You can buy these special items as gifts for your loved ones or as a special gift for yourself this holiday season.
All proceeds from this sale go to the support of our 33 human service programs.
To see the complete list of items and instructions to purchase, simply
click here
.
King County's 30th Annual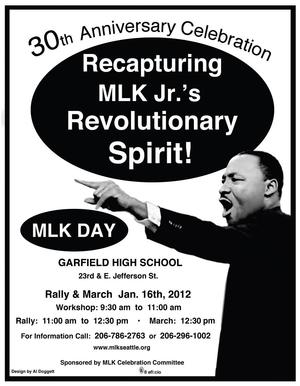 Dr. Martin Luther King Jr. Day Celebration!
Workshops: 9:30-11 AM
Rally: 11 AM - 12:30 PM
March: 12:30 PM
Please save the date for the 2012 MLK celebration! Seattle has one of the largest annual MLK Day celebrations in the nation. Join the MLK Seattle Celebration Committee at Garfield High School for free workshops, a rally and march! The school is located at 23rd and East Jefferson Street in Seattle.
The theme this year is
"Recapturing MLK Jr.'s Revolutionary Spirit!"
Spread the word!For more information
click here
!
United Way MLK Day of Service
Join the United Way of King County on
Monday, January 16th, 2012
for the National Day of Service honoring the life and legacy of Dr. Martin Luther King Jr. Participate in projects that will have a lasting impact on our community. You can volunteer on your own, or get in the spirit with colleagues, family, or friends. El Centro will host 2 group projects: A Fundraising Program Marketing Plan Assistance project and a Donor and Volunteer Appreciation Assistance project. Volunteers can sign up for El Centro projects and other volunteer opportunities when they
click here
.
United Way Tax Preparation
El Centro is serving as one of 16 tax sites for the United Way Tax Campaign 2012. Volunteers are needed to help working families keep more of their earnings. Last year volunteers prepared 13,320 tax returns, and returned $19.1 million in refunds to our community. No tax experience necessary: All new tax volunteers receive 2 days of training and are IRS certified. Volunteers work 4 hours weekly at one of 16 tax sites between 1/10 and 4/17. Training will be offered weekends through December and January. Intake volunteers also needed. Your time is valuable and we hope you will consider sharing some of it with taxpayers in need. Bilingual applicants are especially wanted. For more details click here.
Financial Literacy Classes
Clases del Manejo de Finanzas
Learn how to read a credit report, manage your spending and increase your savings to help set financial goals. Workshop dates run January-March:
Jan.30, 31, & Feb.2 at 9:30 AM – 12 PM or 5:30 PM – 8 PM
Feb.28, 29, & Mar.1 at 9:30 AM- 12 PM
Mar.26, 27, & 29 at 5:30 PM – 8 PM
Lunch and childcare may be provided at some sessions. For more information call Matthew Driscoll: (206) 957-4646 or
email
.
Alternatives to Foreclosure Orientations
Orientaciones para Alternatives de la Ejecucion
Jan.14, Feb.4, and Mar.3
10 AM – 12 PM
Are you at risk of falling behind on your mortgage payments or already behind?
Learn how to avoid foreclosure
and what options are available to you, the homeowner. Contact Piero Prada: (206) 957-4633 or
email
.
Overcoming Violence Through Hip Hop Artistry
Our friends at
206Zulu
are organizing a series of events including school-wide
assemblies to raise awareness of hip hop's true history
and to showcase
local Hip Hop artists.
These events are focused on
overcoming violence through the art form that is Hip Hop.
El Centro, in partnership with Denny International Middle School's Proyecto Saber Program, is coordinating
Hip Hop Poetry Classes!
Contact
Alex Bautista
for participation details: (206) 957-4620
Anuncios y Felicitaciones
Announcements & Congratulations
Rental Spaces Available at El Centro!
There are
office spaces available for lease at El Centro de la Raza's building
on Beacon Hill. We have two spaces currently open: Main floor (531 sq. ft.) and top floor (1055 sq. ft.). Please contact our Facility Manager for more information at (206) 957-4603 / email
facilities@elcentrodelaraza.org
Continued Efforts for Juvenile Justice
Seattle Public Schools will begin selecting members for its Discipline Advisory Committee which will be focusing on discipline within the schools and areas that need to be changed. El Centro has begun working with the district to initiate Teen/Peer Truancy Boards at Rainier Beach High School and soon at Chief Sealth High School. The goal of the truancy boards is to help students develop plans to reengage in school and to address any issues that may prevent them from attending classes.
El Centro at Models for Change Working Conference
We attended the 6th Annual Models for Change

Working Conference on December 5th and 6th in
Washington, DC
and participated in various workshops and trainings. This conference focused on the work nationally as well as locally around the country on
juvenile justice issues
.
CNUC Organizer Visits El Centro
Luz Vega, lead organizer with Consjo Nacional Urbano Campesino (CNUC)
in Tlaxcala, Mexico visited El Centro to present in one of our weekly Charlas. She shared with us the work she has been doing around urban and
rural social movements.
The Charla was open to the community and focused on lessons for women's, peasant, and labor movements. To view a sample of her presentation
click here
or read more onling about the
Mexico Solidarity Network
.
Know Your Rights!
The Anti-Discrimination Provision
of the Immigration & Nationality Act (INA)
The U.S. Dept. of Justice, Civil Rights Division has an office dedicated to ensuring that employers are not discriminating against work-authorized individuals based on their national origin or immigration status.
It is unlawful to fire or refuse to hire
certain workers because of where they are from or because they are not U.S. citizens. The law also protects workers where employers discriminate against them by asking for too many work-authorization documents or by rejecting valid documents.
How can I tell if an employer is violating the law? What about E-Verify? What can I do?
For more information / questions and answers:
Click here
to know your rights!
Social Ties Key to Treating Depression
Community Health Plan of Washington:
Holidays are supposed to be a time of joy and celebration. Sometimes that's the problem. Pressure to gather with family and create memorable moments can strip the joy from the season.
If you – or someone you are close to – feel sad,
it's important to know that depression is common, especially in older adults, and is highly treatable. Depression is a medical problem, not a personal weakness, and no reason to feel shame.
Depression is treatable. You are not alone
.
Please follow this
link to read more
.
Your Kids need Immunizations
Shots, (also known as vaccines or immunizations) help children fight many childhood diseases that could make them very sick. A lot of research has shown that shots are
safe for your child to receive
.
Click here
to view a chart that recommends when your child needs a shot.For information about immunizations, please talk with your health care provider. For information on quality and affordable health care for you and your family, please call the Community Health Plan customer service team at 1-800-440-1561 or go t
o www.chpw.org
.
If hearing or speech impaired, call TTY 1-866-816-2479
*Community Health Plan provides coverage for people in 39

WA counties. Members receive services from more than 2,588 primary care providers and 13,571 s
pecialists at more than 563 primary care sites and more than 100 hospitals.
Paid Parking Lot Coming Soon!
El Centro will be opening a
temporary parking lot
to earn much needed revenue for our programs and services. The lot will be in-use
until the ground breaking takes place
to build a mixed-use development on the site.
---
LOCAL
► Tri-Cities Hispanic Chamber of Commerce to Select Businesses for National Green Training Program: Story
► Education Roadmap Highlights Urgent Needs in King County:
Story
NATIONAL
► Hispanic Caucus Urges Senate to Confirm Ambassador
: Story
► County in Maryland Seeks Hispanic Teachers as Role Models: Story
► UnidosNow Hosts Education Event for Hispanic Students: Story