JUDGE GONZALEZ APPOINTED TO SUPREME COURT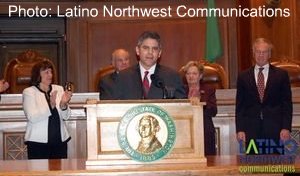 Estimad@ Amig@,
El Centro de la Raza's former Board of Directors member, Judge Steven Gonzalez was appointed to the state Supreme Court. Governor Chris Gregoire made the historic appointment of King County Superior Court Judge Steven Gonzalez to the state Supreme Court last Tuesday, November 15th. Gonzalez is the second justice of Latino heritage to be appointed to Washington's highest court since Charles Z. Smith's appointment in 1988. He will fill the seat of Justice Gerry Alexander and will begin his first term in January.

Gonzalez will bring a unique background and perspective to the court, which will be a value to both the court and our community. The Latina/o Bar Association of Washington is planning a reception in his honor. The reception will take place at 5:30 PM at the Olive 8 Hyatt Hotel in Seattle. We are proud to celebrate this accomplishment with him and look forward to the start of his first term this coming January. To register for this free event, please click here.
Siempre bienvenidos, nuestra casa su casa.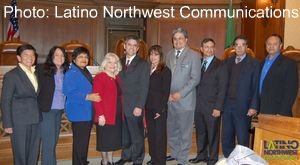 Estela Ortega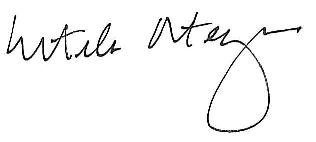 Executive Director


PS - And of course, visit our website to stay up-to-date on the happenings at El Centro and in nuestra comunidad—our community.
LAS POSADAS & TREE LIGHTING EVENT
Join us for Las Posadas - a traditional Christmas celebration that brings community together. Las Posadas will be led by the children and teachers at El Centro with special presentations by the Seattle Fandango Project and Danza de Negritos, a tradition practiced in various parts of Peru in the African-Peruvian community.

The entire community is invited to come celebrate this annual cultural holiday tradition of singing and family gathering! In addition to holiday music and dancing from Beacon Hill's A La Carte, you can be present for our first annual tree-lighting event!

There will be free food, songs, and a visit from Santa!
at El Centro de la Raza
Monday, December 12th - 6:00 PM
4:00-6:00 PM Free La Rama Workshop by the Seattle Fandango Project
This event is free for the whole family!

Mil gracias to the Beacon Hill Merchants for co-sponsoring this event:


LISTENING SESSIONS CONTRIBUTE TO 5-YEAR PLAN
In 2011, El Centro conducted Community Listening Sessions with hundreds of people from the Latino community. We have integrated their insights into our 2011-2015 Strategic Plan in order to effectively target the community's most pressing needs and continue our advocacy on behalf of all Latinos in Seattle and King County.

We have heard from the community that as the economy has continued to stagnate, earnings have decreased while the cost of living has increased; childcare services, food, and utility costs are higher; and rental assistance is difficult to acquire without employment. Budget cuts have reduced services while education obstacles, language barriers, immigration crackdowns and a lack of comprehensive immigration reform continues to tear families apart. Jobs remain scarce, layoffs continue and work hours have been reduced. Participants complain of discrimination, lack of Spanish-language support, fear of being reported to law-enforcement; embarrassment for asking for assistance; and being made to feel inferior by caseworkers.

The community has asked for assistance in overcoming these barriers. They need more easily attainable resources and less rigid eligibility standards. Having heard all this, we have concluded that the Latino community remains terribly underserved in a time when services are desperately needed. Through our 5-year Strategic Plan, El Centro de la Raza will endeavor to meet the needs of the Latino community and advocate on their behalf to both policymakers and to other social service agencies to ensure that they receive equal treatment and the services they need.
JUVENILE JUSTICE AND SEATTLE PUBLIC SCHOOLS
We met with Superintendent Susan Enfield to discuss the creation of a Discipline Advisory Committee. She informed us that not only would a committee dedicated to reviewing the issue and providing recommendations be convened, but also a Director of School Climate position will be created to work on issues of suspensions, expulsions and various other forms of school discipline.

All of this is part of a five year federal grant focusing on school climate and reengagement of students through alternative discipline measures. The Race and Social Justice Community Roundtable's sub-committee on Disproportionate Discipline has also been very helful on encouraging these changes to take place. El Centro de la Raza and the Race and Social Justice Sub-Committee will also be involved in the Advisory Committee's work.

Enfield also highlighted her commitment to finding a way to do away with out of school suspensions. She believes that the longer a student is at school the more likely they are to eventually graduate. We applaud Enfield on her work and for pushing to have these changes institutionalized.

This work was discussed and presented at the WA State Becca Conference on October 13thand 14th. About 200 people attended from across the state. We held a workshop focusing on our youth programming and our juvenile justice program with an emphasis on how to engage the Latino community on the issues around truancy and prevention, and alternatives to formal discipline.
PERSISTENCE BRINGS CHANGE
A few years ago Carolina Cervantes was without a stable home and had fallen in with the wrong crowd. She was in and out of school, fighting, joined a gang, and had started using drugs at the time that representatives from El Centro met her. As part of the Seattle Youth Violence Prevention Initiative, they reached out to Carolina. She says, "Every time they saw me they would tell me I was smart, had potential, and that I needed to go back to school."

Their persistence paid off. With their assistance, Carolina returned to school, earned her GED, and obtained a job with the city. Now that she has overcome so much she wants to use her past to help troubled youth. She understands personnaly what it is like to be where they are and to have someone step in to show how to pursue a new way of life - a better life.
* Name has been changed.
WASHINGTON CONNECTION
El Centro de la Raza is participating as an assisting organization in the Washington Connection Community Partnership Program. This program has been designed to enable people to learn about and apply for services and benefits using a universal online form. By completing one form the applicant can submit their form to request multiple services, such as: Medical assistance, childe care subsidies, food assistance and more.

Applying to vital services can be an overwhelming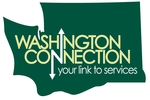 process. Very often people who are eligible for services cannot access them or do not know where to look. As a partner agency, El Centro de la Raza will be able to provide our participants with application assistance in the process. With this assistance, individuals and their families will have a better starting point for reaching the resources they so urgently need.

KNOW YOUR RIGHTS!
On Saturday, November 12th we held a "Know Your Rights" training at Suenos Conference held at Foster High School. About 20 parents and 10 young people participated. The training covered what to do if stopped by police in traffic, in public or if they knock at your door. The training also covered the best strategies to use with immigration officials.

The training included a great discussion with a lot of questions and dialogue about police abuse of power and what parents can do to help prepare their children. One parent event went as far as to say, "When my children are out and about in public, I don't fear what may happen to them from gangs or others, I fear what will happen to them if they are confronted by law enforcement." There is a clear sentiment of distrust and fear that our "Know Your Rights" trainings aim to address.

For a convenient reference sheet for knowing your rights click here.
Save the Date for El Centro Events!
Annual Christmas Tree Sale Starts This Week!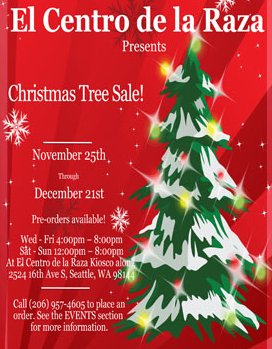 Our fresh selection is stocked with locally grown trees supplied by a Latino-owned small business.The tree farm is owned and operated by Adrian and Evencio Gonzalez, brothers from Oaxaca, Mexico.

So when you purchase your holiday decorations from our sale you can support both El Centro and local small business!

Visit us between 11/25-12/21to pick out a tree in-person. If you pre-order before 11/23 by phone or email then you can receive a discount on your purchase!

Call to pre-order:
206-957-4605
or email

---
Adopt-A-Family Holiday Program

This year, give El Centro a call to adopt a family for the holidays. Through this program you can provide holiday food, clothing, gift cards and gifts for families and their children.

Please call (206) 957-4652 or email to make a donation.
---
Spanish Classes at El Centro
Now Enrolling!

Winter Quarter: Tues/Thurs, 6:00-7;30pm Jan. 17th - March 22nd
Spring Quarter: Tues/Thurs, 6:00-7:30pm, April 10th - June 14th
Summer Quarter: Tues/Thurs, 6:00-7:30pm, July 10th - Sept. 13th
Learn Spanish from native speakers in a unique educational environment! Class fees help support our 32 Human Service and Community Building Programs. Adult beginner to intermediate level classes are available. Click here to sign up!
---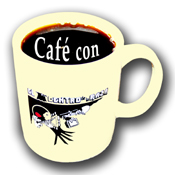 You're invited!

Café con El Centro
at El Centro de la Raza
Thursday, Dec.1st from 8:00-9:00am
How can you become an integral part of the community at El Centro de la Raza? You can start by RSVPing to an upcoming Café con El Centro!
The Café is a great way to introduce yourself to our executive director Estela Ortega, a board member, and staff from our programs. Learn the history of our roots, tour our building and programs, learn ways to get involved, network with like-minded folks. Share coffee & pan dulce with us.

Café con El Centro takes place the 1st Thursday of every month. Call 206-957-4652 or email to RSVP for the upcoming Café.
Coffee generously donated by Starbucks!
---
Overcoming Violence Through Hip Hop Artistry
Our friends at 206Zulu are organizing a series of events including school-wide assemblies to raise awareness of hip hop's true history and to showcase local Hip Hop artists. These events are focused on overcoming violence through the art form that is Hip Hop.

Meanwhile El Centro, in partnership with Denny International Middle School's Proyecto Saber Protram, is coordinating Hip Hop Poetry Classes!
Contact Alex Bautista for participation details: (206) 957-4620
---
Creciendo y Aprendiendo Juntos Program
El Centro de la Raza's Creciendo y Aprendiendo Juntos program empowers families with children, from infancy to six years old, to acquire and strengthen their parenting skills through involvement in their child's education and development. To date, the program has recruited over 50 families in Seattle and South King County areas. Seven workshops, including Raising a Reader/Literacy Night, Homemade Educational Toys, and FIESTAS Early Literacy, have been offered.

In partnership with our COMADRES group, the Prenatal, Infant and Child Development workshop will be held on December 14th at El Centro.

For more informaiton please contact Lucero Cueva-Estrella at (206) 957-4614
Anuncios y Felicitaciones - Announcements & Congratulations
Scholarship for Low-IncomeStudents of color
The Gates' 2012 Millenium Scholars Program is a unique scholarship providing financial support for low-income and students of color. The program is intended to support a student through their entire secondary education career from undergraduate through the doctoral level at any college/university of their choice!
Applications are due January 11th, 2012.
For more information/instructions to apply (or nominate a student) visit their site at GMSP.org. For other student resources please also contact El Centro de la Raza's College Readiness Program.

---
SPARK - Program for Parents
SPARK is a program for parents – whether single or with a partner – who want to strengthen their relationship skills to benefit their children. Participants work in small groups to learn how to communicate more effectively as well as how to manage conflict and stress. This program is provided in partnership with Children's Home Society.

Loving Couples, Loving Children will help parents learn that by modeling strong communication skills within their relationship, their children reap the benefits. Topics include emotion coaching, reaching your boiling point, communication, and handling stress. The workshop uses a curriculum developed by Drs. John and Julie Gottman, world-renowned relationship experts.

There will also be Spanish Level 1 Classes for Single Parents
at El Centro de la Raza:
Nov 22, Nov 29, and Dec 6
Tuesdays 6-8 PM
Email for more information on SPARK.
---
Workshops by Danza De Negritos de Seattle

Danza de Negritos is practiced in regions of Peru and is characterized by the widespread participation of the African-Peruvian community, given that the population of El Carmen is in its majority of African descent. Miguel Ballumbrosio, a member of this community, is a percussionist, composer, dancer, instructor, instrument-maker & son of Amador Ballumbrosio, considered a national icon in Peru. Twenty-four suites compose the Danza de Negritos, and violins, bells, singing and stomping are all integral parts of this tradition.

Danza de Negritos will be holding FREE workshops surrounding Las Posadas. Please join them at El Centro de la Raza on:
Friday, December 2nd - 6:00-8:00 PM

Saturday, December 3rd - 2:30-5:00 PM

Friday, December 9th - 6:00-8:00 PM

Saturday, Decmeber 10th - 2:30-5:00 PM

Thursday, December 15th - 6:00-8:00 PM
For more information: Monica Rojas by email or call (206) 455-1652.
---


Film Screening and Reception
at North Seattle Community College
North Seattle Community College will host a screening 2010 documentary ¡Viva Mexico! as part of its Year of Learning: Revolutions initiative a celebration of the struggle for land and dignity. The film's executive producer Daniela Contreras and Terra Nostra's house producer Jessica Ciacci will take part in an informal reception and a question and discussion session after the screening on November 30th.
The movie takes place in January of 2006 as thousands of indigenous Zapatistas say farewell to their spokesman Subcomandante Marcos. The film follows him as he travels the country and on a journey that dares, in Marcos's words, to "start building the image of the people we really are."
---
Computer Donation - Mil Gracias!
Thanks to Ed Lagow and Intermec, we just received a generous donation of 10 computers through our Francis Martinez office. These computers represent a valuable and much-needed resource to be used within El Centro.
---
Juvenile Justice Attends State Conference
On October 13th and 14th El Centro de la Raza representatives presented at the WA State Becca Conference, which provided an open opportunity for discussing juvenile issues in Washington state. About 200 people attended from across the state. We held a workshop focusing on our youth programming and our juvenile justice program with an emphasis on how to engage the Latino community on the issues around truancy and prevention, and alternatives to formal discipline.

---
Paid Parking Lot Coming Soon!
El Centro will be opening a temporary parking lot this fall to earn much needed revenue for our programs and services. The lot will be in-use until the ground breaking takes place to build a mixed-use development on the site.
---
City of Seattle Road Safety Summit
El Centro de la Raza would like to inform you of the public forums hosted by Seattle City Hall for the Road Safety Summit. The goal of the summit is to develop a citywide commitment to safety through the creation of an action plan for making Seattle streets safer. The public forums will consist of short presentation of background data followed by smaller group discussions.
Final summit meeting - Mon. 12/12, 6pm - City Hall (Bertha K. Landes Rm)
To learn more or to RSVP for any of the forums please visit their website
---
Your Kids Need Immunizations
Shots, (also known as vaccines or immunizations) help children fight many childhood diseases that could make them very sick. A lot of research has shown that shots are safe for your child to receive. Click here to view a chart that recommends when your child needs a shot.



To get more information about immunizations, please talk with your health care provider. For information on how to get quality and affordable health care for you and your family, please call the Community Health Plan customer service team at 1-800-440-1561 or go to www.chpw.org. If you are hearing or speech impaired, please call TTY 1-866-816-2479 (toll free).

Community Health Plan provides coverage for people in 39 Washington counties. Members receive services from more than 2,588 primary care providers and 13,571 specialists at more than 563 primary care sites and more than 100 hospitals.
---
Dia de los Muertos: Celebration & Exhibit a Success
This year's Dia de los Muertos celebration provided a wonderful community gathering opportunity, from opening night dancing, dining, music, and face painting to the beautiful altar displays on view in our exhibit. Mil gracias to all who supported and participated in making this event special, including our 45 volunteers who contributed a total of 169 hours for setting up the opening night event. We welcomed more than 700 people to El Centro's Dia de los Muertos opening night celebration and ofrendas, created by various community groups, were on public display until November 18th.
News Roundup
IN THIS ISSUE:
DO YOU GOODSHOP?
Easy ways to support El Centro:
If
you use GoodSearch as
your search engine, or do
your online shopping through
Goodshop,
you can raise money for El Centro without spending an extra cent! You may actually save money with Goodshop coupons!
QUICK LINKS:
ONGOING EVENTS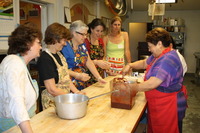 Tamale Making Classes
at El Centro de la Raza

10 AM - 12:30 PM, Saturdays:
Saturday, 12/3/11

Taught by a master tamalera!
Click here to learn more!
Class fee: $75 per per class - includes recipe & a dozen uncooked tamales.
Fees support our Senior Wellness Program
which provides balanced daily congregate meals, social & educational activities, exercise classes three times weekly and meal delivery for homebound seniors.
For more details: 206-957-4611or email.
---
¡COMADRES!
Un grupo de apoyo y de conversación para la mujer Latina!
Para más información favor de contactor a Angela Frith-Gomez: (206) 957-4641.
---
Parent Involvement Program
Programa de apoyo para la participación escolar.
Nuestros servicios incluyen (1) apoyo individualizado para los padres de familia con hijos en las escuelas públicas de Seattle y (2) ofrecemos talleres educativos para padres de familia.

Para más información comuníquese con Maria Bocanegra: (206) 957-4642.
VOLUNTEER OPPORTUNITIES
Get more involved! Can you devote 2-3 hours or more a week, month, year, or just one time? We always have the need for volunteers.
For details contact our Volunteer Coordinator, Josh Stromberg:
(206) 957-4602 or by Email.
Also see our website's volunteer section!
MIL GRACIAS TO OUR WONDERFUL
NOVEMBER FUNDERS!
El Centro de la Raza relies on donations from our individual supporters to keep our programs running.
But we are also fortunate enough to have corporate and foundation sponsors and grants for many of our programs and services.
► Compost/Recycling bins from Resource Venture
► View our Annual Report
Mil Gracias to all of our wonderful funders, sponsors and donors!
OUR BOARD OF DIRECTORS:
Ramon Soliz, President
Jeff Middelton, Vice President
David Gasca, Treasurer
Brenda Williams, Secretary
Roxana Amaral, Parliamentarian
Francisco Calderon
Ricardo Garcia
Christina Garcia-Valdez
Norma Guerrero
Victoria Kill
Pablo Mendoza
Madrienne Salgado
Urbano Santos
Billy Smith
EL CENTRO'S PROGRAMS: