The power of the people is immense. Across the world, people are standing up for what they believe in—we all saw what was accomplished in Egypt, and our hearts are with those who continue to organize and struggle in Wisconsin over the

'budget repair' bill, which scaled back union benefits and collective bargaining rights.

Read a timeline of the events in WI here.

On March 7th, the Washington State Senate defeated an attempt to force a vote on the anti-immigrant Driver's License bill SB5407, and on February 24th SB5168, which reduces the maximum sentences for gross misdemeanors to 364 days, passed the Senate and moved onto the House, where it currently awaits the second reading. It was your voices, strong and determined that led to these great victories. Mil gracias to OneAmerica and the hundreds of other people and organizations for all your efforts!


When Roberto Maestas and members of the community desperately needed to build a sense of community for all people, we occupied the Beacon Hill School. El Centro de la Raza was born out of the bravery of those who steadfastly fought for their civil rights and refused to accept defeat.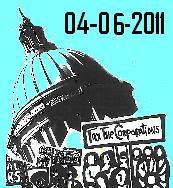 The fight against injustice lives on! In the spirit of Roberto and all those who have fought for equality, come mobilize with us in Olympia on April 6th for Community Action Day at the Capitol. Together with Washington CAN!, let us demand that the Governor and State Legislature create jobs, close corporate tax loopholes and stop scapegoating our marginalized neighbors with cuts to critical social services. More info on the day here.


Let's move into action with renewed vigor!


And of course, visit our website to stay up-to-date on the happenings at El Centro and in nuestra comunidad—our community.
A Special Gracias to You!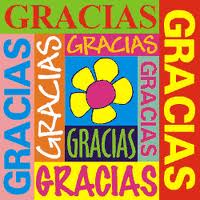 El C
entro de la Raza announces the tremendous news of having our
South End Temporary Parking Lot Proposal with amendments pass Seattle City Council. Read the press release here
.
This victory was made possible by your unwavering support. Your help was immense—from the over 350 letters of support sent in by members of the community, the testimonials given at Seattle's City Hall, the discussions on the Beacon Hill Blog and of course to the support of the North Beacon Hill Council.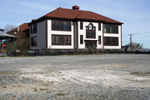 Are you as excited as we are about the prospects of hosting a Farmer's Market, providing parking and vending space for Festival Street events and f
ood vendors like a taco truck?
We eagerly await this and providing affordable parking on North Beacon Hill, and hope to see an increase in ridership on Sound Transit and draw more patrons to Beacon Hill establishments while simultaneously raising much needed funds to support our community services.
We hope the lot will prove to be a positive
space for the community as we prepare for future development!
W
e'd like to offer our most sincere gracias to
Mayor Mike McGinn,
to all of you, the Beacon
Hill Council and Seattle City Council for all your support. A special gracias to Councilmembers Sally Clark and Sally Bagshaw and those who testified on our behalf: Chris Fontana, Executive Director of Global Visionaries; Dean Hasegawa, General Manager of Hilltop Red Apple Market; Louis Rodriguez, owner of The Station coffee shop; and Jordan Van Voast, owner of CommuniChi. We'll keep you updated as plans progress!
Putting food on our hungry neighbors' tables - Part 2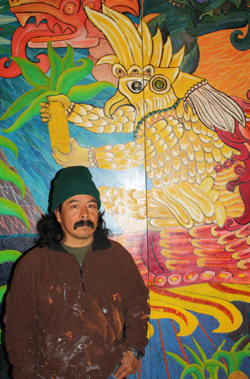 Many in our community are feeling the strain during this economical crisis, and Sr. Rodriguez was happy to find out about El Centro's Latino Hot Meal Program. What also draws Sr. Rodriguez to our hot meals is the "open access to other services that help the clients" that allows him to also pick up a weekly bag of groceries from our own food bank.

Last Christmas, Sr. Rodriguez joined us for a special dinner with Mayor Mike McGinn. Not only did he have kind words to say about his interactions with the mayor, but he finds the staff and services at El Centro de la Raza "attentive, friendly, professional, and best of all . . . free." *
*translated from Spanish by Angela Wilhite

Our Latino Hot Meal Program addresses the issues of hunger and poor nutrition among homeless and other low-income communities, including students, by providing free, nutritious, hot lunches to individuals and families in a diverse community setting on-site that offers social support and fosters good nutritional health.
---
Did you know?
Consider this shocking national statistic: one out of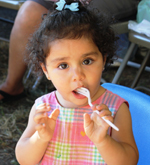 every six adults, and nearly one out of four children struggle with hunger. 9.3% of Latinos experience hunger, and since 2007 food banks have seen a 25% increase in visits. Here in King County, record numbers of people—our neighbors, co-workers and friends—don't have enough to eat. People have to choose between paying rent and buying groceries, and children are going to bed hungry. As an organization invested in those we serve, we realize that these aren't just statistics, but evidence of the poverty and hunger striking those in our own neighborhoods. You can help. Hunger Action Week is going on right now—but as long as we have hungry neighbors, the fight against hunger continues on.
How can you help?
Donate to El Centro de la Raza and help care for our youngest to our eldest through our 32 programs and services, including the Food Bank, Latino Hot Meal Program, Senior Home Delivered Meals and the Senior Health & Wellness Program
Consider hosting a non-perishable food drive for El Centro at your school, work, or church! Contact Cristina Green at donor@elcentrodelaraza.org so we can coordinate with our Food Bank.
Mil gracias to Garfield High School's Razas Unidas for holding a month-long food drive for El Centro de la Raza going on right now and lasting until mid-April!
Save the Date for El Centro Events!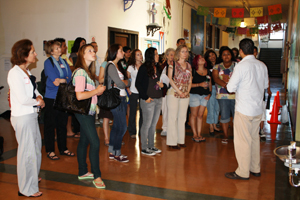 You're invited!

Café con El Centro
at El Centro de la Raza
Thursday, April 7th
from 8:00 to 9:00am
Do you or does someone you know want to learn more about El Centro? Café con El Centro is a great way to meet our staff, learn the history of our roots, tour our building and programs, network with other like-minded folks and enjoy coffee donated by Starbucks and pan dulce on us!

Café con El Centro takes place on the 1st Thursday of every month. Reservations are currently being made for the April 7th Café! To RSVP please call (206) 957-4652 or email.
---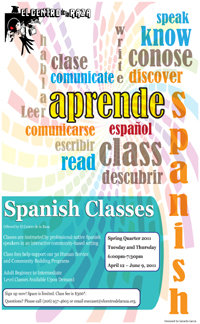 ¡Hola! ¿Quieres aprender español?
Hello! Do you want to learn Spanish?

Spanish Class is in session!
Adult Beginner - Intermediate Spanish Classes
at El Centro de la Raza
April 12th - June 9th
Tuesdays and Thursdays 6:00 to 7:30 pm
Classes are instructed by professional native Spanish speakers in an interactive community-based setting. Space is limited - sign up today! Class fee is $300. Call (206) 957-4605 or email for more details. Print out the registration form here.
---
We need your ideas for the Santos Rodriquez Memorial Park!
at El Centro de la Raza
Monday, April 11th at 2:00pm in Room 307
El Centro de la Raza is honored to have been awarded $20,000 through the CIty of Seattle Department of Neighborhood's Small and Simple Grant Program to address limited component areas of the Santos Rodrigues Memorial park including a covered area with tables and a small community circle. The park is currently open to the public! Design and construction will be completed by the University of Washington Community Design Build Studio architect students under the supervision of their professors.

We invite you to join us on April 11th to provide your feedback and see what is happening as the students present their design ideas. Please RSVP to (206) 957 4611 or through email. If you cannot attend, you may still submit your ideas for this project to the phone number or email provided by March 31st. We look forward to hearing from you!
---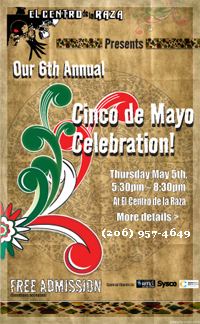 6th Annual Cinco de Mayo Celebration
at El Centro de la Raza
Thursday, May 5th from 5:30pm to 8:30pm

Announcing our 6th Annual Cinco de Mayo cultural celebration! Join us for this festive event, featuring tradtional Mexican foods for sale, children's activities, arts and crafts from local vendors, a health and services fair, performances by the Seattle Fandango Project, Ameyaltonal Danza Azteca-Chichimeca, desfile cultural and more!

Admission is free—but donations are always accepted! Come, let's celebrate together!

Special thanks to: Seattle Office of Arts and Cultural Affairs, Sysco Seattle and Community Health Plan of Washington.
---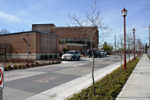 Roberto Maestas Festival Street
We invite all of you to join us on April 25th at 2pm at Seattle City Hall as City Council passes the renaming of Lander St. to Roberto Maestas Festival Street. Viva Roberto!
---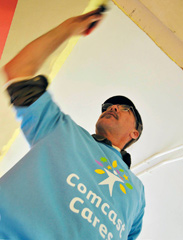 Comcast Cares Day
at
El Centro de la Raza
Saturday, April 30th shifts available beginning at 7am
Lunch to be provided by Comcast!
Sign up by April 15th!


We're recruiting 300-350 volunteers for the Comcast and City Year Comcast Cares Day—volunteering your time on this day helps save El Centro tens of thousands of dollars! Come by and get to know this great team of people, even if only for an hour!

We have lots of great team projects: pruning of trees and landscaping of our grounds, prepping and painting of our halls and stairwells, installing new flood lights and cameras for the safety of our participants and the community and window washing, just to name a few. And for those who prefer sit-down tasks, we have graphic design opportunities, data entry, Auction item procurement and more! For more information or to sign up to volunteer, please contact Kendehl Corley, our Volunteer Coordinator, by email or at (206) 957-4602.
---
And of course . . .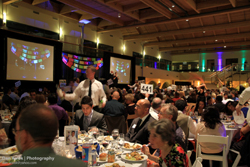 Our Annual Banquet Auction featuring an Annual Roberto Maestas Legacy Award and Scholarship Award
downtown at the Washington State Convention Center
Saturday, September 24th, 2011!
We've already gotten some FANTASTIC silent and live auction items!
Check it out:
Spend a week, or two or three away with your honey with these two unrestricted, round-trip tickets on Alaska Airlines!
Take a step back in time and relive the days of the 1890s Gold Rush. This two-hour tour for two aboard the Queen of Seattle -the largest steam-powered paddle steamer west of the Mississippi - includes a live cabaret show!

Root, root, root for the home team! Signed baseball by the Mariner's 2010 American League Cy Young Award Recipient, "King Felix," #34 - Felix Hernandez!


Have any fabulous items (tickets, gift certificates, wine, sports memorabilia, etc.) you'd like to donate to the auction, or know someone who does? Give our Auction Coordinator, Sonya Ortis, a call at (206) 957-4649 or drop her a line.
Anuncios y Felicitaciones - Announcements and Congratulations
Felicitaciones to the youth in our College Readiness Program!
Since October 2010, students in the program have received over $90,550 in scholarships! We wish you all the best in continuing your education!
---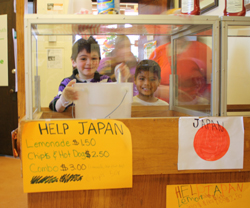 After School Program Raises Funds for Japan
The students in our Luis Alfonso Velásquez Flores After School Program were eager to help out those suffering in Japan by raising money through a hot dog and lemonade sale on March 18th. The students politely served up delicious lemonade, piping-hot hot dogs, chips and cookies and had a great chance to practice their math and money skills. Mil gracias to our socially conscious youth!

Our thoughts and prayers are with our brothers and sisters in Japan in the aftermath of the tragedies.
---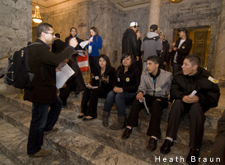 On March 4th, students from El Centro's Hope for Youth, College Readiness and Youth Violence Prevention Programs joined with others in Olympia for the 6th Annual Latino Legislative Day. The students were given the opportunity to observe house proceedings from the gallery and to discuss SB5407 (Driver's License Bill) and HB1126 (Gang Bill) and leave signed letters for legislators. One student said of the experience, "I had a lot of fun. I met people from other schools, made new friends and I got to visit the state's capitol . . . I have never been there before . . . I feel proud that I could stand up for my family." For more information on the day go here.
---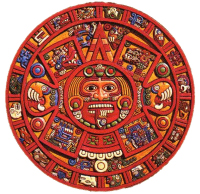 Beginning on the evening of March 19th, Ameyaltonal Danza Azteca-Chichimeca and capitanes de danza from Mexico brought to El Centro a beautiful ancient Azteca/Mexica ceremony, a Velación (vigil) celebrating the Azteca/Mexica New Year.

The ceremony lasted all night, and prayers and songs were offered up, with ritualistic lighting of candles and intricate laying out of flowers to represent the moon and sun—saying goodbye to the moon, and welcoming the life-giving rays of the spring sun. The Velación ended at daybreak, as the sun began to climb its way to the east, and a glorious full moon, the largest in 18 years, dipped below the mountains to the west. A danza celebrating the new spring sun with Ameyaltonal Danza Azteca-Chichimeca followed the Velación at Daybreak Star Indian Cultural Center.
---
On March 11th, the MEDC Multiracial Task Force on

Police Accountability met with Councilmembers Tim Burgess and Sally Clark to address issues and concerns regarding the Public Safety & Education Committee's policy initiatives on police accountability. Read this letter from MEDC's Executive Director Dorry Elias-Garcia and Estela Ortega for more details.
---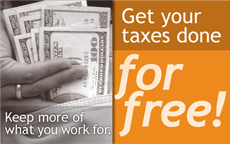 As of March 19th, over 357 total returns have been processed, with over $215,998 EIC and over $718,794 in total refunds since opening in January at the United Way of King County Free Tax Prep at El Centro de la Raza. This free service, for households making less than $50,000, is on Tuesdays and Thursdays from 6pm-9pm and Saturdays from 10am-2pm until April 14th. There are Spanish translators on all shifts, Arabic translators on Tuesdays and Chinese translators on Thursdays.
Program Highlight: Parent Involvement Workshops
The intricacies of the school system can be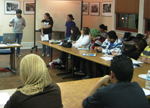 overwhelming to many parents. The Parent Involvement Workshops through El Centro can bring clarity to the confusion. Headed by Belinda Zinzun and supplemented with speakers and presenters on specific topics (such as educational rights), these workshops focus on informing parents on the policies and procedures of the schools their children attend, as well as resources available to them to help their children succeed. These workshops, held in Spanish, are open to any parents of school-aged children in Seattle area schools.

The next workshop will be a special event held in collaboration with the BEBES discussion group ¡COMADRES! on April 13th at 5:30 in the Salvador Allende room at El Centro. The topic will be: Como tener la conversación con su hij@ acerca del tema delicado del sexo - Techniques on how to tackle the delicate subject of sex with your children at different ages. For more information on the Workshops, please contact Belinda Zinzun through email or call her at (206) 957-4614.
Coming Up Soon!
Great City Presents: Equitable Growth Dialogues
April 1st from 11:30am to 1:00pm at City Hall
April 2nd from 12:00 to 5:00 pm at Franklin High School
Sponsored in part by El Centro de la Raza, the Equitable Growth Dialogues are a series of probing community conversations concerning regional growth, urban development and entrenched inequalities in Southeast Seattle with the intention of building bridges between environmentalists, urbanists and social justice advocates. Daycare, translation and lunch will be provided. Stay tuned to Great City's website for more information.
---
Stand up for working families!
National Call to Action Community Rally on April 4th
5:30 to 7:00pm at Martin Luther King Jr. Park
As part of Action Week, join the Communications Workers of America and us to remember Dr. King's courage and determination, and to show that his dream lives on in the hearts of public workers whose bargaining rights are under assault. See this flyer for more information, and spread the word!
---
Microsoft Diversity Recruiting and Networking Event
at Microsoft Studios West Campus the Commons - 2nd Floor
14255 NE 40th St., Redmond, WA 98052
Monday, April 25th from 6:00pm - 9:00pm
Microsoft Diversity Recruiting and Networking with State Farm—Featuring a Career Fair, Resume Reviews and Career Development/MBA Info Sessions. An emailed resume is mandatory for anyone wanting to talk to a recruiter at the event. Resumes should be emailed to info@seattle.nshmba.org. Go here to register for the event.
---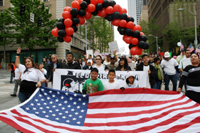 Annual Immigrant Rights May Day March
on May 1st in Seattle!

Stay tuned to our emailings and website for updates.
News Roundup
Thank you for reading. And of course, for your support, whether monetary - donate here now - or through volunteering - e-mail us - that makes our work possible!

Siempre bienvenidos, nuestra casa es su casa.

Estela Ortega
Executive Director
IN THIS ISSUE:
DO YOU GOODSHOP?
Don't forget
- if
you use GoodSearch as
your search engine, or do
your online shopping through GoodShop, you can raise money for El Centro de la Raza without spending an extra penny (with coupons through Goodshop, you might actually save money!)
QUICK LINKS:
ONGOING EVENTS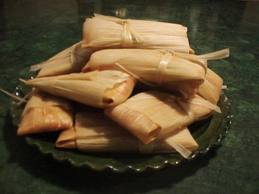 Tamale Making Classes!
Have you always wanted to learn how to make tamales? Now is your chance to learn from a master tamalera! The class fee is $75 per person and includes tamales. The fees go to support our Senior Wellness Program. Register here!

Classes are on the following Saturdays, from 10:00am to 12:30pm:
March 26th
April 9th and 23rd
May 7th and 21st
June 11th and 25th
July 9th and 23rd
August 6th and 27th

For more information, please call (206) 957-4611 or email.
---
¡COMADRES!
Un grupo de apoyo y de conversación para la mujer Latina!

Quieres conocer nuevas amistades, hablar y aprender sobre temas que son importantes para la mujer Latina?

Estas cordialmente invitada:
Próximas Reuniones 5:30 - 7:30pm
30 de Marzo; 13 y 27 de Abril; 11 y 25 de Mayo; 8 de Junio

Se proveerá cuidado de niños, rifas y merienda. Para más información favor de contactor a Diana Mena (206) 957-4641.
VOLUNTEER OPPORTUNITIES
Get more involved! Can you devote 2-3 hours or more a week, month, year, or just one time? We always have the need for volunteers, and we have plenty of opportunities for you to help. Check it out:
Comcast Cares Day - read about it under Save the Date for El Centro Events to the left!
Cinco de Mayo - Cinco de Mayo is just around the corner, and we need YOU for photography, food service, decorations, set up, children's activities, stage management, greeting and much, much more! Cinco de Mayo will be at El Centro de la Raza this year on Thursday, May 5th! Bi-lingual volunteers a plus!

And more!
Email Kendehl Corley, our Volunteer Coordinator, or call her at (206) 957-4602 for more details on these and other volunteering opportunities. Download our volunteer application here.
MIL GRACIAS TO OUR WONDERFUL JANUARY AND FEBRUARY FUNDERS!
El Centro de la Raza relies on donations from our individual supporters to keep our programs running.
But we are also fortunate enough to have corporate and foundation sponsors and grants for many of our programs and services. For example:



► It's official! City Council approved the Seattle Parks & Recreation: Parks and Green Spaces Levy Opportunity Fund in the amount of $350,000 for major upgrades and renovations to Santos Rodriguez Memorial Park!

► Seattle Foundation - $20,000 general operating funds to aid in feeding our hungry neighbors through our various food programs!

► City of Seattle Department of Neighborhoods Small and Simple Grant - $20,000 to help improve Santos Rodriguez Memorial Park!

Sanot



► Community Health Plan of Washington - $250 to our 6th Annual Cinco de Mayo Celebration!

► Sysco Seattle - donation of foods to our 6th Annual Cinco de Mayo Celebration!

Mil Gracias to all of our wonderful funders and donors!
OUR BOARD OF DIRECTORS:
El Centro welcomes Francisco Calderon as a new member to our Board of Directors!

Ramon Soliz, President
Jeff Middelton, Vice President
David Gasca, Treasurer
Brenda Williams, Secretary
Roxana Amaral, Parliamentarian
Francisco Calderon
Ricardo Garcia
Christina Garcia-Valdez
Norma Guerrero
Victoria Kill
Pablo Mendoza
Madrienne Salgado
Urbano Santos
Billy Smith
Rita Zawaideh
EL CENTRO'S PROGRAMS:
With over 26,000 volunteer hours, El Centro de la Raza serves 23,565 individuals and 11,518 families annually through the following programs and services:
Basic Healthcare Enrollment
BEBES! Infant Mortality Program
Café con El Centro
College Readiness
Crisis Advocacy
ECR Transitional Housing
El Patio Apartments
ESL & Citizenship Classes
Eviction Prevention
Financial Literacy
Food Bank
Foreclosure Prevention
Homeless Assistance Program
Homeownership Program
Hope for Youth Poetry & Civil Rights History Classes
José Martí Child Development Center
Juvenile Justice Policy Advocacy
Luis Alfonso Velásquez Flores After School Program
Parent Involvement & Education
Senior Home Delivered Meals
Senior Nutrition & Wellness
Youth Violence Prevention
Veterans Services
Community Meeting Space
Community Service Site
Cultural/Political/Social Events
Immigrant/Human/Civil Rights
Socia
I
Justice Advocacy
Legal Clinic Site
Tax Preparation Site
Local, State, National & International Coalition Building
Service Learning Site