On Wednesday, June 29th, El Centro de la Raza partnered with OneAmerica to host a discussion to address the DAPA/DACA+ ruling. Rich Stolz, executive director of OneAmerica, moderated the conversation between Congresswoman Suzan DelBene; Jane Gonzalez and Andres Macedo, two people who would have benefitted from DAPA and DACA+ being passed; Estela Ortega, and Jorge Barón, executive director of the Northwest Immigrant Rights Project. Congresswoman DelBene called on Congress to work towards finding a more permanent way to halt deportation and keep families together. She also noted that while the DAPA and DACA+ cases could be re-heard, the likelihood of that happening with the current Congress is low. We need members of Congress who will create new comprehensive reform bills that will protect families who are living in fear of being split apart by deportation. Read more about last week's event here.

President Obama also has another option - to declare a moratorium on deportations. Sign this petition to urge our President to use his executive authority and take action to protect families while immigration policies are being reformed.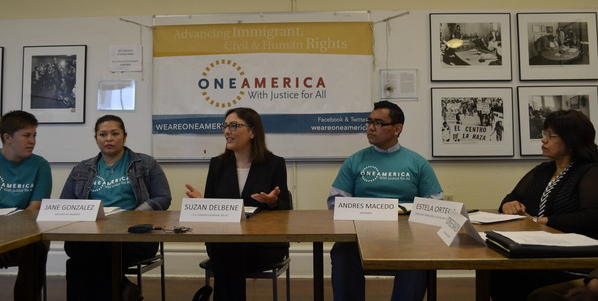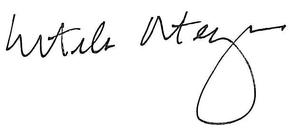 Estela Ortega
Executive Director

P.S. - Don't forget to "like" us on Facebook, and "follow" us on Twitter.
---
El Centro de la Raza News/Noticias
Alton Sterling and Philando Castile
We are full of anguish, sorrow, and outrage after the shootings of Alton Sterling and Philando Castile in the past two days. Police need to be held accountable for their actions, and these recurring events show the desperate need for better and more diverse training in police forces across America. It is unacceptable for these police brutality cases to continue at the rate they are - 122 black Americans have been killed by police in 2016. Stop the racial profiling. Stop letting the officers involved off with no charges. Stop showing us that black lives don't matter. Black Lives Matter, and we will continue to stand in solidarity until justice is the rule for all people.

Hope for Youth Program Poetry
The youth participating in our Hope for Youth Program wrote poems about various topics as part of the program this past school year, and we will be highlighting them in upcoming eNewsletters. See them all online here.
Black Lives Matter
By Sadiyah Ebo
The cops who are killing aren't being charged
But are being set free
The Black Lives Matter Movement gets stronger everyday
The families of the victims and the people of the world
Try to protest but are never really heard
The music industry and singers are trying to give us a heads up
Formation by Beyoncé talks about coming together as a whole
The Super bowl with Beyoncé
Showed signs to bring awareness
But only certain people listened and understood the signs she was expressing
The Lives being taken away by cops
Were considered accidents
But they make up excuses
For their cops
But in all honesty,
They know the real reason they shot
Tamir Rice, Sandra Bland, Eric Garner, Mike Brown, Trevon Martin and more

National Education Association (NEA) Recognizes Estela Ortega and El Centro de la Raza
This past weekend Estela Ortega was honored in Washington D.C. with the George I. Sanchez Award for her lifetime of dedication to civil rights activism and community organizing. Thank you to Kim Mead and the NEA for the recognition! Read The Seattle Times article about the award.

Roberto Maestas' Birthday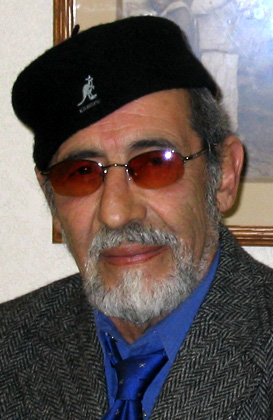 We remember our beloved founder, Roberto Felipe Maestas, on his birthday this Saturday July 9th. Let us never forget his legacy and dream to "Build the Beloved Community" as envisioned by Dr. King. As we continue to serve, educate, defend, and organize each other, we remember those who came before us and upon whose shoulders we stand.

Building the Beloved Community Gala



Our 2016 Building the Beloved Community Gala will be on September 24, 2016 from 5:00 PM - 9:00 PM. Early bird prices are $125 for a single ticket, $625 for a half table or $1,250 for a full table of 10. Get your tickets now! Learn more about the event here and RSVP on Facebook. See below for an Auction Item Preview, and see more on our event website!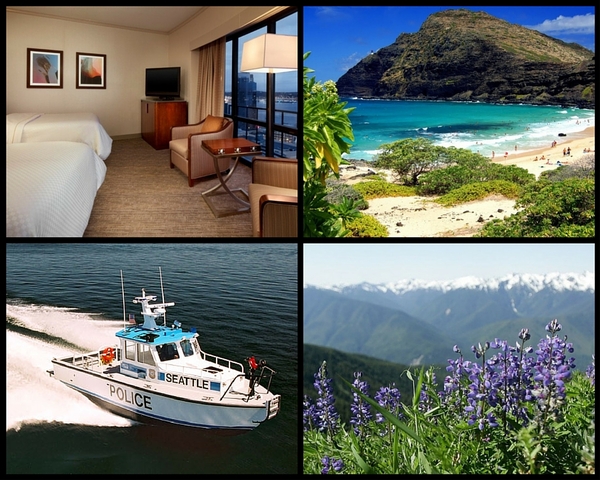 Stay at The Westin Hotel

: Take a stay-cation in Seattle with a one night stay in a Deluxe view room at the Westin.

Seven Night Stay on the Big Island, Hawaii.

Evergreen Escapes

: Go on an Olympic National Park Tour this fall: All-inclusive, full day, small group or an escape for two.

Ride-A-Long for four people with the Seattle Police Harbor Patrol Unit.
José Martí CDC graduates 60 children to Kindergarten!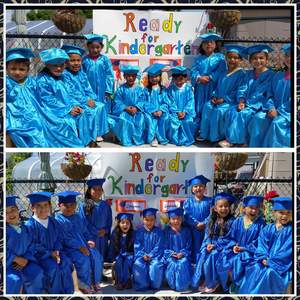 On June 30th José Martí CDC staff, teachers and families gathered to celebrate and honor the 60 students from the Viento, Arcoiris, Cristal and De Colores classes who successfully completed the school year and are graduating to kindergarten this year! The children worked hard all year long and made outstanding progress in all areas of development, and they are now ready for their next step: kindergarten! ...read more

Parent-Child Home Program Graduation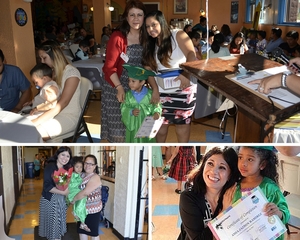 On June 28th El Centro de la Raza hosted our 3rd annual PCHP Graduation Dinner. We celebrated our 2nd year children completing our program and entering preschool, in addition to all the amazing commitment that parents have made throughout the year. Donate now to help families teach their children the skills they need to enter preschool! ...read more

José Martí Child Development Center reaches Early Achievers Level 4 Center of Excellence!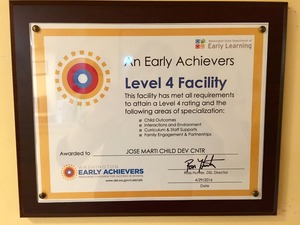 We are so proud to announce that the José Martí Child Development Center has received their new rating through Early Achievers, and we have been rated as an Early Achievers Level 4 Center of Excellence! It is thanks to the hard work of our teachers, staff and coaches that we were able to increase the high quality of our program and achieve this milestone, and our high quality programming will continue to benefit our students as they grow and learn the necessary skills to be ready for kindergarten. ...read more

Volunteer Coordinator Position Open at El Centro de la Raza
El Centro de la Raza's Volunteer Coordinator position is still open! This is a full-time volunteer stipend position. View the job description here.

El Centro de la Raza is Hiring!
El Centro de la Raza is hiring Early Childhood Education Teachers! Bilingual teachers - particularly Mandarin/English speakers - desired for some positions. Please send resumes to Shannon Armstrong, sarmstrong@elcentrodelaraza.org or call 206-957-4626 with any questions. We are also hiring for other positions including Veterans Outreach Specialist, Youth Job Readiness Training Coordinator, and Maintenance Technician. Click here to see all open positions.

Sign Up for Cooking Classes Today!
Learn how to cook your favorite Latin dishes, share in our culture, and meet new people by signing up for one of our amazing Latin Cooking classes! Already attended a cooking class? Leave a review on our new Yelp page! Upcoming classes include:
2015 Annual Report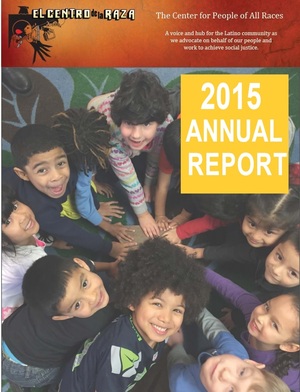 Learn more about El Centro de la Raza by reading our 2015 Annual Report! It is filled with success stories, photos, program information, donor lists, and funding information from 2015.


Regístrese Ahora/Register Now

Legal Clinics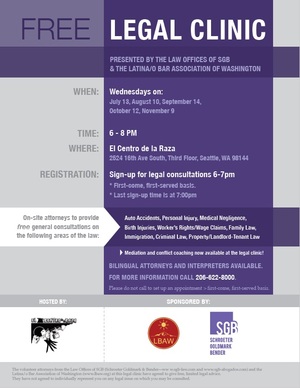 Upcoming dates for legal clinics will be July 13, August 10, September 14, October 12, and November 9. Clinics will be held from 6-8 PM at El Centro de la Raza at 2524 16th Avenue S, Seattle, WA. Call 206-622-8000 for more information.
Inscripción para los consultas legales. 6:00 PM – 7:00 PM serán por orden de llegada. Ultima inscripción se hará a las 7:00 PM. Para más información llame al 206-622-8000.

Homeownership Education Workshops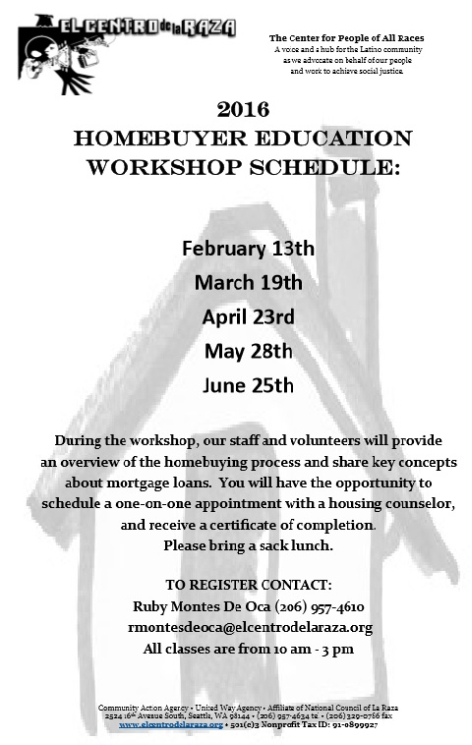 El Centro de la Raza's Homeownership Department invites you to a free seminar sponsored by the Washington State Housing Finance Commission, where professionals can answer your questions about becoming a homeowner, provide an overview of the homebuying process, and share key concepts about mortgage loans. Each class is from 9:30AM – 3:00PM in Room 307 at El Centro de la Raza. The next classes will be held on Saturday, May 28th, June 25th, or July 16th. Registration is required – contact Stephanie Chavez at 206-957-4610 or intake@elcentrodelaraza.org. ...read more

Volunteers Needed!
Interested in getting more involved? Current volunteer needs include:
Contact Carlos Reyes at volunteer@elcentrodelaraza.org or 206-957-4602 for more information. See more volunteer opportunities.

'Eat Right When Money is Tight' Workshop Series
Come learn how your family might eat more nutritious meals on a budget! The food bank hosts a free monthly workshop series: Eat Right When Money is Tight. The purpose of the workshop is to demonstrate and discuss healthy eating for cost-conscious families. ...read more
English Classes/Clases de Inglés
Summer English classes have started again! Classes are held on Tuesdays and Thursdays from 5:00-7:30 PM in Rooms 309 and 310 at El Centro de la Raza ...read more.

Shades of Purple Conference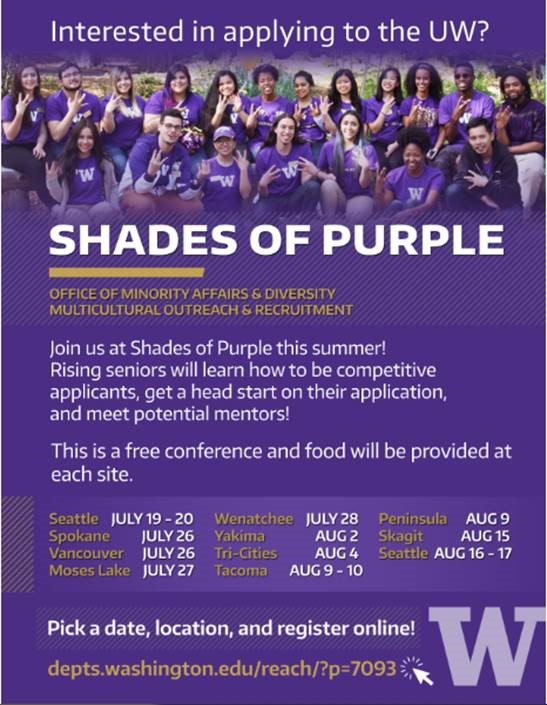 The Multicultural Outreach and Recruitment department in the Office of Minority Affairs and Diversity (OMAD) at the University of Washington is hosting a summer student conference series for incoming high school seniors. This free conference is for underrepresented minority high school students who are interested in attending the University of Washington. For more information and to apply for a conference near you, click here.
---
Announcements/Anuncios

Lack of Accountability in Antonio Zambrano-Montes Case
Three Pasco police officers have not been held responsible for the killing of unarmed immigrant Antonio Zambrano-Montes in February 2015. Michael Ormsby, U.S. Attorney for Eastern Washington, made the decision not to file any civil rights violations of the officers in this incident. This extremely disappointing decision and lack of action shows very clearly how necessary more training and crisis intervention is in police forces within Washington, as well as across the country. The Commission on Hispanic Affairs is also frustrated by this decision - read what they have to say about it here.

Mobile Medical Unit
El Centro de la Raza will be a site for Mobile Medical Unit visits starting on July 28. The Mobile Medical Program provides no-cost, walk-in medical care to those who are currently or have recently been homeless. In addition to medical care, the unit will offer assistance with substance abuse, mental health, housing, and other services.

Vote No on Seattle Initiative 123
Vote No on Initiative 123 on the primary election ballot on August 2, 2016. Learn why to vote no on this initiative that has the potential to be dangerous to our city and our tax dollars, and takes away the input of the general population about the future of Seattle's waterfront.

Seattle Housing Levy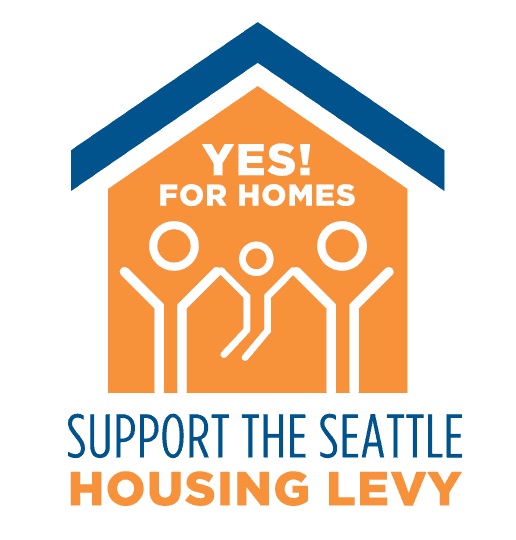 The Seattle Housing Levy needs to be renewed by voters every 7 years, and it is especially important on the August 2, 2016 ballot. Renewing this levy will enable at least 2,150 units of affordable housing to be built or restored. Learn more about the Seattle Housing Levy, and endorse it here. ...read more

ORCA Lift Reduced Fare Program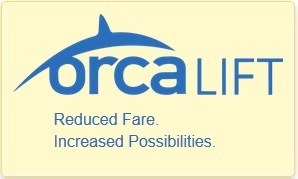 Did you know that our Frances Martinez Community Service Center has a transit fare program? The reduced fare for riders on the Link Light Rail and King County Metro buses is $1.50 per ride. ...read more
---
Our Community/Nuestra Comunidad

Post-Season Tax Prep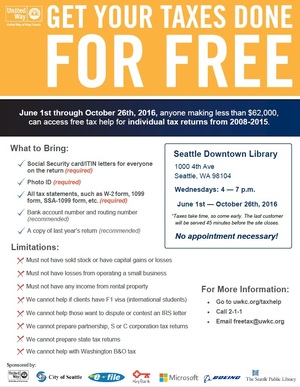 Free tax preparation services will be offered through October at the Downtown Seattle Public Library, and will be from 4 PM - 7 PM on Wednesdays. This service is available for individuals and families making less than $62,000, and there is no appointment necessary. ...read more

Seattle World School Grand Re-Opening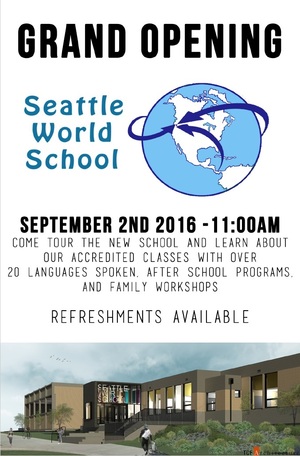 Seattle World School is moving! Their new building will be open for the first day of school this coming Fall. Their grand opening will be Friday, September 2nd at 11 AM. Stop by to tour the new school and learn more about the Seattle World School. Learn more on their website.



Annual Lantern Floating Peace Ceremony

On Saturday, August 6, From Hiroshima to Hope, Seattle's annual peace event, will take place from 6 PM - 9 PM as a Lantern Floating Peace Ceremony at Green Lake. This year honors the 71st Anniversary of the atomic bombings. Read more about the event here.

Save 60% on Your Electric Bill This Year

Having trouble paying your electric bills? You may qualify for Seattle City Light's Utility Discount Program, which offers free home energy visits to help you maximize your discount, as well as assistance with other utilities such as water, sewage ...read more
---
Social Media Links:

Like what we do?



Then "like" us on Facebook!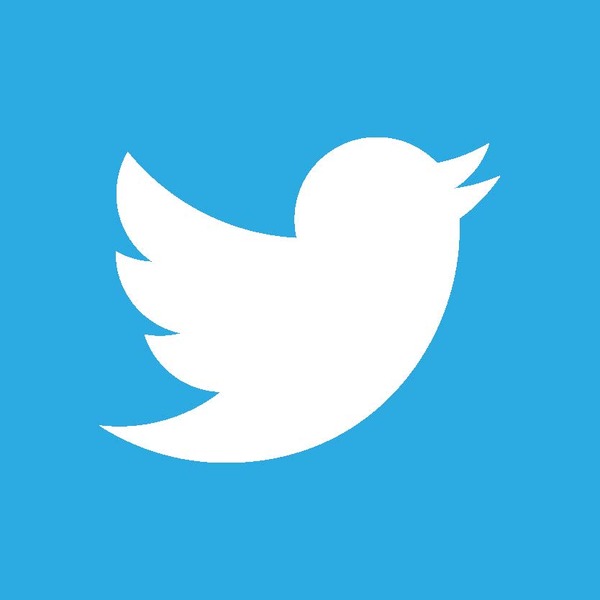 Follow us on Twitter for live updates on news and events!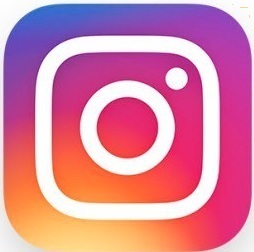 In This Issue:

Alton Sterling and Philando Castile

Hope for Youth Poetry

Building the Beloved Community Gala

NEA Honors Estela Ortega

Jobs at El Centro de la Raza

Shades of Purple Student Conference

Antonio Zambrano-Montes Case

Mobile Medical Unit at El Centro de la Raza

Vote No on Initiative 123

Seattle Housing Levy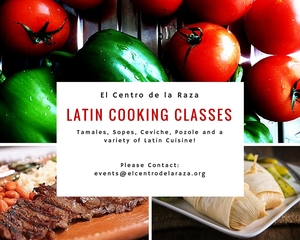 Rate us on Yelp, and take our quick 7 question survey to let us know what cooking classes you would like to see in the future.
Events Calendar:
July 9 Roberto Maestas' Birthday
July 13 Legal Clinic
July 16 Homeownership Workshop
July 23 Salvadorian Pupusa Making Class
July 28 Mobile Medical Unit Starts
July 30 Pozole Making Class
August 2 Healthy Eating Workshop
August 2 Ballots Due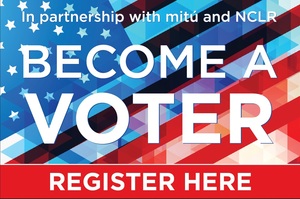 Register today with your smartphone

Mil Gracias Funders:
Pacific Hospital Preservation & Development Authority


$81,383 for Affordable Healthcare Outreach and Enrollment Program renewal
Seattle Parks & Recreation
$2,500 for After School Drop-In field trips in 2016
Seattle Office of Arts & Culture
$16,500 for the Work Readiness Arts Program – Youth Voices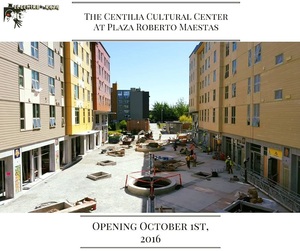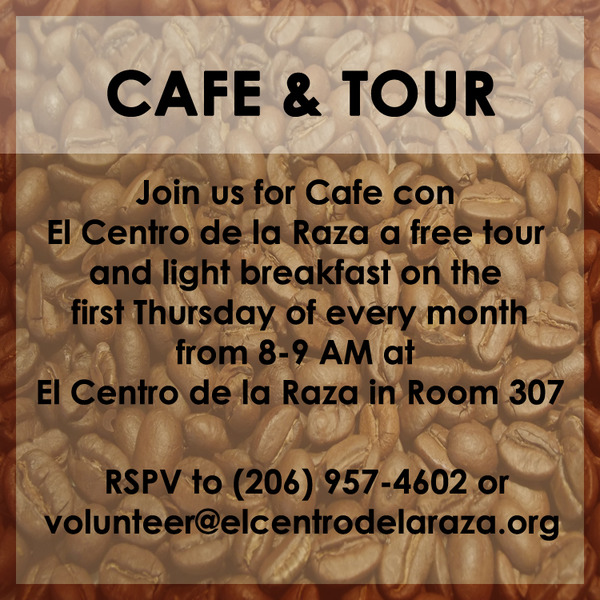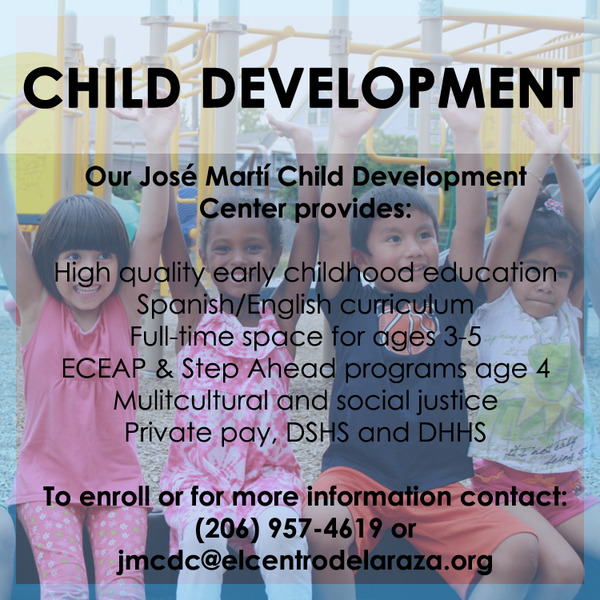 Board of Directors:
Juan Cotto, President
Roxana Amaral, Vice President
Pablo Mendoza, Treasurer
Victoria Kill, Secretary
Madrienne Salgado, Parliamentarian
Emma Catague
Norma Cuevas
Christina Garcia
Ricardo Garcia
Martha Jimenez
Alexandra Narvaez
Bianka Sanchez
Urbano Santos
Ramon Soliz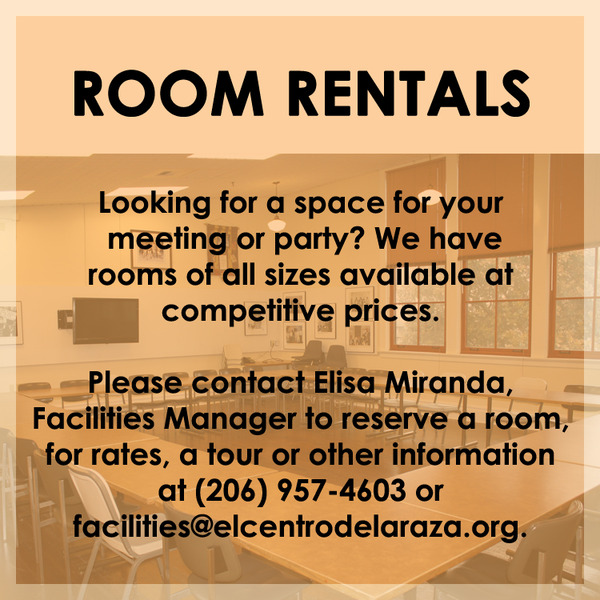 Programs and Services:
Bebes! Infant Mortality Prevention
Business Opportunity Center
Café con El Centro de la Raza
César Chávez Demonstration Garden
College Readiness
Comadre Monthly Workshops
COMCAST Digital Connectors
Community Meeting Space
Community Organizing
Community Service
Crisis Advocacy
Cultural / Political / Social Events
DSHS People Point Washington Connections
Economic Development
ECR Transitional Housing
El Patio Apartments
Employment Assistance
ESL Classes
Families & Education Levy Case Management
Financial Empowerment
Food Bank
Foreclosure Counseling
Health Coverage Enrollment
Historical & Educational Presentations
Homeless Assistance
Hope for Youth Poetry & Civil Rights History Classes
HUD Housing Counseling
Immigrant / Human / Civil Rights Social
Justice Advocacy
Low-Income Transit Fare Enrollment
José Martí Child Development Center
Labor Standards Outreach and Education
Latino Hot Meal Program
Legal Clinic Site
Local, State, National & International
Coalition Building
Luis Alfonso Velásquez Flores
After School Program
Parent-Child Home Program
Plaza Roberto Maestas
Santos Rodriguez Memorial Park
Seattle Youth Violence Prevention & Case Management
Senior Nutrition & Wellness
Senior Home Delivered Meals
Smoking Cessation
Summer Learning
Tax Prep Site
Veteran's Services
Volunteer Opportunities
Youth Case Management & Cultural
Enrichment
Youth Employment
Youth Technology Training