Screening applications for housing in Plaza Roberto Maestas are now available for pick up in Room 304 at El Centro de la Raza or online at plazarobertomaestas.org. We had a turnout of over 400 people at the housing interest meeting last Wednesday which indicates the need for affordable housing in King County. Applications will be accepted in person on February 22, 2016 starting at 4:00 PM. No applications will be accepted before 4:00 PM.
Someone one will be here until 7 PM to accept applications. Applications will be accepted on a first-come first-served basis and we will not accept screening fees once we have reached our processing capacity for the first round of applications. For more details, please review the Application Process here.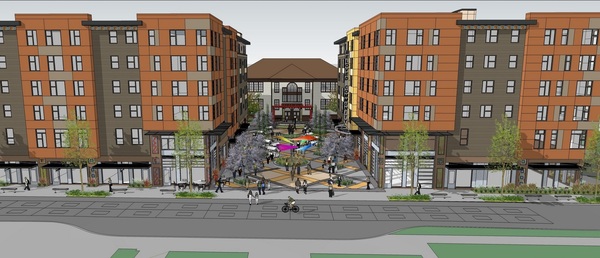 Architectural Rendering of Plaza Roberto Maestas
Click here for more information and to find the housing application. Call 206-957-4636 or email prminfo@elcentrodelaraza.org with questions.

Respetuosamente,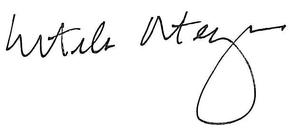 Estela Ortega
Executive Director

P.S. - Don't forget to "like" us on Facebook, and "follow" us on Twitter.
---
El Centro de la Raza News/Noticias

Sign Up for Cooking Classes Today!



The 2016 cooking class schedule is available now! Learn how to cook your favorite Latin dishes, share in our culture, and meet new people at the same time. Class fees vary and directly support our Senior Nutrition and Wellness Program. Register today!

Plaza Roberto Maestas Construction Update: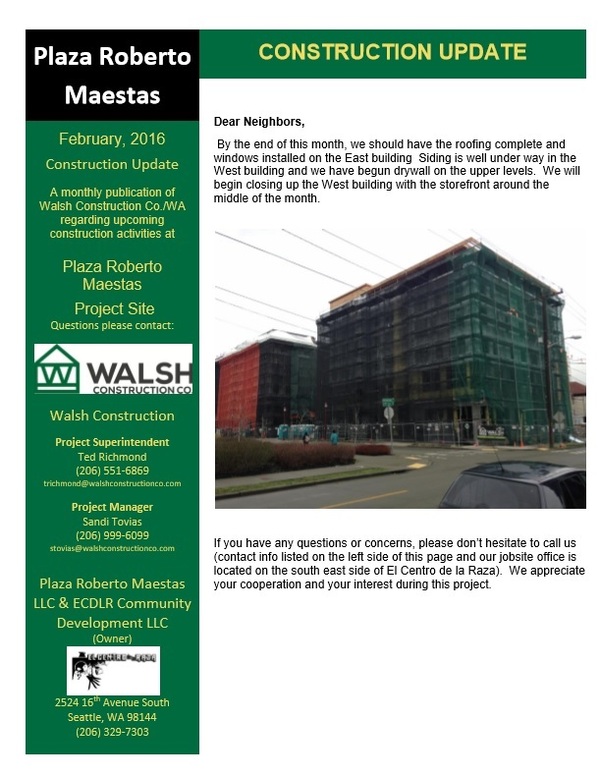 Apply for Roberto Felipe Maestas Legacy Award

Nominations are now being accepted for the sixth annual Roberto Felipe Maestas Legacy Award to be presented at the 2016 Building the Beloved Community Gala. ...read more

Regístrese Ahora / Register Now

Child Development at Hirabayashi Place Coming May 2016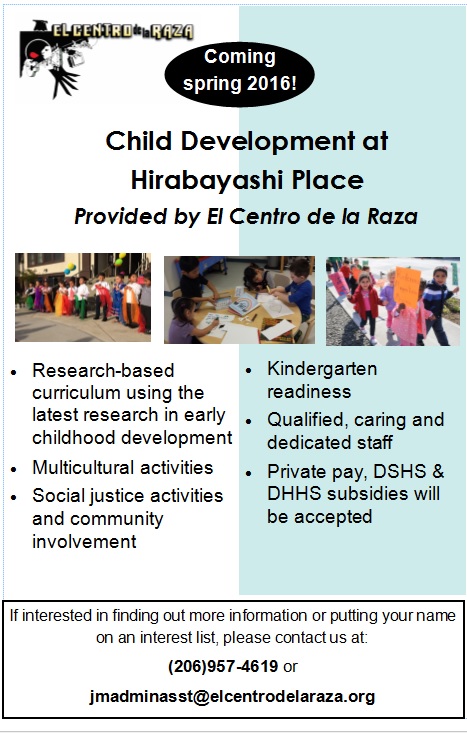 A new child development program is opening at Hirabayashi Place in May 2016. The research-based curriculum will use the latest research in early childhood development to provide the highest quality kindergarten readiness program possible ...read more



'Eat Right When Money is Tight' Workshop Series

Come learn how your family might eat more nutritious meals on a budget! The food bank hosts a free monthly workshop series: Eat Right When Money is Tight. The purpose of the workshop is to demonstrate and discuss healthy eating for cost-conscious families. ...read more

Homeownership Education Workshops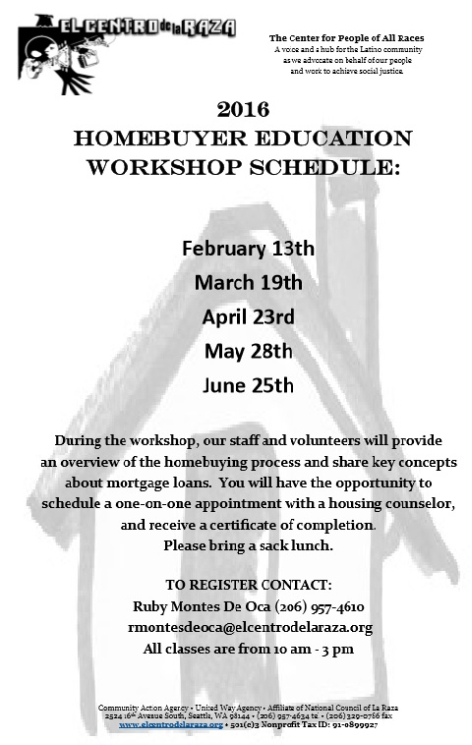 El Centro de la Raza's Homeownership department is hosting homebuyer education workshops every month through June 2016. These classes will provide an overview of the homebuying process and share key concepts ...read more




English Classes/Clases de Inglés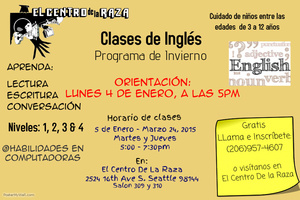 It's not too late to join an English Class! Classes take place between January 5th-March 24th. Classes are held on Tuesdays and Thursdays from 5:00-7:30 PM in Rooms 309 and 310 at El Centro de la Raza. ...read more
En Español.

Free Tax Preparation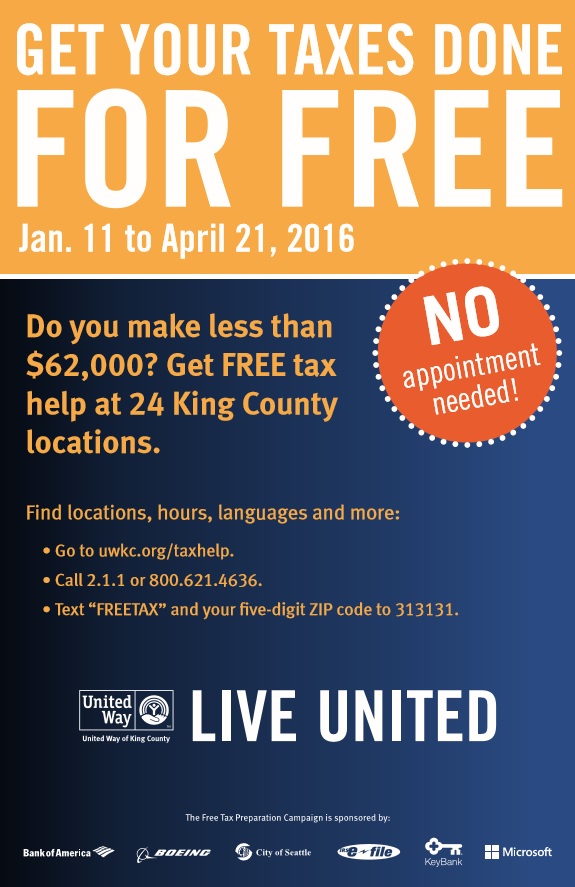 Get help with your tax preparation this year! Made possible by United Way, from January 12th - April 21st, El Centro de la Raza offers free tax preparation for those making under $62,000 per year. Hours are 5-9 PM Tuesday and Thursday and 10 AM-2 PM on Saturdays in Room 106 at El Centro de la Raza, 2524 16th Ave. S, Seattle, WA 98144. Click here to view all free tax prep locations around Seattle ...read more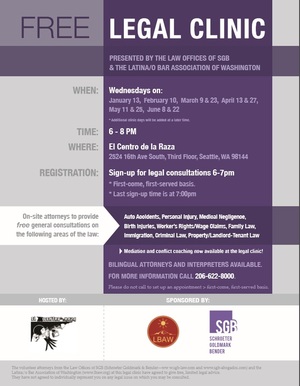 ---
Announcements/Anuncios

Procurement Committee Members Needed

On September 24th, 2016 El Centro de la Raza will hold our annual Building the Beloved Community Gala at the Westin in downtown Seattle.
To make this event a success, we are looking for volunteers to join our procurement committee. This position is perfect for volunteers who want to get involved on an on-going basis. ...read more

ECDLR's Smoking Cessation Support Group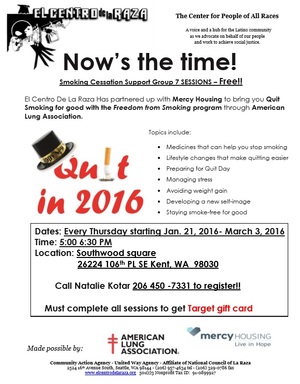 El Centro de la Raza has partnered up with Mercy Housing to start the Freedom from Smoking Program. Smoking cessation support group meetings are held every Thursday from 5:00 - 6:30 PM ...read more




Latino Legislative Day

Join the Latino Civic Alliance for the 11th annual Latino Legislative Day on Monday, February 22nd from 8 AM - 5 PM. This event celebrates the importance of civic engagement and advocacy by supporting a dialogue between state government ...read more

ORCA Lift Reduced Fare Program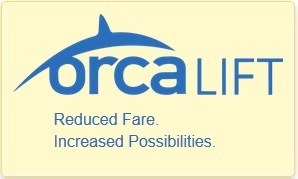 Did you know that our Frances Martinez Community Service Center has a transit fare program? The reduced fare for riders on the Link Light Rail and King County Metro busses is $1.50 per ride. ...read more
---
Our Community-Nuestra Comunidad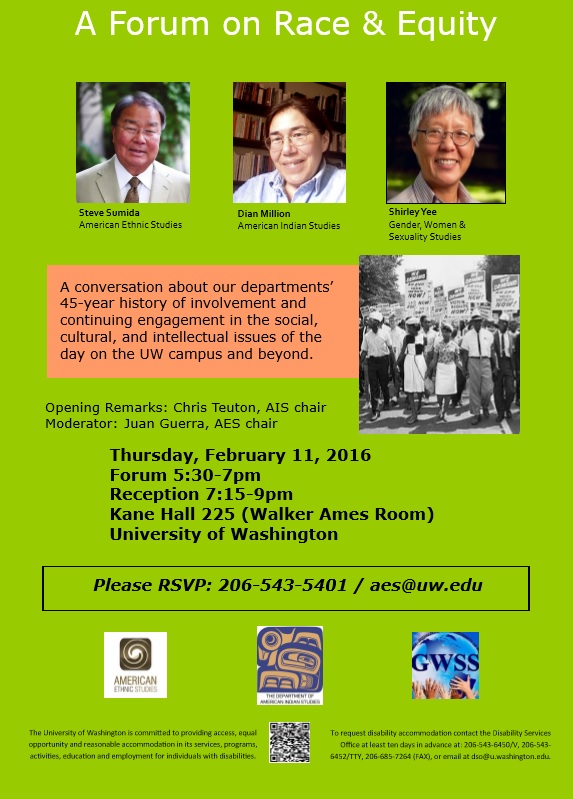 Why They Come: Understanding Why We Have an Immigration Crisis

University Unitarian Church is holding a lecture by Rev. Dr. Miguel De La Torre on Sunday, February 21st, 2016. His lecture will begin with the question: Why am I, personally, an immigrant in this country? The lecture will examine ...read more

Latino Outdoors Event



Latino Outdoors Washington is hosting a kayaking event on February 20th from 10 AM - 12 PM. The kayaking outing will be held at Northwest Outdoor Center at 2100 Westlake Ave. N. Email michelle@latinooutdoors.org or call (628)-333-4803.



Save 60% on Your Electric Bill This Year
Having trouble paying your electric bills? You may qualify for Seattle City Light's Utility Discount Program, which offers free home energy visits to help you maximize your discount, as well as assistance with other utilities such as water, sewage ...read more

---
News Roundup
Adam Smith Statement on United Nations Working Group Ruling

Congressman Adam Smith released a statement about the United Nations Working Group Ruling on the Nestora Salgado case, advocating for her release. Read the statement here.