Estmad@ Amig@,
Spring is here! That means our Cinco de Mayo Celebration event is approaching quickly. Please join us for this free event on Saturday, May 5th from 1-5 PM at El Centro de la Raza for food, music, prizes, booths, children's activities and more! This year is the 150th anniversary of the Battle of Puebla. We will also be hosting a free bilingual Financial Sum-It with workshops from 10 AM - 12:45 PM on topics including financing college, avoiding identity theft and fraud for elders, and consumer rights. These events are made possible by U.S. Bank and City of Seattle Office of Arts & Cultural Affairs.

Mil gracias to all of you who made calls, wrote letters and testified in support of El Centro de la Raza's south lot zoning from "SF 5000" to "NC2P-65" allowing for a mixed-use structure to be built. The Land Use Committee passed our up zone out of committee and the City Council voted on it on April 2nd; we received full support from the Council!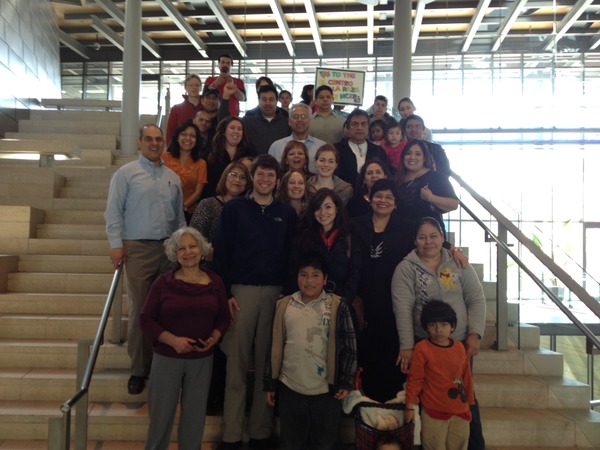 A group of El Centro supporters and staff attended the City Council hearing and were delighted with their support.

On Saturday, April 28th from 10:00am to noon El Centro de la Raza will hold a community open house to highlight the design team finalists for the redevelopment of their south parking lot into a vibrant transit oriented development mixed-use building. As part of the competition for the project these finalists will present initial site concepts based on feedback from last year's community meeting and El Centro's program needs. All are welcome. Lunch, translation services and childcare will be provided. Please RSVP by noon on April 27th to (206) 957-4605 or execasst@elcentrodelaraza.org for lunch planning purposes.

This great news would not have been possible without supporters like you; we can't thank you enough. Please read on for other events and announcements.

Siempre bienvenidos, nuestra casa es su casa.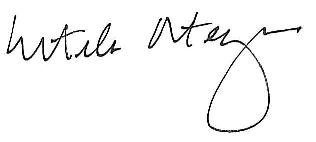 Estela Ortega
Executive Director

P.S. - And of course, visit our website to stay up-to-date on the happenings at El Centro and in nuestra comunidad - our community.
Cinco de Mayo Celebration
& Financial Sum-It Workshops
On Saturday, May 5th El Centro de la Raza will present its 7th Annual Cinco de Mayo Celebration from 1-5 PM outside El Centro de la Raza (2524 16th Ave S, Seattle). Festivities include music, children's activities, prizes, craft and informational booths, and traditional Mexican food for sale. We will feature performances by Ameyaltonal Danza Azteca, Ofelia Alanis-Torres, Seattle Fandango Project, Seattle Mariachi Azteca and a desfile cultural. Please RSVP at (206) 957-4605 or at www.facebook.com/elcentro72. For more information click here.

From 10 AM - 12:45 PM, free bilingual Financial Sum-It Workshops will take place inside El Centro de la Raza. Topics include financing college, avoiding identity theft and fraud for elders, homebuying, and consumer rights. Workshops door prizes of up to $250 in value will be available! To register for a workshop, please call (206) 957-4646 or email finliteracy@elcentrodelaraza.org.

These events are made possible by U.S. Bank and City of Seattle Office of Arts & Cultural Affairs. Mil gracias a todos!

McGinn Releases 20/20 Proposal for Police Reform
On March 29th, Mayor McGinn released 20 proposals for police reform. Over the course of 20 months, the proposals are intended to address issues such as biased policing to officer hiring and training. To read the 20 proposals, click here.

The Minority Executive Directors Coalitions' Multi-racial Task Force on Police Accountability (MTFPA) also released its recommendations for reforming Seattle's police department. While the task force believes this is a good start, it is our position that the proposals only partially reflect and address the MTFPA's recommendations. In addition, the MTFPA believes that meaningful reform will only be accomplished if the Mayor, City Council, and Justice Department agree to a consent decree with a monitor. The MTFPA's recommendations can be found here.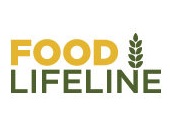 The Latino Hot Meal program at El Centro is excited to announce a new partnership with the Seattle's Table program of Food Lifeline which puts meal programs in contact with local restaurants and caterers. The Seattle's Table program, under the guidance of Dani Turk, works to establish connections between food providers and meal programs in the same community that benefit all involved. The program increases the amount, variability and nutritional quality of food available to a meal program while reducing the waste and associated costs of the donor agency. This opportunity for the Latino Hot Meal program to partner with local restaurants in the Columbia City and Beacon Hill neighborhoods is an exciting development and will allow El Centro to expand its ability to serve the emergency food needs of the people in this community.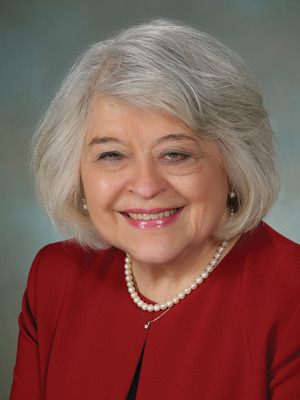 On March 1, Phyllis Gutiérrez Kenney, the state representative of the 46th Legislative Disctrict, announced that she will be retiring from office. During her 16 years in the Washington State House of Representatives, she had the opportunity to prime-sponsor a total of 260 bills and saw at least 50 of the bills signed into law. She worked tirelessly to improve conditions for farm workers, provide and secure shelter and resources for the homeless, increase economic development throughout Washington, especially for small businesses and obtain educational opportunities for lower-income students. Just recently, she was able to pass a bill protecting short sale homeowners through updating the Foreclosure Fairness Act. Her work has significantly improved the lives of many Washington residents. El Centro de la Raza is grateful for Gutiérrez Kenney's advocacy efforts on the behalf of El Centro and Latinos in Washington.

As provided by Rep. Gutiérrez Kenney's Office News from the Washington State Legislature, Rep. Kenney sponsored legislation that recently passed to help homeowners in crisis. House bill 2614 will bring clarity to the short-sale process so that homeowners have all the information they need if they chose this alternative to foreclosure. HB 2614 creates a notice mechanism to homeowners to be informed of whether the lender/bank will pursue that remaining debt after the home is sold, and it reduces the amount of time, from six to three years, that lenders have to pursue short-sale home owners for remaining debt. This bill provides a first step in what will be an ongoing process.

Gutiérrez Kenney, said that requiring upfront notice to the homeowner about possible future debt, and limiting the time for the debt's collection will enable homeowners to make the right decisions and not get caught off guard. HB 2614 is a comprehensive measure to help homeowners in crisis by providing alternatives, remedies and assistance. It now heads to Gov. Gregoire's desk for her signature.

One Youth's Journey to Learn, Lead, and Advocate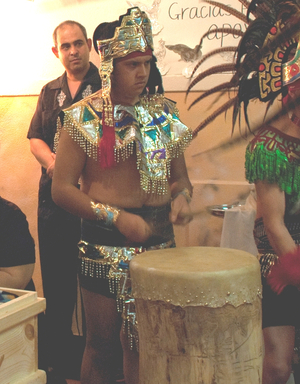 Carlos Rodriguez* is currently a student attending Ballard High School in Seattle. He is enrolled in the Proyecto Saber class taught in conjunction with an AmeriCorps Volunteer on staff with El Centro. Carlos also became involved in changed since he became involved with El Centro's Hope for Youth Program. Prior to enrolling in the classes, he never felt a sense of pride for his Mexican-American heritage because he never saw it being celebrated in school or in mainstream culture.
He now participates in the Civil Rights History Classes enthusiastically, contributing his comments and perspectives on the complex topics discussed in class. Carlos' teachers have seen him develop into a leader and utilize what he has learned in the workshops in his other core classes. He is often excited to participate in local events taking place in the Latino community and has taken great interest in the weekly Mexica (Aztec) Danza classes offered at El Centro in the evenings. Through El Centro, Carlos has learned to take pride in his cultural heritage and ancestral language, which is often practiced in class. He has become an advocate for important issues on campus and he has a stronger desire to learn.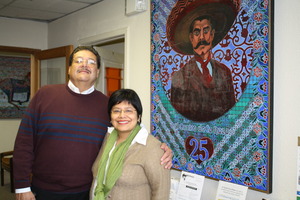 Ramon Ramirez (pictured left with Estela Ortega) was a part of El Centro de le Raza in our early years and is the President of Pineros y Campesinos Unidos del Noroeste (Northwest Treeplanters and Farmworkers United). PCUN and Ramon have been nationally recognized for their work to empower farmworkers to understand and take action against systemic exploitation. PCUN is highly involved in community and workplace organizing on many levels. Their organizing efforts include workers from various areas of agriculture. They employ direct organizing tactics, such as visiting fields, distributing leaflets, and holding house meetings and marches. PCUN, led by Ramon, collaborates with other organizations to promote legalization for undocumented workers and to ensure immigrants' rights, and also advocates with the Oregon Legislature to protect farmworkers' rights through legal means.
This past month El Centro lost a dedicated staff member and wonderful person in Francisco Rosales. Francisco worked in the foodbank where he was well known to everyone who came through the door, if not by name then by his smile and welcoming attitude. With his passing we are reminded how vital he is and was to this program. His willingness to accept everyone and to extend a welcoming smile to all is testament to the founding principles upon which El Centro was built. The entire El Centro community extends its collective condolences and blessings to the Rosales family as they mourn and honor the memory of Francisco Rosales. ¡Francisco Rosales, PRESENTE!
In April, the U.S. Supreme Court will hear the federal government's suit against Arizona's anti-immigrant law, SB 1070. In the past week, eleven attorney generals and seventy House Democrats have filed separate briefs in support of the federal government's suit. The impact of the Supreme Court's decision will be paramount and if the law is found to be unconstitutional, similar laws in Georgia, Alabama, Utah, and South Carolina will likely be stopped. Opponents of the law view it as unconstitutional because it obstructs the federal government's role to regulate immigration.

From its inception, the controversial and unjust law has faced opposition from human rights groups, activists, politicians, and lawmakers. For more information about the law, read here.

Become involved with Get Engaged! Seattle residents between the ages of 18-29 are eligible for the program and will have the opportunity to be placed on boards and commissions. Commissioners help shape policy decisions, make recommendations, and provide citizen participation in city government. Commissioners also have the opportunity to serve on committees such as: the arts commission, pedestrian advisory board, design commission, landmarks preservation board, and human rights commission.

Get Engaged is dedicated to advocating for youth voice in city affairs and to cultivating local leaders, especially those who have had limited opportunities to be involved in civics and community. Apply at getengagedseattle.org/apply. For more information, contact Roni Ayalla at rayalla@seattleymca.org or 206.250.2456
"Know Your Rights With The Police" Workshop
Tuesday, April 17th 6-8pm at El Centro de la Raza

Attention youth ages 14-23: Youth Undoing Institutional Racism (YUIR) brings you "Know Your Rights With The Police" Workshop. We'll teach you some essential tools and skills for protecting your rights and staying safe when dealing with law enforcement or public schools. This workshop is geared towards training new trainers, so that youth will be able to provide similar workshops to their peers in the future. This event is free to attend. Enrique Gonzalez, Juvenile Justice Policy Advocate at El Centro de la Raza will be part of the team conducting this workshop. FOOD WILL BE PROVIDED. Email Community Justice Program Director, Dustin Washington at dwashington@afsc.org to RSVP.

At this time, the Seattle Office of Sustainability and Environment is updating the Climate Action Plan. Councilmember Mike O'Brien, Chair of the Energy and Environment Committee, will continue working to adopt a Climate Action Plan that will put Seattle on a path towards becoming carbon neutral by 2050. The objective of the plan is to significantly reduce the amount of emissions of greenhouse gases that occur in the City. This reduction will improve public health, will help preserve our power and support the existence of a strong economy in the future. By participating in the Climate Action Plan survey, you can voice your opinions on how the city can reduce the emissions of greenhouse gases in Seattle. Para tomar la encuesta en español, haga clic aquí.
Celebrating 40 Years!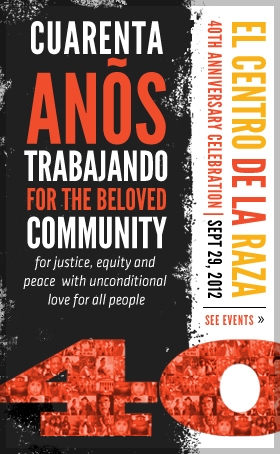 We are turning 40 years old! El Centro de la Raza was founded in 1972 which makes 2012 our 40th Anniversary. We will be celebrating this monumental milestone on Saturday September 29, 2012 from 5-8pm at the Westin Seattle, downtown. The evening will consist of a reception, silent auction, raffles, historical art-walk, 3 course dinner, keynote speaker, Legacy Awards & scholarship presentations and an exciting live auction. We want the event to honor the efforts of El Centro de la Raza over the last 40 years and celebrate all the people who have participated in or supported our programs and services. Please join us in this celebration by purchasing a ticket to the event HERE. Tickets are $100 and all the proceeds go to El Centro de la Raza and our work. Hope to see you there! If you are interested in becoming a sponsor or Table Captain, please contact us at events@elcentrodelaraza.org or (206) 957-4649.
Unique Gifts on Sale at El Centro!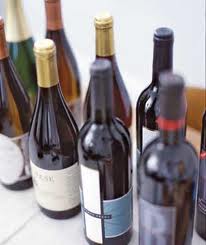 We will accept the "best offer" on each item! There is a special opportunity to do some shopping and help El Centro in the process. We have a special selection of items reserved from the 2011 Legacy Awards and Auction Banquet in September. All proceeds from this sale go to the support of our 33 human service programs. So make an offer on any number of exciting gifts such as bottles of wine, a wedding/event deal, and venue rentals. You suggest a reasonable price and all proceeds benefit El Centro's vital human services and community building programs! To see the complete list of items and instructions to purchase, simply click here. Questions? Email Betsy Mardany.

Mark Your Calandar - April 21 is Comcast Cares Day
at El Centro de la Raza!

Last year more than 2,200 Washington Comcasters volunteered their time to help improve the buildings, grounds and more at 12 locations around the state. El Centro had the privilege to be among these 12 locations, and we had a total of 292 volunteers work for a total of 2,213 hours last April at this event.

El Centro de la Raza has been selected again this year as a site for Comcast Cares Day. In addition to the Comcast volunteers who will be present, we're looking for individual volunteers like you to come help out!

If you're interested in helping out, please contact Josh Stromberg, Volunteer Coordinator at 206-957-4602 or volunteer@elcentrodelaraza.org.

The Veteran's Program at El Centro provides assistance to Veteran's in the following areas:
►VA Medical Claims/Appeals, Counseling for PTSD, Depression
►Homelessness Prevention, Veterans/Dependant Educational Benefits
►Resume/Job Placement Programs, Survivor Benefits
►Foreclosure Prevention, Parent involvement and Education
If you are a veteran and can use services and support we are here to help. Please contact us for further information at Sergio Camacho 206-957-4624 or Alfredo Medina 206-973-4287. For more information about the African American Veterans Program, contact Aries Robinson 206-659-0684 or Andrea Salmon 206-457-8901.
Non-partisan Voter Registration
El centro de la Raza will be conducting Non-partisan Voter Registration during this year's United Way Free Tax Preparation campaign weekly on Tuesday, Wednesday, and Thursday from 5-9 pm and Saturday 10 am-2 pm. It will also occur during this year's Free Legal Clinics on the second Wednesday of each month, from 6-8 pm.
Employment Program / Programa de Empleo
Our Employment Program provides job training skills and the opportunity to find employment. Our services include: monthly workshops, one-on-one support, assistance applying for jobs & preparing for interviews. We can help you acquire new skills to advance in your career! If you would like to participate or need more information, please contact Camila Lagow: (206) 957-4622 or email or Maria Bocanegra: (206) 957-4642 or email. Para ver en español, haga clic aquí.
Last Call for United Way FREE Tax Preparation!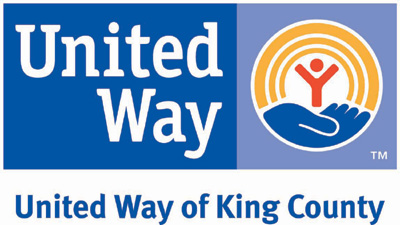 El Centro is serving as one of 16 free tax sites for the United Way Tax Campaign 2012. Volunteers are working to help families keep more of their earnings. Last year volunteers prepared 13,320 tax returns, and returned $19.1 million in refunds to our community. The El Centro tax site is open Tuesdays, Wednesdays and Thursdays from 5-9 PM and Saturdays from 10 AM - 2 PM in room 106 from now through April 17. To find a tax site near you TEXT the word TAX and your 5-digit zip code to 57682. Bilingual volunteer tax prep applicants are also needed. For more details click here.
Do you know how to read a credit report? Do you want to learn ways pay down a debt? Do you want to learn ways to start developing a saving? If you answered yes to any of these questions we would encourage you to attend our financial literacy class from 9am to 5pm. This class will offer the tools and resources needed in understanding and reading your credit report, managing your spending, and increase your savings to help in setting and achieving your financial goals. To register for this FREE Financial Literacy Class contact: Matt Driscoll, Financial Literacy Coordinator, at (206) 957-4646 or finliteracy@elcentrodelaraza.org
Overcomin

g Violence Through Hip Hop Artistry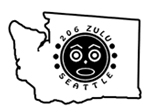 Our friends at 206Zulu are organizing a series of events including school-wide assemblies to raise awareness of hip hop's true history and to showcase local Hip Hop artists. These events are focused on overcoming violence through the art form that is Hip Hop.El Centro, in partnership with Denny International Middle School's Proyecto Saber Program, is coordinating Hip Hop Poetry Classes! Contact Alex Bautista for participation details: (206) 957-4620.
Alternatives to Foreclosure Orientation
April 7th and May 12th
Are you at risk of falling behind on your mortgage payments or already behind? Would you like to learn about your options and rights when it comes to being in default on your mortgage? Come to our Alternatives to Foreclosure Orientation from 10am-12pm. You will meet with HUD approved housing counselors and learn about the process of foreclosure and alternatives to foreclosure. At the end of the orientation, you can sign up for your one-on-one appointment with a counselor. To register for this FREE Alternatives to Foreclosure Orientation contact: Piero Prada, Default and Foreclosure Intervention Housing Counselor at (206) 957-4633 or foreclosure@elcentrodelaraza.org.
What do homeowners say about their experience?
"We wish to thank you for your help with the homeownership foreclosure process. We think it was done so well starting with the orientation session and then the one- on-one counseling meeting. I appreciated so much you pouring through those stacks of documents, and I say this because I tried it here at home and didn't get anywhere. As the customer, or client, we like to be treated fairly and with respect and we appreciate your kindness and patience. I thought that was a heavy load, and again, you handled it so well, with expertise and professionalism."
Anuncios y Felicitaciones
Announcements & Congratulations
Pay Parking Lot Now Open!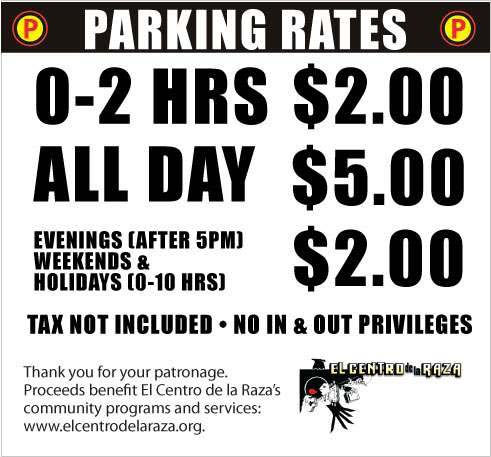 El Centro has opened a temporary parking lot to earn much needed revenue for our programs and services. The lot will be in-use until the ground breaking takes place to build a mixed-use development on the site.If you are interested in monthly parking rates or have other questions, please call (206) 957-4603. Going to a Sounders, Seahawks or Mariners game? Special event parking is $5 and general parking rates are listed to the left.

Rental Spaces Available at El Centro!
There are office spaces available for lease at El Centro de la Raza's building on Beacon Hill. We have two spaces currently open: Main floor (531 sq. ft.) and top floor (1055 sq. ft.). Please contact our Facility Manager for more information at (206) 957-4603 / email facilities@elcentrodelaraza.org.
---