This past Monday, the Supreme Court started hearing arguments in the United States v. Texas case regarding President Obama's deferred action initiatives, DAPA and expanding DACA. More than 2.6 million U.S. citizens living in Texas and plaintiff states would be affected by the passing of DAPA or expansion of DACA. If these actions are not passed, fathers and mothers of U.S. citizens and young people who came to the United States as children will be the targets of deportation. We need to take a stand with families and city advocates around the country. We support President Obama's executive actions on immigration, understanding that these actions are within his legal jurisdiction as president, and confident that, once passed, they would have a great impact on our country by keeping families together, creating jobs, growing the economy, and making our communities stronger. The Supreme Court will make a decision about United States v. Texas by June 30th. Read more about the immigration ruling here, and follow the National Council of La Raza on social media to keep up with the progress of the case.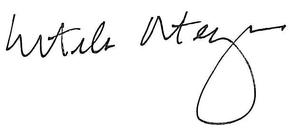 Estela Ortega
Executive Director

P.S. - Don't forget to "like" us on Facebook, and "follow" us on Twitter.
---
El Centro de la Raza News/Noticias

Plaza Roberto Maestas Construction Update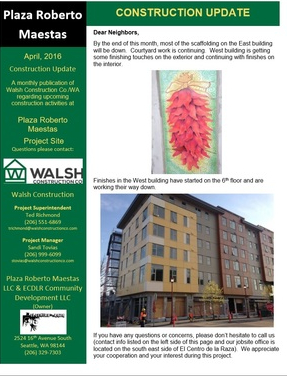 Cinco de Mayo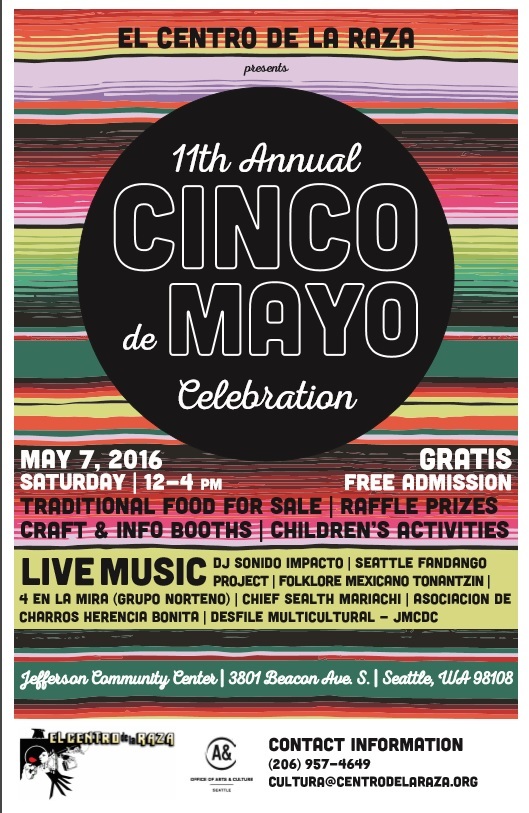 El Centro de la Raza's upcoming 11th Annual Cinco de Mayo Celebration is free to the public and will take place on Saturday, May 7, 2016 from 12 PM - 4 PM at the Jefferson Community Center. If you are interested in being a part of the Desfile Cultural, please submit a paragraph with information about the traditional attire you will be wearing to Hilda Magaña at hmagana@elcentrodelaraza.org by Friday, April 22nd. RSVP on Facebook, or Volunteer. ...read more

Save-the-Date for GiveBIG - May 3, 2016



Join with thousands of other donors in the Seattle area on May 3rd, 2016 for The Seattle Foundation's online giving charitable event. Supporters can now schedule donations to be taken out on May 3rd to hit the goal of $20 million in monetary donations to Seattle non-profit organizations. Schedule your donation now! ...read more

Youth Program Visits Starbucks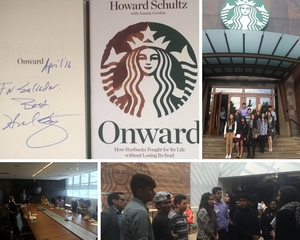 Twelve youth in our Roberto Maestas Youth Leadership Institute were recently invited to Starbucks headquarters for a full day of career and leadership training, a tour, and a meeting with the Vice President of Diversity and Inclusion, Tony Byers. The youth asked what diversity looks like in the Starbucks Corporation and learned how thinking globally can benefit organizations and corporations. ...read more

2015 Annual Report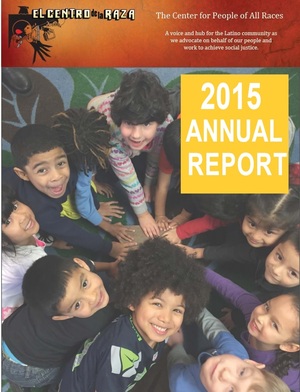 Learn more about El Centro de la Raza by reading our 2015 Annual Report! It is filled with success stories, photos, program information, donor lists, and funding information from 2015.


The Station Signs Lease at Plaza Roberto Maestas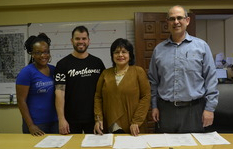 We are happy to annouce that Beacon Hill's local coffee shop, The Station, will be moving into Plaza Roberto Maestas once construction is finished. We are excited to partner with the local community and bring great businesses to the plaza!

Youth Job Readiness Program Donates to Others



The youth in the job readiness program donated beautiful piñatas to the José Martí Child Development Center classrooms and our upcoming Cinco de Mayo event. Youth also handed out donations and toiletries to El Centro's hot meal program, the Veterans program, homeless seniors in the senior program, and Food Bank participants. Making piñatas was a great fundraiser for the youth to learn a new skill, to give to others, and learn how to sell their items. Donate to our youth programs to help enable our youth to plan other creative fundraisers in the future ...read more.

Tax Prep Success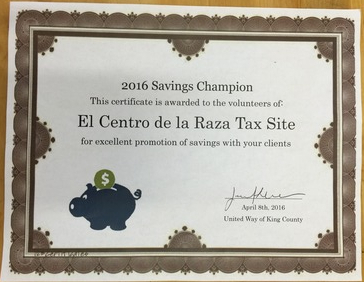 Congratulations to Eva and the team helping with tax prep at El Centro de la Raza for being Savings Champions for the 2016 Season! The El Centro de la Raza tax prep site received a certificate from United Way for a competition between tax sites ...read more

Immigrant Voting Rights Task Force Survey
The City of Seattle Office of Immigrant and Refugee Affairs created a survey with a goal of collecting data about immigrant voting patterns in order to better inform participants about voting processes and make positive changes. This survey is only for foreign-born residents currently living in Seattle-King County who are at least 18 years old. Answers will remain anonymous. If you meet these requirements, please fill out the survey here.

El Centro de la Raza is Hiring!
El Centro de la Raza is hiring Early Childhood Education Teachers! We encourage diverse teachers to apply in order to reflect the diversity of our children. Bilingual teachers - particularly Mandarin/English speakers - desired for some positions. For more information visit our website, contact sarmstrong@elcentrodelaraza.org or call 206-957-4626.

Sign Up for Cooking Classes Today!
The 2016 cooking class schedule is available now! Learn how to cook your favorite Latin dishes, share in our culture, and meet new people at the same time. See upcoming classes here. Already attended a cooking class? Leave a review on our new Yelp page!
Upcoming classes include:
Regístrese Ahora / Register Now

Mayor Murray's Education Summit

Community conversations around our education system have been happening around the city for the past two months, and now it is time for the Education Summit! The Mayor's Education Summit will be held on Saturday, April 30th at 9 AM at Garfield Community Center. You will hear a summary of the individual community conversations and the top ideas brought to the table. Learn more about the summit here. Space will be limited - RSVP here.

Debt Seminar/Clase de Deudas y Crédito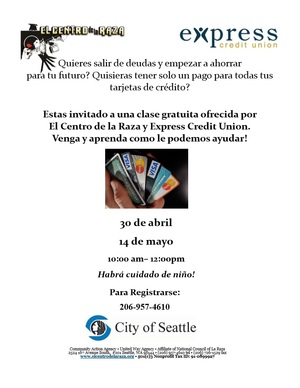 Quieres salir de deudas y empezar a ahorrar para tu futuro? Quisieras tener solo un pago para todas tus tarjetas de crédito? Estas invitado a una clase gratuita ofrecida por El Centro de la Raza y Express Credit Union. Venga y aprenda como le podemos ayudar! 30 de abril y 14 de mayo 10:00 AM – 12:00 PM. Habrá cuidado de niño! Para Registrarse: 206-957-4610. This class is only offered in Spanish.

Marijuana Prevention Summit 2016
El Centro de la Raza estará participando en una cumbre sobre la marihuana, el sábado 21 de mayo de 9 AM - 4:30 PM. El propósito de la cumbre es educar a los padres sobre la marihuana y darles la herramientas necesaria para construir puentes de comunicación entre ellos y sus hijos cuando se habla de la marihuana. Para obtener más información y para registrarse, por favor, póngase en contacto con Rocío Martínez en rmartinez@elcentrodelaraza.org o por teléfono 206-973-4404. In English

Volunteers Needed!
Interested in getting more involved? Current volunteer needs include:
Social Media Assistant: This volunteer would be working with El Centro's social media campaigns. Come in once a week to help with writing and distributing ads for all programs and to help the executive assistant with office assistance and misc. projects. Shifts: Monday through Friday 9am - 5pm (Flexible within business hours) ...read more
Contact Carlos Reyes at volunteer@elcentrodelaraza.org or 206-957-4602 for more information. See more volunteer opportunities.

Latinos Vote 2016 Campaign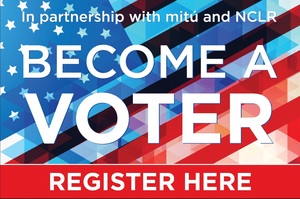 Did you know that there are more than 10 million Latinos eligible to vote? National Council of La Raza teamed up with MiTú to make a voter registration website specifically for the Latin@ community. Be sure to make your voice count and register to vote now! ...read more

Building the Beloved Community Gala



Our 2016 Building the Beloved Community Gala will be on September 24, 2016 from 5:00 PM - 9:00 PM. Early bird prices are $125 for a single ticket, $625 for a half table (5) or $1,250 for a full table of 10. Register now, learn more here, and RSVP to the event on Facebook!

Child Development at Hirabayashi Place Coming June 2016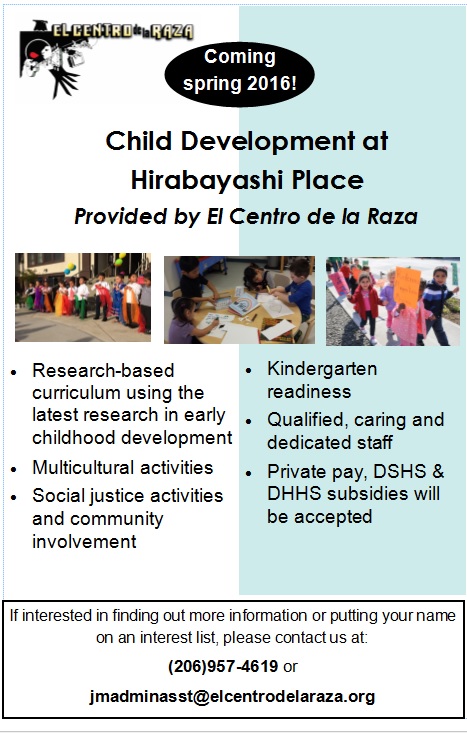 A new child development program is opening at Hirabayashi Place in June 2016. The research-based curriculum will use the latest research in early childhood development to provide the highest quality kindergarten readiness program possible ...read more



'Eat Right When Money is Tight' Workshop Series
Come learn how your family might eat more nutritious meals on a budget! The food bank hosts a free monthly workshop series: Eat Right When Money is Tight. The purpose of the workshop is to demonstrate and discuss healthy eating for cost-conscious families. ...read more

Homeownership Education Workshops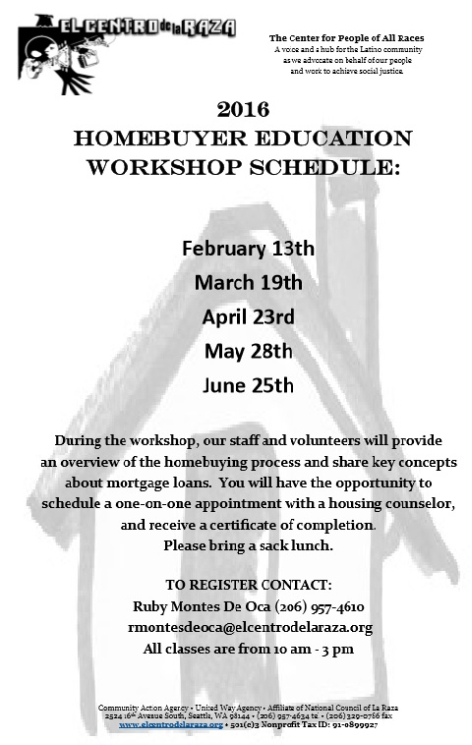 El Centro de la Raza's Homeownership department is hosting homebuyer education workshops every month through June 2016. These classes provide an overview of the homebuying process and share key concepts ...read more


English Classes/Clases de Inglés
Spring quarter English classes take place between April 5th and June 16th. Classes are held on Tuesdays and Thursdays from 5:00-7:30 PM in Rooms 309 and 310 at El Centro de la Raza ...read more.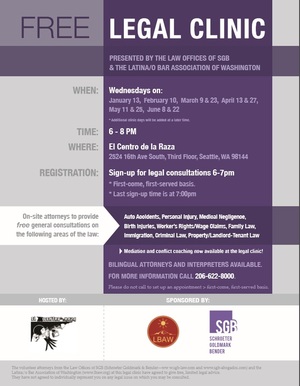 ---
Announcements/Anuncios

May is Community Action Month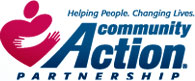 The 52nd Annual Community Action Month will be this May. El Centro de la Raza is one of many Community Action agencies in Washington State, who focus on creating local solutions to the needs of (http://www.wapartnership.org/) the local communities. ...read more

ORCA Lift Reduced Fare Program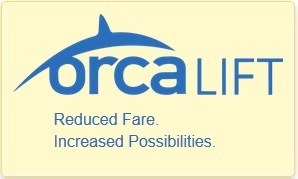 Did you know that our Frances Martinez Community Service Center has a transit fare program? The reduced fare for riders on the Link Light Rail and King County Metro buses is $1.50 per ride. ...read more
---
Our Community-Nuestra Comunidad

Uber Scholarship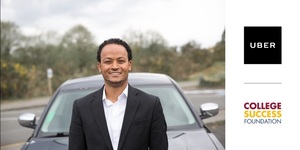 Uber and the College Success Foundation are working together to offer the Partner & Family Scholarship for current Uber driver-partners and their spouses or children to attend Washington State universities. Twenty King or Pierce county residents will be selected for this one-time, non-renewable $2,500 scholarship to be used for the cost of attendance during the 2016-2017 academic year. Click here for more information and to apply. ...read more

"Seattle" Play Premieres in Seattle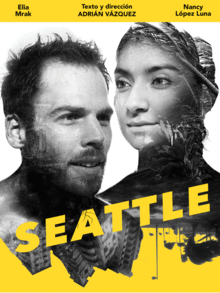 A play entitled "Seattle" by Adrian Vásquez, Nancy López Luna and Elia Mrak will premiere in Seattle on Friday April 29th and Saturday April 30th. The show will be held at the Erickson Theater in Capitol Hill, and is performed in both Spanish and English. Click here to buy tickets and to learn more about the show. ...read more


Fire Benefit Charge Information, Kent & Renton
On the April 26, 2016 special election ballot for the cities of Kent and Renton voters will either approve or reject Proposition 1, which would renew the Fire Benefit Charge. There are concerns that the Regional Fire Authority is abusing their power and imposing taxes unnecessarily. Learn more about why to vote no on Proposition One: NO Prop 1 Reject Kent RFA, NO Prop 1 Reject Renton RFA, NO Prop 1 Rechace el abuso de la Regional Fire Authority de Kent, NO Prop 1 Rechace el abuso de la Regional Fire Authority de Renton

Annual Law Forum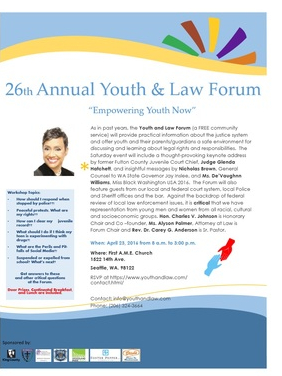 On April 23, 2016 the 26th annual law forum will be held at First A.M.E. Church at 1522 14th Ave, Seattle, WA 98122. The Youth and Law Forum puts on this annual event to help teach youth about their legal rights and responsibilities. Register for free here. ...read more


Rocketry Showcase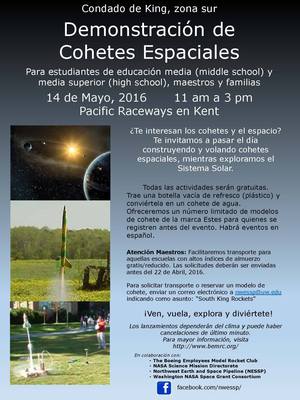 A Rocketry Showcase for middle and high school students, teachers, and families will be on May 14, 2016 from 11 AM - 3 PM at Pacific Raceways, 1001 144th Ave SE, Kent, WA 98042. Attendees are asked to bring an empty soda bottle to turn into a water rocket. Email nwessp@uw.org with the subject line South King Rockets to RSVP. ...read more

Save 60% on Your Electric Bill This Year

Having trouble paying your electric bills? You may qualify for Seattle City Light's Utility Discount Program, which offers free home energy visits to help you maximize your discount, as well as assistance with other utilities such as water, sewage ...read more

Latino Outdoors Event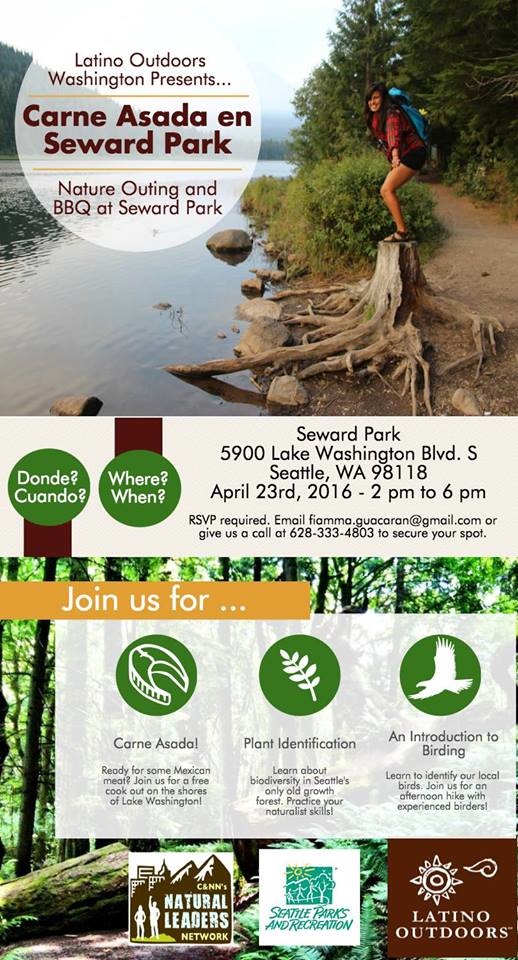 Latino Outdoors Washington will have a "Carne Asada en Seward Park" event on April 23rd. Eat carne asada, go for a hike, and learn about Seattle's biodiversity from 2-6 PM on April 23rd. Email fiamma.guacaran@gmail.com to RSVP or call 628-333-4803.


---
News Roundup
Los Angeles-based artist Ramiro Gomez paints houses, shops, and landscapes in Beverly Hills with an added element - he also paints the workers that clean the houses, sew the clothing, and tend the landscapes. He highlights the aspects of wealth that are often unseen, and makes a kind of political statement as well. NPR wrote an article about Mr. Gomez's work, and The Elliott Bay Book Company will be hosting writer Lawrence Weschler and Ramiro Gomez next Tuesday, April 23rd at 7 PM. More details about the event here.
Social Media Links:

Like what we do?



Then "like" us on Facebook!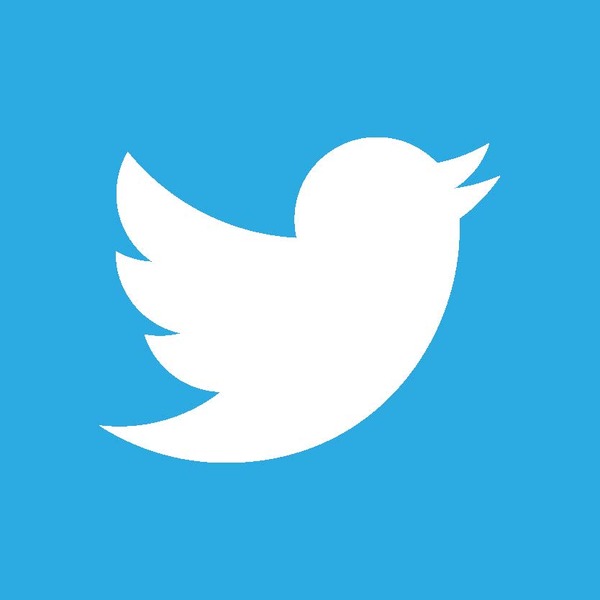 Follow us on Twitter for live updates on news and events!
In This Issue:

Cinco de Mayo

GiveBIG

Youth Program Visits Starbucks

2015 Annual Report

Immigration Voting Rights Survey

Jobs at El Centro de la Raza

Spring Cooking Classes

Mayor's Education Summit

Debt Seminar

Volunteering Opportunities

Uber Scholarship Opportunity

Community Action Summit

News Roundup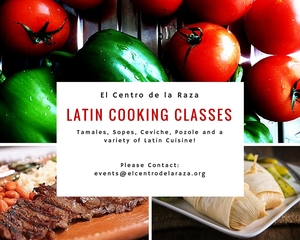 Rate us on Yelp, and take our quick 7 question survey to let us know what cooking classes you would like to see next.

Events Calendar:
April 23 Homebuyer Education Workshop
April 27 Legal Clinic
April 30 Mayor's Education Summit
April 30 Debt Seminar
April 30 Chile en Nogada Cooking Class
May 3 GiveBIG!
May 3 Eat Right When Money is Tight Workshop
May 7 Cinco de Mayo
May 11 Legal Clinic
May 14 Margarita & Carne Asada Cooking Class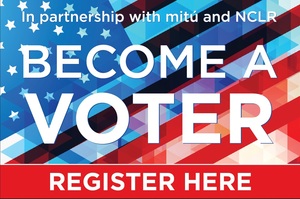 Register today with your smartphone

Mil Gracias Funders:
Washington Federal
$1,500 for the Food Bank
HUD Continuum of Care
(McKinney) $17,603 renewal for ECR Transitional Housing
Washington Service Corps
One AmeriCorps member for Hope For Youth Program 2016-2017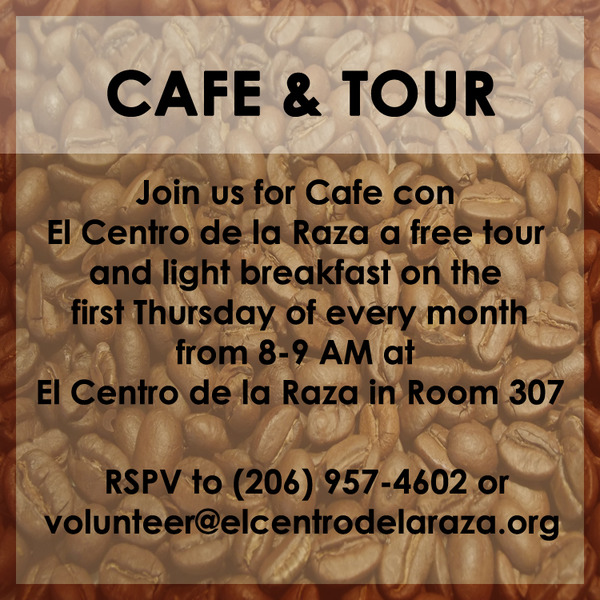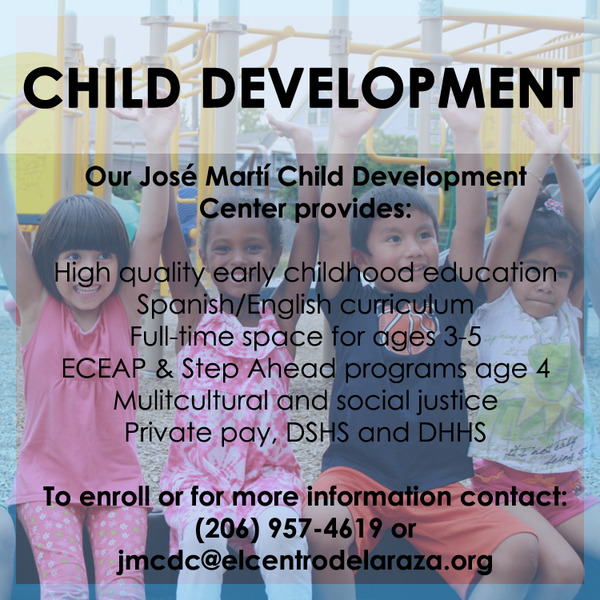 Board of Directors:
Juan Cotto, President
Roxana Amaral, Vice President
Pablo Mendoza, Treasurer
Victoria Kill, Secretary
Madrienne Salgado, Parliamentarian
Emma Catague
Norma Cuevas
Christina Garcia
Ricardo Garcia
Martha Jimenez
Alexandra Narvaez
Bianka Sanchez
Urbano Santos
Ramon Soliz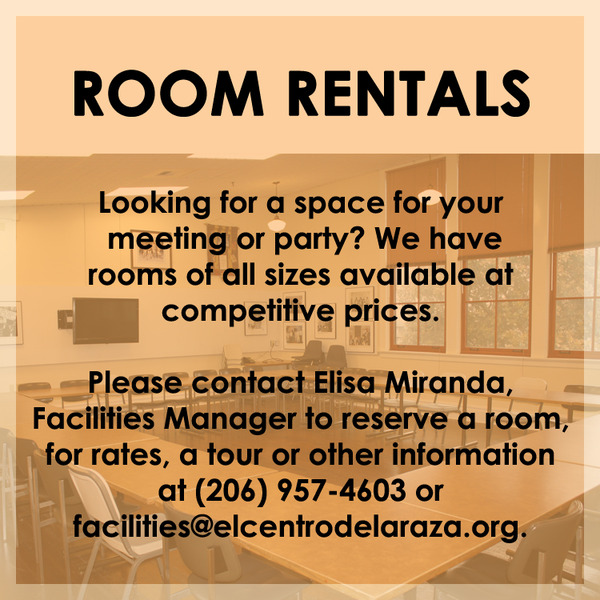 Programs and Services:
Bebes! Infant Mortality Prevention
Business Opportunity Center
Café con El Centro de la Raza
César Chávez Demonstration Garden
College Readiness
Comadre Monthly Workshops
COMCAST Digital Connectors
Community Meeting Space
Community Organizing
Community Service
Crisis Advocacy
Cultural / Political / Social Events
DSHS People Point Washington Connections
Economic Development
ECR Transitional Housing
El Patio Apartments
Employment Assistance
ESL Classes
Families & Education Levy Case Management
Financial Empowerment
Food Bank
Foreclosure Counseling
Health Coverage Enrollment
Historical & Educational Presentations
Homeless Assistance
Hope for Youth Poetry & Civil Rights History Classes
HUD Housing Counseling
Immigrant / Human / Civil Rights Social
Justice Advocacy
Low-Income Transit Fare Enrollment
José Martí Child Development Center
Labor Standards Outreach and Education
Latino Hot Meal Program
Legal Clinic Site
Local, State, National & International
Coalition Building
Luis Alfonso Velásquez Flores
After School Program
Parent-Child Home Program
Plaza Roberto Maestas
Santos Rodriguez Memorial Park
Seattle Youth Violence Prevention & Case Management
Senior Nutrition & Wellness
Senior Home Delivered Meals
Smoking Cessation
Summer Learning
Tax Prep Site
Veteran's Services
Volunteer Opportunities
Youth Case Management & Cultural
Enrichment
Youth Employment
Youth Technology Training