On January 19th, in honor of Martin Luther King Jr. Day, staff from El Centro de la Raza participated in the 33rd Annual MLK Rally & March at Garfield High School. Between 4,000-5,000 people assembled to show strength within the community and emphasize this year's theme: Fight for Your Rights in 2015. The theme, demonstrating the need to continue Dr. King's unfinished work of attaining a world free of oppression, asks all of us to fight for what we believe in: bringing justice, dignity, equality, and freedom to every individual living here in the United States and around the world. Here at El Centro de la Raza, The Center for People of all Races, we will continue to work for this positive social change as we strive to eliminate discrimination that limits equal access to our nation's resources.

One resource that is critically needed in the Seattle area, is affordable housing. Developed by El Centro de la Raza, Plaza Roberto Maestas is a community inspired mixed-use affordable housing community planned in response to this growing need. The Groundbreaking will take place on Friday, March 6th, 2015 at 11:00am!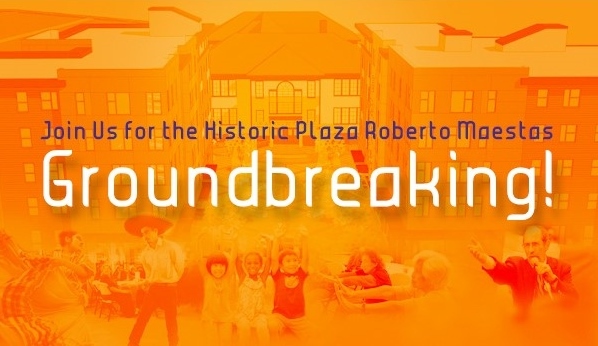 The ceremony will take place outside on the South parking lot, rain or shine, with a reception immediately following on the top floor of El Centro de la Raza. There will also be customized bricks for sale to commemorate your support of this historic project! Admission is free, so please stop by for live music, food, refreshments, and special presentations. Please RSVP to Yunuen Castorena at (206) 957-4605 or email.

Respetuosamente,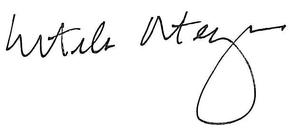 Estela Ortega
Executive Director

P.S. - Don't forget to "like" us on Facebook, and "follow" us on Twitter.

To make a donation to Plaza Roberto Maestas and help build a community where all can thrive, contact Stephen Deal, Capital Development Director, by phone (206) 957-4607 or email.
---

El Centro de la Raza News/Noticias

Our Homeownership Center Receives a Grant from the Attorney General's Office





Mil gracias to Washington State Attorney General, Bob Ferguson, for visiting El Centro de la Raza (ECDLR) to deliver a State of Washington v. Countrywide Financial Corporation Grant to our Homeownership Center! ECDLR, a U.S. Department of Housing and Urban Development (HUD) approved housing counseling agency, will use this grant to work in collaboration with its state agency, local government, and community partners in Pierce County, Washington to develop and implement a multilingual outreach and education campaign. The campaign will target Pierce County residents in need of foreclosure relief, mitigation, or other related programs. Mil gracias!
__

MLK Day Volunteers at El Centro de la Raza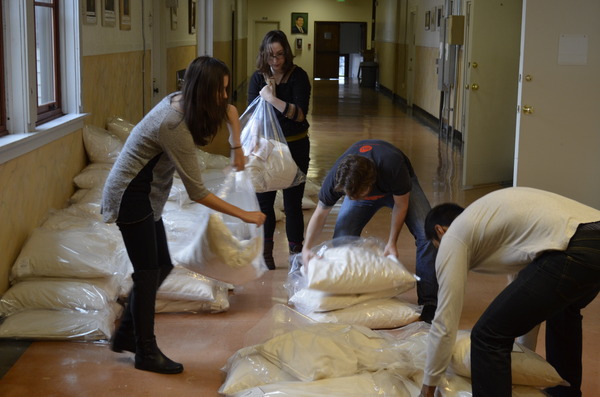 El Centro de la Raza also hosted 16 volunteers from the Seattle University Law Review and Soaring Heart Natural Bed Company on Martin Luther King Jr. Day. The volunteers stuffed pillows donated by Soaring Heart and gave them to seniors in our Senior Program. Mil gracias to Soaring Heart and Seattle University Law Review volunteers for making this volunteer event possible.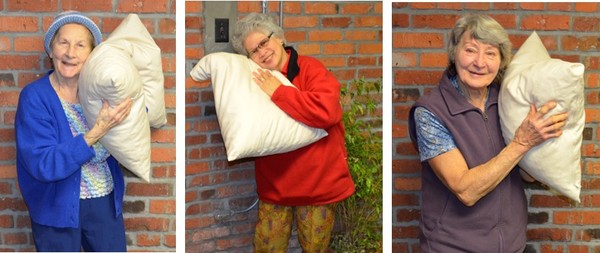 (Above) Three of the seniors in our program enjoy the new pillows they received. Our Senior Nutrition & Wellness Program assists seniors age 60 and older. They partake in various social and educational activities daily like nutrition education, balanced daily congregate meals, and exercise classes offered three times a week. Click here to make a donation to our Senior Nutrition & Wellness Program and help us support the emotional, physical, social, and intellectual health of many seniors in our community.
---
Regístrese Ahora / Register Now

Sign Up for Our 2015 Cooking Classes Today!



Learn how to cook traditional cultural dishes and support your community at the same time!

El Centro de la Raza has expanded its popular Tamale Making Classes to include a wider variety of cooking classes! Learn how to cook our favorite dishes, share in our culture, and meet new people at the same time. Class fees vary and directly support our Senior Nutrition and Wellness Program. Classes are held on select Saturdays at El Centro de la Raza. Follow this link to view fees for specific classes. Please help us improve our cooking classes by telling us what you want! Click here to take our quick 7 question survey. Upcoming cooking classes:
Click here to purchase tickets for cooking classes. For more information e-mail development@elcentrodelaraza.org or call (206) 957-4611.
__

Register Now for our Winter Spanish Classes!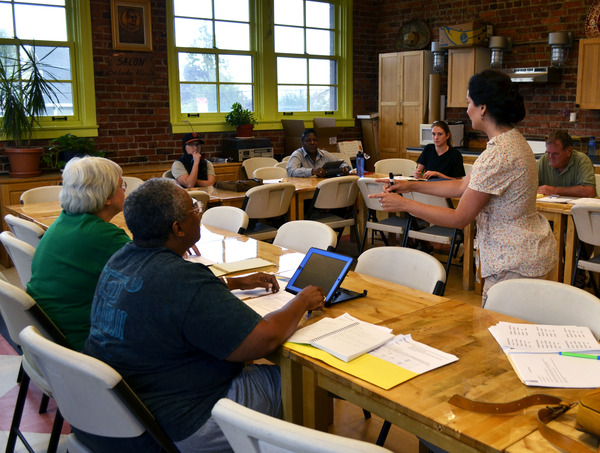 Enrollment is now open for El Centro de la Raza's Winter Quarter of Cultural Spanish Classes. These classes are a fun and exciting way to support El Centro de la Raza as you develop your Spanish skills. If you are interested in learning Spanish or improving your skills, register today and help spread the word.

Winter Quarter: February 3rd through April 9th
For more information or to enroll, visit our website. You can also contact us by email execasst@elcentrodelaraza.org or call us at (206) 957-4605.
---
Announcements/Anuncios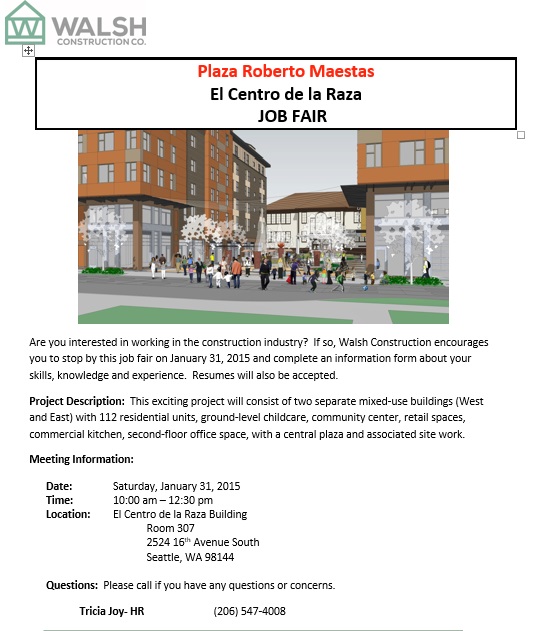 __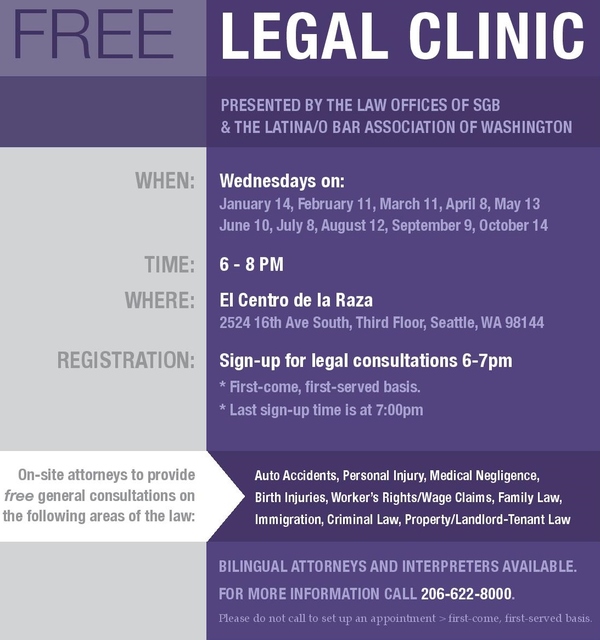 __

Free Tax Prep at El Centro de la Raza

United Way of King County offers free tax preparation at 21 locations in King County with sites opening on Tuesday, January 13. El Centro de la Raza is one of the sites! More information is below. Click here for information in Spanish.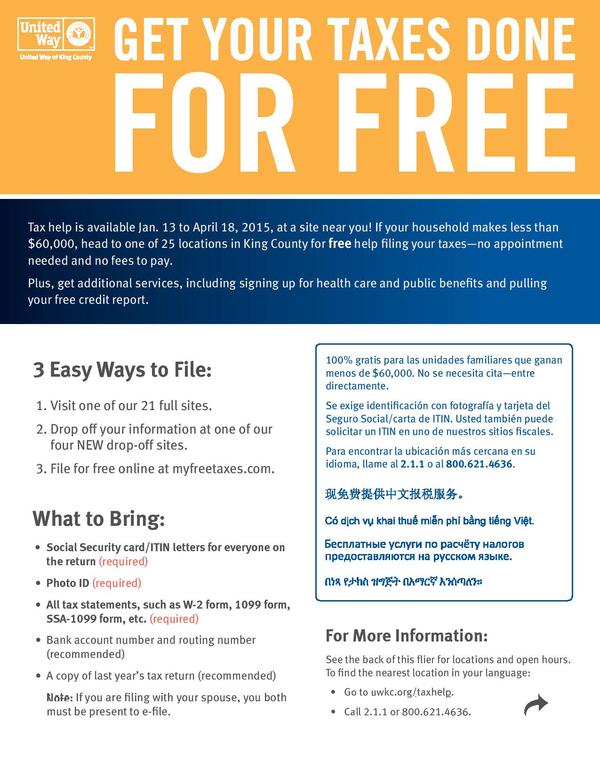 For site locations, hours of operation, maps and more information visit uwkc.org/taxhelp or call 2-1-1. Anyone making under $58,000 annually can also file online by visiting www.myfreetaxes.com/kingcounty.
__

Health Coverage Enrollment Program

2015 health coverage open enrollment is currently going on and will continue until February, 15th. If you need help registering for health coverage or would like more information about your rights under the Affordable Care Act, sign-up for a personal one-on-one meeting in our Health Coverage Enrollment Program, located in the Frances Martinez Community Services Center Rm 213. For more information, contact the Enrollment Navigator, Ramiro Reyes by email or at (206) 957-4625.
__

New Low-Income Transit Fare Program

Our Frances Martinez Community Service Center now has a low-income transit fare program! The new reduced fare for low-income riders on the Link Light Rail and King County Metro busses will be $1.50 per ride. The new fares will go into effect on March 1, 2015 and will be available to adults who have incomes that are at or below 200 percent of the federal poverty level. Click here to learn more about the changes. El Centro de la Raza will be one of the agencies partnering with King County Metro to verify program eligibility. If eligible, stop by El Centro de la Raza with proof of income to receive a special low income ORCA card to be used for King County Metro and the Link Light Rail. For more information about our Human and Emergency Services check out our website or call us at (206) 957-4634.

To make a contribution to El Centro de la Raza and help us continue programs like our Health Enrollment Program and Low-income transit fare program, click here or call (206) 957-4652.
---
Our Community-Nuestra Comunidad

NWIRP Hosting an Immigration 101 Training

On Wednesday, February 25th, 2015 from 1:00-5:00pm, Northwest Immigrant Rights Project will have a training for service providers about the immigration system, immigration enforcement, and how immigration affects the community. It will take place at New Holly Gathering Hall, 7054 32nd Avenue South, Seattle, WA 98118. The training will provide an overview of the immigration system as well as answer important questions regarding the resources available to share with your community. For more information or to register, visit the NWIRP website.
__

Catholic Heritage Lecture: "Field Hospital on the Border(s): A Church in Kinship with Migrants"

This year, the Seattle University Institute for Catholic Thought and Culture is presenting the Catholic Heritage Lectures focused on the theme of The Church Pope Francis Invites us to Build. On February 19, 2015 at 7:00pm in Pigott Auditorium, there will be a lecture focusing specifically on immigration. The lecture, entitled "Field Hospital on the Border(s): A Church in Kinship with Migrants," will feature speakers presenting on Pope Francis' call for the church to respond to the immediate suffering of migrants and immigrants in our communities. Please contact ictc@seattleu.edu or view their website for more information.
__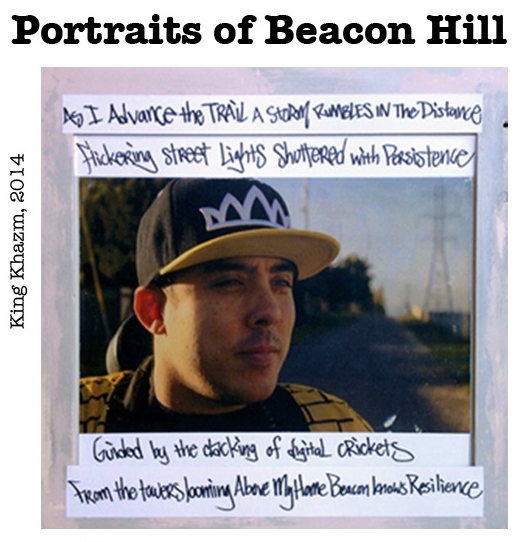 Stop by the top floor of El Centro de la Raza to see the Portraits of Beacon Hill. The project was created by local artist Kathryn Schuessler and stems from her love of people and community. The printed portraits are of people who live or work in Beacon Hill. Each photo is accompanied by handwritten statements about the neighborhood and was transferred to repurposed wood or glass. Visit her website at kathrynschessler.carbonmade.com to learn more about her work.
__

Madama Butterfly at the Moore Theatre

Lyric Opera Northwest presents Madama Butterfly on Friday, March 13th and Sunday, March 15th at the Moore Theatre. Eduardo Villa, a California native of Mexican heritage and an acclaimed tenor will appear as Pinkerton in the upcoming performances. To learn more about Eduardo Villa and how he got started in operatic training, click here.
__

Puget Sound Energy Pathway to Apprenticeship

Puget Sound Energy is seeking people interested in qualifying for future Pathway to Apprenticeship (PTA) opportunities in the energy sector. PTA jobs are entry level positions in the electrical trades that may lead into Apprenticeship opportunities. You can sign up online at pse.com/careers between February 2nd and March 1st. For more information, please contact pseapprentriceship@pse.com. Program standards can be viewed at: http://www.lni.wa.gov.
__

Save 60% on Your Electric Bill This Year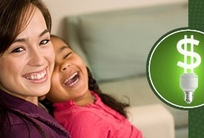 Having trouble paying your electric bills? You may qualify for Seattle City Light's Utility Discount Program, which offers free home energy visits to help you maximize your discount, as well as assistance with other utilities such as water, sewage, and garbage. Visit Seattle City Light's website to see if you qualify for the discount program. To apply, call (206) 684-3417 or email SCL_RateAssistance@seattle.gov. Applications are available online in seven different languages.
Social Media Links:

Like what we do?



Then "like" us on Facebook!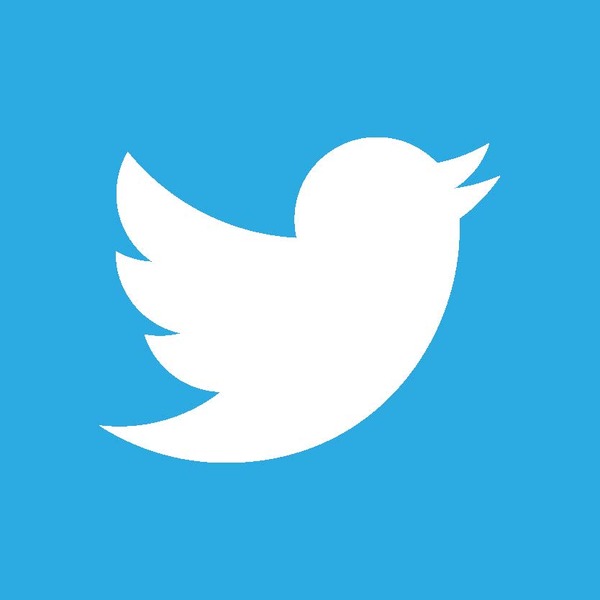 Follow us on Twitter for live updates on news and events!

In This Issue:

Homeownership Grant

MLK Day Volunteers

PRM Groundbreaking

Health Coverage Enrollment Program

Nuestra Comunidad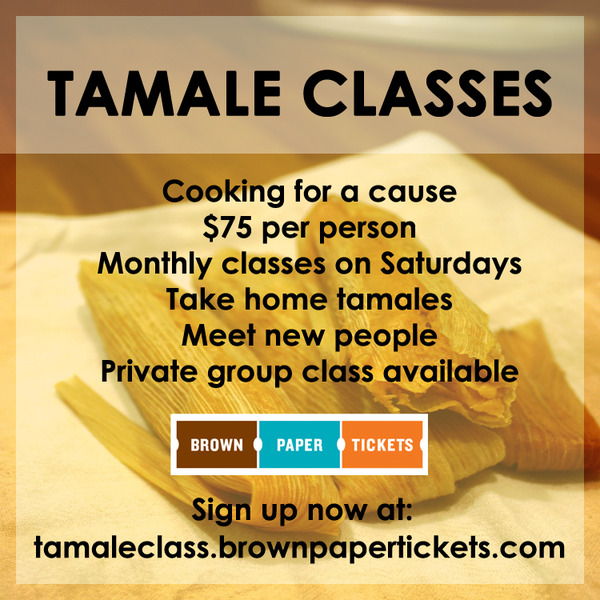 Events Calendar:

Feb 21: Tamale Class
Feb 24: Ceviche Class
Feb 28: Vegetarian Tamale Class
Mar 6: PRM Groundbreaking
Mar 14: Tamale Class
Mar 31: Paella Class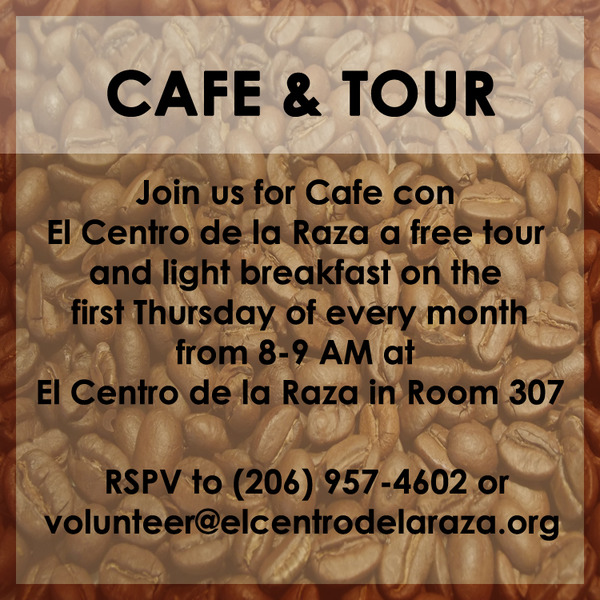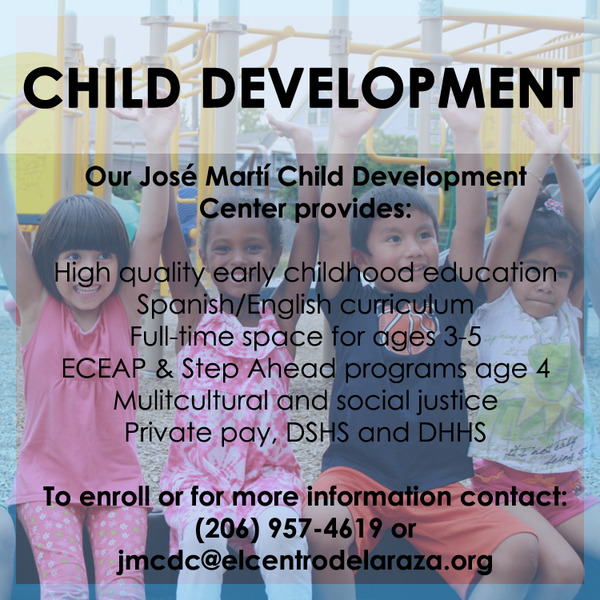 News Roundup:
Local:
►2015 State of the Union Address
►Changes in Seattle: a fast growing city
►Report confronts racial inequity

Board of Directors:

Ramon Soliz, President
Roxana Amaral, Vice President
Pablo Mendoza, Treasurer
Victoria Kill, Secretary
Madrienne Salgado, Parliamentarian
Francisco Calderon
Emma Catague
Juan Cotto
Cristina Garcia
Ricardo Garcia
Alexandra Narvaez
Bianka Sanchez
Urbano Santos
Ofelia Alanis Torres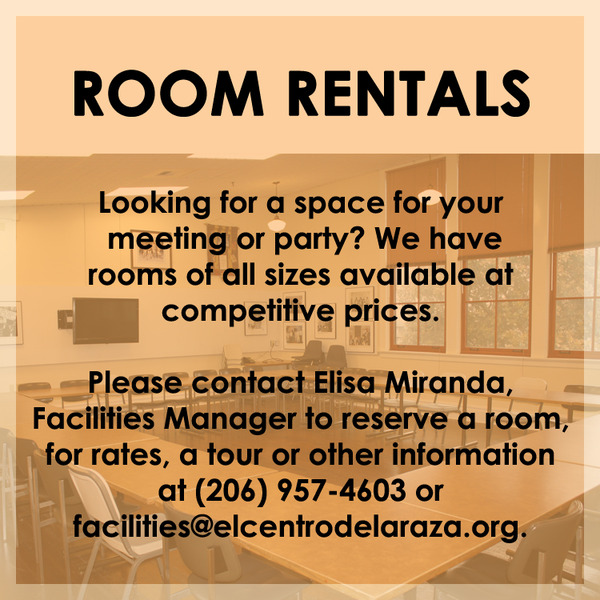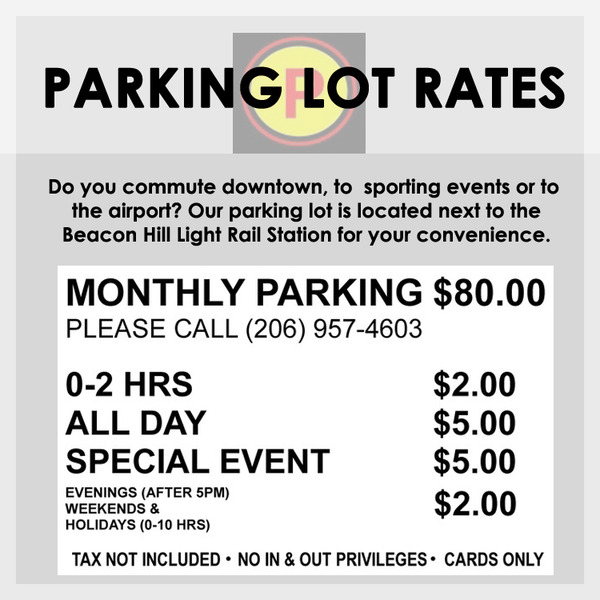 Programs and Services:

Bebes! Infant Mortality Prevention
Business Opportunity Center
Café con El Centro de la Raza
César Chávez Demonstration Garden
College Readiness
Comadre Monthly Workshops
COMCAST Digital Connectors
Community Meeting Space
Community Organizing
Community Service
Crisis Advocacy
Cultural / Political / Social Events
DSHS People Point Washington Connections
Economic Development
ECR Transitional Housing
El Patio Apartments
Employment Assistance
ESL Classes / Spanish Classes
Families & Education Levy Case Management
Financial Empowerment
Food Bank
Foreclosure Counseling
Growing & Learning Together
Health Coverage Enrollment
Healthy Cooking Classes/Nuestras Comidas
Historical & Educational Presentations
Homeless Assistance
Hope for Youth Poetry & Civil Rights History Classes
HUD Housing Counseling
Immigrant / Human / Civil Rights Social
Justice Advocacy
Low-Income Transit Fare Enrollment
José Martí Child Development Center
Latino Hot Meal Program
Legal Clinic Site
Local, State, National & International
Coalition Building
Luis Alfonso Velásquez Flores
After School Program
Parent-Child Home Program
Plaza Roberto Maestas
Santos Rodriguez Memorial Park
Seattke Youth Violence Prevention & Case Management
Senior Nutrition & Wellness
Senior Home Delivered Meals
Smoking Cessation
Summer Learning
Tax Prep Site
Transit Oriented Parking
Veteran's Services
Volunteer Opportunities
Youth Case Management & Cultural
Enrichment
Youth Employment
Youth Technology Training