***CORRECTION: Port Commissioner Tarleton was also elected as President of the Port Commission this year. We apologize for this oversight.***

Report on Issues within the Seattle Police Department
Estmad@ Amig@,

In late December, the U.S. Department of Justice released a report regarding the Seattle Police Department. The report focused on whether SPD has been unconstitutional by utilizing excessive force and practicing discriminatory policies.

The investigation was launched in March 2011 in response to years of accusations of police misconduct and a series of high profile incidences that caught the attention of the wider public. The reports highlights issues within the department such as a lack of internal accountability and police officers having insufficient de-escalation skills. According to the report, 50% of cases involving excessive use of force involved people of color. Such numbers are alarming and must be addressed. The Department of Justice recommended better training, supervision, and leadership to address some of the department's issues.

Many of the conclusions of the report voice concerns that community members and organizations have continuously promoted for decades. In partnership with prominent faith, community, and advocacy organizations, El Centro de La Raza is active in the Minority Executive Directors Police Accountability Task Force. United with a multitude of organizations representing communities of color, the Task Force denounces police practices that disproportionately affect people of color and is continuing to advocate for systemic change within the Seattle Police Department. The report was sent to Mayor McGinn and Police Chief John Diaz and can be found by clicking here.

Siempre bienvenidos, nuestra casa es su casa.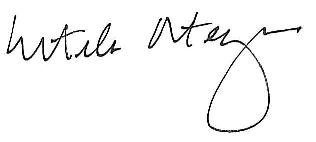 Estela Ortega
Executive Director

P.S. - And of course, visit our website to stay up-to-date on the happenings at El Centro and in nuestra comunidad - our community.



Recapturing MLK Jr.'s Revolutionary Spirit
*photo by Greg Gilbert
January 16th marked the 30th annual region-wide Dr. Martin Luther King Jr. Birthday Celebration, which focused on the theme of "Recapturing MLK Jr.'s Revolutionary Spirit!".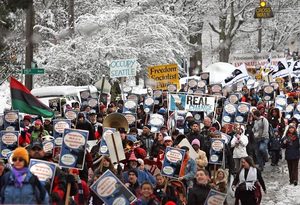 Around 800 people braved the cold and attended the celebration. Our neighborhood gathering place, Garfield High School, was filled with participants who attended workshops, the MLK Rally and marched together in remembrance of Dr. Martin Luther King Jr. and in order to keep the message of human rights and equality alive and ever-moving forward.

State Supreme Court's Landmark Decision
The State of Washington's Supreme Court has made a landmark decision that will positively affect our state's children. On January 5th, the Court declared that the State has failed to fulfill its constitutional duty of funding basic education.The Court called for the implementation of law 2261 with full funding by 2018; a law that includes a commitment to college and career preparedness requirements. Significantly, the Court retains jurisdiction to insure that the implementation of the law occurs in a timely manner and reaffirmed a 2010 decision made in the King County Supreme Court. The 2010 decision stipulated that the state must fund education before funding any other operations or programs. In addition, the court determined that educational funding cannot be cut due to budget crises. Many parents and community members within Washington are already aware of the shortcomings of Washington State with regards to providing quality education. The Court's decision is one major step in helping to insure all children in Washington acquire the education they have a constitutional right to receive. For more information about Washington Supreme Court's historic decision click here.

Finding a Supportive Community
Elizabeth Lopez*, originally from Mexico, moved to Seattle ten years ago. As her family grew, escalating domestic violence issues became unbearable. Teresa took her children and left home. Losing all support and living on the streets, she struggled to find resources, work, and any sense of stability, but, "Giving up is not an option when you have a family to care for."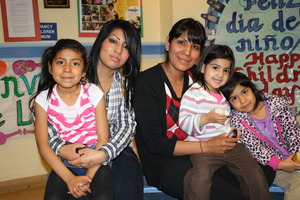 She heard El Centro offers services to people in need and took initiative to learn more. At El Centro she found emergency services to address her family's immediate needs and programs to facilitate finding work, daycare, ESL courses and housing. She says, "Sometimes you don't realize how much help is available in your community until you find yourself in desperate need of it."

At El Centro Elizabeth discovered a supportive network – an environment in which she and her family could connect with a thriving community. She states, "El Centro reminds me of my land, my culture, my roots. It is a blessing that the traditions I grew up with aren't lost and are being passed down to my children." Elizabeth is extremely grateful to El Centro and has hope for her family as she progresses toward her goal of permanence and self-sufficiency.
* Name has been changed.
Executive Director, Estela Ortega swears in Port Commissioner, Gael Tarleton
*photo by Don Wilson/Port of Seattle
On January 10, El Centro de La Raza's Executive Director, Estela Ortega, swore in Commissioner Gael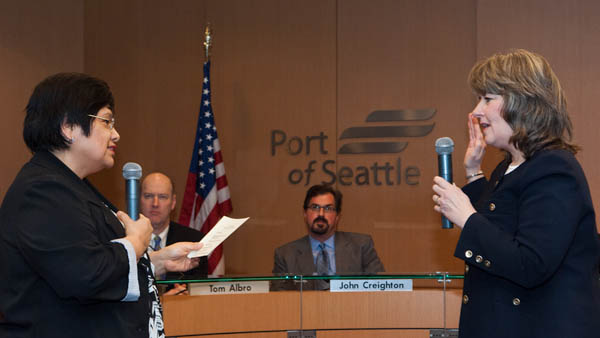 Tarleton for a second term in office. Commissioner Tarleton was also elected President of the Port Commission this year. The five-member commission is responsible for running the port and the port is the 10th busiest in North America.




Mole Enchilada Cooking Demo with Guest Chef Vincent Rivera of Jazz Alley!
Start 2012 off by learning something new! Join us on Sunday, January 29th at 1:00 PM for a special cooking demonstration by celebrated Chef Vincent Rivera of Jazz Alley, the West Coast's premier dinner and live music venue. Chef Rivera will demonstrate making mole enchiladas along with some traditional side dishes. The demonstration will take place in a community-based setting at El Centro de la Raza, and will include a meat and vegetarian demo.

Proceeds benefit the El Centro de la Raza Senior Nutrition and Wellness Program. Mil gracias to Chef Vincent Rivera for generously donating his time for this event, and to Brown Paper Tickets for making this event possible.

Tickets are $40 per person and you can register through Brown Paper Tickets at https://www.brownpapertickets.com/event/221777, by calling (206) 957-4611 or emailing development@elcentrodelaraza.org. We hope to see you there!

El Centro will be opening a temporary parking lot to earn much needed revenue for our programs and services. The lot will be in-use until the ground breaking takes place to build a mixed-use development on the site. We hope to have lot open in February. If you are interested in monthly parking rates or have other questions, please call (206) 957-4603. Going to a Sounders, Seahawks or Mariners game? Special event parking is $5 and general parking rates are: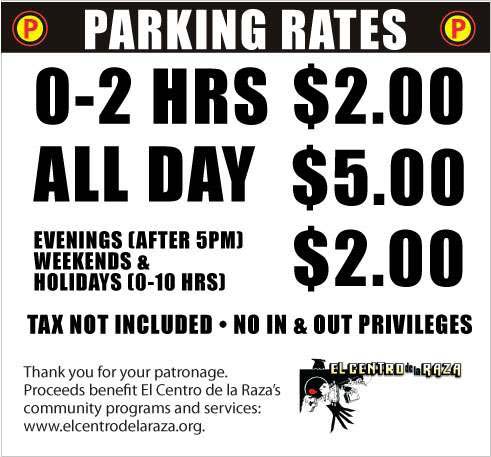 The Seattle Care Congress will be holding a town hall meeting on February 11th from 11 am-2 pm at the Greenwood Senior Center. The Caring Across Generations Campaign seeks to transform long-term care in the United States for our loved ones who count on the support of caregivers, the workers who provide the support and the families who struggle to find and afford quality care for their family members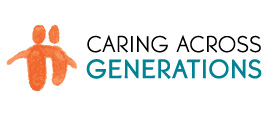 . Free lunch, childcare, and interpretation will be provided.For more information, contact Araceli@casa-latina.org - 206-956-0779. For more information about the Caring Across Generations Campaign, visit: www.caringacrossgenerations.org.


Save the Date for El Centro Events!
Unique Valentine Gifts on Sale at El Centro!
We will accept the "best offer" on each item! There is a special opportunity to do some Valentine's Day shopping and help El Centro in the process. We have a special selection of items reserved from the 2011 Legacy Awards and Auction Banquet in September. Items included in our selection are unique and many quality items are available.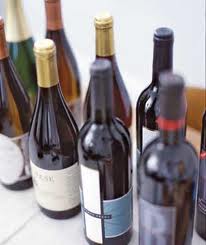 All proceeds from this sale go to the support of our 33 human service programs. So make an offer on any number of exciting gifts such as bottles of wine, a wedding/event deal, and venue rentals.

You suggest a reasonable price and all proceeds benefit El Centro's vital human services and community building programs! To see the complete list of items and instructions to purchase, simply click here. Questions? Email Betsy Mardany.
Free Bilingual Legal Clinic
The next biligual clinic will take place on February 8, 2012 from 6-8 pm in the 3rd floor of El Centro de La Raza. Sign-up for legal consultations is 6:00 pm to 7:30 pm on a first-come, first-served basis. Last sign-up time is at 7:30 pm.
There will be attorneys on site to provide free general consultations in English and Spanish on the following areas of the law: Auto Accidents; Birth Injuries; Immigration; Personal Injury; Worker's Rights/Wage Claims; Criminal Defense; Medical Negligence; Family Law; Property Law; Landlord-Tenant Law; and, Consumer & Finance Law.
SPONSORED BY THE LAW OFFICES OF SCHROETER GOLDMARK & BENDER AND THE LATINA/O BAR ASSOCIATION OF WASHINGTON

United Way Tax Preparation
El Centro is serving as one of 16 tax sites for the United Way Tax Campaign 2012. Volunteers are needed to help working families keep more of their earnings. Last year volunteers prepared 13,320 tax returns, and returned $19.1 million in refunds to our community. No tax experience necessary: All new tax volunteers receive 2 days of training and are IRS certified. Volunteers work 4 hours weekly at one of 16 tax sites from now through 4/17. Training will be offered weekends through December and January.Intake volunteers are also needed. Your time is valuable and we hope you will consider sharing some of it with taxpayers in need. Bilingual applicants are especially wanted. For more details click here.

Financial Literacy Classes
Clases del Manejo de Finanzas
Learn how to read a credit report, manage your spending and increase your savings to help set financial goals. Workshop dates run January-March:
Jan.30, 31, & Feb.2 at 9:30 AM – 12 PM or 5:30 PM – 8 PM
Feb.28, 29, & Mar.1 at 9:30 AM- 12 PM
Mar.26, 27, & 29 at 5:30 PM – 8 PM
Lunch and childcare may be provided at some sessions. For more information call Matthew Driscoll: (206) 957-4646 or email.
Alternatives to Foreclosure Orientations
Orientaciones para Alternatives de la Ejecucion

Feb.4, and Mar.3 at 10 AM – 12 PM
Are you at risk of falling behind on your mortgage payments or already behind?
Learn how to avoid foreclosure and what options are available to you, the homeowner. Contact Piero Prada: (206) 957-4633 or email.

Overcoming Violence Through Hip Hop Artistry
Our friends at 206Zulu are organizing a series of events including school-wide assemblies to raise awareness of hip hop's true history and to showcase local Hip Hop artists. These events are focused on overcoming violence through the art form that is Hip Hop.El Centro, in partnership with Denny International Middle School's Proyecto Saber Program, is coordinating Hip Hop Poetry Classes! Contact Alex Bautista for participation details: (206) 957-4620.
Anuncios y Felicitaciones
Announcements & Congratulations


Rental Spaces Available at El Centro!
There are office spaces available for lease at El Centro de la Raza's building on Beacon Hill. We have two spaces currently open: Main floor (531 sq. ft.) and top floor (1055 sq. ft.). Please contact our Facility Manager for more information at (206) 957-4603 / email facilities@elcentrodelaraza.org.
Volunteer Position Open for eNews Development
Newsletter and eNewsletter Development: Work with a team to create a newsletter and eNewsletter template for El Centro. The position involves analyzing the current template, creating a new design, and creating a marketing plan. Email volunteer@elcentrodelaraza.org for more information! For many more volunteer opportunities visit www.elcentrodelaraza.org.
Emergency Preparedness Grant
El Centro de la Raza is the recent recipient of the Seattle Department of Neighborhoods Matching Fund Small and Simple Award to establish the organization as a communication hub in the event of a natural disaster. In addition to preparing our ability to communicate vital information to the community we will be preparing our building so that it is a safe hub for our community to gather in the event of a disaster. Our goal is to outreach and educate the community to help prepare those efforts, as well as preparing our neighbors, staff and participants so that they are able to respond and maintain their own safety and security during the event of a natural disaster.

Rainier Valley Eats! Grant - Growing Food, Growing Minds
El Centro de la Raza, in partnership with the Master Gardeners of King County in the César Chávez Demonstration Garden, was awarded $10,000 from the Rainier Valley Eats! partnership to construct a greenhouse and provide community horticulture workshops for youth and adults. Mil gracias to United Way and King County! King County was one of four communities nationwide awarded this funding, a Hunger Free Communities Grant, from the U.S. Department of Agriculture. United Way will work with a number of organizations on projects to create a hunger free community including Rainier Valley Eats! which is a key Hunger Free King County partnership to reduce hunger and increase access to healthy foods in low-income communities in Southeast Seattle. Please check our website this spring for a schedule of the workshops at www.elcentrodelaraza.org.

Know Your Rights!
The Anti-Discrimination Provision
of the Immigration & Nationality Act (INA)
The U.S. Dept. of Justice, Civil Rights Division has an office dedicated to ensuring that employers are not discriminating against work-authorized individuals based on their national origin or immigration status. It is unlawful to fire or refuse to hire certain workers because of where they are from or because they are not U.S. citizens. The law also protects workers where employers discriminate against them by asking for too many work-authorization documents or by rejecting valid documents. How can I tell if an employer is violating the law? What about E-Verify? What can I do? For more information / questions and answers: Click here to know your rights!
Your Kids Need Immunizations
Shots, (also known as vaccines or immunizations) help children fight many childhood diseases that could make them very sick. A lot of research has shown that shots are safe for your child to receive. Click here to view a chart that recommends when your child needs a shot.For information about immunizations, please talk with your health care provider. For information on quality and affordable health care for you and your family, please call the Community Health Plan customer service team at 1-800-440-1561 or go to www.chpw.org. If hearing or speech impaired, call TTY 1-866-816-2479

*Community Health Plan provides coverage for people in 39 WA counties. Members receive services from more than 2,588 primary

care providers and 13,571 specialists at more than 563 primary care sites and more than 100 hospitals.
---
LOCAL
► e-Verify Said to Catch Over 200,000 Illegal Immigrants in 2011: Story
► Federal Way Single Parents Struggle With Poverty: Story

NATIONAL
► Class-Action Status Granted to Unrepresented Mentally Disabled Immigration Detainees: Story
► Justice Department investigates police departments throughout the nation Story