NCLR, AAJC, and LCCR End Boycott
Citing the recent return to a more civil discourse in Arizona, as well as multiple court rulings against key provisions of SB 1070, the National Council of La Raza (NCLR), Asian American Justice Center (AAJC), and the Leadership Conference on Civil Rights (LCCR) ended their boycott of conventions and major meetings in Arizona.
The organizations

called for the boycott after SB 1070 was signed into law last year. The law's most controversial provisions were ruled unconstitutional by the Federal District Court (and later by the US Court of Appeals) before they could take effect.
The Center for American Progress estimated that tourism losses to the state as a result of the boycott are more than $750 million in lost jobs, economic activity, and tax revenue.

The NCLR, AAJC, and LCCR

will continue monitoring the situation in Arizona and will take action if the injunctions are reversed or if the state enacts additional measures that violate civil rights. To read the letter asking to end the boycott click here. To read the letter ending the boycott click here.

Siempre bienvenidos, nuestra casa su casa.
Estela Ortega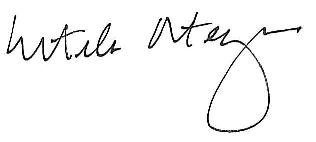 Executive Director

PS - And of course, visit our website to stay up-to-date on the happenings at El Centro and in nuestra comunidad—our community.
2011 Legacy Awards & Auction Banquet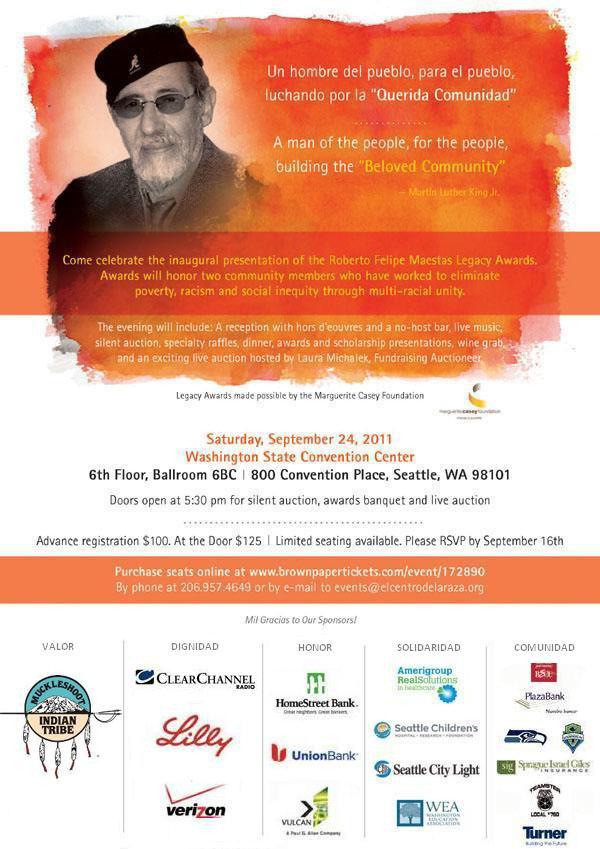 Giving Back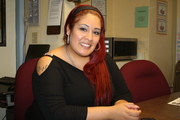 "I finally had found a place where I belonged and a community that embraced me," reflects Marta, a former high-school dropout and teen mom who now works at El Centro. Marta enrolled her son in the José Martí Child Development Center, and, because she was so impressed with El Centro, applied for a job. She has now worked at José Martí for the last thirteen years.

While employed at El Centro, Marta took college classes and received an AA in Early Childhood Education. Marta has presented at local and international childcare conferences and trained teachers. She is currently working towards her Masters Degree.

"At El Centro I was given the opportunity to grow professionally but most importantly to work in a community where I would be able to recapture my culture and language, and offer the education, cultural awareness, and love to my son and my students that I didn't have growing up," explains Marta.
The Brand New Roberto Maestas Festival Street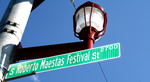 August 28th saw the unveiling of the brand new Roberto Maestas Festival St.

M

any came out to witness the event and share their memories of Roberto's legacy. Larry Gossett told the story of Roberto standing up for two African-American female students at Franklin High School, Mayor McGinn, and King County Executive Dow Constantine spoke of Roberto's work in building a "multi-ethnic coalition that came together to build a community free of injustice." Come see the beautiful display and step inside our building help us work for Roberto's dream of building a community free of injustice!
The Families and Education Levy Campaign Needs You!
Sign up to phone bank for the levy and help secure $232 million in vital services for Seattle's most vulnerable children!

Phone bank times:
Monday - Thursdays: 6pm-9pm

Saturdays: 12pm-4pm
Free pizza, snacks, and drinks provided! Click here for more information and click here to sign up! Go here for more information about the levy.
2011 Voting Reminder from El Centro



Here are important dates leading up to this year's Nov. 8th election:
October 10: Final day to register online and by mail

October 21: Ballots are mailed out

October 31: Final day to register in person
National Football League Honors Roberto Maestas
The National Football League (NFL) is partnering with the Hispanic Heritage Foundation to recognize the contributions of Hispanic/Latino/a leaders during Hispanic Heritage Month. The Seattle Seahawks will honor Roberto Maestas for his positive impact on Seattle's Hispanic community. Roberto will be recognized during the Seahawks' first home game on September

25th.

T

he NFL will donate $2,000 to the Roberto Maestas Scholarship Fund. Mil Gracias NFL and the Seattle Seahawks!
Save the Date for El Centro Events!

Spanish Classes
at El Centro de la Raza
Tuesdays and Thursdays, October 4th - December 8th, 6:00-7:30pm
Tuesdays and Thursdays, January 17th - March 22nd, 6:00-7:30pm
Learn and improve your Spanish while you support El Centro de la Raza! Class fees help support our 32 Human Service and Community Building Programs. Adult beginner to intermediate level classes are available. Space is limited. Click here to sign up.
---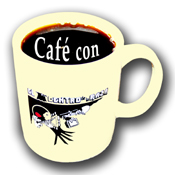 You're invited!

Café con El Centro
at El Centro de la Raza
Thursday, October 6th from 8:00-9:00am
How can you become an integral part of the community at El Centro de la Raza? You can start by RSVPing to an upcoming Café con El Centro!

The Café is a great way to introduce yourself to our executive director Estela Ortega, a member of our board, and staff from our programs. Learn the history of our roots, tour our building and programs, find out about ways to get involved, network with like-minded folks and share coffee and pan dulce with us.

Café con El Centro takes place the 1st Thursday of every month. Call 206-957-4652 or email to RSVP for the upcoming October 6th Café.
Coffee generously donated by Starbucks!
---
Comcast Internet Essentials
at El Centro de la Raza
10/19/2011 - 5:30 PM
Internet Essentials brings affordable Internet service to families and students. The program provides home internet at $9.95 a month + tax, a computer available at initial enrollment for just $149.99 + tax, and free Internet training. Families can take advantage of Internet Essentials if at least one child receives free lunches through the National School Lunch Program. Free internet training will take place at El Centro for qualifying families on 10/19/2011. For more information contact Mirabella Mendiolla at 206-957-4612 email mmendiola@elcentrodelaraza.org.
---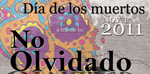 Día de Los Muertos: No Olvidado
at El Centro de la Raza
Tuesday, November 1st at 5:30pm
Exhibit Open: November 2 - November 18
Come enjoy our annual Día de los Muertos kick-off celebration on November 1st! We will have a variety of ofrendas from many different groups. This year's theme is No Olvidado, Not Forgotten: paying tribute to our sisters and brothers who have lost their lives crossing the Mexico – U.S. border. Come enjoy free food, live entertainment, and children's activities. Dinner starts at 5:30. The event is free to the public.
---
Christmas Tree Sale
at El Centro de la Raza
November 25th - December 21st
Purchase a Christmas tree from El Centro and help support our 32 programs! To pre-order a tree, please call (206) 957-4605 or email. Trees are supplied by E.J.'s Tree Farm, a small local Latino business owned and operated by Evencio and Jaime Gonzalez.
Anuncios y Felicitaciones - Announcements and Congratulations

"Know Your Rights" Training a Success
In collaboration with our Parent Involvement Program, El Centro hosted a "Know Your Rights" training for parents to help them prepare their children for possible interaction with law enforcement. Parents received information about what to do if stopped and questioned by police.

Due to the high level of interest, El Centro is working with Team Child to expand the trainings to include information about rights in the schools, rights in public, rights in your home, rights in your vehicle, and immigrants' rights. For more information, contact Enrique Gonzalez: (206) 957-4602.
---
Suspension Task Force Begins Work
Seattle Public Schools have started the work of the discipline reform task force, and El Centro has requested that communities of color be included. El Centro representatives will meet with Superintendent Susan Enfield next month to discuss disproportionate rates of suspension among Latino youth. Stay tuned for an update on the meeting in next month's newsletter. Call Enrique Gonsales for further details at 206-257-4640 or contact via email at juvyjustice@elcentrodelaraza.org.
---
Washington State Redistricting Commission Releases Draft Plans
The four Commissioners of the Washington State Redistricting Commission completed their draft plans earlier this week. Three out of the four Commissioners proposed the creation of Washington's first majority-minority Congressional District. Click here to view the proposed plans.
---
City of Seattle Asks for Input on Comprehensive Plan
The City of Seattle is collecting input for its Comprehensive Plan, the document that guides development, services, and amenities in the city. Click here to take the survey and let your voice be heard!
News Roundup
IN THIS ISSUE:
DO YOU GOODSHOP?
Don't forget
- if
you use GoodSearch as
your search engine, or do
your online shopping through GoodShop, you can raise money for El Centro de la Raza without spending an extra penny (with coupons through Goodshop, you might actually save money!)
QUICK LINKS:
ONGOING EVENTS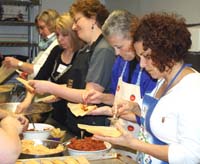 Tamale masters in the making during the March 12th class.
Tamale Making Classes
at El Centro de la Raza
Have you always wanted to learn how to make tamales? Now is your chance to learn from a master tamalera! The class fee is $75 per person and includes tamales. The fees go to support our Senior Wellness Program. Register here!

For more information, please call (206) 957-4611 or email.
---
¡COMADRES!
Un grupo de apoyo y de conversación para la mujer Latina!
Para más información favor de contactor a Angela Frith-Gomez: (206) 957-4641.
---
Parent Involvement Program
Programa de apoyo para la participación escolar.
Nuestros servicios incluyen (1) apoyo individualizado para los padres de familia con hijos en las escuelas públicas de Seattle y (2) ofrecemos talleres educativos para padres de familia.

Nuestro siguiente taller será miércoles, 19 de octubre en El Centro de la Raza a las 5:30pm.

Para más información comuníquese con Maria Bocanegra: (206) 957-4642.
VOLUNTEER OPPORTUNITIES
Get more involved! Can you devote 2-3 hours or more a week, month, year, or just one time? We always have the need for volunteers. Check it out:
We are currently recruiting for day-of-auction volunteers for running our wine grab, silent auction, live auction, raffle ticket sales, and more! No experience necessary for most positions. Great skill-building and networking opportunity!
Email Josh Stromberg, our Volunteer Coordinator, or call him at (206) 957-4602 for more details. Also, check out the volunteer section of our website for more information.
MIL GRACIAS TO OUR WONDERFUL
AUGUST & SEPTEMBER FUNDERS!
El Centro de la Raza relies on donations from our individual supporters to keep our programs running.
But we are also fortunate enough to have corporate and foundation sponsors and grants for many of our programs and services.

► State Farm Insurance Company - $3,212 for Hope for Youth Program.

Mil Gracias to all of our wonderful funders, sponsors and donors!
OUR BOARD OF DIRECTORS:
Ramon Soliz, President
Jeff Middelton, Vice President
David Gasca, Treasurer
Brenda Williams, Secretary
Roxana Amaral, Parliamentarian
Francisco Calderon
Ricardo Garcia
Christina Garcia-Valdez
Norma Guerrero
Victoria Kill
Pablo Mendoza
Madrienne Salgado
Urbano Santos
Billy Smith
EL CENTRO'S PROGRAMS:
With over 26,000 volunteer hours, El Centro de la Raza serves 23,565 individuals and 11,518 families annually through the following programs and services:
Basic Healthcare Enrollment
BEBES! Infant Mortality Program
Café con El Centro
College Readiness
Crisis Advocacy
ECR Transitional Housing
El Patio Apartments
ESL & Citizenship Classes
Eviction Prevention
Financial Literacy
Food Bank
Foreclosure Prevention
Homeless Assistance Program
Homeownership Program
Hope for Youth Poetry & Civil Rights History Classes
José Martí Child Development Center
Juvenile Justice Policy Advocacy
Luis Alfonso Velásquez Flores After School Program
Parent Involvement & Education
Senior Home Delivered Meals
Senior Nutrition & Wellness
Youth Violence Prevention
Veterans Services
Community Meeting Space
Community Service Site
Cultural/Political/Social Events
Immigrant/Human/Civil Rights SociaI
Justice Advocacy
Legal Clinic Site
Tax Preparation Site
Local, State, National & International Coalition Building
Service Learning Site