El Centro de la Raza Selects SMR Architects/Glenn & Glenn Architects/DKA Architecture
We announced in early May that we selected the architecture team of SMR Architects/Glenn & Glenn Architects/DKA Architecture to work on the redevelopment of our south parking lot into a flagship affordable mixed-use transit oriented development. For the past several years El Centro has been working with the community on the re-zone of the south lot. Now, with the re-zone and the architecture team in place, we are ready to make this vital project a reality!

We couldn't be happier about the selection. We are confident that this team will help make our development a destination point on Beacon Hill and will deliver a beautiful community plaza that we can all be proud of, building Dr. King Jr.'s Beloved Community.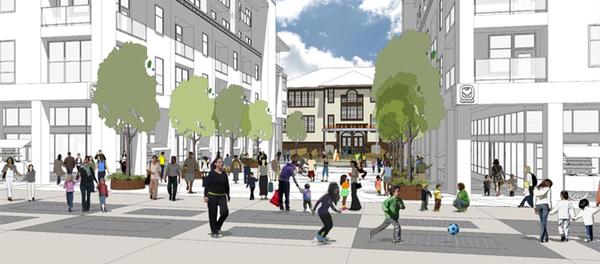 There will be a joint community meeting held at El Centro de la Raza with the North Beacon Hill Council on June 19th @ 6:30 in room 307 to disuss the design team's proposed ideas, but more importantly to receive input from community members. The design is far from finalized, and we are starting outreach early to get as much feedback and as many community ideas as possible. This project is for the community and we want the final design to be a product of our collaborative process with the architects and community members. Community input and perspective is what will make this project a success and we truly hope that you will be able to attend the meeting on June 19th.

Please RSVP to Yuni Castorena: execasst@elcentrodelaraza.org

Click here to read our full press release on the selection of the winning design.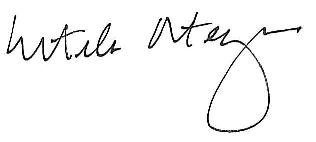 Estela Ortega
Executive Director

P.S. - And of course, visit our website to stay up-to-date on the happenings at El Centro and in nuestra comunidad - our community.
Stand Up for Immigrants
Submit Public Comment Before June 1st
On April 2, the Obama Administration announced a proposed change to a rule regarding immigrants' ability to permanently reunify with their U.S. citizen spouses or parents. The current policy forces undocumented immigrants to return to their home countries and wait for a decision on a waiver regarding the extreme hardship their family members would face as a result of separation. The proposed change would provide more transparency about their options and shorten the time they are separated from their families; however, the change is not yet in effect.

It is crucial that the administration receives as many supportive comments as possible in order to make the change. Please submit comments about the proposed change with your personal perspectives and stories/examples.

Submit your comment by e-mailing it to uscisfrcomment@dhs.gov with "DHS Docket No. USCIS-2012-0003" in your subject line on or before June 1, 2012. Read More...

Over 700 Attended
Our Cinco de Mayo Celebration
On Saturday May 5th El Centro de la Raza had its 7th annual Cinco de Mayo Celebration. The event was a huge success with

over 700 people in attendance! The main festivities were held under an enormous tent giving the celebration a fair like atmosphere. The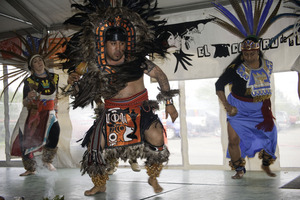 warm Spring weather allowed for a wonderful day outside with entertainment including music, children's activities, prizes, service and vendor booths as well as delicious Mexican food which sold out before the end of the evening.

We were greeted with a special guest, Mayor Mike McGinn, who attended and spoke about El Centro:
"Our diverse population is one of Seattle's greatest strengths. People come to Seattle from all over the world to make a better life for their families, and El Centro does the practical, on-the-ground work that makes those opportunities possible for thousands of new Seattleites every year."
Read More...
Mayor Announces Green Ribbon Commission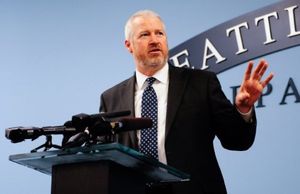 Mayor Mike McGinn announced a Green Ribbon Commission to steward development of the Seattle Climate Action Plan. It will be co-chaired by Denis Hayes, President of the Bullitt Foundation, and Doris Koo, Senior Advisor to Enterprise Community Partners. Our own Estela Ortega was named to the commission as well! Read More...

To view a full list of members appointed to the Commission click here.
Photo Credit: Lindsey Wasson/seattlepi.com
Mayor Asks Seattleites to Share Budget Priorities
The City of Seattle launched an online budget simulation to help residents better understand City budget challenges. This simulation is part of the City's commitment to make the budget process more transparent and accessible to the public.

The tool, located at www.seattle.gov/budgetsimulation, simulates a challenging process that takes several months to complete each year. Players are first asked to set their highest priority and then chose budget actions, categorized as "cultural amenities, basic services, and administrative savings, taxes and fees," from a list of potential cuts and other actions. Once players have made their decisions, they are presented with a summary of the resulting impacts. At the end of the simulation, players have the opportunity to let the mayor know their highest priority and to share specific ideas. Read More...
Celebrating Our Graduating Youth!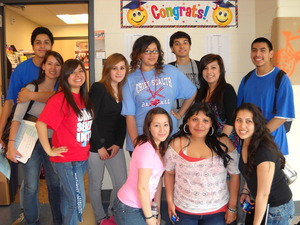 Three of our programs - Hope for Youth Poetry and Civil Rights History Classes, Seattle Youth Violence Prevention Case Management, and College Readiness - are excited to celebrate the accomplishments of our youth.

We will be celebrating the educational accomplishments of over 50 mostly Latino high school graduates and about 25 of our 8th graders being promoted to high school! So far, our graduating high school students have received $106,045 in scholarships. Read more...
"Tito" Alfredo Medina, Sergio Camacho and El Centro's Veteran Program jointly hosted a quarterly meeting called the "Veterans Service Provider Meeting" primarily for King County Veteran service agencies and related groups on April 10th.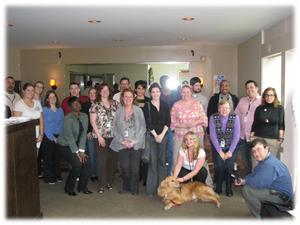 Many times the world of Veteran Affairs can be a long and confusing bureaucratic matrix of rules and regulations. Usually it isn't a matter of resources, many times at the end of the day it's about knowing where to go to or who to ask advice from.

So far, two meetings have been organized with over 40 people and agencies in attendance. It's a wonderful opportunity to put a face to a name and to be able to seek out the help that is needed to better serve and assist our Veterans. The next meeting of the "Veteran Services Provider Meeting" will be on July 17th, 2012 10am – 1pm at the Seattle Elks Lodge #92 (301 Queen Anne Ave, Seattle, WA 98109), for more information please contact "Tito" Alfredo Medina (206) 973-4287. Find event information on the Washington Department of Veteran Affairs Public Events website. Read more...
Fill Out Survey to Earn El Centro Grant Money
During May, there is a unique opportunity to help El Centro de la Raza earn grant money from Community Forums Network & Dick's Drive-In Restaurants, simply by filling out this online survey and forwarding the link to all your colleagues, friends, and family.

Employment for young adults in Washington state is a critical challenge, and is the main focus of the survey. The survey results will be shared with elected officials and community leaders across the state.

So please take 15 - 20 minutes to fill out this online survey. And REMEMBER TO SELECT EL CENTRO DE LA RAZA, SO THAT WE CAN EARN THE GRANT!
http://www.communityforumsnetwork.org/take-survey/
Artist with El Centro Roots Writes Ode to Seattle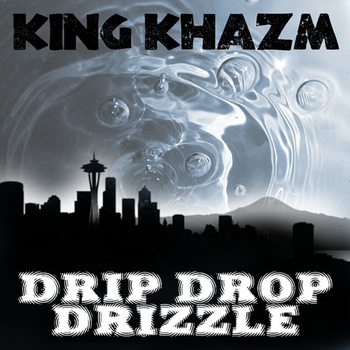 El Centro de la Raza has a longstanding partnership with 206 Zulu; having artists participate with our youth in schools teaching about poetry and hip hop. King Khazm, the chair of 206 Zulu, was actually a participant of our poetry workshops in the 90's and has become an accomplished artist and advocate in the community. Just in time for summer, he has released "Drip, Drop, Drizzle", a summertime ode to Seattle. Featuring deep bass and slamming rhymes, the track features a shout out to Beacon Hill and reflects his love and appreciation for the local community.

Download and enjoy the free debut single, Drip Drop Drizzle and stay tuned for more to come.
Calling for Nominations!
2nd Annual Roberto Felipe Maestas Legacy Award
It is in honor of Roberto and his legacy that the 2nd Annual Roberto Felipe Maestas Legacy Award will recognize two individuals, a woman and a man, who have exemplified building the Beloved Community through multi-racial unity, and working to eliminate poverty, racism and social inequity. Read more...

To view the application please click here.

Deadline for application submission is Monday, July 9, (Roberto's Birthday) 2012 at 5:00 pm Pacific Time.
Celebrate the Southeast Seattle
Community History Project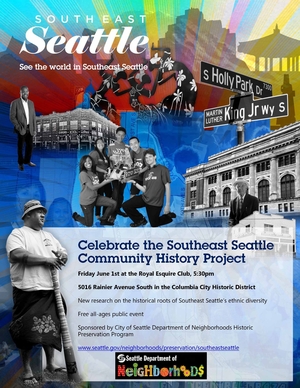 Friday June 1st at the Royal Esquire Club, 5:30pm
5016 Rainier Avenue South in the Columbia City Historic District (near Columbia City Light Rail)
Free for all-ages! Sponsored by City of Seattle Department of Neighborhoods Historic Preservation Program

New research on the historical roots of Southeast Seattle's ethnic diversity
www.seattle.gov/neighborhoods/preservation/southeastseattle
Read more...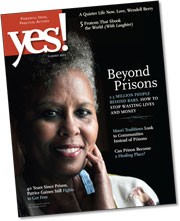 Wednesday, June 6, at 7:00pm
Town Hall Seattle, 1119 8th Ave

With Alice Walker, Frances Moore Lappé, and Makana

Tickets are on sale now at Brown Paper Tickets and going fast. $25 tickets include a one-year subscription to YES! Magazine for non-subscribers. If you already subscribe to YES! Magazine, be sure to use your subscriber number as your "member code" to get the special $15 ticket price. Read more...
May:
May 30: Comadres
June:
June 1: Youth Graduation
June 1: Southeast Seattle Community History Project Event
June 2: Alternatives to Foreclosure Orientation
June 2: Financial Literacy Workshop
June 6: YES! Magazine's Celebration of People Power
June 7: Café con El Centro
June 12: Financial Literacy Workshop
June 13: Financial Literacy Workshop
June 13: Legal Clinic
June 14: Graduation - José Marti - All Children
June 14: Financial Literacy Workshop
June 16: Tamale Class
June 19: Community Meeting on Redevelopment Project
June 20: Volunteer Orientation
June 29: Graduation - José Marti - Afterschool Children
July:
July 7: Alternatives to Foreclosure Orientation
July 7: Financial Literacy Workshop
July 9: Deadline for nominations - Roberto Felipe Maestas Legacy Award
July 10: Summer Spanish Classes Begin
July 14: Financial Literacy Workshop
July 17: Financial Literacy Workshop
July 17: Veteran Services Provider Meeting
July 18: Financial Literacy Workshop
July 19: Financial Literacy Workshop
July 21: Tamale Class
August
Aug 4: Alternatives to Foreclosure Orientation
Aug 4: Homebuyer Education Workshops
Aug 18: Tamale Class
Sept:
Sept 29: 40th Anniversary Celebration - Save the Date!
Celebrating 40 Years!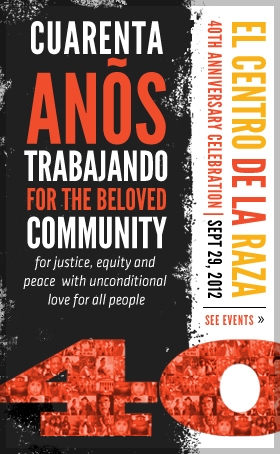 We are turning 40 years old! El Centro de la Raza was founded in 1972 which makes 2012 our 40th Anniversary. We will be celebrating this monumental milestone on Saturday September 29, 2012 from 5-8pm at the Westin Seattle, downtown. The evening will consist of a reception, silent auction, raffles, historical art-walk, three course dinner, keynote speaker, Legacy Awards and scholarship presentations and an exciting live auction.

We want the event to honor the efforts of El Centro de la Raza over the last 40 years and celebrate all the people who have participated in or supported our programs and services. Please join us in this celebration by purchasing a ticket to the event HERE. Tickets are $100 and all the proceeds go to El Centro de la Raza and our work. Hope to see you there! If you are interested in becoming a sponsor or Table Ambassador, please contact us at events@elcentrodelaraza.org or (206) 957-4649
Juvenile Justice at El Centro


As part of a follow up to our work around school discipline, El Centro de la Raza sent a letter to the Interium Superintendent of Seattle Schools, Dr. Susan Enfield, requesting that she place a moratorium on school suspensions that deal with students are not a threat to school safety. In our letter, we suggested that in-school suspension models be utilized and that all measures be taken to minimize that amount of time a student remains out of the classroom. We asked that she meet with us as soon as possible to discuss this as she will be leaving the district soon and the school year is almost over. Dr. Enfield has scheduled a meeting within the next couple of weeks to explore this matter further. This work supports the work already being done by the Positive Climate and Discipline Advisory Committee and we look forward to continuing to work on this issue with in-coming Superintendent Mr. Jose Banda.

We have started working with students at Ballard High School to put together a Youth Advisory Group which will be meeting over the summer to address discipline issues and other topics that they feel need a youth focus in schools.

Our Latino Juvenile Justice Steering Committee continues to meet the last Thursday of each month. Our next meeting will be on May 31st at 5:30pm at El Centro de la Raza.
Gardening Classes!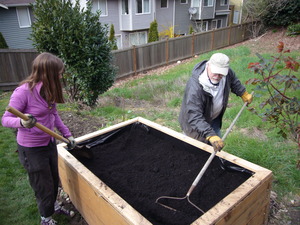 Has the warmer weather made you think about gardening? You may be interested in a series of free gardening classes that will be held through September at El Centro de la Raza. Master Gardener Mick Duggan is teaching the "Growing Your Own Groceries" series on the second Saturday of each month, from 10-11:30 a.m.

Each class will include free information handouts to take home. All are welcome to "join when you can, for as long as you can."

The next meeting will be on June 9th in room 310. Topics on June 9th include:
What to plant now?

Tomatoes

Melons in the NW

Flowers in the vegetable

garden

Harvesting
Click here for more info.
Employment Program / Programa de Empleo
Our Employment Program provides job training skills and the opportunity to find employment. Our services include: monthly workshops, one-on-one support, assistance applying for jobs & preparing for interviews. We can help you acquire new skills to advance your career! If you would like to participate or need more information, please contact Camila Lagow: (206) 957-4622 or email or Janet Stafford: (206) 957-4644 or email. Para ver en español, haga clic aquí.
Anuncios y Felicitaciones
Announcements & Congratulation
Coming Soon - Food Trucks in our Parking Lot
Plans are being finalized to bring two food trucks to our new South Parking Lot. The main truck to be stationed here is El Sabroso de Seattle - Bocados Latinos owned by Alma Isabel Aleman and Francisco Daniel Perez. They feature Mexican food. The second truck which will be here once a week is Caravan Crepes owned by Brook Sumner. If you're hungry and in the neighborhood be sure to check out our website to see when the trucks arrive (should be in early June). We are excited to start these partnerships and bring some more delicious food to Beacon Hill.
Parking Lot Now Open
at El Centro de la Raza!
El Centro has opened its temporary light rail parking lot to the public located at 2524 16th Ave S in Seattle next to the Beacon Hill Light Rail Station. The lot is minutes from downtown and the stadiums for Seahawks, Sounders and Mariners games! Proceeds benefit El Centro's 33 human services and community building programs. Please call (206) 957-4603 or email facilities@elcentrodelaraza.org for monthly parking or airport passes.
Rental Spaces Available at El Centro!
El Centro de la Raza has office space for lease, 1044 sq ft, 1-yr lease required. The monthly lease rate is $1044/month for non-profits and $1262.54/month for for-profits. Please contact our Facilities Manager, Elisa Miranda, directly for a lease application and to view the space at (206) 957-4603 or facilities@elcentrodelaraza.org.
---
LOCAL
► Interview with Estela Ortega and Steve Kipp of Comcast: Video
► Estela Ortega Talks about our Development Project at El Centro: Video
►
Introductory Video on New Seattle Superintendant Jose Banda: Video
► Groups Put Pressure on City Council to ignore key component of Secure
Communities Program: Story
►
MTFPA in the Seattle Times about need for a consent decree: Story
NATIONAL
► Secure Communities Implemented in NY Despite Loud Opposition : Story