Construction on Plaza Roberto Maestas is quickly coming along and the time has come to think about housing. The building will have 110 units of 1-bedroom, 2-bedroom and 3-bedroom apartments, set aside for residents earning 30-60% of Area Median Income. Units are available for individuals and families, including large families of four or more members and disabled households. We are hosting our first informational meeting about housing slots next Wednesday, February 3rd at 6:30 PM here at El Centro de la Raza. Please come to this meeting if you are interested in living in Plaza Roberto Maestas. Contact (206) 957-4636 with questions or click here for more information. See the fliers in multiple languages here.

It is also your last chance to Buy-A-Brick! Brick sales end this Sunday, January 31st! Don't miss out on this one-time opportunity to Buy-A-Brick and help Build the Beloved Community. Leave your own legacy as a part of Plaza Roberto Maestas, honor Roberto's dream, and help combat the affordable housing crisis in King County. Click here to read the 2016 Plaza update from Walsh Construction Plaza. Feel free to call with any questions you have about bricks, we would be happy to talk with you.

Mil gracias for all you have given to Plaza Roberto Maestas. We are so excited to be working with you to bring affordable housing, high quality childhood education, new business opportunities, and more to our home in Beacon Hill.
Respetuosamente,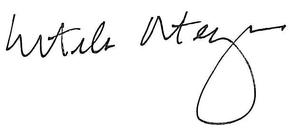 Estela Ortega
Executive Director

P.S. - Don't forget to "like" us on Facebook, and "follow" us on Twitter.
---
El Centro de la Raza News/Noticias

Martin Luther King, Jr. Day March and Rally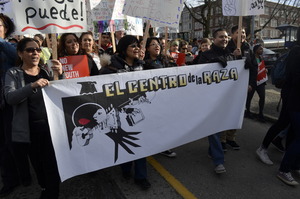 El Centro de la Raza staff, volunteers, and friends attended the 34th Annual Martin Luther King, Jr. Celebration on Monday, January 18th. The El Centro workshop was well-attended and did a powerful job of informing attendees of El Centro de la Raza's history. Staff members told the story of El Centro de la Raza and shared what our organization does for the community. Virginia Frausto, Executive Assistant, wrote a poem to share her story and what El Centro de la Raza means to her:
"El Centro for Generations"
By: Virginia Frausto
The Foundation of a liberation,
Was born
A Specific day,
I learned that the same day my father
Passed,
A legacy was born 43 years,
Ago,
So, I knew as the newest member,
I had a,
Connection,
An obligation,
To serve the poor, to fight for more,
Than what the invaders left us.
Now El Centro de la Raza offering 48 programs to,
Fight the effects of generational trauma,
By
Aiding our elderly,
And,
Encouraging our youth-to name a few,
You see - I never knew I could be part of this revolution - de esta Resistencia!
Of a new generation of "Hope,"
Who,
Don Roberto, used to say the children were to the
World,
So, I invite all of you, no matter your race, age, color, or gender to,
Incorporate-yourselves,
Volunteer, Donate,
And to keep our El Centro going,
Continuing our revolution
And liberation,
Hoping,
To speak of all this still-
43 years from today.
Boeing Company Grant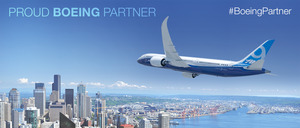 El Centro de la Raza was awarded an $80,000 grant by The Boeing Company in support of the expansion of our José Martí Child Development Center to Hirabayashi Place and Plaza Roberto Maestas. Mil gracias to the Boeing Company!

Sign Up for Cooking Classes Today!



The 2016 cooking class schedule is available now! Learn how to cook favorite Latin dishes, share in the culture, and meet new people at the same time. Class fees vary and directly support our Senior Nutrition and Wellness Program. Register today!

Apply for Roberto Felipe Maestas Legacy Award

Nominations are now being accepted for the sixth annual Roberto Felipe Maestas Legacy Award to be presented at the 2016 Building the Beloved Community Gala. The Legacy Award recognizes two individuals who have exemplified Building the Beloved Community through multi-racial unity and are working to eliminate poverty, racism and social inequity. Application available here.

Regístrese Ahora / Register Now

Child Development at Hirabayashi Place Coming May 2016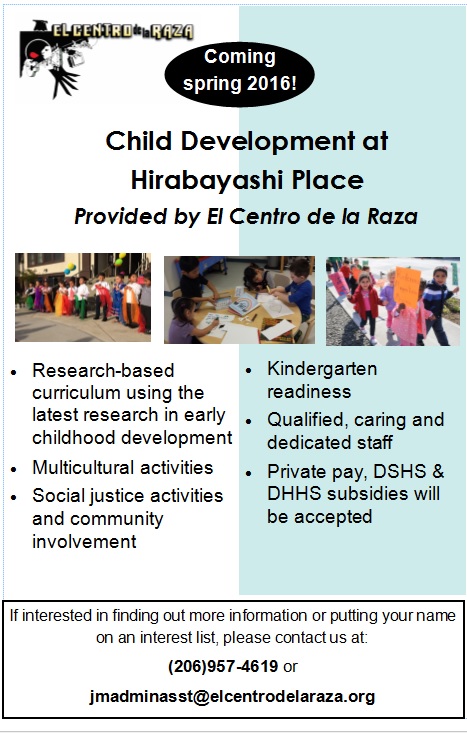 A new child development program is opening at Hirabayashi Place in May 2016. The research-based curriculum will use the latest research in early childhood development to provide the highest quality kindergarten readiness program possible...read more





'Eat Right When Money is Tight' Workshop Series

Come learn how your family might eat more nutritious meals on a budget! Starting February 2, 2016, the food bank will host a free monthly workshop series: Eat Right When Money is Tight. The purpose of the workshop will be to demonstrate and discuss healthy eating for cost-conscious families. Each class will be an interactive event that includes cooking, tasting, and recipes to take home! The workshop ...read more

Homeownership Education Workshops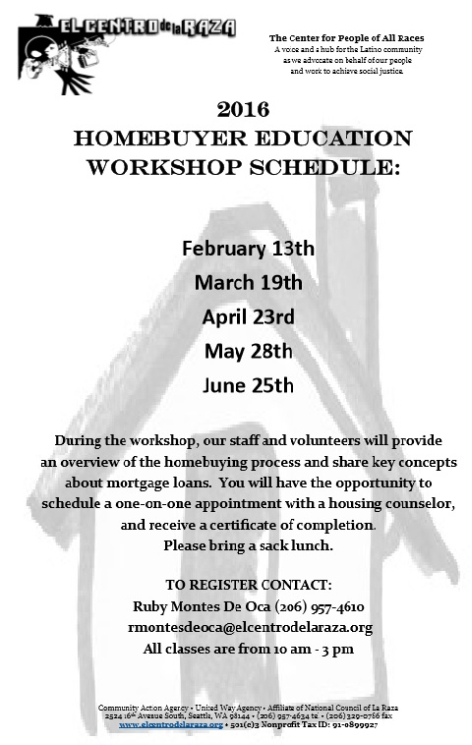 El Centro de la Raza's Homeownership department is hosting homebuyer education workshops every month through June 2016. These classes will provide an overview of the homebuying process and share key concepts ...read more






English Classes/Clases de Inglés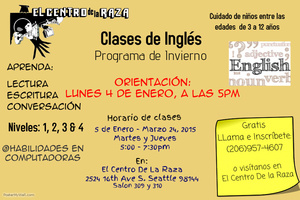 It's not too late to join an English Class! Classes take place between January 5th-March 24th. Classes will be held on Tuesdays and Thursdays from 5:00-7:30 PM in Rooms 309 and 310 at El Centro de la Raza. ...read more
En Español.

Free Tax Preparation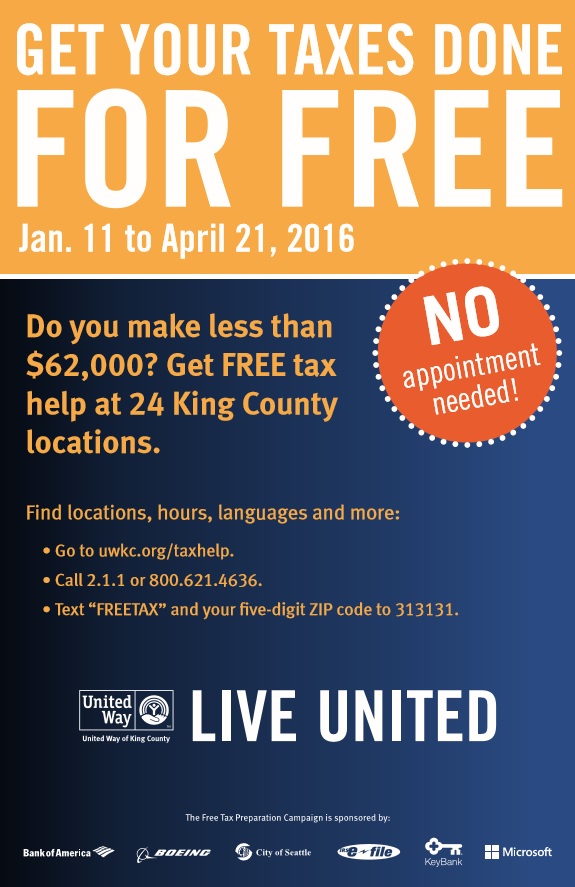 Get help with your tax preparation this year! Made possible by United Way, from January 12th - April 21st, El Centro de la Raza offers free tax preparation for those making under $62,000 per year. Hours are 5-9 PM Tuesday and Thursday and 10 AM-2 PM on Saturdays in Room 106 at El Centro de la Raza, 2524 16th Ave. S, Seattle, WA 98144. Click here to view all free tax prep locations around Seattle ...read more

Enroll in Health Coverage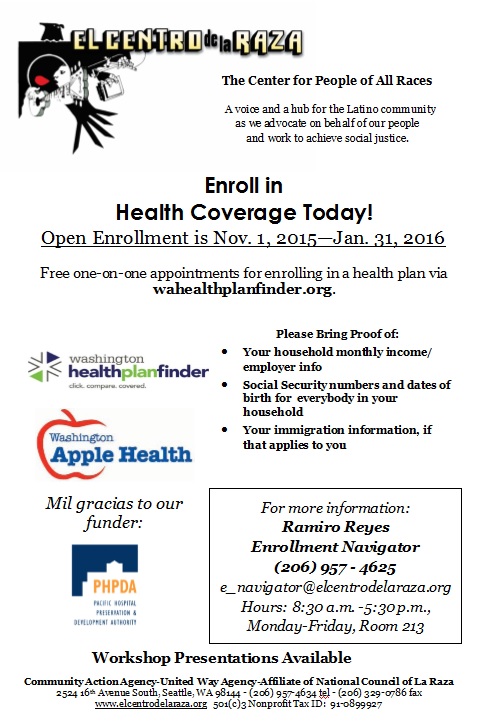 El Centro de la Raza offers help enrolling in a health coverage program specific for you. Dates of open enrollment are November 1st-January 31st. Find free one-on-one ...read more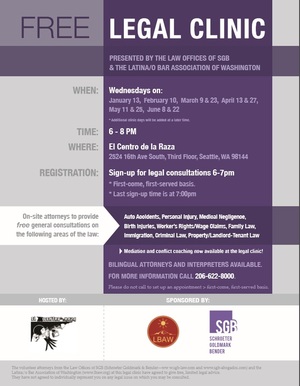 ---
Announcements/Anuncios

Procurement Committee Members Needed

On September 24th, 2016 El Centro de la Raza will hold our annual Building the Beloved Community Gala at the Westin in downtown Seattle.
To make this event a success, we are looking for volunteers to join our procurement committee. This position is perfect for volunteers who want to get involved on an on-going basis. ...read more

ECDLR's Smoking Cessation Support Group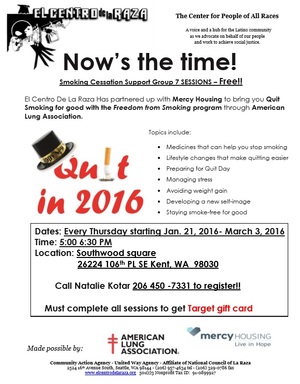 El Centro de la Raza has partnered up with Mercy Housing to start the Freedom from Smoking Program. Smoking cessation support group meetings will be held every Thursday from 5:00 - 6:30 PM ...read more





Latino Legislative Day

Join the Latino Civic Alliance for the 11th annual Latino Legislative Day! This event celebrates the importance of civic engagement and advocacy by supporting a dialogue between state government and Latino communities. Participants are encouraged to meet with their legislator, engage in policy sessions and advocate for issues that impact Latino communities. The free event is held on Capitol Campus on Monday, February 22nd, from 8 AM - 5 PM. The address is: Capitol Campus, Office Building 2 (DSHS Building, 14th Ave. SE, Olympia, WA 98501. Register for the event here.

ORCA Lift Reduced Fare Program

Our Frances Martinez Community Service Center has a new transit fare program! The new reduced fare for riders on the Link Light Rail and King County Metro busses will be $1.50 per ride. ...read more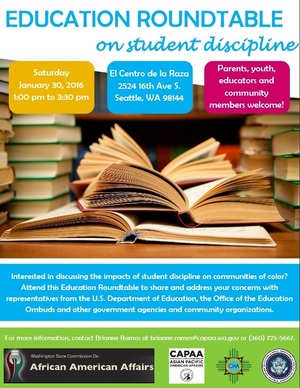 ---
Our Community-Nuestra Comunidad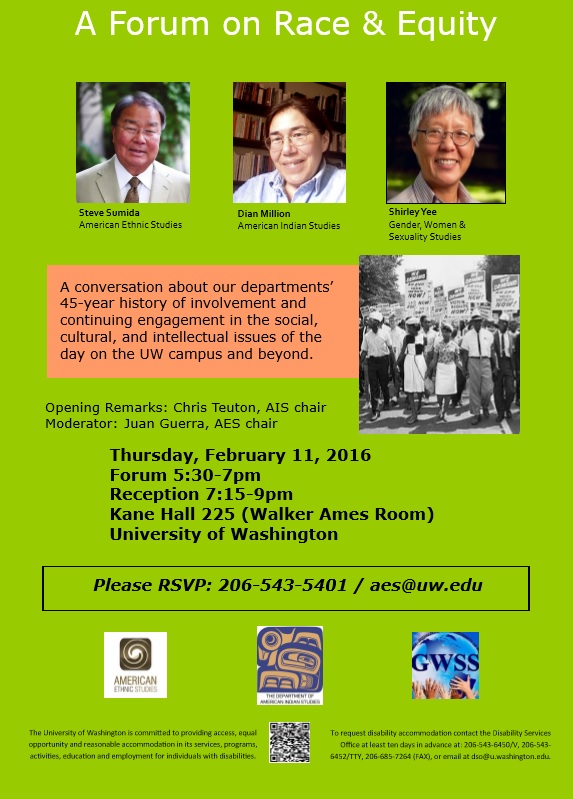 Why They Come: Understanding Why We Have an Immigration Crisis

University Unitarian Church is holding a lecture by Rev. Dr. Miguel De La Torre on Sunday, February 21st, 2016. His lecture will begin with the question: Why am I, personally, an immigrant in this country? The lecture will examine ...read more

Schools First Campaign



Elections are in February and there are two levies to be voted on regarding schools. The Schools First Campaign asks you to Vote Yes to renew these levies and continue funding vital programs that schools need. Read about the Prop 1 Operations Levy and Prop 2 Capitol Levy before you head to the polls. Learn more about the Schools First Campaign.

Latino Outdoors Event


Latino Outdoors Washington is hosting a kayaking event on February 20th from 10 AM - 12 PM. The kayaking outing will be held at Northwest Outdoor Center at 2100 Westlake Ave. N. Email michelle@latinooutdoors.org or call (628)-333-4803.




Save 60% on Your Electric Bill This Year
Having trouble paying your electric bills? You may qualify for Seattle City Light's Utility Discount Program, which offers free home energy visits to help you maximize your discount, as well as assistance with other utilities such as water, sewage, ...read more

News Roundup

Senator Patty Murray on Supreme Court Decision
Last year, President Obama announced that he would be taking a series of executive actions to improve the U.S. immigration system, including expanding DACA for DREAMERS, deferred action plans, and creating DAPA for parents of green card holders. The actions were delayed by others in the Supreme Court, but Senator Patty Murray and others created a Supreme Court brief in reaction ...read more

Legislation to Address Police Use of Deadly Force
Representative Luis Moscoso introduced a bill to address police use of deadly force, HB 2907 on January 26th, 2016. ACLU of Washington Executive Director Kathleen Taylor responded with ...read more

'Creating An Affordable Housing for All Program' Bill Released
Read the bill here. Also read the draft analysis of Senate Bill 6422 from Diane Klontz's office at Commerce.

Beyond Deportation: Fixing A Broken Immigration System
Read the article here.
Social Media Links:

Like what we do?



Then "like" us on Facebook!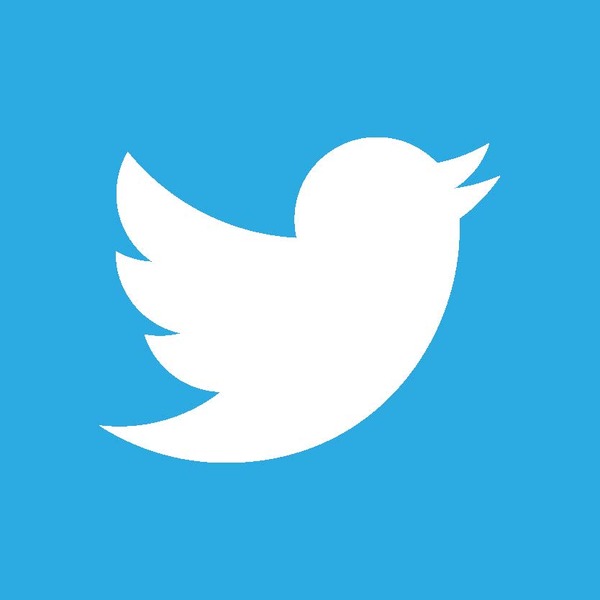 Follow us on Twitter for live updates on news and events!

In This Issue:

MLK Day March and Rally

Buy-a-Brick

2016 Cooking Classes

Hirabayashi Child Development

Free Tax Prep

ECDLR Procurement Committee

Smoking Cessation Meetings

Latino Legislative Day

News Roundup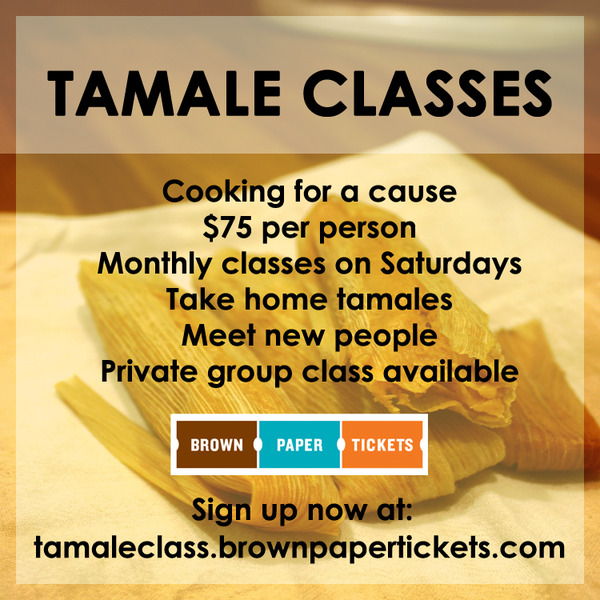 Help us improve our cooking classes by telling us what you want! Click here to take our quick 7 question survey.

Events Calendar:
Jan. 28 Procurement Committee Mtg
Jan. 31 Buy-A-Brick Deadline
Feb. 2 Feb. Healthy Eating Workshop
Feb. 9 Election Day
Feb. 10 Free Legal Clinic
Feb. 11 Tortilla Español Valentine's Cooking Class
Feb. 13 Feb. Homeownership Workshop
Feb. 22 Latino Legislative Day
*Save the date*
May 7- Cinco de Mayo

Mil Gracias Funders:
The Boeing Company
$80,000 to support JMCDC
King County
Subsidized Metro bus tickets valued at $1,725
Lucky Seven Foundation
$3,000 for general operating funds
Seattle Foundation
$20,000 for general operating funds
City of Seattle
$1,984 to purchase kitchen equipment through Senior program.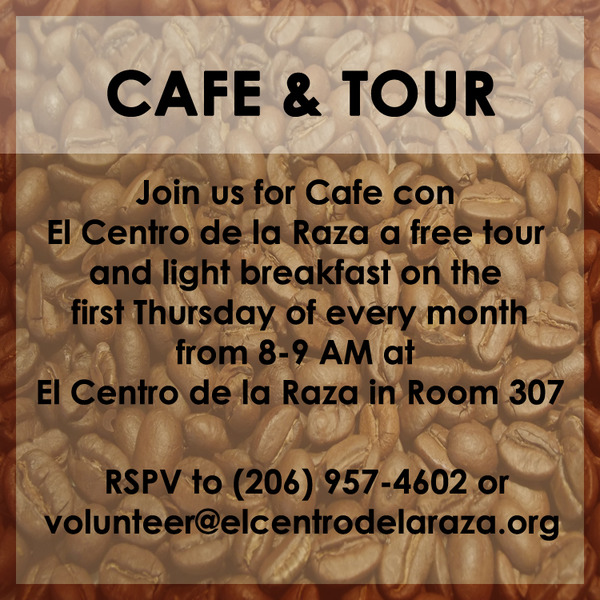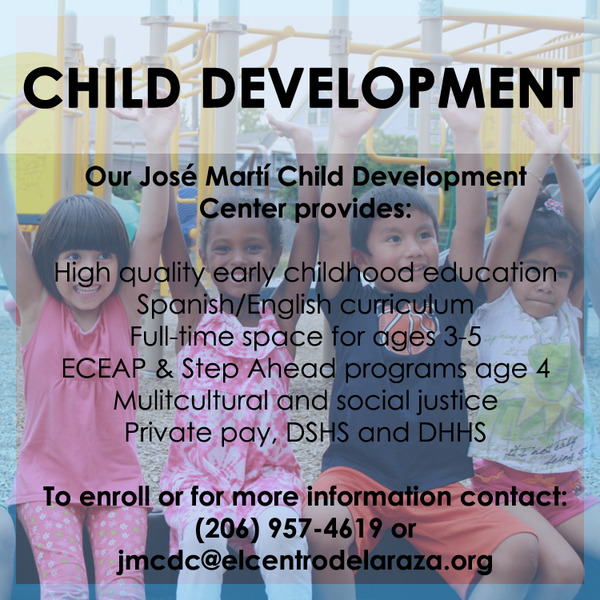 Board of Directors:
Ramon Soliz, President
Roxana Amaral, Vice President
Pablo Mendoza, Treasurer
Victoria Kill, Secretary
Madrienne Salgado, Parliamentarian
Emma Catague
Juan Cotto
Norma Cuevas
Christina Garcia
Ricardo Garcia
Martha Jimenez
Alexandra Narvaez
Bianka Sanchez
Urbano Santos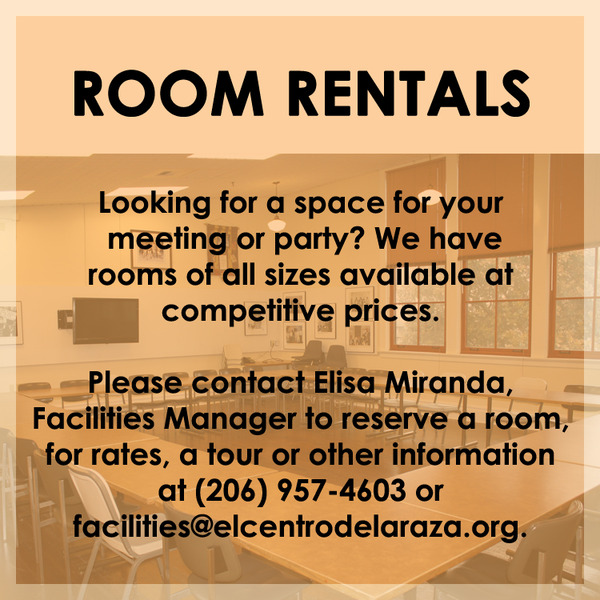 Programs and Services:
Bebes! Infant Mortality Prevention
Business Opportunity Center
Café con El Centro de la Raza
César Chávez Demonstration Garden
College Readiness
Comadre Monthly Workshops
COMCAST Digital Connectors
Community Meeting Space
Community Organizing
Community Service
Crisis Advocacy
Cultural / Political / Social Events
DSHS People Point Washington Connections
Economic Development
ECR Transitional Housing
El Patio Apartments
Employment Assistance
ESL Classes
Families & Education Levy Case Management
Financial Empowerment
Food Bank
Foreclosure Counseling
Growing & Learning Together
Health Coverage Enrollment
Healthy Cooking Classes/Nuestras Comidas
Historical & Educational Presentations
Homeless Assistance
Hope for Youth Poetry & Civil Rights History Classes
HUD Housing Counseling
Immigrant / Human / Civil Rights Social
Justice Advocacy
Low-Income Transit Fare Enrollment
José Martí Child Development Center
Latino Hot Meal Program
Legal Clinic Site
Local, State, National & International
Coalition Building
Luis Alfonso Velásquez Flores
After School Program
Parent-Child Home Program
Plaza Roberto Maestas
Santos Rodriguez Memorial Park
Seattle Youth Violence Prevention & Case Management
Senior Nutrition & Wellness
Senior Home Delivered Meals
Smoking Cessation
Summer Learning
Tax Prep Site
Veteran's Services
Volunteer Opportunities
Youth Case Management & Cultural
Enrichment
Youth Employment
Youth Technology Training