Washington voters successfully elected to pass the $290 million housing levy on the August 2nd ballot. We celebrate this victory because the Seattle Housing Levy will help create and maintain thousands of affordable housing spaces in Seattle. We saw the outstanding need for affordable housing when we had over one thousand people apply to live in Plaza Roberto Maestas, and were heartbroken to know that we could not house each and every individual and family that applied. Plaza Roberto Maestas itself could not have been built without the housing levy and Seattle voters, and we look forward to seeing this levy create even more affordable housing in our communities. Levy money is set aside for maintaining and developing affordable housing in Seattle so that individuals earning 30 percent or less of the area's median income can afford to live in the city where they work. El Centro de la Raza is featured in an article by Kiro 7 - read it here. Learn more about the housing levy and its impact on our community.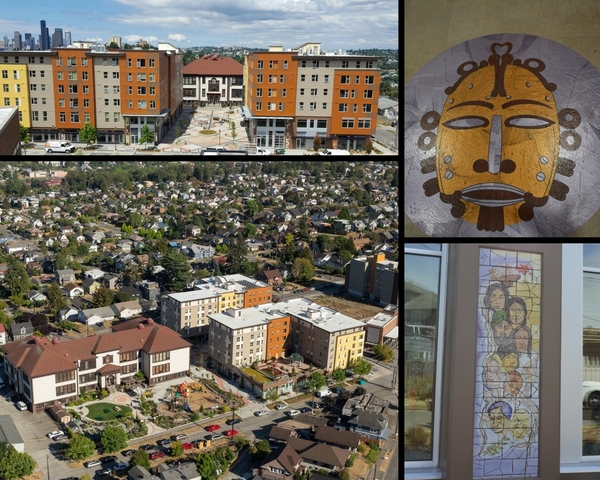 (photos by El Centro de la Raza staff and William Wright)
Families have already moved into the west building at Plaza Roberto Maestas, businesses have started transitioning into their new spaces, and bricks have been installed! Stop by and see Plaza Roberto Maestas and keep updated at plazarobertomaestas.org.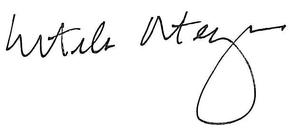 Estela Ortega
Executive Director

P.S. - Don't forget to "like" us on Facebook, and "follow" us on Twitter.
---
El Centro de la Raza News/Noticias
Building the Beloved Community Gala



Our 2016 Building the Beloved Community Gala will be on September 24, 2016 from 5:00 PM - 9:00 PM. Early bird prices are $125 for a single ticket, $625 for a half table or $1,250 for a full table of 10. Get your tickets now! Learn more about the event here and RSVP on Facebook. See below for an Auction Item Preview and see more on our event website!

"Summer at the Pink Door" by Billy King • Crystal Seas Kayaking Tour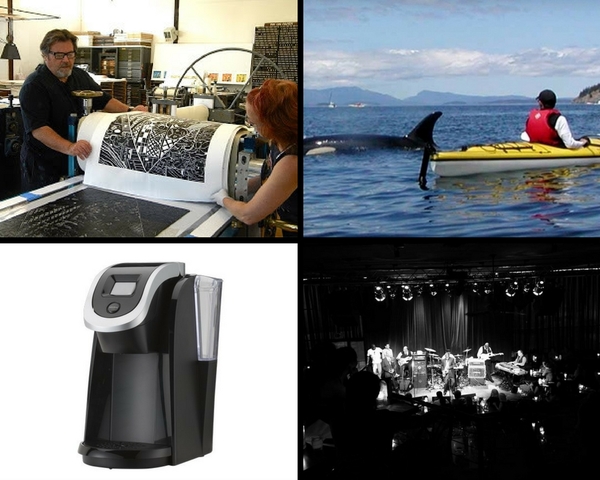 Keurig K250 Coffeemaker • Night out for two at Dimitriou's Jazz Alley

Initiative 873: Concerning Use of Deadly Force
Initiative Measure 873 concerns the use of deadly force by public officers or peace officers. The current law RCW 9A.16.040(3) exempts public officers from criminal liability in the case that the officer acted "without malice and a good faith belief". Those in charge of the initiative state that malice is a state of mind and cannot be proven. Initiative 873 seeks to amend the law by removing that section, which will make officers criminally liable if their actions were not justifiable. Learn more about the initiative here, or sign the petition at Mount Zion Missionary Baptist Church or Willie's Taste of Soul.

Hope for Youth Program Poetry
The youth participating in our Hope for Youth Program wrote some amazing poems about various topics as part of the program this past school year. See them all online here.
I Am From
By Elena Ruiz
I am from a rainy day in Seattle
cuddling in a warm blanket on the internet
I am from my grandma's backyard and garden flowers and fruits
I am from my mom Patricia and her kind face
and from my dad Amancio with his cheesy nicknames,
from my sister and her loving personality from my dog Cookie
And her energetic attitude ...read more
AmeriCorps positions at El Centro de la Raza
El Centro de la Raza is looking for candidates for two of our AmeriCorps positions. AmeriCorps volunteers are a vital source of support for our Programs and Services. These year-long volunteer positions are a great way for individuals to provide meaningful work in the community and also develop skills, gain experience, and get a foot in the door in the nonprofit sector at a community-based organization. Apply today!
El Centro de la Raza is Hiring!
El Centro de la Raza is hiring Early Childhood Education Teachers! Bilingual teachers - particularly Mandarin/English speakers - desired for some positions. Please send resumes to Shannon Armstrong, sarmstrong@elcentrodelaraza.org or call 206-957-4626 with any questions. We are also hiring for other positions including Veterans Outreach Specialist, Youth Job Readiness Training Coordinator and a Maintenance Technician. Click here to see all open positions.

Sign Up for Cooking Classes Today!
Learn how to cook your favorite Latin dishes, share in our culture, and meet new people by signing up for one of our amazing Latin Cooking classes! Already attended a cooking class? Leave a review on our new Yelp page! Upcoming classes include:
2015 Annual Report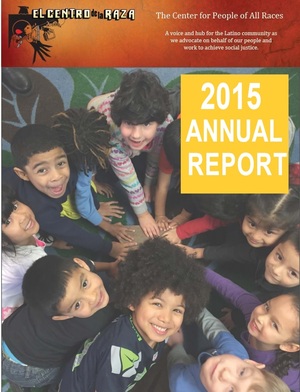 Learn more about El Centro de la Raza by reading our 2015 Annual Report! It is filled with success stories, photos, program information, donor lists, and funding information from 2015.


Regístrese Ahora/Register Now

Legal Clinics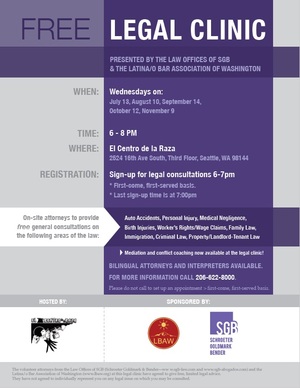 Upcoming dates for legal clinics will be September 14, October 12, and November 9. Clinics will be held from 6:00-8:00 PM at El Centro de la Raza at 2524 16th Avenue S, Seattle, WA. Call 206-622-8000 for more information.
Inscripción para los consultas legales. 6:00 PM – 7:00 PM serán por orden de llegada. Ultima inscripción se hará a las 7:00 PM. Para más información llame al 206-622-8000.

Homeownership Education Workshops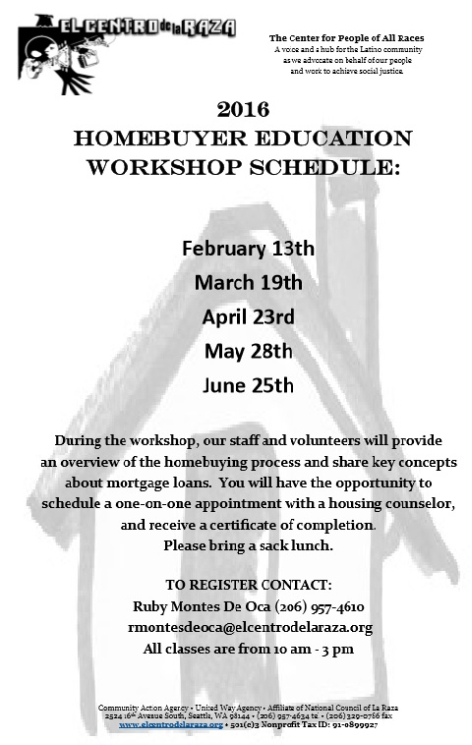 El Centro de la Raza's Homeownership Department invites you to a free seminar sponsored by the Washington State Housing Finance Commission, where professionals can answer your questions about becoming a homeowner, provide an overview of the homebuying process, and share key concepts about mortgage loans. Each class is from 9:30AM – 3:00PM in Room 307 at El Centro de la Raza. The next classes will be held on Saturday, September 24th, and October 22nd. Registration is required – contact Stephanie Chavez at 206-957-4610 or intake@elcentrodelaraza.org. ...read more

Volunteers Needed!
Interested in getting more involved? Current volunteer needs include:
Work Party Volunteers - September 10, 17. Help us prepare for the Building the Beloved Community Gala!

October 1st Plaza Roberto Maestas Opening Event

ESL Classroom Assistance

Legal Clinic Intake & Interpreting

Kitchen Assistant ...read more about these positions here
Contact Carlos Reyes at volunteer@elcentrodelaraza.org or 206-957-4602 for more information. See more volunteer opportunities.

'Eat Right When Money is Tight' Workshop Series
Come learn how your family might eat more nutritious meals on a budget! The food bank hosts a free monthly workshop series: Eat Right When Money is Tight. The purpose of the workshop is to demonstrate and discuss healthy eating for cost-conscious families. ...read more
English Classes/Clases de Inglés
Fall English classes will begin on September 27th. Classes are held on Tuesdays and Thursdays from 5:00-7:30 PM in Rooms 309 and 310 at El Centro de la Raza ...read more.
---
Announcements/Anuncios
Prevent Immigration Fraud
El Centro de la Raza is partnering with the Washington State Attorney General's Office to teach about Notarios, immigration services fraud, and scams targeting the Latino community. Come to the top floor of 2524 16th Ave. S, Seattle, WA on Wednesday, August 31st from 6:00-8:00 PM to learn about these issues and protect yourself against them!
Esta invitado a aprender más acerca de notarios, servicios fraudulentos de inmigración y estafas que se dirigen a comunidades latinas. Miércoles 31 de agosto, 6:00-8:00 PM, tercer piso de El Centro de la Raza.

Blood Wedding Play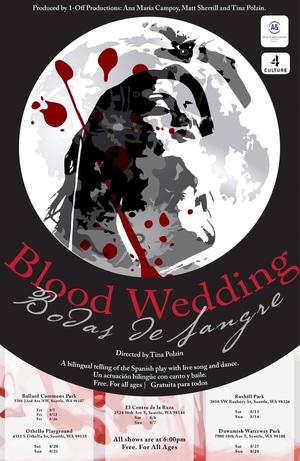 The play 'Blood Wedding' or 'Bodas de Sangre' will be showing for free in various Seattle locations from August 5th - August 27th. This play, written by Federico García Lorca and directed by Tina Polzin, is a bilingual storytelling of the Spanish play and will have song and dance. See more locations and RSVP here.



Mobile Medical Unit
El Centro de la Raza will be a site for Mobile Medical Unit visits starting on July 28. The Mobile Medical Program provides no-cost, walk-in medical care to those who are currently or have recently been homeless. In addition to medical care, the unit will offer assistance with substance abuse, mental health, housing, and other services.
---
Our Community/Nuestra Comunidad
Lummi Nation House of Tears Carvers Event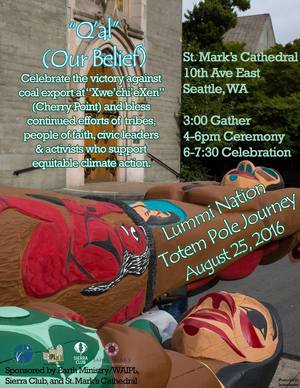 Join the Lummi Nation House of Tears Carvers at their event to showcase their latest totem pole in Seattle on Thursday, August 25th from 3:00 PM - 7:30 PM at St. Mark's Episcopal Cathedral. The event is also celebrating the victory against coal exports at Xwe'chi'eXen (Cherry Point). Learn more about and RSVP to this event on Facebook! (image from https://www.facebook.com/events/611513929012141/)

Voter Registration in Chinese/中文, Korean/한국어, Spanish/Español or Vietnamese/Tiếng Việt


Change your voting language preferences here, or register to vote in Chinese, Korean, Spanish or Vietnamese. Learn more here.

Summer Food Invasion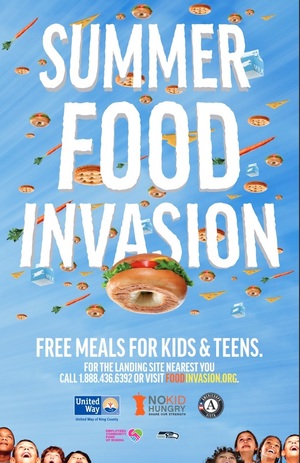 Free lunches for kids and teens this summer! Locations are all around Seattle. Click here to see more information about the El Centro de la Raza location, and see all locations here.



Post-Season Tax Prep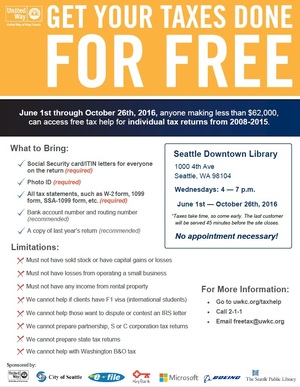 Free tax preparation services will be offered through October at the Downtown Seattle Public Library, and will be from 4 PM - 7 PM on Wednesdays. This service is available for individuals and families making less than $62,000, and there is no appointment necessary. ...read more


Seattle World School Grand Re-Opening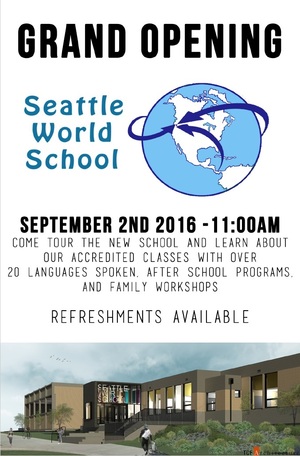 Seattle World School is moving! Their new building will be open for the first day of school this coming Fall. Their grand opening will be Friday, September 2nd at 11 AM. Stop by to tour the new school and learn more about the Seattle World School. Learn more on their website.




Save 60% on Your Electric Bill This Year

Having trouble paying your electric bills? You may qualify for Seattle City Light's Utility Discount Program, which offers free home energy visits to help you maximize your discount, as well as assistance with other utilities such as water, sewage ...read more

School Bell Times Revisions Lauching Soon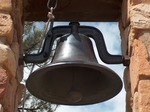 All Seattle public schools are undergoing changes in their start and end times for the 2016-2017 school year. These changes are a result from research and community feedback that supports earlier start times for younger students and later start times for teenagers. You can access the new bell schedule here. While this decision impacts before and after school childcare for many, Seattle public schools are working within the community to increase family's awareness of their local resources. [image from www.icontact.me/school-bell-images.html]

Seattle Scholarship Opportunity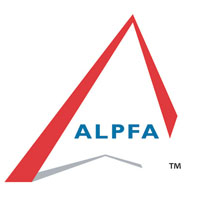 ALPFA Seattle (Association of Latino Professionals for America) is having their fourth annual Seattle Academic Scholarship Program. 2 students will each recieve $3,000 to go toward their education from the help of ALPFA's corporate sponsor Microsoft. All applications are due by September 9th, and students who meet a preliminary deadline of August 26th will recieve a resume review. Learn more about the scholarship qualifications here.

Hola Mexico Film Festival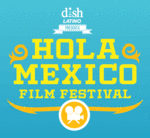 From August 26th to September 1st, Ark Lodge Cinemas in Columbia City is hosting a Mexican film festival. This traveling cinema features the 10 best films screen at the Hola Mexico Film Festival in Los Angeles this year. Read the descriptions of the films that will be shown here. Films will be shown in Spanish with English subtitles.

Documentary Screening and Panel Discussion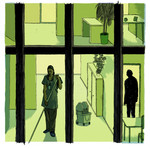 On Friday, August 26th there will be a documentary screening of 'Rape on the Night Shift' followed by a panel discussion. The documentary will discuss immigrant women in the janitorial industry and sexual abuse and assault. The event is from 12:00pm - 3:00pm and some refreshments will be provided. Read more about the event and its location here.
[image from https://ww2.kqed.org/news/2015/06/23/working-alone-at-night-janitors-risk-sexual-violence-rape-on-the-night-shift/]
---
Social Media Links:

Like what we do?



Then "like" us on Facebook!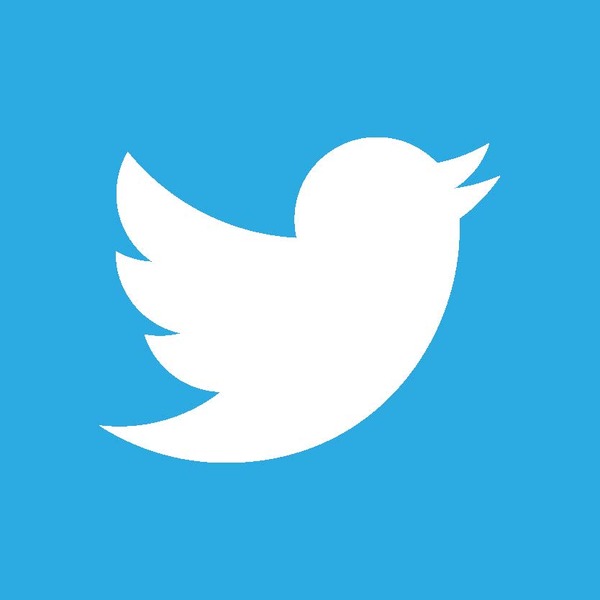 Follow us on Twitter for live updates on news and events!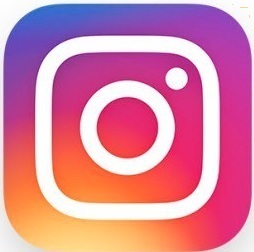 In This Issue:
Building the Beloved Community Gala

Hope for Youth Poetry

Jobs at El Centro de la Raza

Volunteers Needed!

Lummi Nation House of Tears Event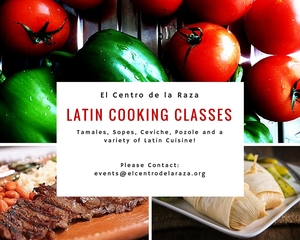 Rate us on Yelp and take our quick 7 question survey to let us know what cooking classes you would like to see in the future.
Events Calendar:
August 27 Vegetarian Tamale Class
August 31 Preventing Immigration Fraud Event
September 10 Work Party for Gala
September 14 Legal Clinic
September 16 Early Bird Gala Ticket Pricing Ends
September 17 Work Party for Gala
September 24 Building the Beloved Community Gala
September 24 Home Ownership Workshop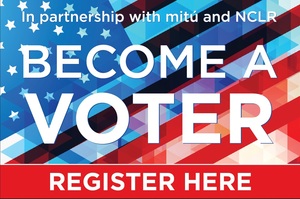 Register with your smartphone today!

Mil Gracias Funders:
KUOW
Radio spots for Día de los Muertos
The Church of Jesus Christ of Latter-Day Saints - Renton Stake


$12,000 worth of mattresses and furniture from Deseret Industries

ArtsWA (WA State Arts Commission)
$6,800 for Día de los Muertos

Latino Center for Health
$5,000 for Community Based
Participatory Research

NALCAB
$20,000 for financial capability (Wells Fargo pass-through funding)

Alaska Airlines Foundation $15,000 for the After School Drop-In Program

NCLR
$6,000 to implement the CASA service learning program in the After School Drop-In Program

WA State Housing Finance Commission
$42,000 for foreclosure counseling
2016 Building the Beloved Community Gala Sponsors:
Esperanza Sponsor:
Seattle Metropolitian Credit Union

Dignidad Sponsors:
Chase
Comcast
Muckleshoot Indian Tribe
Washington Education Association

Honor Sponsors:
Ben Bridge
CenturyLink
Copiers Northwest
Homestreet Bank
Walsh Construction

Comunidad Sponsors:
BECU
Heritage Bank
Lilly
Molina Healthcare
Paychex
Third Place Design Co-operative
US Bank
Vulcan Inc.

Amistad Sponsors:
Amerigroup RealSolutions
Barraza Law
Beacon Development Group
Catholic Community Services
Community Health Plan of WA
Forterra
Goodwill
Kantor Taylor
LDC, The Civil Engineering Group
PNW Carpenters
Pepsi
Perkins Coie
Seattle Children's Hospital
Seattle City Light
Seattle Education Association
Seattle Office for Civil Rights
Seattle Seahawks
SEIU Healthcare
Sprague Israel Giles
SMR Architects
Union Bank
United Healthcare
United Way
UW Office of Minority Affairs & Diversity
Washington Community Reinvestment Association
Washington Federal
Watson McDonell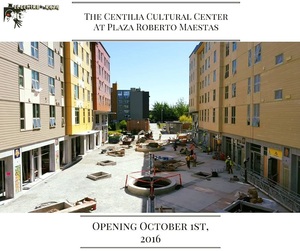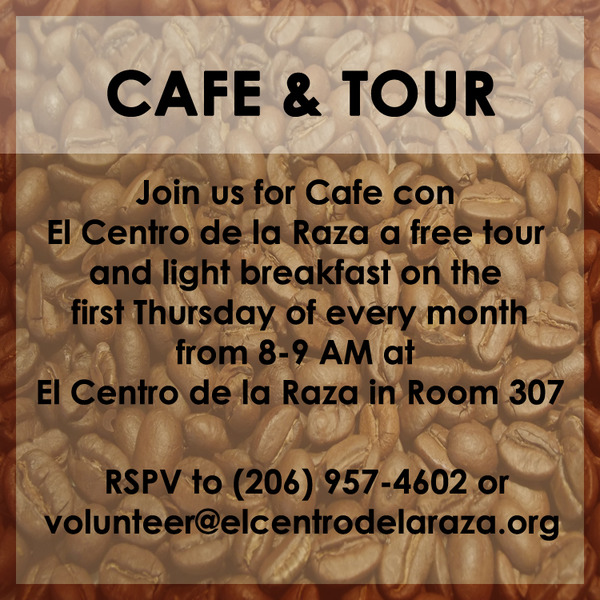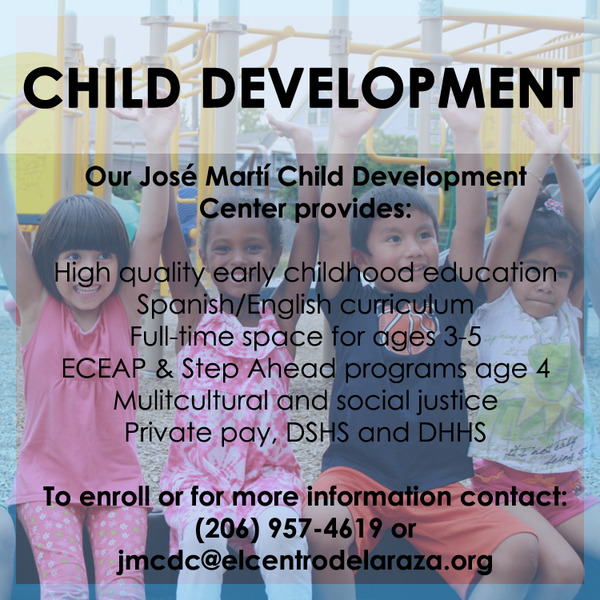 Board of Directors:
Juan Cotto, President
Roxana Amaral, Vice President
Pablo Mendoza, Treasurer
Victoria Kill, Secretary
Madrienne Salgado, Parliamentarian
Emma Catague
Norma Cuevas
Christina Garcia
Ricardo Garcia
Martha Jimenez
Alexandra Narvaez
Bianka Sanchez
Urbano Santos
Ramon Soliz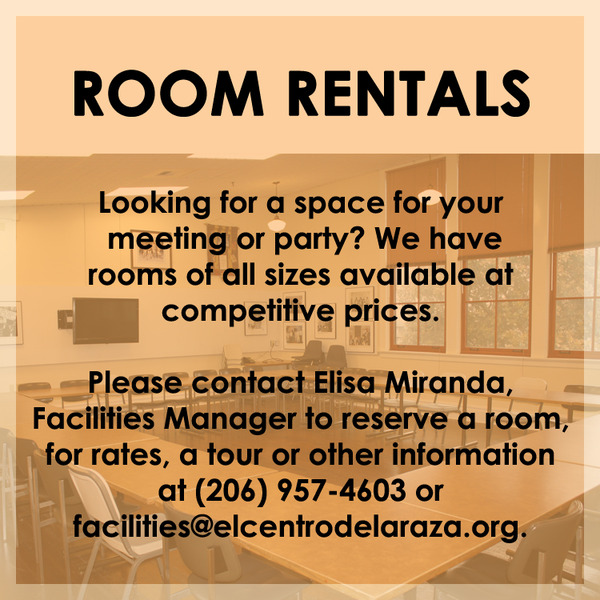 Programs and Services:
Bebes! Infant Mortality Prevention
Business Opportunity Center
Café con El Centro de la Raza
César Chávez Demonstration Garden
College Readiness
Comadre Monthly Workshops
COMCAST Digital Connectors
Community Meeting Space
Community Organizing
Community Service
Crisis Advocacy
Cultural / Political / Social Events
DSHS People Point Washington Connections
Economic Development
ECR Transitional Housing
El Patio Apartments
Employment Assistance
ESL Classes
Families & Education Levy Case Management
Financial Empowerment
Food Bank
Foreclosure Counseling
Health Coverage Enrollment
Historical & Educational Presentations
Homeless Assistance
Hope for Youth Poetry & Civil Rights History Classes
HUD Housing Counseling
Immigrant / Human / Civil Rights Social
Justice Advocacy
Low-Income Transit Fare Enrollment
José Martí Child Development Center
Labor Standards Outreach and Education
Latino Hot Meal Program
Legal Clinic Site
Local, State, National & International
Coalition Building
Luis Alfonso Velásquez Flores
After School Program
Parent-Child Home Program
Plaza Roberto Maestas
Santos Rodriguez Memorial Park
Seattle Youth Violence Prevention & Case Management
Senior Nutrition & Wellness
Senior Home Delivered Meals
Smoking Cessation
Summer Learning
Tax Prep Site
Veteran's Services
Volunteer Opportunities
Youth Case Management & Cultural
Enrichment
Youth Employment
Youth Technology Training