Mil gracias to all who attended our 11th Annual Día de los Muertos event on November 2nd. We hope you enjoyed dinner, chocolate and pan de muerto, visiting with fellow community members, and most of all the beautiful ofrendas. 35 different organizations joined us this year in creating ofrendas to honor the Black Lives Matter movement, making this our most diverse Día de los Muertos event yet.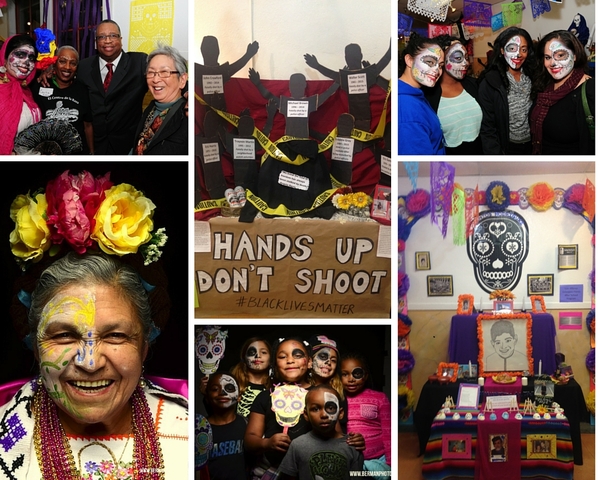 Photos by Daniel Berman and Tara Aal
This movement is so important because the United States is not yet a place where black lives matter as equally as they must. When black lives truly matter- when black people are no longer disregarded- then all lives will really matter. We will support this movement until people of color no longer disproportionately face violence at the hands of law enforcement. When black people no longer face higher levels of poverty, income inequality, lack of access to jobs, and when they no longer face discrimination in housing, educational segregation, and limited access to public transportation. Only then will it become impossible for the systems and practices ingrained in our society to engage in discrimination and racism against all communities of color.

We would like to thank our sponsors City of Seattle Office of Arts & Culture, 4Culture, and KUOW, and our in-kind donors Cash and Carry, Choke Shirt Company, La Mexicana, Pasteleria Del Castillo, Sysco, and Red Apple. We hope guests enjoyed all the wonderful food that was prepared by El Centro de la Raza's great kitchen staff, and hope to see you all at next year's event as well. Click here to view more photos and coverage from seattlepi.com.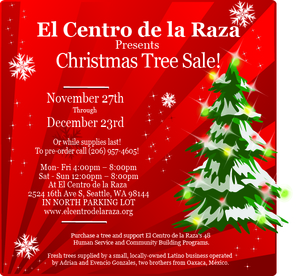 El Centro de la Raza is selling Christmas trees!
Buy your Christmas tree at El Centro de la Raza this year. Tree sales start on November 27th and end on December 23rd, or while supplies last. Proceeds from Christmas tree sales
go to our 48 programs and services. Trees and wreaths are provided by a small, locally owned Latino business run by Adrian and Evencio Gonzales, two brothers from Oaxaca, México. If you would rather pre-order your tree, fill out this form and return it to us before November 27th or call (206) 957-4605.
Respetuosamente,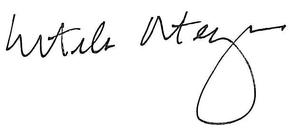 Estela Ortega
Executive Director

P.S. - Don't forget to "like" us on Facebook, and "follow" us on Twitter.
---
El Centro de la Raza News/Noticias

Remember Santos

We must also remember the life of Santos Rodriguez, a 12-year-old boy who was killed by a Texas policeman over the suspected theft of coins from a soda machine. Let us learn from the legacy of children such as Santos Rodriguez and Tamir Rice, to honor them and work towards creating a world free from worry for our children based on race. Claudia Castro Luna, Seattle's Civic Poet, wrote a poem in memory of Santos and was able to share it with Bessie Rodriguez, Santos' mother, when she visited El Centro de la Raza on November 2nd.
Think of Santos
Since not anger, not prayers, nor protests
The clock can stop and prevent the bullet
Fired by a half man and his coward hand
And no brotherly love nor mother's tears
Life into his lifeless body may inject
We who live yet must Santo's life recall
His narrow shoulders, the milk of his teeth
Remember his tomorrows in each day
In children smiling on their way to school
Cherish and protect the things he didn't get
When you say his name he lives inside you
Inside me live his truth, his hopes, his dread
So as the moon calls tides from her distant perch
So may one day soon Santos and Justice merge.
Giving Tuesday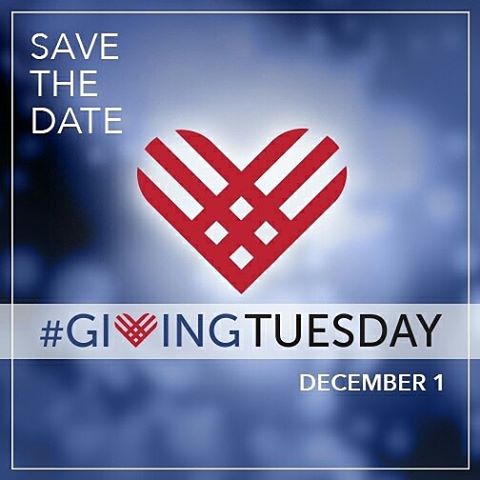 With less than a month until #GivingTuesday, we're encouraging our supporters to reflect upon why they give. Share what inspires you to give to El Centro de la Raza by submitting your personal giving story and we could both win this #GivingTuesday. Learn more here, and don't forget to donate on December 1st! ...read more

Save the Date: Gang of Four Book Signing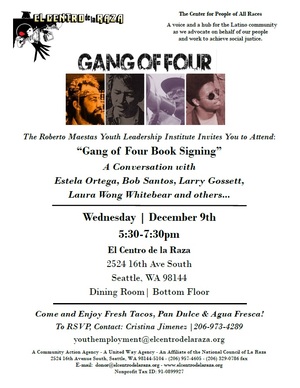 The Roberto Maestas Youth Leadership Institute is holding an event for the Four Amigo's Gang of Four book on Wednesday, December 9th, 2015 from 5:30 PM- 7:30 PM. The evening will include conversations between Estela Ortega, Bob Santos, Larry Gossett, Laura Wong Whitebear, and others about the book Gang of Four ...read more

Poetry Reading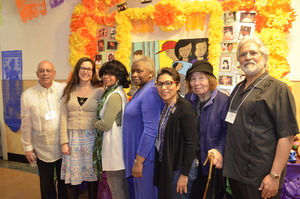 El Centro de la Raza hosted a reading by local writers from our diverse communities this past Tuesday November 10th. This event featured readings by Claudia Castro Luna, Georgia S. McDade, Robert F. Flor, Elissa Washuta, Jim Cantú, and Jacqueline A. Ware. ..read more

Plaza Roberto Maestas and Buy-a-Brick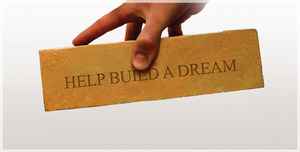 El Centro's Plaza Roberto Maestas was recently mentioned in an article by the Affordable Housing Finance about the low-income housing tax credit. Read the article here, and please join us in our Buy-a-Brick Campaign. ...Read more


Regístrese Ahora / Register Now

Book Launch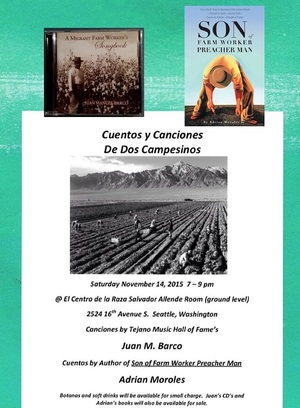 On November 14th from 7-9 PM, El Centro is hosting a book launch of Son of Farm Worker Preacher Man by author Adrian Morales. There will also be music by Tejano Music Hall of Fame's Juan M. Barco. ...read more


Enroll in Health Coverage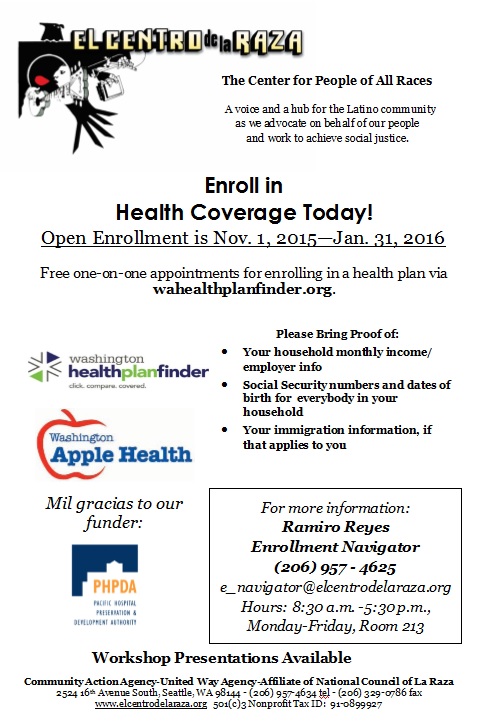 El Centro de la Raza offers help enrolling in a health coverage program specific for you. Dates of open enrollment are November 1st-January 31st. Find free one-on-one ...read more



Sign Up for Cooking Classes Today!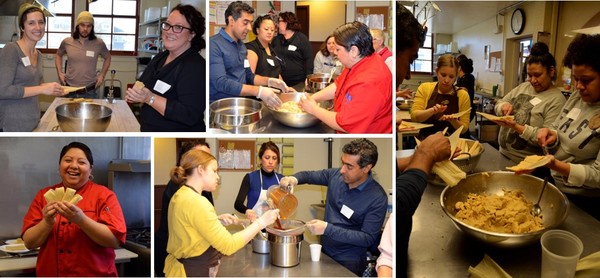 El Centro de la Raza has expanded its popular Tamale Making Classes to include a wider variety of cooking classes! Learn how to cook our favorite dishes, share in our culture, and meet new people ...read more


English Classes-Fall/Winter Program

Free English Classes are held on Tuesdays and Thursdays from 5:00 PM-7:00 PM and run until December 15th. Classes are held at El Centro de la Raza ...read more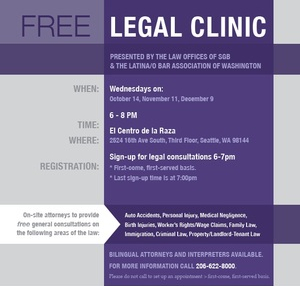 ---
Announcements/Anuncios

Court Decision on Immigration Reform

On November 9th, the U.S. Court of Appeals for the Fifth Circuit blocked President Obama's second proposed deportation relief program, the Deferred Action for Parents of Americans. DAPA would protect certain undocumented immigrant parents ...read more

Meet the Award-Winning Activists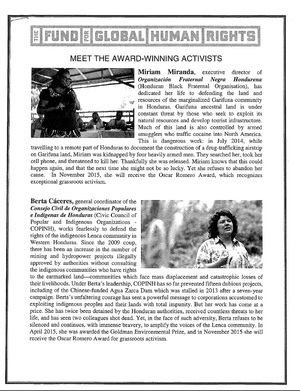 *Note time change
Don't miss out on hearing two amazing Honduran activists speak at El Centro de la Raza on November 16th from 6:00 PM-7:30 PM. This event ...read more



Holiday Spirit Lighting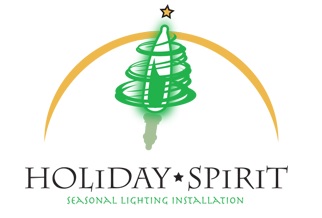 Take the hassle out of your holiday decorating and have Holiday Spirit Lighting put up your lights this year! Holiday Spirit Lighting will cover all of your lighting needs ...read more


Public Film Nights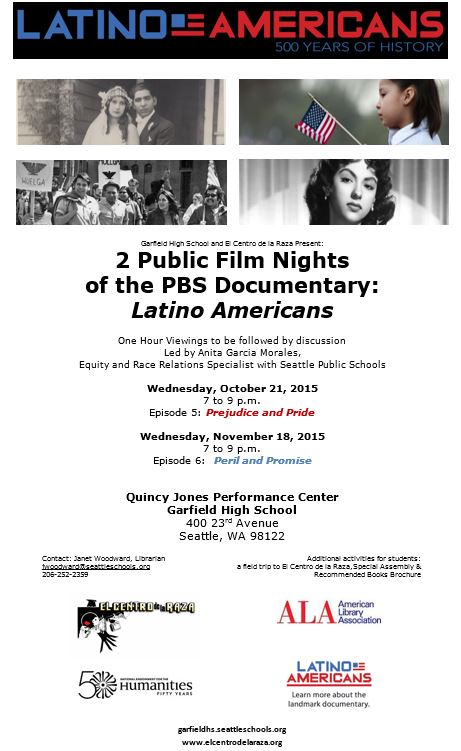 Garfield High School and El Centro de la Raza are putting on two public film nights and will be showing the PBS Documentary Latino Americans. Each night will consist of one hour of watching the documentary followed ...read more




ECDLR's Smoking Cessation Program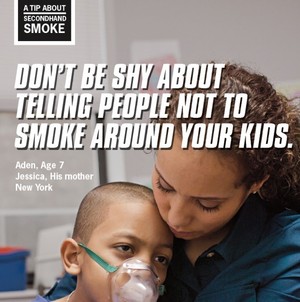 In King County, 10% of Latino adults are smokers and 10% of Latino high school students have smoked cigarettes in the past 30 days (Public health data watch 2012). ...read more



ORCA Lift Reduced Fare Program

Our Frances Martinez Community Service Center has a new transit fare program! The new reduced fare for riders on the Link Light Rail and King County Metro busses will be $1.50 per ride. ...read more
---
Our Community-Nuestra Comunidad

Thanksgiving Dinner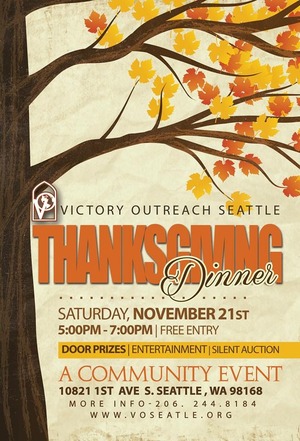 Victory Outreach Church is offering a free Thanksgiving dinner on Saturday, November 21st from 5 PM-7 PM. There will be dinner, door prizes, and a silent auction as well as dinner...read more




Interview with David Ayala-Zamora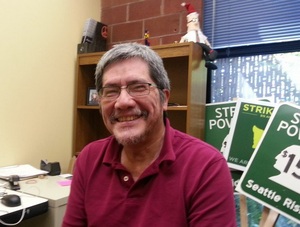 Author Peter Constantini recently had an article published by Foreign Policy Focus. His interview of veteran labor and immigrant organizer David Ayala-Zamora provides an inside ...read more


Stories from the Inside Fundraiser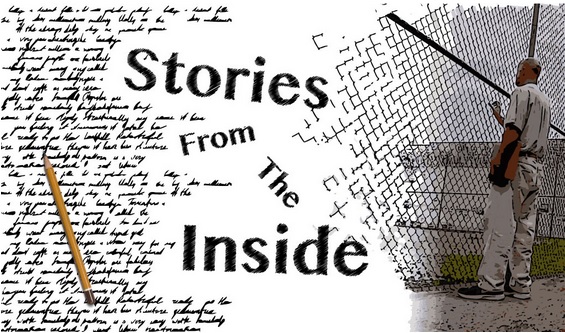 The Prison Within Documentary and Old Growth Northwest's Voices Behind Bars writing program is hosting a fundraiser on December 12th from 4:30 PM-7:30 PM. The event features ..read more

Encanto Program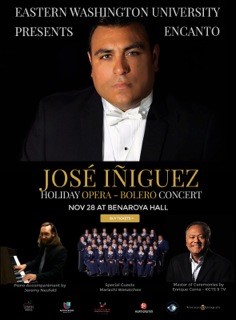 Join Eastern Washington University President Dr. Mary Cullinan as she welcomes you to a concert at Benaroya Hall in support of education on November 28th. Proceeds from ...read more




Seattle Public Safety Survey

Seattle University is administering the citywide Seattle Public Safety Survey. The survey is accessible at publicsafetysurvey.org from October 15th through November 30th ...read more

My Mañana Comes





ArtsWest is putting on a play entitled My Mañana Comes, which will run from October 29-November 22. The production provides a glimpse into the lives of four busboys in the Upper East Side of New York, and promises to be both humorous and haunting as ...read more


Healthy Home Check-up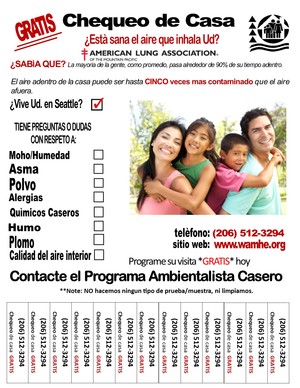 The Master Home Environmentalist Program through the American Lung Association is offering free home visits for those interested in learning more about improving their indoor air quality. ...read more




SANA Cancer Survivor Support Group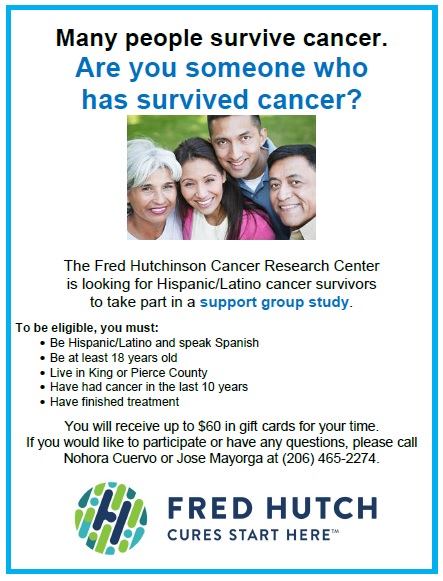 The Fred Hutchinson Cancer Research Center is looking for participants in a support group study. This is open to Hispanic and Latino cancer survivors ...read more



Save 60% on Your Electric Bill This Year
Having trouble paying your electric bills? You may qualify for Seattle City Light's Utility Discount Program, which offers free home energy visits to help you maximize your discount, as well as assistance with other utilities such as water, sewage, ...read more
Social Media Links:

Like what we do?



Then "like" us on Facebook!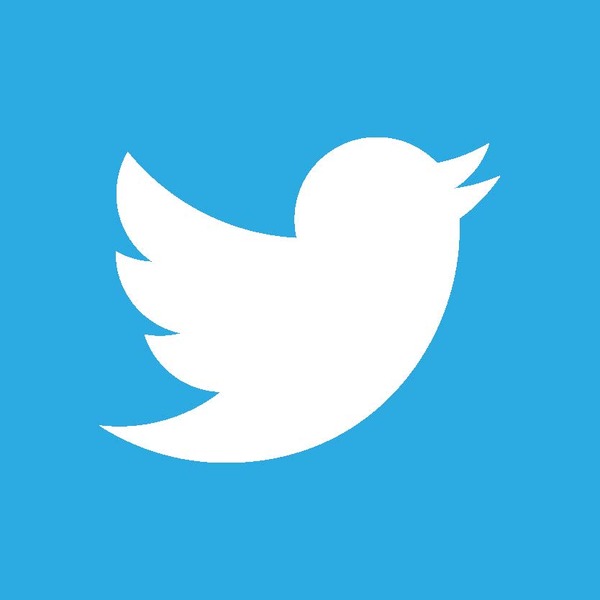 Follow us on Twitter for live updates on news and events!

In This Issue:

Día de los Muertos

Christmas Tree Sales

Buy-a-Brick

Book Launch

Holiday Spirit Lighting

Stories from the Inside Fundraiser

Seattle Public Safety Survey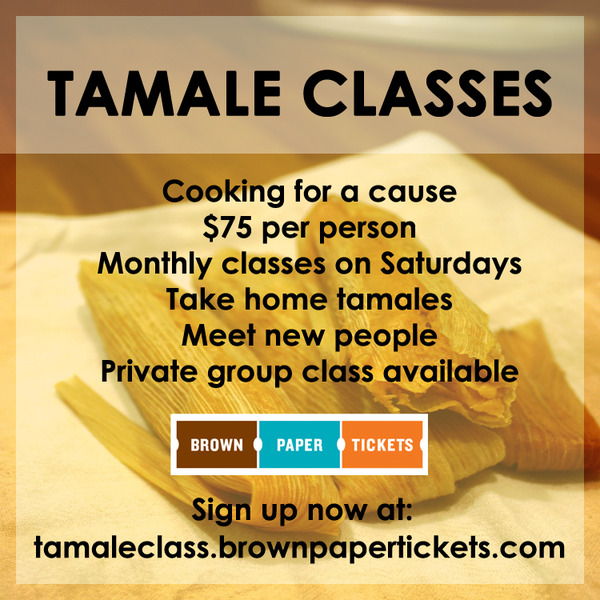 Help us improve our cooking classes by telling us what you want! Click here to take our quick 7 question survey.

Events Calendar:

Nov. 14 Adrian Morales Book Launch
Nov. 16 Meet the Activists
Nov. 21 Pozole Making Class
Dec. 1 Giving Tuesday
Dec. 9 Gang of Four Event

Mil Gracias Funders:
City of Seattle.
$1,984 to purchase kitchen equipment through Senior program.
WSHFC.
$30,000 in AGO funds for Foreclosure Counseling.
The Molina Foundation.
In-kind grant of children's books for Parent-Child Home Program participants
Seattle Office of Labor Standards.
$25,000 to conduct outreach and education on Seattle Labor Standards
Media Sponsor:



Board of Directors:
Ramon Soliz, President
Roxana Amaral, Vice President
Pablo Mendoza, Treasurer
Victoria Kill, Secretary
Madrienne Salgado, Parliamentarian
Francisco Calderon
Emma Catague
Juan Cotto
Norma Cuevas
Christina Garcia
Ricardo Garcia
Martha Jimenez
Alexandra Narvaez
Bianka Sanchez
Urbano Santos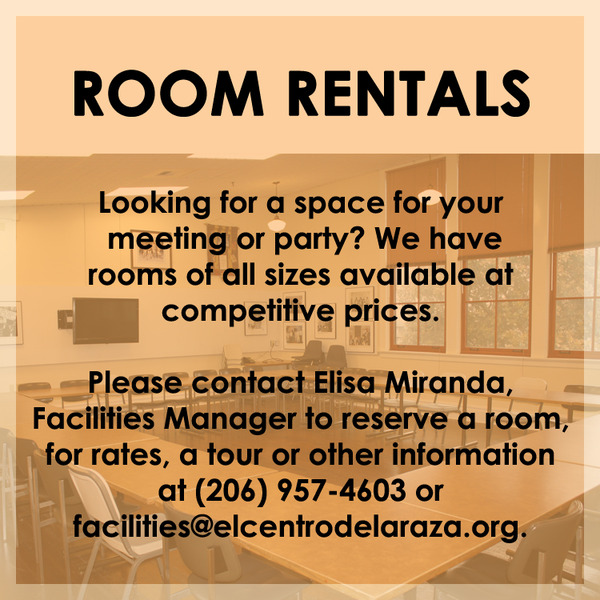 Programs and Services:
Bebes! Infant Mortality Prevention
Business Opportunity Center
Café con El Centro de la Raza
César Chávez Demonstration Garden
College Readiness
Comadre Monthly Workshops
COMCAST Digital Connectors
Community Meeting Space
Community Organizing
Community Service
Crisis Advocacy
Cultural / Political / Social Events
DSHS People Point Washington Connections
Economic Development
ECR Transitional Housing
El Patio Apartments
Employment Assistance
ESL Classes
Families & Education Levy Case Management
Financial Empowerment
Food Bank
Foreclosure Counseling
Growing & Learning Together
Health Coverage Enrollment
Healthy Cooking Classes/Nuestras Comidas
Historical & Educational Presentations
Homeless Assistance
Hope for Youth Poetry & Civil Rights History Classes
HUD Housing Counseling
Immigrant / Human / Civil Rights Social
Justice Advocacy
Low-Income Transit Fare Enrollment
José Martí Child Development Center
Latino Hot Meal Program
Legal Clinic Site
Local, State, National & International
Coalition Building
Luis Alfonso Velásquez Flores
After School Program
Parent-Child Home Program
Plaza Roberto Maestas
Santos Rodriguez Memorial Park
Seattle Youth Violence Prevention & Case Management
Senior Nutrition & Wellness
Senior Home Delivered Meals
Smoking Cessation
Summer Learning
Tax Prep Site
Veteran's Services
Volunteer Opportunities
Youth Case Management & Cultural
Enrichment
Youth Employment
Youth Technology Training