Estimad@ Amig@
{FIRST_NAME}
,
On behalf of El Centro de la Raza, feliz año nuevo! We are so excited to be starting off the new year with great news. Thanks to your dedicated voting and spreading the word, El Centro de la Raza has been selected as the winner of the 2013 National Council of La Raza (NLCR) Affiliate Photo Contest! As winners of this contest, El Centro de la Raza will receive a complimentary ticket to the NCLR Capital Awards Gala in Washington, D.C., a free roundtrip Southwest Airlines ticket to any destination, and a free Android smart phone. We plan to use the prizes to raise money for our programs in our annual auction gala. Mil gracias to all who helped us win this contest and receive national recognition!
Additionally, we would like to shed light on a current economic justice issue in Seattle. In an effort to continue the struggle to alleviate poverty, new Seattle Mayor Ed Murray recently issued an executive order to develop a plan to raise the minimum wage of all city employees to $15 an hour. El Centro de la Raza has also decided to increase its minimum wage to $15 an hour starting in 2014. Although this is by no means a solution to the economic equity gap, it is certainly an important step for social justice. Be sure to read on for U.S. Representative Nancy Pelosi's thoughts on the minimum wage issue as it pertains to minorities and women in the workplace.
Lastly, thanks to your generosity we raised a total of $13,075 during our 2013 holiday appeal campaign. Your donations helped families in need make it through the holiday season and your continued support ensures that our children stay in school, that there is food in our food bank, and that homeless families find housing. If you didn't get a chance to donate, you can extend the giving season and give now. Mil gracias for making El Centro de la Raza a place that people can continue to call home, and for exemplifying what it means to give back. YOU ARE El Centro de la Raza.
Respetuosamente,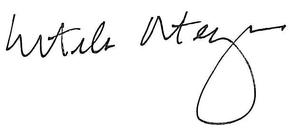 Estela Ortega
Executive Director
---
2013 Service Awards
Every year, El Centro de la Raza finishes off the holiday season by recognizing volunteers and staff who have demonstrated excellence of service and dedication to our mission and our community. Felicidades and mil gracias to all of our award recipients:
Employee of the Year
Graciela Ayala
Volunteers of the Year
Volunteer Hero Award - Marlene Taylor
Exemplary Volunteer - Jamie Piña Bautista
Equipo del Año Award
Latina/o Bar Association of Washington
Spirit Award
Brenda Mendoza
Bertha Hernandez
Executive Director's Awar
d
Mike Moore
James Slone
3 Years of Outstanding Service

5 Years of Outstanding Service

10 Years of Outstanding Service
Raquel Garcia
15 Years of Outstanding Service
Martha Diaz
Sandra Medina
Congratulations to our award winners, and mil gracias for all that you do at El Centro de la Raza!
---
El Centro de la Raza News/Updates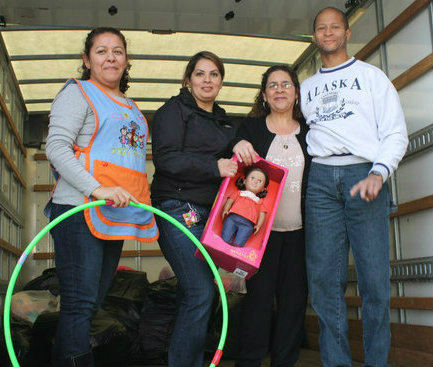 (Pictured Above: JMCDC Director Hilda Magaña and staff receive toy donations)
Thanks to some generous donors, El Centro de la Raza was able to wrap and present a gift to each of the 172 students in the José Martí Child Development Center and the Luis Alfonso Velasquez After School Program.

On Monday, December 16th El Centro de la Raza was very excited to receive a truck full of toy donations from two very passionate and generous groups! Mil gracias to Toys for Tots organized by Julis Gibson & U.S. Marine Corps Reserves, and to the Seattle Latino Meet Up group organized by Junior Torres!

Gifts to our children would not be possible without the gracious donations from these two groups. Gracias for bringing joy to our children during the Christmas season.
__
"When Women Succeed, America Succeeds"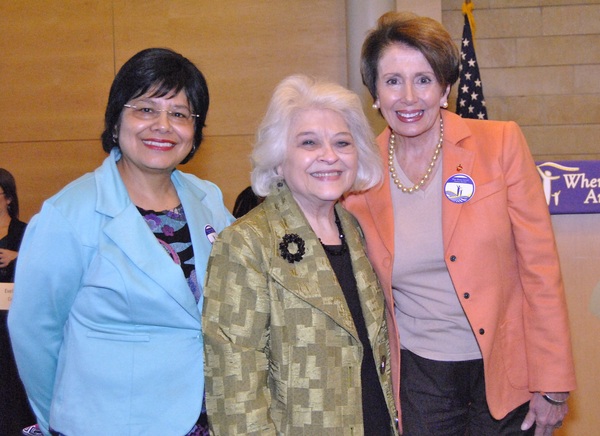 (Left to right: ECDLR Executive Director Estela Ortega, former Washington State House Representative Phyllis Gutierrez Kenney, Former U.S. Speaker of the House Nancy Pelosi)
On November 25th, Seattle was fortunate to host former Speaker of the House Nancy Pelosi, as part of her national tour to discuss issues of gender equality in the American workforce. Pelosi's campaign, known as "When Women Succeed, America Succeeds," sheds light on the wage gap between women and men in the United States and other injustices that women face when seeking employment. Pelosi pointed out that on average, women make only 77 cents to every dollar that men make, with even larger gaps facing Latina and African-American women. The main issues that Pelosi said need to be addressed for women in the workforce are higher minimum wages and equal pay for equal work, affordable childcare, pregnant workers fairness, and more investment in job training and education opportunities for women.

The event was well attended, and many El Centro de la Raza employees were in attendance. Click here to learn more about the "When Women Succeed, America Succeds" campaign.


__
Save the Date for Latino Legislative Day!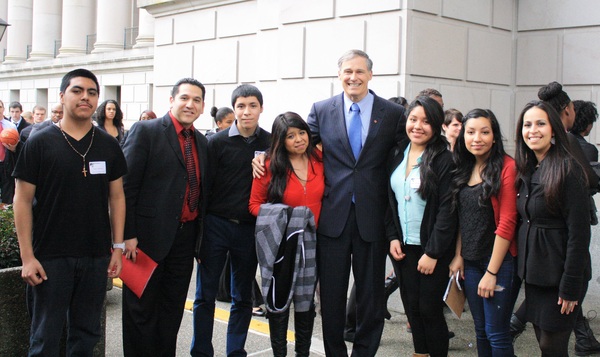 (El Centro de la Raza youth with Governor Jay Inslee at Latino Legislative Day 2013)



Every year the El Centro de la Raza community comes together to participate in Latino Legislative Day, a day at the State Capitol in Olympia to meet with legislators, participate in informational seminars, and discuss plans to tackle issues that are important and relevant to the Latino community. The event is organized by the Latino Civic Alliance, and this year it will take place on Monday, February 10th. Click here to register to participate in this year's Latino Legislative day. We hope to see you there!
__
Free Tax Prep at El Centro de la Raza
United Way of King County offers free tax preparation at 19 locations in King County with sites opening on Tuesday, January 14. This year, El centro de la Raza is one of the sites! More information is below.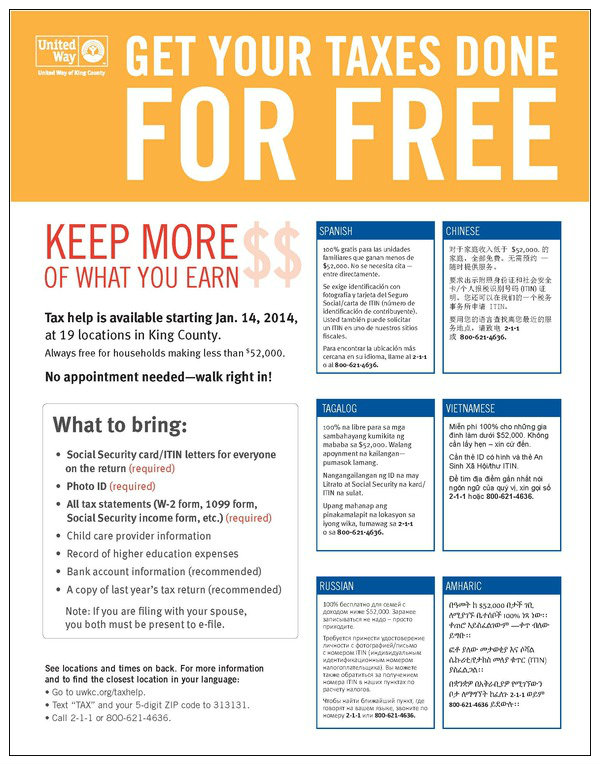 For site locations, hours of operation, maps and more information visit uwkc.org/taxhelp or call 2-1-1. Anyone making under $58,000 annually can also file online by visiting www.myfreetaxes.com/kingcounty.
__
Free Bilingual Legal Clinics at El Centro de la Raza
Need legal assistance but can't afford it? Mil gracias to Schroeter Goldmark & Bender and the Latina/o Bar Association of Washington for graciously offering free legal clinics again in 2014. We are excited to be hosting these bilingual clinics here at El Centro de la Raza! More information can be found below, English information can be found here.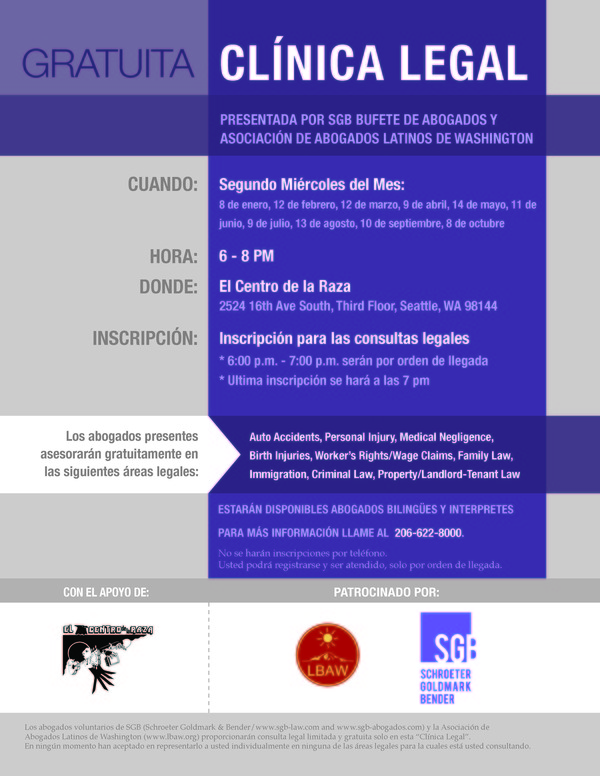 __
Sign Up for 2014 Spanish Classes
El Centro de la Raza offers Spanish classes for adults at beginner to intermediate levels. Classes are instructed by professional native Spanish speakers in an interactive community-based setting. We are enrolling now for the next session, sign up now while there's still room! Details can be found below:
Winter Session: January 21 - March 27
Tuesdays/Thursdays 6:00-7:30 PM

Fees support our 40 programs & services

Call for information (206) 957-4605 or e-mail execasst@elcentrodelaraza.org
__
Join Us for Homebuyer Education Workshops
Starting in February, El Centro de la Raza's Homeownership Center will be starting a series of Homebuyer Education Workshops. These classes will give you an overview of the homebuying process and will be led by fully bilingual volunteers and staff. Information in Spanish is below, the English flyer can be found here.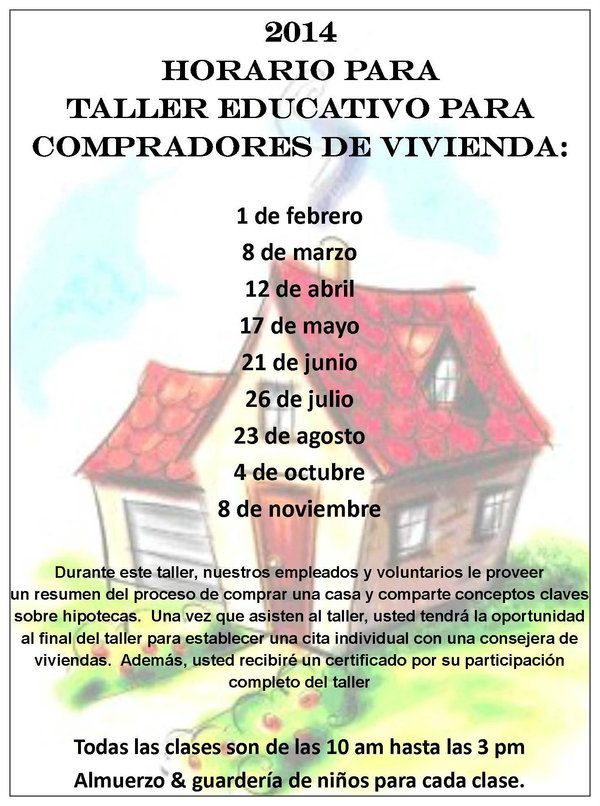 __
El Centro de la Raza Office Space for Lease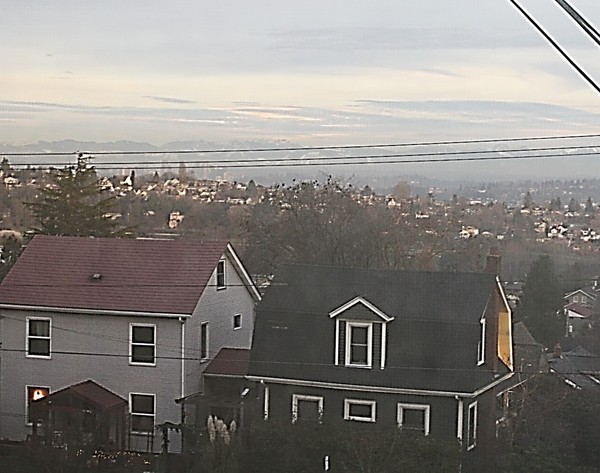 (Pictured Above: View from office window)
El Centro de la Raza has a 1,055 square foot office space available. The space was redesigned by the previous tenant to create a small opening reception office space, a huge back office and a small storage/office space. The space is located in the historic Beacon Hill School building that was built in 1905. The space itself has been updated, but for the most part the building and space has maintained much of its historic look. We are located in the heart of North Beacon Hill across from the Beacon Hill Light Rail Station and the organization has become a hub of the Latino Community with its 40+ service programs that it provides to the community. Please come visit us or contact our Facilities Manager, Elisa Miranda, if you are interested in this space. She can be reached by phone (206) 957-4603 or email: facilities@elcentrodelaraza.org.
---
Nuestra Comunidad -
Our Community
The Fight to Free Nestora Salgado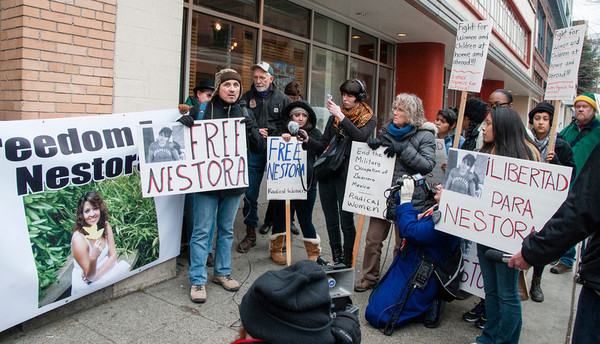 (Protesters and activists spread awareness about Nestora Salgado)
El Centro de la Raza, along with many other organizations around the country are calling for the release of Nestora Salgado, a resident of Renton, WA and passionate community leader. Nestora Salgado was unlawfully detained and transferred to a maximum security prison in Mexico last year for standing up against crime and corruption and has since been kept in inhumane conditions and without access to legal counsel.

Nestora has been a leader in her hometown of Olinalá, Guerrero for many years and provided leadership in helping organize the community police force after the Guerrero police failed to ensure the safety of its residents amidst growing numbers of kidnappings and murders. Her family will be joining the MLK Day March and Rally in Seattle and invite you to join and march in solidarity with Nestora and the 12 other community leaders and community police force officers who have since been unlawfully detained. Similar marches have been organized around the United States and internationally in several countries. Click here for more information.
Hirabayashi Place Groundbreaking
Join El Centro de la Raza and Interim CDA on Saturday, January 25th for the groundbreaking of a new affordable housing complex in the historic Japantown! El Centro de la Raza is very excited to be a part of this new development, as it will be home to a childcare center operated by El Centro de la Raza. Learn more about the event below.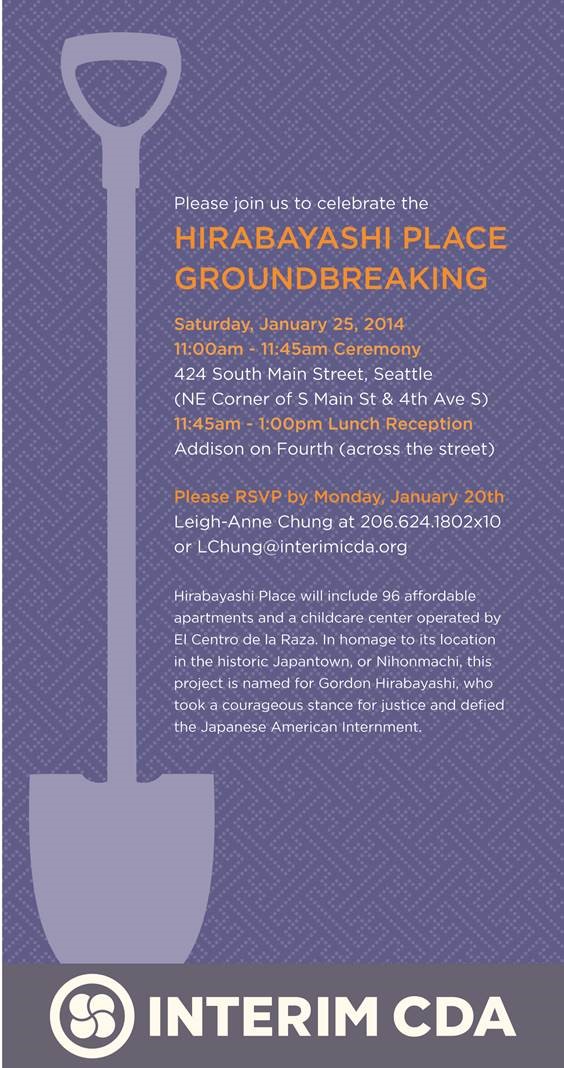 __
An Evening With Justice Sotomayor

As the first Latina and only the third woman to be appointed to the U.S. Supreme Court, Justice Sonia Sotomayor's story is truly inspirational. On Monday, March 10th Justice Sotomayor will be here in Seattle, at Town Hall to share her new book, "My Beloved World," and talk about her journey to becoming a Supreme Court Justice. Unfortunately due to the popularity of the event, it is currently sold out, but more information about the event can be found here. We suggest checking the event website regularly, as circumstances may change and spots may become available. Click here for more detailed information about Sonia Sotomayor and her life.
__

Get Your Small Business Certified This Year

The Washington State Office of Minority and Women's Business Enterprises (OMWBE), is launching a traveling road show throughout the state to help your small business get state and federally certified! The Get Certified Campaign'
s main goal is to educate small businesses around the state about the benefits of getting certified, and to help and encourage them to start the process. If you are a small business owner or hope to be a small business owner, don't miss this opportunity to learn straight from state officials who certify your business. Click here to see a list of sites and dates around the state, and to register for an event near you. Click here to visit the Get Certified Campaign's web page for more information.


__



Community Action Year 2014!

In 1964, President Lyndon B. Johnson declared a War on Poverty and signed the Economic Opportunity Act which created Community Action Agencies and other programs to fight poverty. 50 years later, we are still working hard to fight poverty, and Governor Jay Inslee has declared 2014 Community Action Year in honor of the struggle for economic equity. The Washington State Community Action Partnership (WSCAP) has launched a 2014 campaing called "Community Taking Action," a movement to honor Washington State's progress towards alleviating poverty. As a Community Action Agency, El Centro de la Raza is looking forward to working with you - our comunity, nuestra comunidad - to spread awareness about issues of economic and social justice. Click here to read more about the Community Taking Action movement and how you can get involved.
In This Issue:
2013 Service Awards
Toys for Tots 2013
U.S. Representative Nancy Pelosi Visits Seattle
Latino Legislative Day 2014
United Way Free Tax Prep
Free Bilingual Legal Clinics
Homebuyer Education Workshops
Fighting to Free Nestora Slagado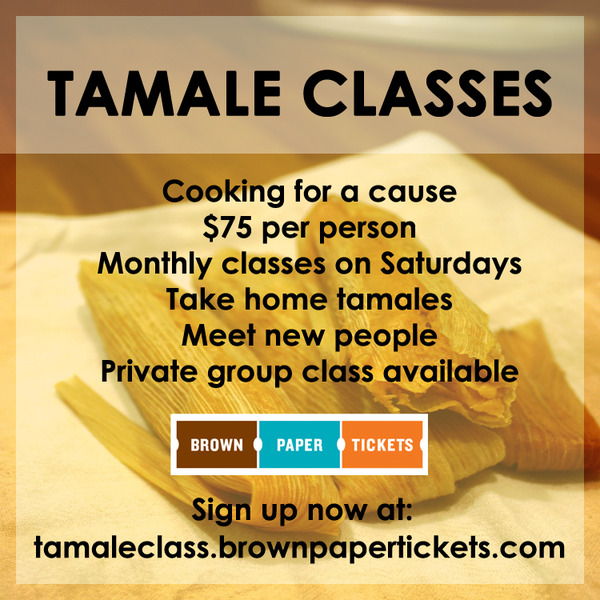 Mil Gracias January Funders:
Northwest Area Foundation
$100,000 for Volunteer Program & Asset Building

Paul G. Allen Family Foundation
$100,000 for Homeownership Center
Events Calendar:
Jan 14: Tax Prep Begins
Jan 20: MLK Day
Jan 25: Tamale Class

Feb 6: Café Con El Centro
Feb 10: Latino Legislative Day

Local:
►Mayor Murray names new interim police chief
►DREAM Act passes state House in rare first-day vote

National:
►California's immigrant health care proposal
► Hope for preschool push funding
Board of Directors:
Ramon Soliz, President
Jeff Middelton, Vice President
Pablo Mendoza, Treasurer
Roxana Amaral, Secretary

Francisco Calderon
Juan Cotto
Cristina Garcia
Dorry Elias-Garcia
Ricardo Garcia
Victoria Kill
Alexandra Narvaez
Madrienne Salgado
Bianka Sanchez
Urbano Santos
Ofelia Alanis Torres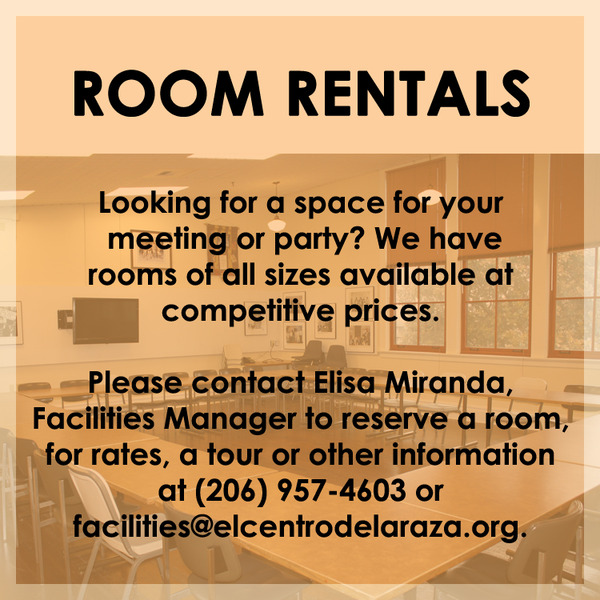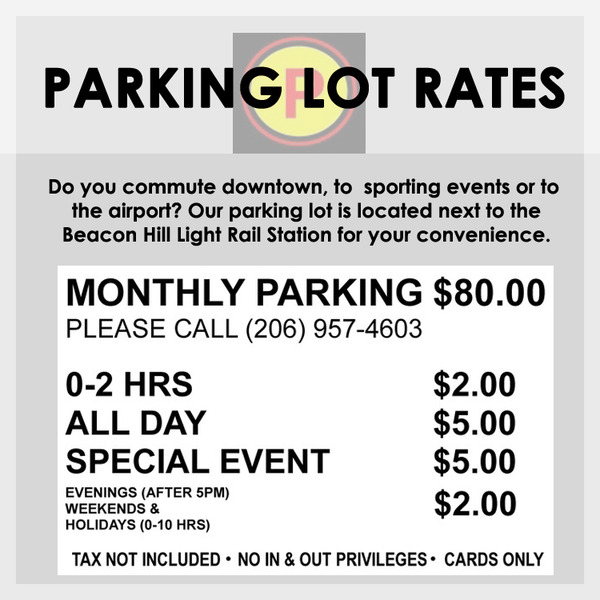 Programs and Services:
Basic Healthcare Enrollment
Bebes! Infant Mortality Prevention
Café con El Centro
César Chávez Demonstration Garden
College Readiness
COMCAST Digital Connectors
Community Meeting Space
Community Service
Crisis Advocacy
Cultural / Political / Social Events
Economic Development
ECR Transitional Housing
El Patio Apartments
Employment Assistance
ESL Classes / Spanish Classes
Financial Empowerment
Food Bank
Foreclosure Counseling
Growing & Learning Together
Homeless Assistance
Hope for Youth Poetry & Civil Rights History Classes
HUD Housing Counseling
Immigrant / Human / Civil Rights Social
Justice Advocacy
José Martí Child Development Center
Latino Hot Meal Program
Legal Clinic Site
Local, State, National & International
Coalition Building
Luis Alfonso Velásquez Flores
After School Program
Parent-Child Home Program
Plaza Roberto Maestas
Santos Rodriguez Memorial Park
Senior Nutrition & Wellness
Smoking Cessation
Tax Prep Site
Transit Oriented Parking
Veteran's Services
Youth Case Management & Cultural
Enrichment
Youth Employment
Youth Technology Training
Youth Violence Prevention