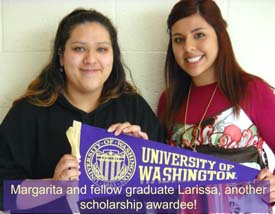 Margarita* will not only be the first in her family to graduate from high school, but also the first to attend college. The recent graduate, however, wasn't always planning to attend college, and her family wasn't sure of how to support her. But that didn't stop Margarita!

Through the College Readiness Program here at El Centro de la Raza, Margarita received guidance through the elaborate college application process from beginning to end, and has made amazing strides in molding her destiny.

Successes like Margarita's are possible because of the support you offer to our youth through programs like College Readiness. How has your belief in participants like Margarita made a difference? Well, she will be attending the University of Washington in the fall on a full Husky Promise scholarship, with an additional Seattle Public Schools Scholarship of $2,000, amongst other awards. I hope you're as proud of Margarita as we are!



"Now [my family] can see how I am reaching my goal of pursuing a better education. They now say that I'm their pride and future and they finally understand and respect how hard I've worked to get where I am today."

A program like College Readiness does more than increase the number of graduates from our public schools that go on to higher education. It empowers our individual youth to actively shape their future and reach for their dreams.

On June 3rd, we celebrated the achievements made by Margarita and the other 83 graduating seniors and 66 promoted 8th grade students from Proyecto Saber and Seattle Public Schools. The evening celebration was a joyous and festive event, with recognition of 84 graduates—all of whom are determined to continue on their paths of success. 82 of the graduates will go on to higher education, with many receiving awards and scholarships adding up to a grand total of $166,900! What's more, an outstanding 95% of the seniors involved in Proyecto Saber and El Centro youth programs graduated this year! Go here to read Mayor McGinn's congratulations to the graduates.

So join me in saying, "hats off to you, grads!" We know it was hard work, and our admiration for your achievements is great. Buena suerte in your future endeavors!
Siempre bienvenidos, nuestra casa es su casa.
Estela Ortega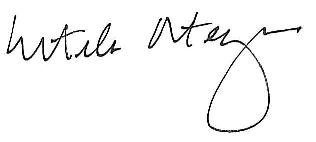 Executive Director
Ps - And of course, visit our website to stay up-to-date on the happenings at El Centro and in nuestra comunidad—our community.



*Name has been changed.
Save the Date for El Centro Events!
2011 Families & Education Levy Campaign Kickoff!
at El Centro de la Raza
Saturday, June 18th from 10:30-11:30am in our beautifully renovated Santos Rodriguez Memorial Park
Please join us along with civic leaders, community activists, education advocates and school children to celebrate the official launch of the 2011 Families & Education Levy Campaign! Follow this link for more information, and go here to RSVP.
---
Thinking of purchasing your first home? Join us for an informative
Pre-Purchase Event
at El Centro de la Raza
Saturday, June 18th from 10:00am-3:00pm
The Homeownership Department will be hosting this pre-purchase event that will provide information on how to obtain your first home. Presenters will include a realtor, creditor, home insurance agent and an El Centro de la Raza Homeownership Counselor. Childcare provided, admission is free. Event will be held in Spanish.
---
Financial Literacy Class
at El Centro de la Raza
Saturday, June 18th from 1:00-4:00pm
Open to all, the Financial Literacy Class this Saturday will discuss budgeting, credit and banking/investing. Class will be taught in English and in Spanish. For more information, contact Greg Forkins at (206) 957-4646.
---
Representative Luis Guiterrez Town Hall: Campaign for American Children and Families
at Town Hall, 1119 8th Ave., Seattle, WA 98101
June 26th beginning at 1:30pm
Brought to you by OneAmerica and sponsored in part by El Centro de la Raza, this Town Hall meeting will join together Rep. Guiterrez with faith leaders and elected officials to highlight the toll that deportations are taking on Washington's children and families. We'll also hear from Washington state children and families on the urgent need for administrative relief. Please follow this link for more information and to RSVP.
---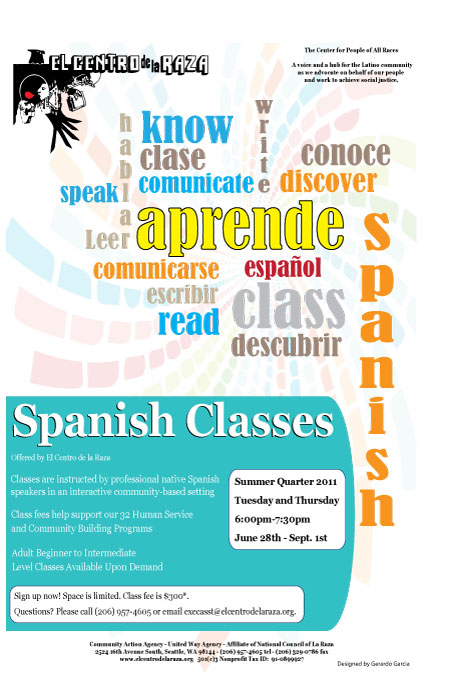 ¡Hola! ¿Quieres aprender español?
Hello! Do you want to learn Spanish?
Enrollment still open for Summer Spanish Classes!
Adult Beginner - Intermediate Spanish Classes
at El Centro de la Raza
July 5th to September 12th
Monday-Thursday 6:00-7:30pm*

Classes are instructed by professional native Spanish speakers in an interactive community-based setting. Space is limited - sign up today! Class fee is $300.

*Date and time changes, contact (206) 957-4605 or email for more details. Print out registration form here.


---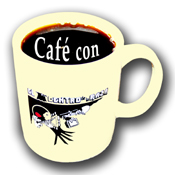 You're invited!

Café con El Centro
at El Centro de la Raza
Thursday, July 7th from 8:00-9:00am
How can you become an integral part of the community at El Centro de la Raza? You can start by RSVPing to an upcoming Café con El Centro!

The Café is a great way to introduce yourself to our executive director Estela Ortega, a member of our board, and staff from our programs. Learn the history of our roots, tour our building and programs, find out about ways to get involved, network with like-minded folks and share coffee and pan dulce with us.

Café con El Centro takes place the 1st Thursday of every month. Call 206-957-4652 or email to RSVP for the upcoming July 7th Café.
Coffee generously donated by Starbucks!
---
Roberto Maestas Festival Street Unveiling during Beacon Rocks! on August 28th*
On April 25th, Seattle City Council passed the naming of S Lander Street between 16th and 17th to S Roberto Maestas Festival Street. Please join us on June 28th from 1 to 5pm during Beacon Rocks! to celebrate the unveiling of the newly named street. Stay tuned to our website for specific details.

*Note: Date change
---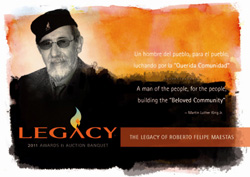 Legacy Awards and Auction Banquet
downtown at the Washington State Convention Center
Saturday, September 24th,
beginning at 5:00pm
$100 per seat




Un hombre del pueblo, para el pueblo, luchando por la "Querida Comunidad"
El legado de Roberto Felipe Maestas

A man of the people, for the people, building the "Beloved Community"
The legacy of Roberto Felipe Maestas
Go to Brown Paper Tickets to reserve your seat or call our Auction Coordinator to pay with a credit card over the phone (contact details below). You can also send a check made out to El Centro de la Raza in the amount of $100 per seat to:
El Centro de la Raza
Attn.: Auction
2524 16th Ave. S
Seattle, WA 98144
We've already gotten some fantastic items for this year's event—check out this link for a sneak peek!

For more information or to purchase your seats over the phone, contact Sonya Ortis, our Auction Coordinator, through email or call her at (206) 957-4649.
The Legacy of Roberto Felipe Maestas
We are now accepting nomination applications for individuals who have exemplified building the "Beloved Community" through multi-racial unity, and working to eliminate poverty, racism and social inequity. Go here to download and print the application. The deadline for application submission is Friday, July 15th.
Awards made possible by the Marguerite Casey Foundation.
Survey: Are you interested in a "Cine Club"?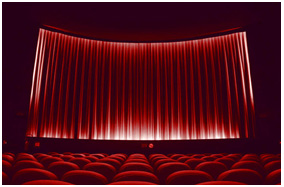 El Centro de la Raza is considering a "Cine Club" (Cinema Club) to promote and develop understanding of Latin American Culture through culturally relevant films. Take our short survey and tell us your thoughts!
Anuncios y Felicitaciones - Announcements and Congratulations
Hope for Youth's "Know Your Rights Training"
In continuing with the "Know Your Rights Training" series in area high schools that focus on allowing students to understand their rights and responsibilities when dealing with police, FBI and immigration, this Thursday, June 16th will offer a special session at Ballard High School. Latino Officer Adrian Diaz will be presenting to the students, and King 5 news will be filming for a human interest story showcasing the strides being made in building positive relationships between officers and the community.
---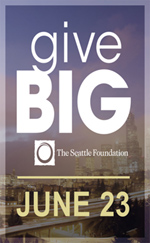 give BIG:
Stretch your donation to greater proportions on June 23rd!
On Thursday, June 23rd from 7:00am to midnight, donations made to El Centro de la Raza through our page on The Seattle Foundation's site will be stretched further with partial matching by The Seattle Foundation and their sponsors. So if you're thinking of giving to El Centro, why not plan for it on that day and make your donation go even further?
---
El Centro de la Raza's Homeownership Center partners with Bank of America
We're pleased to announce we will be working with Crystal Nguyen, a counselor from the new Bank of America Customer Assistance Center located in downtown Seattle. Crystal will be in our office once a week helping with our Bank of America participants. If you or someone you know is in need of homeownership counseling and is currently mortgaged with Bank of America, please contact Arlene Chavez at (206) 957-4616 for more information or to schedule an appointment.
---
Recap: Santos Rodriguez Memorial Park, Playground, Community Circle and Gathering Space Celebration!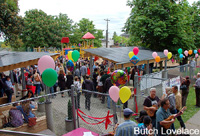 Over 200 children, students, community members and their friends and families gathered on June 9th to celebrate the upgrades made to the Santos Rodriguez Memorial Park at El Centro de la Raza. Attendees were treated to free food and special presentations by the children of the José Martí Child Development Center and the Seattle Fandango Project.

The improvements were made possible with a $64,000 King County Parks Youth Sport Facility Grant and a $20,000 City of Seattle Department of Neighborhoods Small and Simple Grant. Architecture students from the Neighborhood Design Build Studio from University of Washington steadfastly worked to build a community circle and covered spaces for children's activities and community gatherings. Their hard work was unveiled at the celebration, and we celebrated the efforts of all the donors and volunteers who contributed their time to build the spectacular playground and gathering spaces. Mil gracias to all our funders and donors listed in the funder section in the right-hand column, and another mil gracias to the steering committee: Judith Edwards, Rocio Espiritu, Ashley Haugen, Maria James, Hilda Magaña, Elisa Miranda, Estela Ortega, Luis Rodriguez and Qasim Smith.

Stay tuned for the next phase of improvements to the park that will be made possible by the Seattle Opportunity Fund. Gracias to All!
---
Recap: Public forum with Superintendent Enfield
Dr. Susan Enfield, the newly appointed interim Superintendent of Seattle Schools held a public forum with Latino parents and community members at El Centro de la Raza. 80 people were in attendance for the discussion, which ranged from classroom environment to increasing the numbers of career counselors. Superintendent Enfield was very open and responded to each question with great care and concern. This meeting was sponsored by Campaña Quetzal, Casa Latina, the Commission on Hispanic Affairs, El Centro de la Raza, Seamar Community Health Centers, Concord International School and the Latino PTA of Beacon Hill.
---
Recap: Meeting with Seattle Police Chief John Diaz
Seattle Police Chief John Diaz and the Latino Advisory Committee of the Seattle Police Department held their monthly meeting at El Centro de la Raza where staff members and other community representatives were able to ask direct questions about the department, the suspension of Officer Shandy Cobane and about the relationship that the police have with Latino youth.
---
Community Arts & Cultural Groups at El Centro
El Centro de la Raza provides free and discounted space to several community-based art, cultural and dance groups, like Seattle Fandango Project, which offers free workshops you can attend on Saturdays from 12:30 to 2:30pm in the Salvador Allende room. For more information about Fandango and the other groups, follow this link.
---
College Bound Scholarships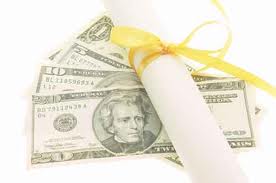 Did you know that the State of Washington will guarantee tuition to a Washington public college or university to any student on the federal free and reduced lunch program—if that student maintains a 2.0 grade point average and does not commit a felony during their entire high school career? The College Bound Scholarship provides hope and incentive for 7th and 8th grade students who otherwise might not consider college as an option because of its cost. Read more from Mayor McGinns blog here. The deadline for applications is June 30th—even if you don't have a child who qualifies, you probably know someone who does. Spread the word! More information here.
Coming Up Soon!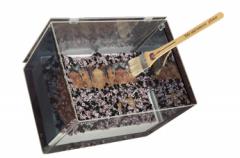 Remember Me: Voices of the Silenced in Colombia Art Exhibit
on display at El Centro de la Raza
June 23rd to July 11th
Opening night reception on Thursday, June 23rd beginning at 6:00pm
Remember Me is an exhibit of original art that brings to life Colombia's decades long conflict. Come and honor the power of art to promote peace, justice and human rights. For more information, go here.
News Roundup
IN THIS ISSUE:
DO YOU GOODSHOP?
Don't forget
- if
you use GoodSearch as
your search engine, or do
your online shopping through GoodShop, you can raise money for El Centro de la Raza without spending an extra penny (with coupons through Goodshop, you might actually save money!)
QUICK LINKS:
ONGOING EVENTS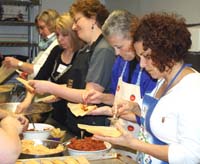 Tamale masters in the making during the March 12th class.
Tamale Making Classes
at El Centro de la Raza
Have you always wanted to learn how to make tamales? Now is your chance to learn from a master tamalera! The class fee is $75 per person and includes tamales. The fees go to support our Senior Wellness Program. Register here!

Classes are on the following Saturdays, from 10:00am to 12:30pm:

June 25th
July 9th and 23rd
August 6th and 27th

For more information, please call (206) 957-4611 or email.
---
¡COMADRES!
Un grupo de apoyo y de conversación para la mujer Latina!
Reuniones continuarán en septiembre.

Para más información favor de contactor a Diana Mena (206) 957-4641.
---
¡EDÚCATE!
Parent Involvement Workshops
Programa de apoyo para la participación escolar.
Nuestros servicios incluyen (1) apoyo individualizado para los padres de familia y (2) ofrecemos talleres educativos para los padres de familia.

Todos los talleres serán en El Centro de la Raza a las 5:30pm en el cuarto 106 (planta de abajo). Próximas talleres serán:

• 15 de junio - La comunicación, resolución de conflictos y la disciplina.
• 6 de julio - El auto-estima y la presión de los compañeros.
• 19 de agosto - Alcohol y drogas. Como tener la conversación y evitar el uso.

Se proveerá cuidado de niños, rifa y merienda. Para más información favor de contactor a Belinda Zintzún (206) 957-4642.
VOLUNTEER OPPORTUNITIES
Get more involved! Can you devote 2-3 hours or more a week, month, year, or just one time? We always have the need for volunteers, and we have plenty of opportunities for you to help. Check it out:
We need volunteers who can help keep our food bank running smoothly this summer! A few hours a week, on Wednesdays, Thursdays, or Fridays.

Gain front office and reception experience while practicing your Spanish/English! Volunteers proficient in both languages needed to staff our front desks in several offices.

We're also beginning early recruitment for day-of-auction volunteers for running our wine grab, silent auction, live auction, raffle ticket sales, and more! No experience necessary for most positions. Great skill-building and networking opportunity!
Or maybe you want to be a part of the Auction planning process? Put your creativity to use and boast to your friends and colleagues that you were integral to our Auction's success! Projects include organizing the raffle, silent auction, procurement of stellar items, and more. Contact Sonya Ortis (206) 957-4649 for these Auction-specific opportunities.

and more!
Email Kendehl Corley, our Volunteer Coordinator, or call her at (206) 957-4602 for more details on these and other volunteering opportunities. Check out the volunteer section of our website here.
MIL GRACIAS TO OUR WONDERFUL
MAY & JUNE FUNDERS!
El Centro de la Raza relies on donations from our individual supporters to keep our programs running.
But we are also fortunate enough to have corporate and foundation sponsors and grants for many of our programs and services.
► Muckleshoot Indian Tribe - $10,000 Dignidad Sponsor of our 2011 Legacy Awards and Auction Banquet!
► Harvest Foundation - $10,000 for our Senior Nutrition and Wellness Program!

► Seattle Children's Hospital - $3,000 Solidaridad Sponsor of our 2011 Legacy Awards and Auction Banquet!



►

Fales Foundation Trust - $2,000 for our Homeless Assistance Program!



►

Foundation for Early Learning - $1,500 for José Martí Literacy Nights!

A special thanks to those who made the upgrade to Santos Rodriguez Memorial Park possible:


•

King County Parks ($64,000)


•

Neighborhood Matching Fund of the Seattle

Department of Neighborhoods ($20,000)


•

University of Washington Department of Architecture Neighborhood Design Build Studio Students


•

Professor Steve Badanes


•

Butch Lovelace


•

Patricia Lopez


•

Play & Park Structures


•

Wildwood Playgrounds


•

Washington Playgrounds and Lew Cox


•

Barker Landscape Architects


•

H.S. Wright Endowment


•

Stewart Lumber


•

Roloson Foundation
• Ballard Sheet Metal


•

CBE Dean's Office
• JAS Design Build
• CBE Shop Staff


•

Blue Star Electric


•

Habitat Home Store


•

Bragdon Shields


•

Linda Beaumont


•

Seattle Tile Co.


•

Western States Reclamation


•

Statements Tile


•

American Olean Tile
• Discount Tile Outlet


•

Oregon Tile & Marble


•

Pratt & Larson


•

United TIle


•

Thompson Tile & Stone


•

Daltile


•

Ambiente


•

Nuprecon


•

Allied Waste


•

Margarito Gonzalez


•

JMCDC Families


•

Childcare Resources


•

Over 90 wonderful and dedicated volunteers!

Mil Gracias to all of our wonderful funders, sponsors and donors!
OUR BOARD OF DIRECTORS:
Ramon Soliz, President
Jeff Middelton, Vice President
David Gasca, Treasurer
Brenda Williams, Secretary
Roxana Amaral, Parliamentarian
Francisco Calderon
Ricardo Garcia
Christina Garcia-Valdez
Norma Guerrero
Victoria Kill
Pablo Mendoza
Madrienne Salgado
Urbano Santos
Billy Smith
Rita Zawaideh
EL CENTRO'S PROGRAMS:
With over 26,000 volunteer hours, El Centro de la Raza serves 23,565 individuals and 11,518 families annually through the following programs and services:
Basic Healthcare Enrollment
BEBES! Infant Mortality Program
Café con El Centro
College Readiness
Crisis Advocacy
ECR Transitional Housing
El Patio Apartments
ESL & Citizenship Classes
Eviction Prevention
Financial Literacy
Food Bank
Foreclosure Prevention
Homeless Assistance Program
Homeownership Program
Hope for Youth Poetry & Civil Rights History Classes
José Martí Child Development Center
Juvenile Justice Policy Advocacy
Luis Alfonso Velásquez Flores After School Program
Parent Involvement & Education
Senior Home Delivered Meals
Senior Nutrition & Wellness
Youth Violence Prevention
Veterans Services
Community Meeting Space
Community Service Site
Cultural/Political/Social Events
Immigrant/Human/Civil Rights SociaI
Justice Advocacy
Legal Clinic Site
Tax Preparation Site
Local, State, National & International Coalition Building
Service Learning Site