These last few weeks have been a flurry of activity here at El Centro de la Raza!

We ended April with our Children's Day Celebration and had an extremely successful Comcast Cares Day with Comcast, City Year and community volunteers. We began May with the annual May Day March for immigrant and worker rights, a special concert for our children by the internationally acclaimed José-Luis Orozco that was closely followed by our annual Cinco de Mayo Celebration which was great fun and a smashing success—over 450 folks showed up to celebrate with us, and we raised $2240 in food sales and donations! And currently we have architecture students from the Community Design Build Studio from University of Washington constructing improvements to our Santos Rodriguez Memorial Park—join us on June 9th to celebrate their hard work!

It's amazing what can happen in such a short amount of time. We're barely two weeks into May, and as you can see, busy as ever. I'd like to draw your attention to something else that happened here at El Centro de la Raza last week. As you are probably very aware, there is an ongoing Federal investigation into the Seattle Police Department on issues of racism and excessive force. El Centro was proud to invite the community to come forward and give testimony of their personal experiences. Many people courageously came out on May 12th and 14th and shared their experiences with Justice Department Officials, including six of our Hope for Youth Program Participants. Gracias to everyone who came forward, each person that speaks out insures greater police accountability!
Systematic racism effects everyone, and holding police accountable is one key step towards dismantling institutionalized racism. On March 13th, Seattle Police Chief Diaz made the progressive "presumption of termination" statement in response to recent issues of police brutality that would call for the termination of any officers using racial epithets. This big step forward is a great win for anti-racism, made even stronger by the support of the Seattle Police Officers' Guild President Richard O'Neil.

Read this Seattle Times article for more on the Justice Department Interviews and Chief Diaz's statement, and the press release from El Centro de la Raza, MEDC and LBAW.
Siempre bienvenidos, nuestra casa es su casa.
Estela Ortega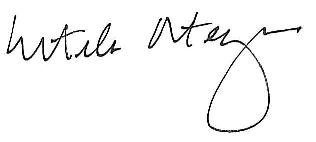 Executive Director
Ps - And of course, visit our website to stay up-to-date on the happenings at El Centro and in nuestra comunidad—our community.
Save the Date for El Centro Events!
Latino Parent Meeting with Superintendent Dr. Susan Enfield
Platica con la Superintendente, Dr. Susan Enfield
El Centro de la Raza
Saturday May 21, 2011 / Sábado, 21 de mayo, 2011
9:30-11:30am
Latino parents of children in Seattle Public Schools are welcomed to join in a discussion with Superintendent Dr. Susan Enfield on issues affecting the education of their children. Discussion will be in Spanish. For more information, call (206) 478-7800.

Están invitados a conversar con la nueva Superintendente del Distrito Escolar de Seattle, Dr. Susan Enfield, sobre temas que afectan la educación de sus higos/as. La plática sera en español. Para más información, llamar a (206) 478-7800.
Presented by El Centro de la Raza and Cabaña Quetzal, in conjunction with the Commission on Hispanic Affairs, Casa Latina, Seamar Community Health Centers, Concord International School and the Latino PTA at Beacon Hill.
---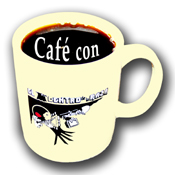 You're invited!

Café con El Centro
at El Centro de la Raza
Thursday, June 2nd from 8:00-9:00am
How can you become an integral part of the community at El Centro de la Raza? You can start by RSVPing to an upcoming Café con El Centro!

The Café is a great way to introduce yourself to our executive director Estela Ortega, a member of our board, and staff from our programs. Learn the history of our roots, tour our building and programs, network with like-minded folks and share coffee and pan dulce with us.

Café con El Centro takes place the 1st Thursday of every month. Call 206-957-4652 or email to RSVP for the upcoming June 2nd Café.
Coffee generously donated by Starbucks!
---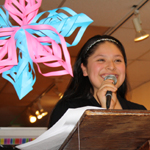 Proyecto Saber and Seattle Public Schools Graduation Ceremony
at El Centro de la Raza
Friday, June 3rd beginning at 5:30pm
Come honor the students not only for their participation with our programs and for their grand achievements, but also for their exemplary involvement in the community. Some food will be provided, but bring your favorite dish to share! Please RSVP by contacting Amanda Lopez, (206) 957-4631 or Aliza Flores Jordán, (206) 957-4617. Let us know how many people will be attending with you!
---
Santos Rodriguez Memorial Park Beautification and New Construction Celebration!
at El Centro de la Raza
Thursday, June 9th, from 5:30-7:00pm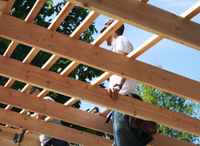 With a $20,000 City of Seattle Department of Neighborhoods Small and Simple Grant, the architecture students from the Community Design Build Studio from University of Washington have been steadfastly working on improving and beautifying a portion of the Santos Rodriguez Memorial Park. Come out for the "unveiling" of their hard work, as we celebrate their efforts, as well as the dedication and hard work of those who volunteered their time to build the spectacular playground, made possible with a $64,000 King County Parks Youth Sport Facility Grant.
---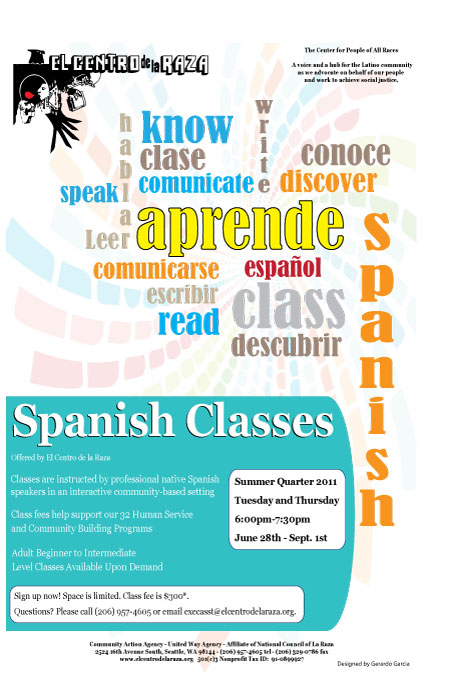 ¡Hola! ¿Quieres aprender español?
Hello! Do you want to learn Spanish?


Enrollment now open for Summer Spanish Classes!
Adult Beginner - Intermediate Spanish Classes
at El Centro de la Raza
June 28th to September 1st
Tuesday and Thursdays 6:00-7:30pm

Classes are instructed by professional native Spanish speakers in an interactive community-based setting. Space is limited - sign up today! Class fee is $300. Call (206) 957-4605 or email for more details. Print out registration form here.
The Legacy of Roberto Felipe Maestas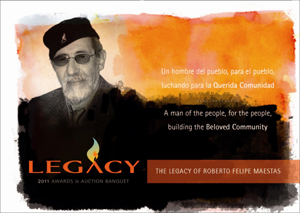 Legacy Awards and Auction Banquet
downtown at the Washington State Convention Center
Saturday, September 24th, beginning at 5:00pm
$100 per seat
After much thought, discussion, laughter and tears as we remember our cherished founder, Roberto Felipe Maestas, we present to you the theme for this year's Auction Banquet:
Un hombre del pueblo, para el pueblo, luchando por la "Querida Comunidad"
El legado de Roberto Felipe Maestas
-
A man of the people, for the people, building the "Beloved Community"
The legacy of Roberto Felipe Maestas

This September 24th will mark the inaugural year for the Roberto Felipe Maestas Award and Scholarship, where we will honor those in the community who have exemplified the fighting spirit of Roberto. The recipients of the awards will be champions for social justice who continue the legacy of Roberto through their commitment towards justice for you, me and what Dr. Martin Luther King, Jr. called our "Beloved Community." *Note: We will soon begin accepting nomination applications for individuals who have exemplified building the "Beloved Community" through multi-racial unity, and working to eliminate poverty, racism and social inequity. We will have the application posted to our website on Wednesday, May 25th.

Join us for this momentous and historical event that, thanks to funding from the Marguerite Casey Foundation and through generous donations to the Roberto Maestas Scholarship Fund, will be a mainstay for years to come.
Tickets are now on sale! Go to Brown Paper Tickets to reserve your seat for this memorable event or call our Auction Coordinator to pay with a credit card over the phone (contact details below). You can also send a check made out to El Centro de la Raza in the amount of $100 per seat to:
El Centro de la Raza
Attn.: Auction
2524 16th Ave. S
Seattle, WA 98144
We've already gotten some fantastic items for this year's event—check out this link for a sneak peek!
is years
For more information or to purchase your seats over the phone, contact Sonya Ortis, our Auction Coordinator, through email or call her at (206) 957-4649.
Relief Found Amidst Foreclosure Crisis
Wanting their dream of homeownership to become a reality, Orlando and Abigaid sought out a loan to help them purchase their home. Imagine how thrilled they were to qualify easily for a $250,000 loan! Now imagine their dismay when they realized that their sky-high mortgage payments would never pay off the loan.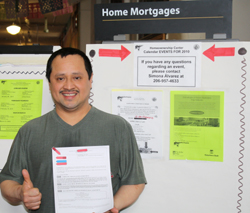 About a year ago, Orlando had lost his job and was facing foreclosure when he enrolled in El Centro de la Raza's Homeownership and Financial Literacy Programs It took a lot of time, and a lot of hard work, but through his participation in the classes and working with our case managers, Orlando and Abigaid have gotten a lower payment and fixed-interest rate modification on their loan.


"We are super excited—we thought we'd lose our home! [We've] educated ourselves through the modification and foreclosure process—and we now know our rights as consumers and home owners."

*Translated from Spanish.

The Homeownership Program prepares prospective home buyers with educational workshops and one-on-one coaching for successful long term homeownership, while the Financial Literacy Program provides financial literacy education and personal financial management skills to create measurable behavioral changes in money use to empower participants' economic independence and financial security.
Anuncios y Felicitaciones - Announcements and Congratulations
El Centro de la Raza was presented with the Roberto Maestas Humanitarian Award by Washington State Community Action Partnership on May 5th in honor of Roberto's memory and work.
---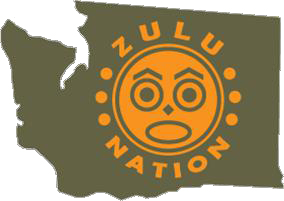 On Tuesday, May 10th, Victor Alfonso AKA Apple One, an internationally known breakdancer from
206 Zulu, the Seattle Chapter of Zulu Nation, partnered with our Hope for Youth Poetry & Civil Rights History Classes to present an intro to breakdancing to students of Denny Middle School.This interactive session began with the culture and history of breakdancing, including how breakdance "battling" curbs violence by competitively showcasing skills without aggression.

Danny Kogita, founder of 206 Zulu, will make a presentation on Tuesday, May 24th to the Denny Middle School students on graffiti artistry and its infuence on today's graphic arts. Both Victor and Danny are former participants of El Centro's Hip Hop Poetry Classes!
---
On Monday, May 16th, El Centro's Hope for Youth Program kicked off the first of their "Know Your Rights Training," an ongoing series in area high schools. With resources from the ACLU and in partnership with our Juvenile Justice Advocacy Policy Program, the trainings allow students to understand their rights and responsibilities when dealing with police, FBI or immigration. Not only are the students taught to recognize when police misconduct occurs, but they also learn how to respond effectively to diffuse the situation and how to properly document what occurred. The next training on Monday, May 23rd will be for students of Chief Sealth High School.
---
On June 2nd, Belinda Zintzún, our Parent Involvement Coordinator, will give a presentation on the immigrant population served by El Centro at the Seattle Public Schools Principals and Regional Directors' Meeting.Those in attendance will have the opportunity to hear what our families value in education, and what they expect from the American school system. Felicitaciones, Belinda, we know you'll do a fabulous job!
---
King County Equity and Equality Community Forum Survey
What do you need to feel safe, healthy, and successful? Tell us what you think and how these issues are related to equity and economic opportunity for you and your community. You must live, work or go to school in King County. Go here to register (it's free!) and take the survey. And do take the time to watch the important 20 minute video that accompanies the survey!
---
College Bound Scholarships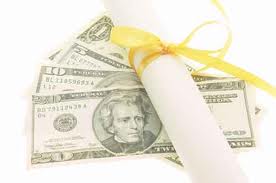 Did you know that the State of Washington will guarantee tuition to a Washington public college or university to any student on the federal free and reduced lunch program—if that student maintains a 2.0 grade point average and does not commit a felony during their entire high school career? The College Bound Scholarship provides hope and incentive for 7th and 8th grade students who otherwise might not consider college as an option because of its cost. Read more from Mayor McGinns blog here. The dealine for applications is June 30th—even if you don't have a child who qualifies, you probably know someone who does. Spread the word! More information here.
---
Collections Reduction Event
If you owe money to the Seattle Municipal Court for parking and traffic tickets that are in collections, now is the time to save! Collection Fees and Interest will Be Waived For Parking and Traffic Tickets/Cases Paid in Full. More information here. Only through June 30th!
---
FREE Water-Saving Toilets for Low-Income Homeowners
Save water and money with free high-efficiency toilet for qualifying city residents. Toilets offered by Seattle Public Utilities flush well, help conserve water, and save homeowners money. Replacement of older toilets with high-efficiency models can save a family of four up to 24,000 gallons of water and $140 each year. Go here for more information and to see if you qualify.
---
The City is encouraging woman and minority owned businesses interested in doing business with the City to register with the City's Vendor and Contractor's Registration Program. Registering helps the City develop bid lists, contract lists and reports. Go here for more information and to register. Call (206) 684-0444 or email for assistance.
Coming Up Soon!

at El Centro de la Raza
Friday, May 20th from 6:00-8:00pm
Join us in welcoming Fair Trade artisans Sonia Anahue Uscamayta from the Munay Rumi jewelry cooperative in Lima, Peru and Yody Gladys Moral Trillo from the El Mercurio knitting cooperative in Huancavelica, Peru as they share with you how Fair Trade has affected their lives. Enjoy light refreshments from Equal Exchange and an opportunity to purchase Fair Trade artisan products. Go here for more information, and RSVP to this free event on Facebook. Sponsored by Fair Change Seattle, Equal Exchange and El Centro de la Raza.
---

The Green Festival, in its 10th year as the Nation's premier sustainability event, represents a network of thousands of authentic environmental and socially responsible businesses and organizations. This year's event will feature 125 visionary speakers, a green market, hands-on workshops, organic wine and beer, family activities and more!

Mil gracias to Green Festival Seattle for donating 200 tickets to El Centro de la Raza—it's with great pleasure that we've distrtibuted them to our wonderful volunteers and staff!
News Roundup
IN THIS ISSUE:
DO YOU GOODSHOP?
Don't forget
- if
you use GoodSearch as
your search engine, or do
your online shopping through GoodShop, you can raise money for El Centro de la Raza without spending an extra penny (with coupons through Goodshop, you might actually save money!)
QUICK LINKS:
ONGOING EVENTS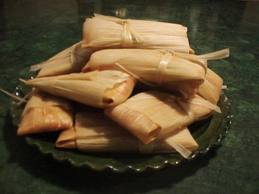 Hot Tamales!

Tamale Making Classes
at El Centro de la Raza
Have you always wanted to learn how to make tamales? Now is your chance to learn from a master tamalera! The class fee is $75 per person and includes tamales. The fees go to support our Senior Wellness Program. Register here!

Classes are on the following Saturdays, from 10:00am to 12:30pm:

May 21st
June 11th and 25th
July 9th and 23rd
August 6th and 27th

For more information, please call (206) 957-4611 or email.
---
¡COMADRES!
Un grupo de apoyo y de conversación para la mujer Latina!

Quieres conocer nuevas amistades, hablar y aprender sobre temas que son importantes para la mujer Latina?

Estas cordialmente invitada:
Próximas Reuniones 5:30 - 7:30pm
25 de Mayo y 8 de Junio

Se proveerá cuidado de niños, rifa y merienda. Para más información favor de contactor a Diana Mena (206) 957-4641.
---
Parent Involvement Workshops

Próximas Eventos
15 de Junio, El Centro de la Raza en el cuarto Salvador Allende (106)

Se proveerá cuidado de niños, rifa y merienda. Para más información favor de contactor a Belinda Zintzún (206) 957-4642.
VOLUNTEER OPPORTUNITIES
Get more involved! Can you devote 2-3 hours or more a week, month, year, or just one time? We always have the need for volunteers, and we have plenty of opportunities for you to help. Check it out:
Help make our Hope for Youth Graduation Ceremony a success on Friday, June 3rd from 5:30-7 pm! Volunteer positions are available during both the afternoon and evening.

We need volunteers who can help keep our food bank running smoothly this summer! A few hours a week, on Wednesdays, Thursdays, or Fridays.

Gain front office and reception experience while practicing your Spanish/English! Volunteers proficient in both languages needed to staff our front desks in several offices.

Interested in learning about auctions, event planning, fundraising, nonprofits, and donor relations? Inquire about our Auction Internship and our Procurement Committee opportunities!
We're also beginning early recruitment for day-of-auction volunteers for running our wine grab, silent auction, live auction, raffle ticket sales, and more! No experience necessary for most positions. Great skill-building and networking opportunity!

and more!
We're also on the lookout for professionals like you who want to volunteer using your skills:
If HTML and using cloud-computing software (VerticalResponse) is your forté and you have a good eye for graphic design, perhaps you would be interested in assisting our Development team in crafting new and improved templates for our various eNewsletters and eBlasts. Time commitment varies, and will be discussed during initial interview and subsequent consultations.
We have a lot of upcoming opportunities where we'll be looking to target more professional volunteers. We are looking for someone with a Human Resources background who is skilled in writing to assist us in creating professional job descriptions for these volunteer opportunities. Time commitment varies, and will be discussed during initial interview and subsequent consultations.
Email Kendehl Corley, our Volunteer Coordinator, or call her at (206) 957-4602 for more details on these and other volunteering opportunities. Check out the volunteer section of our website here.
MIL GRACIAS TO OUR WONDERFUL
APRIL FUNDERS!
El Centro de la Raza relies on donations from our individual supporters to keep our programs running.
But we are also fortunate enough to have corporate and foundation sponsors and grants for many of our programs and services.
► Seattle HSD PeoplePoint: Bridge to Benefits - $5,000 for training and equipment to allow El Centro staff to provide a direct access point to point and state services and benefits for program participants!
► Solid Ground JustServe AmeriCorps - we'll receive a volunteer placement for the 2011-2012 year for our Hope for Youth Program!



►

Teens in Public Service (TIPS) - we'll receive a bi-lingual Spanish/English summer intern to staff the front desk of our Francis Martinez Office!

Mil Gracias to all of our wonderful funders, sponsors and donors!
OUR BOARD OF DIRECTORS:
Ramon Soliz, President
Jeff Middelton, Vice President
David Gasca, Treasurer
Brenda Williams, Secretary
Roxana Amaral, Parliamentarian
Francisco Calderon
Ricardo Garcia
Christina Garcia-Valdez
Norma Guerrero
Victoria Kill
Pablo Mendoza
Madrienne Salgado
Urbano Santos
Billy Smith
Rita Zawaideh
EL CENTRO'S PROGRAMS:
With over 26,000 volunteer hours, El Centro de la Raza serves 23,565 individuals and 11,518 families annually through the following programs and services:
Basic Healthcare Enrollment
BEBES! Infant Mortality Program
Café con El Centro
College Readiness
Crisis Advocacy
ECR Transitional Housing
El Patio Apartments
ESL & Citizenship Classes
Eviction Prevention
Financial Literacy
Food Bank
Foreclosure Prevention
Homeless Assistance Program
Homeownership Program
Hope for Youth Poetry & Civil Rights History Classes
José Martí Child Development Center
Juvenile Justice Policy Advocacy
Luis Alfonso Velásquez Flores After School Program
Parent Involvement & Education
Senior Home Delivered Meals
Senior Nutrition & Wellness
Youth Violence Prevention
Veterans Services
Community Meeting Space
Community Service Site
Cultural/Political/Social Events
Immigrant/Human/Civil Rights
Socia
I
Justice Advocacy
Legal Clinic Site
Tax Preparation Site
Local, State, National & International Coalition Building
Service Learning Site