As many of you have heard, bus service in King County is in jeopardy of being cut. The reduction in sales tax revenue as a result of the recession has put King County Metro in a very difficult financial position. Despite various cost-cutting measures implemented by Metro that will generate about $143 million in ongoing annual funds, Metro is still faced with an ongoing annual deficit of $60 million. Without additional revenue to close this gap, Metro will need to reduce its bus service by 17%. This will adversely affect Metro passengers, many of whom are low-income.
To prevent this service reduction, the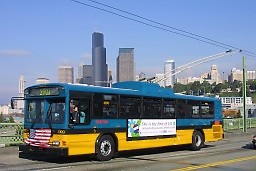 King County Executive proposed a two-year annual Congestion Reduction Charge of $20 per registered vehicle in King County. Six out of the nine County Council Members will need to vote "Yes" in order to enact this change. Tuesday, Julia Patterson pledged her support, meaning that five Council Members have agreed to vote in favor of the tax. The support of one more Council Member is needed.
Last Tuesday, more than 700 people stood in line for up to two hours to testify in front of Council Members on the importance of preserving the current level of bus service.
It is crucial that we help make sure that the Congestion Reduction Charge is passed. Many of the people we serve rely on public transportation to meet their basic needs. There is one final meeting for us to show our support to the Council. That meeting is tonight in Burien at the Burien City Council Chambers (516 Third Ave) on the 10th floor. Also, please write the Council to tell them to preserve bus service for those who depend on it. Click here to view a pre-written message and send a letter electronically. For more information about the issue, click here.

The Council will vote on Monday, July 25th, at 3:00 on the Congestion Reduction Charge. Let's pack the King County Courthouse (for those interested in speaking, sign-ups start at 1:00), 10th floor, to send home our message of support! Together we can save this vital resource for low-income individuals.

Siempre bienvenidos, nuestra casa es su casa.
Estela Ortega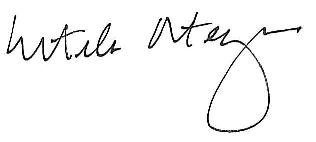 Executive Director
PS - And of course, visit our website to stay up-to-date on the happenings at El Centro and in nuestra comunidad—our community.


El Centro Helps a Local Vet Stay on his Feet
Jose* just finished a four-year tour in Afghanistan. He returned to Seattle without a job and was on the brink of losing his home and becoming homeless. It was then that he came to El Centro for assistance. He received two months of rent assistance and also got help locating a job. Within two months he obtained a job as a security guard and is now no longer in danger of becoming homeless.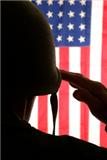 In addition to these services, El Centro helped Jose access benefits he did not know he was eligible for. As a result of trauma suffered during combat, Jose was eligible to upgrade his disability claim with the Veteran's Office. Today Jose finds himself employed, connected to vital community resources, and stable in his housing.

With the upcoming drawdown in Afghanistan, El Centro is expecting to see many more individuals like Jose. Therefore, we urge King County voters to vote "Yes" on Proposition 1 to renew the Veteran's and Human Services Levy. The levy provides vital services to veterans like Jose that are returning home from war. For more information on El Cento's services for veterans, contact Alfredo (Tito) Medina: (206) 973-4287, or Sergio Camacho: (206) 957-4624.

In related news, as part of our continuing commitment to increase the level of services provided to veterans, El Centro now houses the African-American Veterans Group of Washington State. This group also connects veterans to important organizations throughout the community and advocates for veteran's rights. For more information on the African-American Veterans group, contact Aries Robinson: (206) 898-2779, or Andrea Salmon.

*Name changed
Save the Date for El Centro Events!
Calling All Teens for Social Justice!
at El Centro de la Raza
Tuesday - Thursday until August 17th

El Centro is offering workshops for tee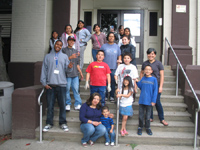 ns this summer on art, college readiness, mathematics, and social justice issues. Participants will learn to develop murals, prepare for college, learn about scholarship opportunities, and use mathematical concepts to better understand social justice issues. For more information click here. Contact Alex Bautista: (206) 957-4620 to sign-up! Breakfast and lunch provided.
---
Latino Juvenile Justice Steering Committee
at El Centro de la Raza
Thursday, July 28th from 5:00-7:00pm
The Latino Juvenile Justice Steering

Committee is a group that meets monthly to craft recommendations designed to reduce the number of Latino youth incarcerated. The Steering Committee is comprised of individuals who work within the juvenile justice system, students, teachers, and community members. The recommendations go to the school district, juvenile courts, detention centers, and other partners. The next meeting is July 28th from 5:00 - 7:00 at El Centro. The Steering Committee operates in partnership with Washington Models for Change under the MacArthur Foundation. For more information, contact Enrique Gonzalez: (206) 957-4640.
---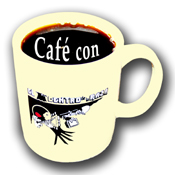 You're invited!

Café con El Centro
at El Centro de la Raza
Thursday, August 4th from 8:00-9:00am
How can you become an integral part of the community at El Centro de la Raza? You can start by RSVPing to an upcoming Café con El Centro!

The Café is a great way to introduce yourself to our executive director Estela Ortega, a member of our board, and staff from our programs. Learn the history of our roots, tour our building and programs, find out about ways to get involved, network with like-minded folks and share coffee and pan dulce with us.

Café con El Centro takes place the 1st Thursday of every month. Call 206-957-4652 or email to RSVP for the upcoming August 4th Café.
Coffee generously donated by Starbucks!
---
Alternatives to Foreclosure Workshops
at El Centro de la Raza
Saturday, August 6th from 10:00am-1:00pm
Saturday, September 3rd from 10:00am-1:00pm
Interested in learning more about alternatives to home foreclosure? El Centro is holding two workshops for interested individuals on August 6th and September 3rd. Both workshops will take place at El Centro from 10:00 AM - 1:00 PM. To RSVP, or to get more information, please call the Homeownership Center at (206) 957-4610.
---
First Time Home Buyer Workshops
at El Centro de la Raza
Saturday, August 20th from 10:00am-3:00pm
Saturday, September 10th from 10:00am-3:00pm
The Homeownership Center will be holding first time home buyer workshops. The workshops are sponsored by the Washington State Housing Finance Commission. The dates are August 20th and September 10th. Both events will be held at El Centro from 10:00 AM - 3:00 PM. To RSVP, or to get more information, please contact the Homeownership Center at (206) 957-4610.
---
Roberto Maestas Festival Street Unveiling during Beacon Rocks! on August 28th
On April 25th, Seattle City Council passed the naming of S Lander Street between 16th and 17th to Roberto Maestas Festival Street. Please join us on August 28th from 1:00 - 5:00 PM during Beacon Rocks! to celebrate the unveiling of the newly named street. Stay tuned to our website for specific details.
---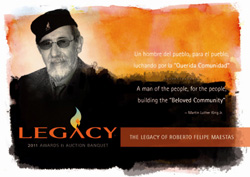 Legacy Awards and Auction Banquet
downtown at the Washington State Convention Center
Saturday, September 24th,
beginning at 5:30pm
$100 per seat




Un hombre del pueblo, para el pueblo, luchando por la "Querida Comunidad"
El legado de Roberto Felipe Maestas

A man of the people, for the people, building the "Beloved Community"
The legacy of Roberto Felipe Maestas
Go to Brown Paper Tickets to reserve your seat or call our Auction Coordinator to pay with a credit card over the phone (contact details below). You can also send a check made out to El Centro de la Raza in the amount of $100 per seat to:
El Centro de la Raza
Attn.: Auction
2524 16th Ave. S
Seattle, WA 98144
We've already gotten some fantastic items for this year's event—check out this link for a sneak peek!

For more information or to purchase your seats over the phone, contact Sonya Ortis, our Auction Coordinator, through email or call her at (206) 957-4649.


Thank you to the funders of this year's auction:

Dignidad Level ($10,000): Lilly
Muckleshoot Indian Tribe
Verizon

Honor Level ($5,000): Vulcan
Union Bank

Solidaridad Level ($3,000): Amerigroup
Seattle Children's Hospital
Seattle City Light
Washington Education Association

Comunidad Level ($1,500): BECU
Plaza Bank
Sprague Israel Giles Insurance
Teamster Local Union #760
Families and Education Levy Campaign Kicks Off at El Centro
The campaign to renew and enhance Seattle's Families and Education Levy had its official launch party last month at El Centro. The Levy, set to expire this year, will provide $232 million in support over the next seven years for: enhanced academic programs at schools with a high proportion of low-income students, school-based health clinics, early-learning programs, extra learning time and summer school programs for students struggling to advance from middle to high school, and academic and college readiness programs for middle and high school students. The estimated annual cost to the average Seattle homeowner will be $124 (about $12 per month) in 2012 and $126 in 2018.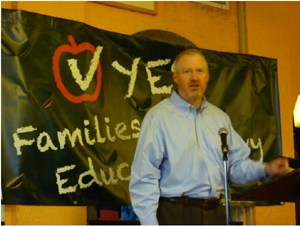 Mayor McGinn, who attended the event last month, said
, "The Families and
Education Levy builds on the
work of my administration's Youth and Families Initiative. We know underprivileged youth face unique challenges to getting a good education, and we know that the programs and services funded by the Families and Education Levy help them overcome these obstacles. That's why we need to support the campaign and vote 'Yes' to renew the Levy this November."

Click here for more information and to learn how to get involved!
Anuncios y Felicitaciones - Announcements and Congratulations
New Director of Frances Martinez Community Services Center
El Centro welcomes our new director of the Frances Martinez Community Services Center, Denise Pérez. Denise will replace Graciela Gonzalez, who is retiring after 39 years of service with El Centro. Felicitaciones to you in your new position, Denise, and to a wonderful retirement, Graciela!
---
New Parent Involvement Program
El Centro now has a free program for Latino families with children six years and/or younger who are not attending a child development center. The program offers individual support and interactive workshops that provide education on how parents can engage with their children with activities that will help the development of their child. For more information, contact Lucero Cueva-Estrella.
---
$80,000 in New Funding for Employment Program
El Centro recently received $80,000 from the United Way of King County for our employment training programs. The money will allow us to employ a job developer to work with employers to find positions for the individuals we serve. With the new funding we will also begin job training workshops that will include job referrals, one-on-one counseling, resume writing assistance, and financial literacy training. We will serve at least 70 low-income persons from the immigrant-refugee community. Mil gracias United Way!
---
New Workshops for Families
José Martí CDC received a mini grant of $1,500 from the Foundation for Early Learning to sponsor 5 family meetings over a 6-month period. The workshops are collaborations with the Seattle Public Library and SeaMar Community Health Clinic. Topics include program curriculum and assessment tools; literacy and bi-literacy; making homemade educational toys representative of children's cultures; and a mini-health fair with health and safety resources. The first meeting is next week! Mil gracias Foundation for Early Learning!
---
Openings in Preschool Program for 4-year-olds
Interested in preschool for your four-year-old? If your child will turn four by August 31, please contact Maria James: (206) 957-4637 for more information about our part-day and full-day openings.
---
El Centro Looking for AmeriCorps Member
El Centro is looking for an AmeriCorps member for September 2011 - July 2012. The position is with our Hope for Youth Program. Click here to apply.
---
Multiethnic Taskforce on Police Accountability
As part of MEDC's Multiethnic Taskforce on Police Accountability, El Centro de la Raza continues to work with the Seattle Police Department to effectively address community concerns by meeting on a monthly basis with representatives from SPD. A list of the issues the Task Force will be discussing with the Seattle Police Department can be found here. Click here to read the civilian Auditor's semi-annual report on police accountability. If you would like to further discuss the work of the Task Force, please contact Estela Ortega: (206) 957-4613 or Dorry Elias-Garcia: (206) 325-2542.
---
Office of Professional Accountability Review Board Seeks Candidates
Interested in being part of the body that assesses policies of the Seattle Police Department and makes recommendations on their implementation? OPA's Review Board has three positions open for candidates with a background in community involvement. Click here for more information.
---
Race and Social Justice Community Roundatble
The Race and Social Justice Community Roundtable is a partnership of 25 community organizations and public institutions working together to achieve racial equity in Seattle. El Centro is one of those organizations. The Roundtable has chosen education as one of its lead issues. Members are also examining the connections between education and criminal justice, economics, environmental justice, and health. For more information on the Roundtable, contact Scott Winn or call (206) 684-4500.
---
Commercial Space Available for Lease
Need commercial space? El Centro has a 500 sq. ft. commercial suite available for lease at 2528 Beacon Ave S. Contact Anastasia Mendoza: (206) 957-4636 if interested.
---
Sailing Lessons
The Center for Wooden Boats is providing sailing lessons for youth at El Centro this summer. Participants from the Seattle Youth Violence Prevention Program and the Parent Involvement Program will take lessons twice a week and learn to independently sail a boat. Mil gracias Center for Wooden Boats!
---
Exciting Art and Music Classes
Community Arts Create! just finished its two month arts and music program at El Centro. Click here for pictures and videos.
---
Life Vest Reminder
Planning on heading down to the river this summer? Remember to bring a life jacket. High water levels have led the Public Health Department to issue a temporary law requiring life vests on all major King County rivers this summer.
---
News Roundup
IN THIS ISSUE:
DO YOU GOODSHOP?
Don't forget
- if
you use GoodSearch as
your search engine, or do
your online shopping through GoodShop, you can raise money for El Centro de la Raza without spending an extra penny (with coupons through Goodshop, you might actually save money!)
QUICK LINKS:
ONGOING EVENTS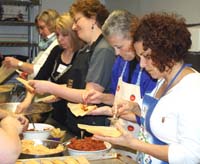 Tamale masters in the making during the March 12th class.
Tamale Making Classes
at El Centro de la Raza
Have you always wanted to learn how to make tamales? Now is your chance to learn from a master tamalera! The class fee is $75 per person and includes tamales. The fees go to support our Senior Wellness Program. Register here!

Classes are on the following Saturdays, from 10:00am to 12:30pm:

July 23rd
August 6th and 27th

For more information, please call (206) 957-4611 or email.
---
¡COMADRES!
Un grupo de apoyo y de conversación para la mujer Latina!
Reuniones continuarán en septiembre.

Para más información favor de contactor a Diana Mena: (206) 957-4641.
---
¡EDÚCATE!
Parent Involvement Program
Programa de apoyo para la participación escolar.
Nuestros servicios incluyen (1) apoyo individualizado para los padres de familia con hijos en las escuelas públicas de Seattle y (2) ofrecemos talleres educativos para padres de familia.

Nuestro siguiente taller será miércoles, 19 de agosto en El Centro de la Raza a las 5:30pm en el cuarto 106 (planta de abajo). El tema será, Las drogas y el alcohol.

Se proveerá cuidado de niños, cena y una rifa. Para más información comuníquese con Belinda Zintzún: (206) 957-4642.
VOLUNTEER OPPORTUNITIES
Get more involved! Can you devote 2-3 hours or more a week, month, year, or just one time? We always have the need for volunteers, and we have plenty of opportunities for you to help. Check it out:
Come make tamales for Taste of Muckleshoot! We are making tamales at El Centro from 1:45 - 5:00 on Aug. 8th and 9th. Contact Kendehl Corley for more information.
We are also recruiting for day-of-auction volunteers for running our wine grab, silent auction, live auction, raffle ticket sales, and more! No experience necessary for most positions. Great skill-building and networking opportunity!
Or maybe you want to be a part of the Auction planning process? Put your creativity to use and boast to your friends and colleagues that you were integral to our Auction's success! Projects include organizing the raffle, silent auction, procurement of stellar items, and more. Contact Sonya Ortis: (206) 957-4649 for these Auction-specific opportunities.

and more!
Email Kendehl Corley, our Volunteer Coordinator, or call her at (206) 957-4602 for more details on these and other volunteering opportunities. Check out the volunteer section of our website here.
MIL GRACIAS TO OUR WONDERFUL
JUNE & JULY FUNDERS!
El Centro de la Raza relies on donations from our individual supporters to keep our programs running.
But we are also fortunate enough to have corporate and foundation sponsors and grants for many of our programs and services.
► United Way of King County - $80,000 for El Centro's employment training program.
► Northwest Area Foundation - $40,000 to revamp our volunteer program. This will allow El Centro to increase volunteer outreach, improve volunteer retention rates, and strengthen volunteer training.

► 4Culture - $3,000 for El Centro's Día de Los Muertos celebration.



►

KUOW Radio - 15 radio spots to advertise the
Día de Los Muertos celebration.


Mil Gracias to all of our wonderful funders, sponsors and donors!
OUR BOARD OF DIRECTORS:
Ramon Soliz, President
Jeff Middelton, Vice President
David Gasca, Treasurer
Brenda Williams, Secretary
Roxana Amaral, Parliamentarian
Francisco Calderon
Ricardo Garcia
Christina Garcia-Valdez
Norma Guerrero
Victoria Kill
Pablo Mendoza
Madrienne Salgado
Urbano Santos
Billy Smith
EL CENTRO'S PROGRAMS:
With over 26,000 volunteer hours, El Centro de la Raza serves 23,565 individuals and 11,518 families annually through the following programs and services:
Basic Healthcare Enrollment
BEBES! Infant Mortality Program
Café con El Centro
College Readiness
Crisis Advocacy
ECR Transitional Housing
El Patio Apartments
ESL & Citizenship Classes
Eviction Prevention
Financial Literacy
Food Bank
Foreclosure Prevention
Homeless Assistance Program
Homeownership Program
Hope for Youth Poetry & Civil Rights History Classes
José Martí Child Development Center
Juvenile Justice Policy Advocacy
Luis Alfonso Velásquez Flores After School Program
Parent Involvement & Education
Senior Home Delivered Meals
Senior Nutrition & Wellness
Youth Violence Prevention
Veterans Services
Community Meeting Space
Community Service Site
Cultural/Political/Social Events
Immigrant/Human/Civil Rights SociaI
Justice Advocacy
Legal Clinic Site
Tax Preparation Site
Local, State, National & International Coalition Building
Service Learning Site