Do you stand up for what you believe in? We at El Centro de la Raza do!
We are so grateful that your support helps to keep our programs and services running, but we also rely on government funding so that we may continue to provide relevant and comprehensive services to the community. The budget cuts proposed by the Washington State Senate last week slash funds that are critical to our most vulnerable—and the futures of our children, the elderly, people with disabilities, veterans, low-income families and individuals, and all but the most wealthy are on the line.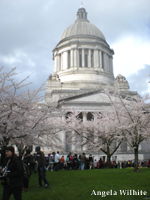 You've probably noticed in the last couple of eNewsletters how, in joining with a coalition of other groups and individuals, we're continuing strongly with our advocacy and mobilization efforts. That's why on April 6th, I joined up with staff and volunteers from El Centro and headed to Olympia with throngs of others for WashingtonCAN's Community Action Day at the Capitol. United together and in solidarity with those in Wisconsin and elsewhere, we entered the rotunda and then streamed through the halls where the legislators were meeting and in true civil disobedience fashion, disrupted business as usual and made our voices heard. Through our presence and our voices, we demanded money not be cut for healthcare, education, immigrants, critical social services, and yes, for you!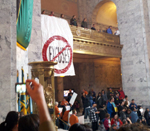 Were our voices heard? On April 14th, a new package of bills introduced by the State Senate would reform some tax breaks and potentially generate millions in revenue and restore hundreds of millions of dollars to critical programs and services. Read more about what's happening with the Washington State Budget here.

Are you ready for our next mobilization? May is Community Action Month, and the annual May Day Immigrant Rights March is coming up on May 1st! I hope you'll join us in raising your voice for los derechos de los inmigrantes! Our immigrant neighbors have rights, let them be heard and let us demand that the government make good on their promise of comprehensive immigration reform!
Thank you for being a part of El Centro, and I look forward to seeing you around, especially at our Cinco de Mayo Celebration on May 5th and the Legacy Awards and Auction Banquet this September 24th!

Siempre bienvenidos, nuestra casa es su casa.
Estela Ortega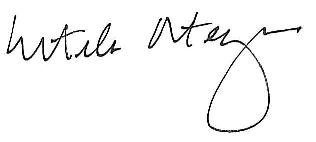 Executive Director
Ps - And of course, visit our website to stay up-to-date on the happenings at El Centro and in nuestra comunidad—our community.
Save the Date for El Centro Events!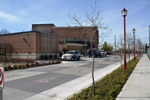 Roberto Maestas Festival Street
We invite you all to join us at 2pm on Monday, April 25th at Seattle City Hall as City Council passes the renaming of Lander St. to Roberto Maestas Festival Street. ¡Viva Roberto!
---
Comcast Cares Day at El Centro de la Raza on Saturday, April 30th!
We're looking forward to getting our hands dirty with the 350+ volunteers signed up to help us through this massive volunteer event put on by Comcast and City Year. Mil gracias to everyone who has signed up. You'll be helping El Centro save tens of thousands of dollars!
---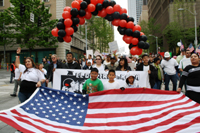 May Day Immigrant Rights March and Rally
Sunday, May 1st at 1:00pm
Join the staff, participants, students and supporters of El Centro de la Raza on May 1st for the Annual May Day Immigrant Rights March! We'll gather at St. Mary's Church (611 20th Ave. S, Seattle, WA 98144) and from there March to the Rally at Memorial Stadium (401 5th Ave., Seattle, WA 98109). Send us an email if you are interested in volunteering at the March and Rally.
---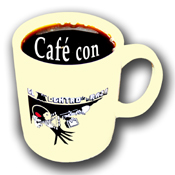 You're invited!

Café con El Centro
at El Centro de la Raza
Thursday, May 5th from 8:00 to 9:00am
How can you become an integral part of the community at El Centro de la Raza? You can start by RSVPing to an upcoming Café con El Centro!

The Café is a great way to introduce yourself to our executive director Estela Ortega, a member of our board, and staff from our programs. Learn the history of our roots, tour our building and programs, network with like-minded folks and share coffee and pan dulce with us.

Café con El Centro takes place the 1st Thursday of every month. Call 206-957-4652 or email to RSVP for the upcoming May 5th Café.

Coffee generously donated by The Station, our coffee shop neighbor!
---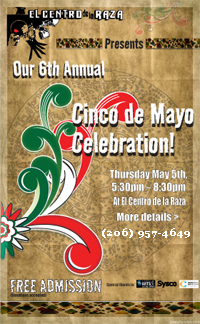 6th Annual Cinco de Mayo Celebration
at El Centro de la Raza
Thursday, May 5th from 5:30 to 8:00pm
Just a couple of short weeks remain until our 6th Annual Cinco de Mayo cultural celebration! Join us for:
children's arts and crafts activities!

delicious traditional Mexican foods for sale!

arts and crafts from local vendors!

a health and services fair!

a desfile cultural!

performances by the Seattle Fandango Project and Ameyaltonal Danza Azteca-Chichimeca!

and MORE!
Admission is free but donations are always accepted! Come, let's celebrate together!

Special thanks to: Seattle Office of Arts and Cultural Affairs, Sysco Seattle and Community Health Plan of Washington.
---
School Focus Group Workshop - Is your child deprived of an education?
at El Centro de la Raza
Thursday, May 12, 2011 from 5:30 to 7:00pm
Bring your experiences and join in a discussion on the discipline process in our schools. What changes must be made?

Brought to you by Juvenile Justice Policy Advocacy at El Centro de la Raza, in collaboration with Uniting for Youth/Models for Change. For more information or to RSVP contact Enrique Gonzalez, Juvenile Justice Policy Advocate, through email or call (206) 957-4640.
The Legacy of Roberto Felipe Maestas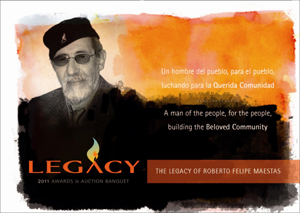 Legacy Awards and Auction Banquet
downtown at the Washington State Convention Center
Saturday, September 24th, beginning at 5:00pm
$100 per seat
After much thought, discussion, laughter and tears as we remember our cherished founder, Roberto Felipe Maestas, we present to you the theme for this year's Auction Banquet:
Un hombre del pueblo, para el pueblo, luchando por la "Querida Comunidad"
El legado de Roberto Felipe Maestas
-
A man of the people, for the people, building the "Beloved Community"
The legacy of Roberto Felipe Maestas

This September 24th will mark the inaugural year for the Roberto Felipe Maestas Award and Scholarship, where we will honor those in the community who have exemplified the fighting spirit of Roberto. The recipients of the awards will be champions for social justice who continue the legacy of Roberto through their commitment towards justice for you, me and what Dr. Martin Luther King, Jr. called our "Beloved Community."

Join us for this momentous and historical event that, thanks to funding from the Marguerite Casey Foundation and through generous donations to the Roberto Maestas Scholarship Fund, will be a mainstay for years to come.

Tickets are now on sale! Go to Brown Paper Tickets to reserve your seat for this memorable event or call our Auction Coordinator to pay with a credit card over the phone (contact details below). You can also send a check made out to El Centro de la Raza in the amount of $100 per seat to:
El Centro de la Raza
Attn.: Auction
2524 16th Ave. S
Seattle, WA 98144
We've already gotten some fantastic items for this year's event—check out this link for a sneak peek!
is years
For more information or to purchase your seats over the phone, contact Sonya Ortis, our Auction Coordinator, through email or call her at (206) 957-4649.
Onwards and Upwards to UW!
Luisa Maria, who's daughter Rosa is part of our College Readiness Program, enrolled in our Parent Involvement Program so that she could be sure to stay on top of her daughter's education and the college application process every step of the way. "After attending the Parent Involvement Workshops, doors began opening for us. I learned more about the process of looking for help and resources so that my daughter could go to a university."

With the student and parent enrollment in the programs, Luisa Maria and Rosa were empowered to apply for colleges—meeting with the appropriate people to ensure that grade and credit requirements were met for applying to schools and for scholarships.

Next fall, Rosa will be attending University of Washington! Luisa Maria tells us with pride, "My family and I think that the future is the children, the youth, and we [as parents] have to do everything in our reach to be able to realize their dreams."*

*Names have been changed to protect privacy. Quotes translated from Spanish.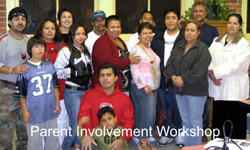 The Parent Involvement Workshops serve to inform parents of children in K-12 of policies and procedures and resources available to them through monthly workshops conducted in Spanish.

The College Readiness Program enhances college readiness for low-income students in middle and high school through and helps reduce financial barriers that limit access to post-secondary education through scholarship assistance. Since October of 2010, College Readiness has helped students in receiving $119,448 in scholarships!

For more information on these programs, contact Amanda Lopez with College Readiness or Belinda Zintzún with Parent Involvement.
Anuncios y Felicitaciones - Announcements and Congratulations




Estela Ortega and Roberto Maestas have been honored in ParentMap's 2011 Superheroes for Washington Families—go here to read their story!



---
Public Safety Survey
On behalf of the Mayor's office, students from the University of Washington Evans School of Public Affairs have crafted a survey to gather the public's perception of the Seattle Police Department and public safety. Please take 15 minutes to give your honest opinion!
---
The City is encouraging woman and minority owned businesses interested in doing business with the City to register with the City's Vendor and Contractor's Registration Program. Registering helps the City develop bid lists, contract lists and reports. Go here for more information and to register. Call (206) 684-0444 or email for assistance.
---
Tax season is done! Thanks to United Way of King County Free Tax Prep at El Centro de la Raza, over 526 returns were filed at our site, with $241,087 in EIC and refunds totaling $812,632! WOW! Gracias volunteers and United Way of King County!
Coming Up Soon!
Microsoft Diversity Recruiting and Networking Event
at Microsoft Studios West Campus the Commons - 2nd Floor
14255 NE 40th St., Redmond, WA 98052
Monday, April 25th from 6:00pm - 9:00pm
Microsoft Diversity Recruiting and Networking with State Farm—Featuring a Career Fair, Resume Reviews and Career Development/MBA Info Sessions. An emailed resume is mandatory for anyone wanting to talk to a recruiter at the event. Resumes should be emailed to info@seattle.nshmba.org. Go here to register for the event.
---
in xóchitl in cuicatl: Poetry Reading with Francisco X. Alarcón & Gabriella Gutiérrez y Muhs
Internationally recognized poets Francisco X. Alarcón and Professor Gabriella Gutiérrez y Muhs present their poetry on May 7 from 6:00 to 8:00pm in Pigott Auditorium on the Seattle University campus. More information here!
---
Latino Parent Meeting with Superintendent Dr. Susan Enfield
Platica con la Superintendente, Dr. Susan Enfield
El Centro de la Raza
Saturday May 21, 2011 / Sábado, 21 de mayo, 2011
9:30-11:30am
Latino parents of children in Seattle Public Schools are welcomed to join in a discussion with Superintendent Dr. Susan Enfield on issues affecting the education of their children. Discussion will be in Spanish. For more information, call (206) 478-7800.

Están invitados a conversar con la nueva Superintendente del Distrito Escolar de Seattle, Dr. Susan Enfield, sobre temas que afectan la educación de sus higos/as. La plática sera en español. Para más información, llamar a (206) 478-7800.
Presented by El Centro de la Raza and Cabaña Quetzal, in conjunction with the Commission on Hispanic Affairs, Casa Latina, Seamar Community Health Centers, Concord International School and the Latino PTA at Beacon Hill.
---

The Green Festival, in its 10th year as the Nation's premier sustainability event, represents a network of thousands of authentic environmental and socially responsible businesses and organizations. This year's event will feature 125 visionary speakers, a green market, hands-on workshops, organic wine and beer, family activities and more!

Mil gracias to Green Festival Seattle for donating 200 tickets to El Centro de la Raza—we look forward to distributing them to our community!
News Roundup
IN THIS ISSUE:
DO YOU GOODSHOP?
Don't forget
- if
you use GoodSearch as
your search engine, or do
your online shopping through GoodShop, you can raise money for El Centro de la Raza without spending an extra penny (with coupons through Goodshop, you might actually save money!)
QUICK LINKS:
ONGOING EVENTS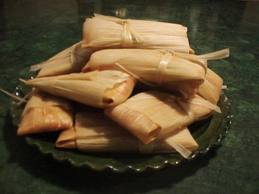 Tamale Making Classes!
Have you always wanted to learn how to make tamales? Now is your chance to learn from a master tamalera! The class fee is $75 per person and includes tamales. The fees go to support our Senior Wellness Program. Register here!

Classes are on the following Saturdays, from 10:00am to 12:30pm:
April 23rd
May 7th and 21st
June 11th and 25th
July 9th and 23rd
August 6th and 27th

For more information, please call (206) 957-4611 or email.
---
¡COMADRES!
Un grupo de apoyo y de conversación para la mujer Latina!

Quieres conocer nuevas amistades, hablar y aprender sobre temas que son importantes para la mujer Latina?

Estas cordialmente invitada:
Próximas Reuniones 5:30 - 7:30pm
27 de Abril en "Planificación Familiar"; 11 y 25 de Mayo; 8 de Junio

Se proveerá cuidado de niños, rifas y merienda. Para más información favor de contactor a Diana Mena (206) 957-4641.
---
Parent Involvement Workshops

Próximas Eventos
26 de Abril, Rainier Beach High School - Latino Family College Night
3 de Mayo, Ballard High School - Career and College Fair

Estaremos presentado el taller Preparando Para el Futuro
Continuar los estudios después de la preparatoria es más accesible de lo que piensa. En este taller se proveerá información sobre los requisitos para graduarse de la preparatoria y la diferencia a los requisitos para entrar a una universidad, el proceso para continuar los estudios después de la preparatoria y más.

Para más información favor de contactor a Belinda Zinzun (206) 957-4614.
VOLUNTEER OPPORTUNITIES
Get more involved! Can you devote 2-3 hours or more a week, month, year, or just one time? We always have the need for volunteers, and we have plenty of opportunities for you to help. Check it out:
Cinco de Mayo - Cinco de Mayo is just around the corner, and we need a few more folks to help set up, take down and assist with parking during the event. Cinco de Mayo will be at El Centro de la Raza this year on Thursday, May 5th! Bi-lingual volunteers a plus!

Volunteers are needed to assist intake and registration of Seniors as they arrive, assisting with passing out fruit, milk, and serving the hot meal, assist in special events, socialize and interact with Seniors involved in program. Must be able to commit to at least 1 hour a week for 3 months!

and more!
We're also on the lookout for professionals like you who want to volunteer using your skills:
If HTML and using cloud-computing software (VerticalResponse) is your forté and you have a good eye for graphic design, perhaps you would be interested in assisting our Development team in crafting new and improved templates for our various eNewsletters and eBlasts. Time commitment varies, and will be discussed during initial interview and subsequent consultations.
We have a lot of upcoming opportunities where we'll be looking to target more professional volunteers. We are looking for someone with a Human Resources background who is skilled in writing to assist us in creating professional job descriptions for these volunteer opportunities. Time commitment varies, and will be discussed during initial interview and subsequent consultations.
Email Kendehl Corley, our Volunteer Coordinator, or call her at (206) 957-4602 for more details on these and other volunteering opportunities. Check out the volunteer section of our website here.
MIL GRACIAS TO OUR WONDERFUL
MARCH & APRIL FUNDERS!
El Centro de la Raza relies on donations from our individual supporters to keep our programs running.
But we are also fortunate enough to have corporate and foundation sponsors and grants for many of our programs and services.
► Eli Lilly - $10,000 to sponsor our 2011 Legacy Awards and Auction Banquet!
► Vulcan - $5,000 to sponsor our 2011 Legacy Awards and Auction Banquet!
(received in January)

► Union Bank - $5,000 to sponsor our 2011 Legacy Awards and Auction Banquet!

► Notre Dame Mission Volunteers AmeriCorps - we'll receive a volunteer placement for the 2011-2012 year for our College Readiness Program!

Mil Gracias to all of our wonderful funders, sponsors and donors!
OUR BOARD OF DIRECTORS:
El Centro welcomes Francisco Calderon as a new member to our Board of Directors!

Ramon Soliz, President
Jeff Middelton, Vice President
David Gasca, Treasurer
Brenda Williams, Secretary
Roxana Amaral, Parliamentarian
Francisco Calderon
Ricardo Garcia
Christina Garcia-Valdez
Norma Guerrero
Victoria Kill
Pablo Mendoza
Madrienne Salgado
Urbano Santos
Billy Smith
Rita Zawaideh
EL CENTRO'S PROGRAMS:
With over 26,000 volunteer hours, El Centro de la Raza serves 23,565 individuals and 11,518 families annually through the following programs and services:
Basic Healthcare Enrollment
BEBES! Infant Mortality Program
Café con El Centro
College Readiness
Crisis Advocacy
ECR Transitional Housing
El Patio Apartments
ESL & Citizenship Classes
Eviction Prevention
Financial Literacy
Food Bank
Foreclosure Prevention
Homeless Assistance Program
Homeownership Program
Hope for Youth Poetry & Civil Rights History Classes
José Martí Child Development Center
Juvenile Justice Policy Advocacy
Luis Alfonso Velásquez Flores After School Program
Parent Involvement & Education
Senior Home Delivered Meals
Senior Nutrition & Wellness
Youth Violence Prevention
Veterans Services
Community Meeting Space
Community Service Site
Cultural/Political/Social Events
Immigrant/Human/Civil Rights
Socia
I
Justice Advocacy
Legal Clinic Site
Tax Preparation Site
Local, State, National & International Coalition Building
Service Learning Site