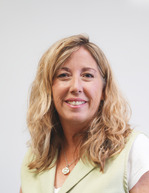 Summer break is always a great time for me to relax and enjoy time with my family. This time off rejuvenates us all. I hope you had time to enjoy your children and I thank you for sending them back to us!
My name is Laura Wanstreet and I am the Horizon Honors Elementary Principal. I have been with Horizon Honors for over 19 years. I taught for several years in district, private and other charter schools before coming to Horizon Honors in 1998. Some of you may recall, I taught K-1 (Kindergarten and 1st grade multi-age combination) and 4-5 (4th and 5th grade multi-age combination). I was a Team Leader, Mentor Teacher and Master Teacher prior to becoming the Elementary Principal in 2007. I look forward to meeting our new families and welcoming back returning families. Please do not hesitate to contact me with any questions or concerns. You can usually find me each morning in the foyer in front of the Elementary Office, but I can be reached by phone (659-3005) or via e-mail (
laura.wanstreet@horizonclc.org
). You can also stop by. My office is located in the Elementary Office.
As we begin a new school year I have some valuable bits of information to share. For example, it is important to read (or re-read) our
Horizon Honors Family Handbook
and the
Horizon Honors Elementary Student Handbook
. Copies of both Handbooks can be found on our website (under "
Resource Library
") and in your child's planner in Grades 3-6. Whether this is your first year with a child attending Horizon Honors or you have been around since the beginning, it is important to read these documents and review them with your child(ren) at least once each year. I know I am reminded of so much each time I read them. Some other important things to remember: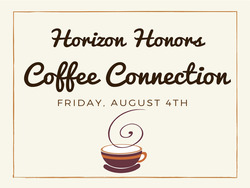 Coffee Connection: New and returning parents: Come and meet other Horizon Honors parents at our Coffee Connection. The first one of the school year is scheduled for Friday, August 4th at 8:15 a.m. in the Media Center. This is a great opportunity to meet other parents from your child's class/grade and more! Coffee and goodies will be provided.
"A Day in the Life": On Wednesday, August 16th at 5 p.m. experience "A Day in the Life" of your Horizon Honors Elementary Student. Come to your child's classroom to walk through your child's day at school, learn about each subject area and gain insight into his/her school experience. This is a very informative evening and vital to understanding your child's expectations in their new grade level.
ILP Conferences: Remember to sign-up for your Individualized Learning Plan (ILP) Conference. ILP Conferences are scheduled for August 17th and 18th. Check your Monday Email next week for information about what the ILP Conference is, where to sign-up for your conference and how you can prepare. Remember, students are not in school on ILP days.
Powerschool:
Powerschool gives you online access to your child's information including attendance information, student fees, grades and assignments. Each person using Powerschool is assigned a unique login name and password. If you have having problems,
click here for some resources
. If you do not have your login information, please contact
powerschool@horizonclc.org
. Remember to log in regularly and communicate with your child's teacher if you have any questions.
Again, welcome. I look forward to seeing you and working with you and your children. I hope you are as energized as our staff is to begin a new school year & reminded of the reasons you continue to make Horizon Honors Elementary your school of choice. Together we will make this the best school year ever!
Thank you for your continued support,
Laura