Hello Kind Friends!
You did it! We did it! HOORAY!!! Thank you so much for being part of the 2018 Great Kindness Challenge. What an AMAZING celebration of kindness it was! We hope your week was filled with an abundance of joy and that the kindness momentum will continue!=
Because of your school's participation in The Great Kindness Challenge, we are thrilled to acknowledge you as a Kindness Certified School.
Thank you for making such a positive difference at your school, in your community, and in our world.
There's no doubt about it, your KINDNESS MATTERS!
With grateful and happy hearts,
Team Kindness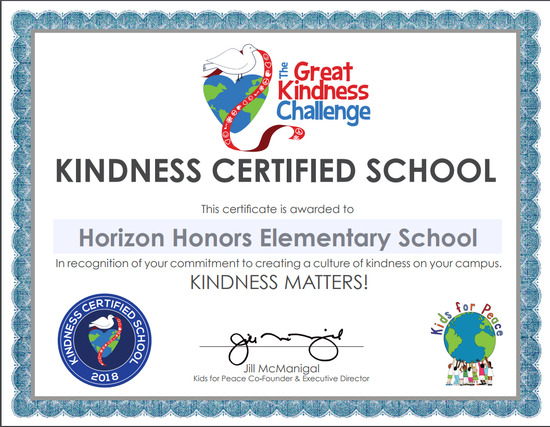 JOIN TEAM NO PLACE FOR CANCER FOR RELAY FOR LIFE!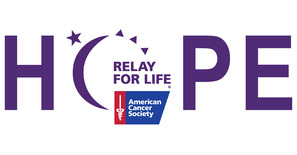 Hello everyone! Relay for Life is rolling around and we need your support. Relay For Life is an event to fundraise and support people battling or that could not fight cancer on March 9th. This is an event for your whole family and a time to honor cancer survivors and family members lost to cancer.

We are inviting you to join us walking to help save lives from cancer, at Horizon Honors Relay For Life event and become part of team No Place For Cancer. Relay participants are determined to help the American Cancer Society fight all stages of all cancers, in all communities.

American Cancer Society Relay For Life events bring communities together, where teams take turns walking or running around a track or path. Symbolizing that no one should face cancer alone, we take turns or walk together to show our passion for seeing the end of cancer in our lifetime.
Show kindness and help fight the cure. If you donate to the American Cancer Society or walk for the cure your saving lives. If this was your loved one who had cancer you would want people to donate to them so they can survive. So please show kindness and join Relay for Life and our team.

Will you join and walk with us? If you can't join us and walk, then please donate and help us reach our team goal of $1,000! Learn more or register using the link below. How you can register is simple. All you have to do is click on the link and select "Join Our Team", then click under "Login With Your Social Account" click "Google". Then type in your password and your in.

Thank you,
Elementary Student Council
Click here to view the TEAM page for
No Place for Cancer