YOU ARE PART OF YOUR CHILD'S LEARNING!
SCHEDULE YOUR ILP TODAY!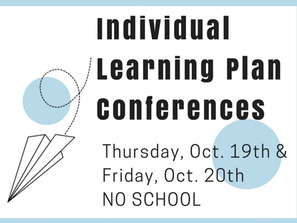 Your student's Individual Learning Plan (ILP) is designed for each student each quarter and includes a list of learning outcomes the student is expected to achieve by the end of that quarter. This serves as both a visual indicator of progress and an agenda for personal conferences with the student's teachers and parents. Progress on the learning outcomes is noted in the PowerSchool program. The final level of achievement on each learning outcome will be a part of the student's ILP. ILPs are developed each quarter during a student/parent/teacher conference. The conference includes a review of the student's progress and goals for the upcoming quarter.
Participation in the ILP Conference is required. Students might not be promoted to the next grade level and/or graduate without this involvement.
2nd quarter ILP Conferences are scheduled for Thursday, October 19th and Friday, October 20th. Please remember, students are not in school on ILP days, but should come with their parents to their scheduled ILP conference. Expect to spend between 45-60 minutes reviewing your child's work, setting goals and meeting with teachers. If your family has multiple student siblings, please plan accordingly.
Talk with your student before the ILP conference to discuss the things that went well for the quarter, and maybe some areas they would like to improve on-we all set goals, help them set realistic and helpful goals as the move into 2nd quarter.
ILP sign-ups are online via Signup.com!
1. https://signup.com/group/357005156031
2. Scroll down, and select your child's grade/class
3. Choose the date October 19th or 20th, 2017 and then choose the day/time that will work best for you and click "SAVE".
4. You will receive an email confirmation immediately and then a reminder 48 hours prior to your scheduled ILP.
Please expect to spend between 45-60 minutes reviewing your child's work, setting goals and meeting with teachers.
DEAR DAY NEXT FRIDAY!
Drop Everything And Read Day is next Friday, October 6th! Bring your favorite books to school! Wear school appropriate pajamas, (no slippers or spaghetti strapped tops) and READ, READ, READ!