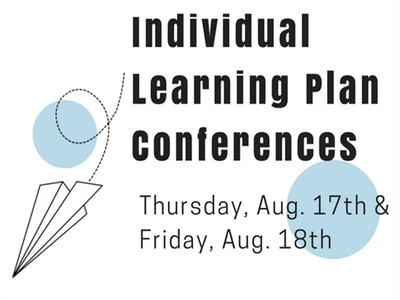 SIGN UP FOR ILP CONFERENCES
You are a part of your child's learning! Be sure to schedule your ILP today!
Your child's Individual Learning Plan (ILP) is designed individually each quarter and includes a list of learning outcomes the student is expected to achieve by the end of that quarter. This serves as both a visual indicator of progress and an agenda for personal conferences with the student's teachers and parents. Progress on the learning outcomes is noted in the PowerSchool program. The final level of achievement on each learning outcome will be a part of the student's ILP. ILPs are developed each quarter during a student/parent/teacher ILP conference. The conference includes a review of the student's progress and goals for the upcoming quarter.
Participation in the ILP Conference is required. Students might not be promoted to the next grade level and/or graduate without this involvement.
First quarter ILP Conferences are scheduled for Thursday, August 17th and Friday, August 18th.
Please remember, students are not in school on ILP days, but should come with their parents to their scheduled ILP conference. Expect to spend about 45 minutes reviewing your child's work, setting goals and meeting with teachers. If your family has multiple student siblings, please plan accordingly.
Talk with your child before the ILP conference to discuss the things that are going for the quarter, and maybe some areas they would like to improve on- help them set realistic and helpful goals as the move into the quarter.
ILP SIGN UPS are online via SignUp.com
2. Scroll down, and select your child's grade/class
3. Choose the date August 17th or 18th and then choose the day/time that will work best for you and click "SAVE".
4. You will receive an email confirmation immediately and then a reminder 48 hours prior to your scheduled ILP.
Please expect to spend about 45 minutes reviewing your child's work, setting goals and meeting with teachers.
If you have any questions or need assistance, please call the Elementary Office.
We look forward to seeing you and your child at your ILP conference.
---
DON'T MISS "A DAY IN THE LIFE" THIS WEDNESDAY!
On Wednesday, August 16th at 5 p.m. experience "A Day in the Life" of your Horizon Honors Kindergarten-6th Grade student! Begin in your child's classroom/first period class and walk through your child's day at school, learn about each subject area and gain insight into his/her school experience. This is an important time to learn about each teacher and subject/content area and prepare for your Individual Learning Plan (ILP) Conference. New and returning families will benefit.
We will see you there!
A Day in the Life of a Kindergarten Student
5:00 – 5:15 - Welcome, Morning Meeting & Calendar
5:30 – 5:45 - Reading & Centers
6:15 – 6:30 - Project Group
6:30 – 6:45 - PowerSchool Demonstration
6:45 – 7:00 - Closing & Plus/Delta
A Day in the Life of a 1-2 Student
5:00 – 5:15 - Welcome, Morning Meeting & Calendar
5:20 – 5:35 - Project Group
5:40 – 5:55 - Learning Block 1
5:55 - 6:10 Special 1
6:15 - 6:30 - Special 2
6:30 – 6:45 - Learning Block 2
6:45 – 7:00 - Closing & Plus/Delta
A Day in the Life of a 3-4 Student
5:00 – 5:15 - Welcome, Morning Meeting - Planners
5: 15 – 5:30 – Special 1
5:35 – 5:50 - Special 2
6:00 – 6:15 - Learning Block 1
6:20 - 6:35 - Learning Block 2
6:40 – 6:55- Project Group
6:55 – 7:10 - Closing & Plus/Delta
A Day in the Life of a 5-6 Student
5:00 – 5:20 - Period 1
5:25 – 5:45 – Period 2
5:50 – 6:10 - Period 3
6:15 – 6:40- Project Group & Plus/Delta
6:40 – 6:55 - Special 1
---
PICTURE DAYS THIS WEEK!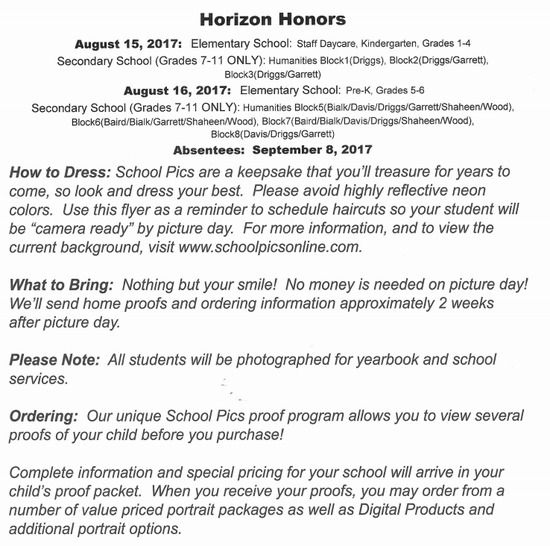 ---
AFTER SCHOOL GROUPS FOR ELEMENTARY STUDENTS
It has been our experience that children seem to cope better with struggles in their lives when they have the chance to share their feelings with others going through the same experience. Fortunately, your child has an opportunity at this time to participate in a group that will explore the issues your child may be experiencing. Starting this quarter Mrs. K. (Kelly Maguire), our Student Advisor, will be providing groups for the various grade levels after school. The focus of these groups is to help students learn how to express their emotions in a healthy way and understand their emotions and how to problem solve. This can include children who have experienced or are experiencing divorce or separation within their family, students struggling to find friends and feel that they "don't fit in," for students who are experiencing hardship within their family - which may include financial hardship, loss of a loved one, exposure to a loved one with an illness or any other stress that is causing emotional hardship. If you would like your child to benefit from this opportunity,
please complete the form provided
and return it to the Elementary Office as soon as possible. Groups will begin mid 1st quarter and continue throughout the school year.
---
HORIZON HONORS ELEMENTARY STUDENT AMBASSADOR PROGRAM
If you are a family that is new to Horizon Honors Elementary or if you have been at HHES for several years, you may have had the pleasure of touring our school with some of our fantastic Student Ambassadors. In the past, we have asked teachers to nominate leaders for this program who are then trained and remain in this position until they move to the Secondary school. We now open up this process to all 3rd-6th grade students interested in this amazing opportunity. If your child is interested in applying they are REQUIRED to attend an informational meeting Tuesday, August 15th at 2:45-3:15 (in the MPR) for 3rd-4th graders and 3:15 to 3:45 for 5th-6th graders (in the MPR) . Once your student has attended this meeting, you will be emailed a link to sign up for a time to have your child come and complete an online application, as well as a brief interview (times will be during ILPs). Your child must attend the informational meeting, complete the online application and interview, and if chosen they will also be required to attend after school training. Please talk with your child(ren) and mark your calendars if they would like to apply.
---
MASTER TEACHERS MESSAGE
Back into the Swing of School
Getting back into the swing of things can be difficult after being on summer vacation-it is hard for all of us. In looking at the year ahead as parents we need to emphasize the positive things about going back to school, such as hanging out with old friends, meeting new classmates, buying school supplies, getting involved in sports and other new activities, and showing off the new clothes, accessories, backpacks and lunchboxes.
To help your child be successful as we move into a new year these are some ideas that can be helpful. Helping your child each day with these can help set them up for the best learning possible.
get enough sleep (establish a reasonable bedtime so that they'll be well-rested and ready to learn in the morning)
eat a healthy breakfast, pack a healthy snack and lunch (they're more alert and do better in school if they eat well every day)
write down the need-to-know information that will help them to remember details-use a wall calendar or personal planner (3rd-6th graders will have their own) to record when assignments are due, tests will be given, extracurricular practices and rehearsals will be held
have them organize and set out what they need the night before (homework and books should be put in their backpacks by the door and clothes should be laid out in their bedrooms)
Routines help children feel comfortable, and establishing a solid school routine will make the school year go much smoother. Now that school is started, start developing your own routines, this will help everyone be off to a good start!
---
DROP OFF & PICKUP REMINDER
For the safety of your family, please do NOT allow your children to exit or enter your vehicle from the driver's side of the car. Our staff members on duty will be happy to help students out of cars from the passenger (curb) side in the mornings. Thank you!
---
BIKES & SCOOTERS REMINDERS
The Horizon Honors Elementary bike rack is located near the flag poles. If you ride your bike or scooter to school, please lock them in the bike rack. If you ride your bike or scooter to school, please remember:
Follow all bike & scooter safety rules.
Walk your bike or scooter inside the rack and please do not ride in any area of the campus.
Please be extremely careful when you leave school to go home. Walk your bike off campus and then ride carefully.
Bring a lock for your bike or scooter. The rack area is not locked during the school day, so you must use a lock to keep your bike or scooter safe. The school has no legal responsibility for bikes or scooters. Damaged or stolen bikes are the financial responsibility of the owner, so please remember to lock them up. School policy states: Personal Property: Horizon Honors is not responsible for loss, damage or theft of personal property. This includes items lost, damaged, or stolen on campus during the school day, at after school activities, athletic events, field trips, social events, etc. Horizon Honors does not assume any financial responsibility for personal property (HCLC Policy ECAP).
---
SCHOOL SUPPLY DRIVE FOR THE CLOTHES CABIN
This week, we are kicking off our school supply drive. The Elementary Student Council is collecting school supplies to donate to a non-profit organization called Clothes Cabin, once there, kids in need can pick up all of the necessary school supplies they need for school. You may donate items starting this week and all the way through August 25th . We are gathering items such as backpacks, lunch boxes, composition notebooks, pencils, markers, crayons, erasers, and much more. We appreciate your help and support! Go, Eagles!
---
LAST CHANCE FOR DIRECTORIES!
Submissions for these directories are due TODAY, August 11th.
---
MEDIA CENTER NEWS
Elementary classes have started visiting the Media Center! Each class will have a regular Library day, please check with your class to find out which day your student will visit.
Kindergarten students will visit the Library every week and they may check out one book at a time, please help them to find a special place to keep their book so they will not lose it and it will be safe.
1st - 4th Grade students will visit the Library every week and they may check out 2 fun/choice Library books at a time. Their Literature books, books assigned by the teacher, will not count as a fun/choice book. So it is possible that they have 3 books at one time.
5th & 6th Grade students will visit the library every other week, they have more book choices then the younger grades and can check out 2 fun/choice books at a time.
---
We are very excited to offer the following after school clubs! Please click on the link provided to print out the flyer and registration.
Chess (Flyer in Elementary Office)
Chess (Flyer in Elementary Office)
Lego Club (Flyer in Elementary Office)
Chess (Flyer in Elementary Office)
Chess (Flyer in Elementary Office)
We also have information in the Elementary Office for Scouting opportunities.
---

The Horizon Harmonies and Eagle Echoes have been invited to be part of the Arizona Diamondbacks Choir Night on Friday, September 22. The students will be performing the National Anthem along with other elementary choirs from around the state. Each student that would like to perform will need to purchase a ticket
through the Horizon Honors event page
. Friends and family are invited to join us for this special performance and the D-backs vs. Marlins game. Tickets are specially discounted and a portion of the proceeds from every ticket sold will benefit the Horizon Honors ​Choirs.
---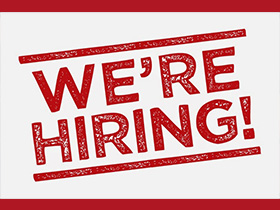 HORIZON HONORS IS HIRING!
We are looking for Club Horizon Team Leaders! Team Leaders must be 18 years of age, have a high school diploma, and enjoy working with and supervising students in Grades PreK-6. Team Leaders provide fun and engaging activities while keeping our students safe. Hours of operation are 6:15 to 8 a.m. and 2:30 to 6 p.m. This job is perfect for college students! Apply today at
horizonclc.org/contact/careers
.
---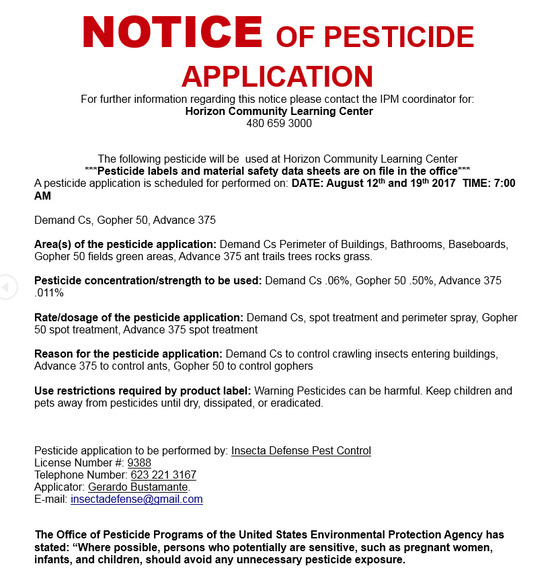 ---
---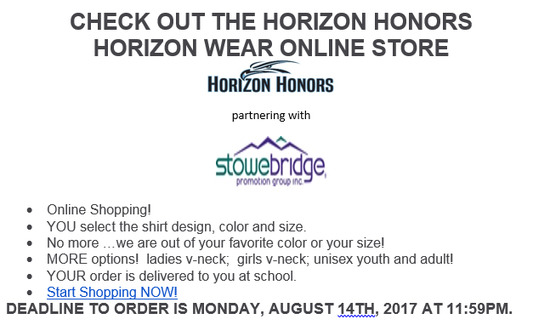 ---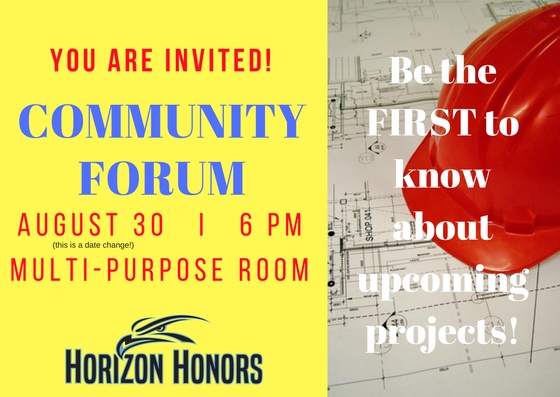 ---
JOIN US AT THE STAFF APPRECIATION COMMITTEE MEETING!
Thursday, August 31 at 8:30-9:30 a.m. in the Parent Partnership Office
The Staff Appreciation Committee goal is to make ALL of the Horizon Honors staff feel appreciated!
Unable to make the meeting, please let me know so that your input can be included.
Email if you plan to attend or cannot make the meeting but want to be involved at kasi.knutson@horizonclc.org.
---
HORIZON HONORS HIGH SCHOOL CELEBRATES THEIR CHAMPIONS! RSVP TODAY!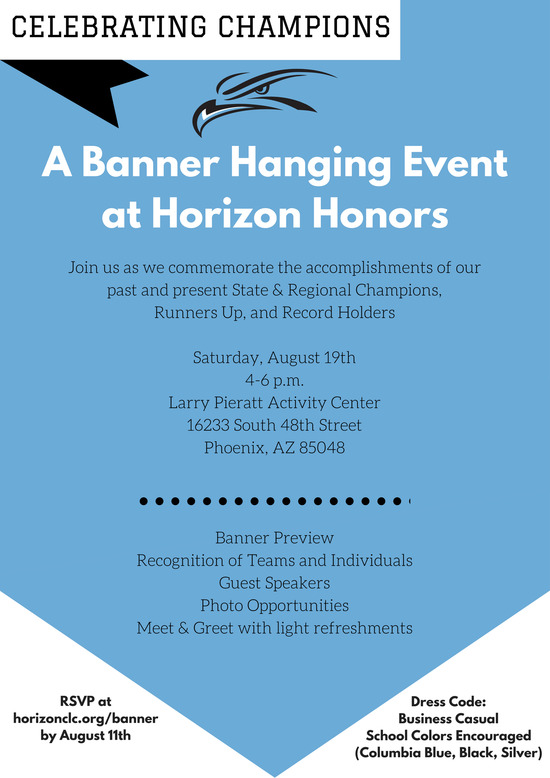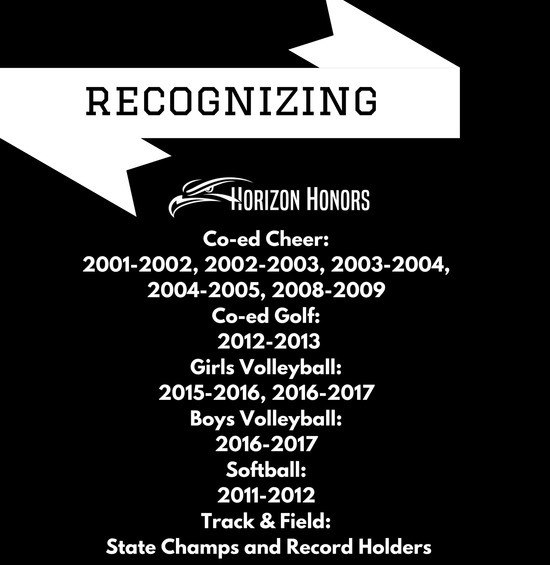 ---