JOIN US TONIGHT FOR HOMECOMING!
Watch a game and have dinner! Food trucks in the Horizon Honors Parking lot! Go, Eagles!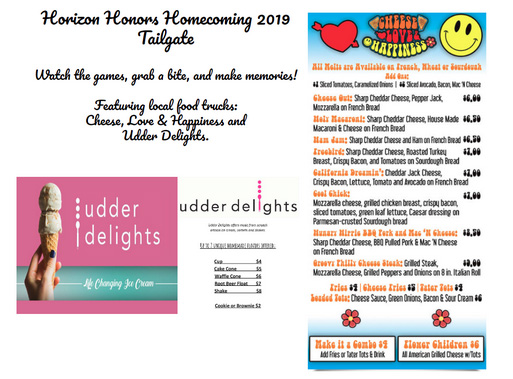 5-6 BASEBALL UPDATE FROM COACH RUBIO

Great news! The Eagles have come out of winter break staying focused on winning ways and have completed another 3 wins.
1/10: Horizon 8 vs Lincoln Prep 4 - Victory Horizon Honors. As much as this game was sealed by hitting this game was defined by our catchers. We have a Aiden DG, Terrance R. and Zach H. all spending time behind the plate with others. The Lincoln Prep team was determined to try and advance runners but our catchers recorded a high of 8 put-outs on the base path. That is an incredible fact.

1/11: Horizon 21 vs Arete Prep 3 - Victory Horizon Honors. As the score shows this game was all about the offensive fire power of our team. Hard to beat a team that plays solid defense, hits and has discipled base running. The Play of the game was the double play started by Kiretan A. who tossed to Aidan "AA" for out 1, then as AA tossed to first interference by the base runner forced the second out.

1/14: Horizon 14 vs Tempe Prep 9 - Victory Horizon. I read a quote by Dabo Sweeney that I think embodies today's game;
"When you have Adversity in life & it doesn't go your way- it can destroy you, it can define you or it can develop you."
Not allowing a single base runner in the first, Tempe Prep came out and scored 8 runs on our 6 errors. This was a defining moment, the team rose to the occasion and scored 7 more runs to take back the lead 10-8. It was generated by a in the park home run by Aidan"AA". Hits by Kiretan A., Leo W., Gavin A., Max G. and Tyler W. allowed us to score 4 more insurance runs.

The team is in the home stretch of the season as we have just 3 games left. We are back at home next Wednesday - 3:30 at Sun Ray Park then finish the season away at Anthem.
Come out and cheer on YOUR Horizon Honors teams! GO EAGLES!