HOUR OF CODE COMING TO HORIZON HONORS!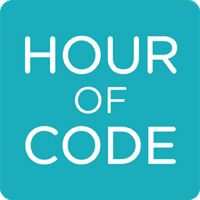 We live in a world surrounded by technology. And we know that whatever field our students choose to go into as adults, their ability to succeed will increasingly depend on understanding how technology works.
But only a tiny fraction of us are learning how technology works. Fewer than half of all schools teach computer science.
That's why our entire school is joining in on the largest learning event in history: The Hour of Code, during Computer Science Education Week (December 4-10). More than 100 million students worldwide have already tried an Hour of Code.
Our Hour of Code is making a statement that Horizon Honors is ready to teach these foundational 21st-century skills!
See http://hourofcode.com/us for details, and help spread the word.
If you have any questions regarding the Hour of Code or would like to volunteer for this event, please contact your child's teacher.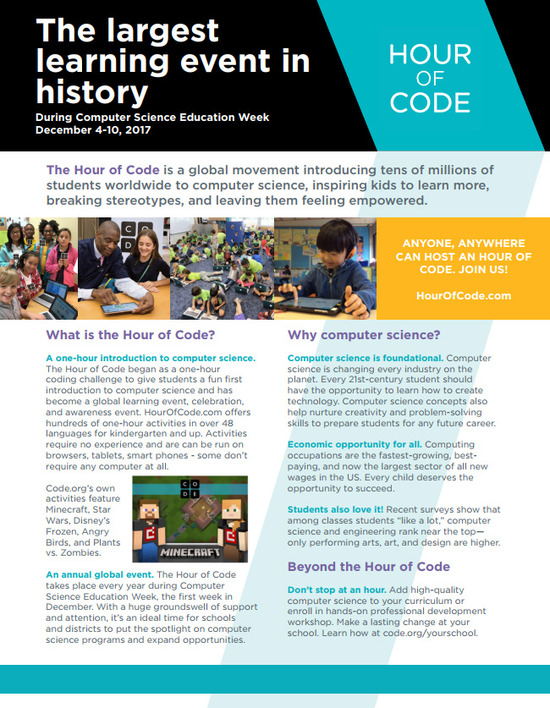 ---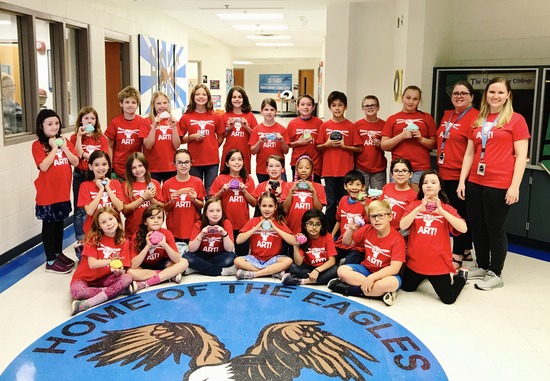 In order to pair their love of art with community service, students in the 3rd-6th grade Art Club took a field trip to Mountain Park Community Church this week to distribute "Kindness Rocks." The students spent two weeks painting uplifting, positive messages on found rocks and sealing them so they could withstand the elements. The rocks were then placed in the common areas in the church parking lot for others to discover and enjoy. #HCLCRocks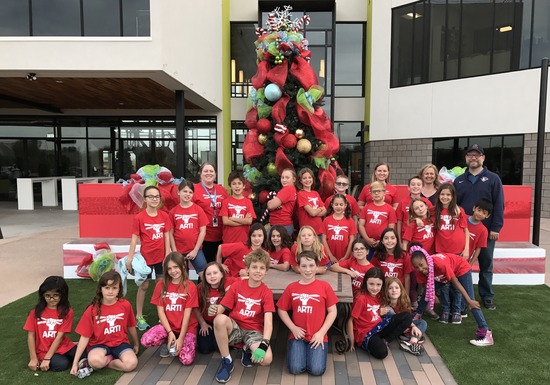 ---
5-6 BOYS BASEBALL UPDATE
The Eagles kicked off the 5-6 baseball season on Tuesday with an exciting home game against Fountain Hills. The boys came up just 1 run short with a 7-6 loss. Although the score doesn't reflect the Eagles had an incredible game. The had lights out pitching from Braeden S., Carter K. and Maxwell T. The Eagles came to hit - over half the team hit the ball forcing Fountain Hills to make plays.
Coach Rubio said, "I could not have been prouder of the way the team rallied together. Ultimately I made two calculated risk that did not go our way and we ended up on that short side. We would not have changed anything. I think we provided a special game for our Horizon fans."
Come out to support the team at their next home game on January 16th at Desert Foothills Park.
Go Eagles!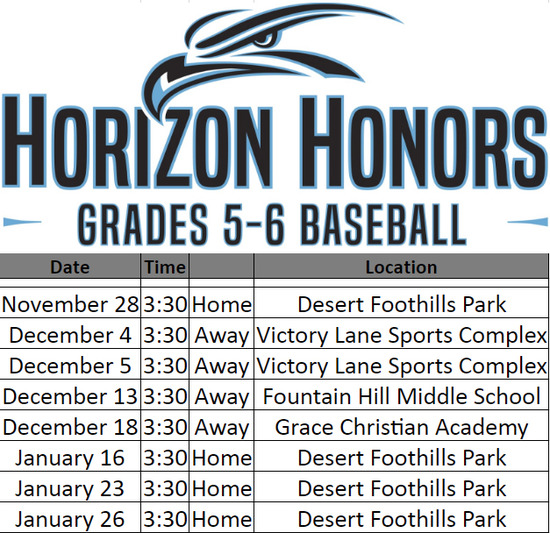 ---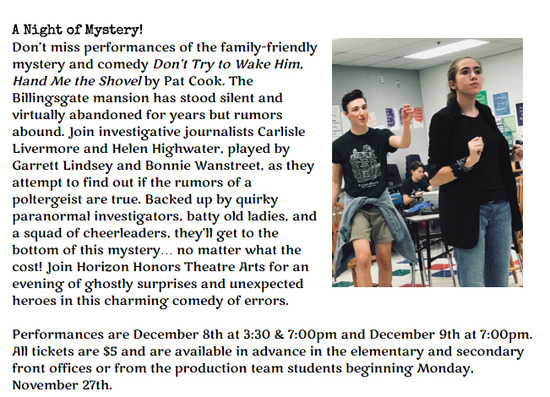 ---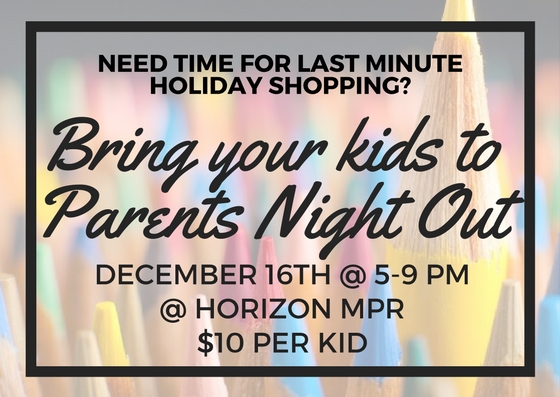 All students Kinder-6th Grade are invited to join the Horizon Honors Relay for Life Event Leadership Team High School students for a Parents Night Out on December 16th from 5-9 p.m.! It will be a fun evening of crafts, games, and snacks, and all proceeds benefit Relay for Life and the American Cancer Society. In order to participate in this event, a permission slip with $10/child attached must be turned in to the Secondary Office by Friday, December 8th. This event shares the date with "Ahwatukee Eats," thus on Saturday, December 16th each child must be walked to the Multi Purpose Room lobby by a parent or guardian and signed in, and signed out at 9 p.m. and escorted to their ride.
---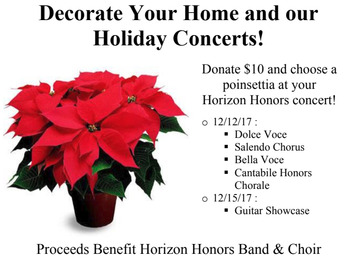 CHOIR & GUITAR POINSETTIAS
Order your Holiday Poinsettia from Horizon Honors Music and help us decorate our Concert Stage!
---

---
Designate YOUR
Arizona School Tax Credit
to Horizon Honors
at NO extra cost to you!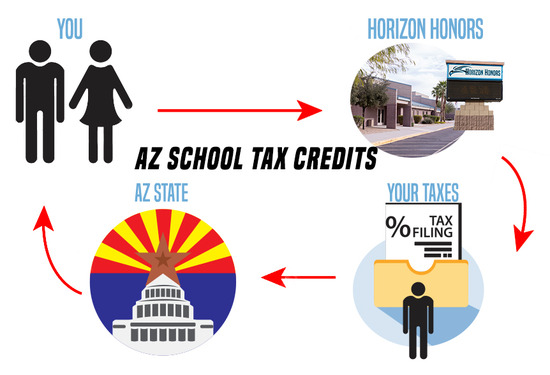 YOU can help make a difference at NO extra cost to you. Donors receive a dollar-for-dollar credit on their Arizona income-tax returns.
Click on the tab below if you plan to give your AZ School Tax Credit to a program NOT designated to a specific student:

Click on the tab below if you plan to designate your AZ School Tax Credit to a specific Horizon Honors Elementary School student:


Click on the tab below if you plan to designate your AZ School Tax Credit to a specific Horizon Honors Secondary School student:

Single income tax filers can pay up to $200; joint filers may pay up to $400. If you have any questions, contact finance@horizonclc.org.
---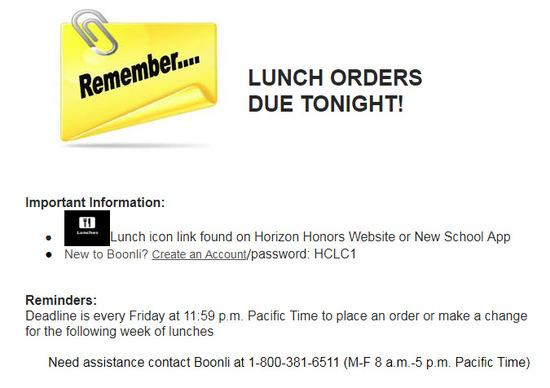 ---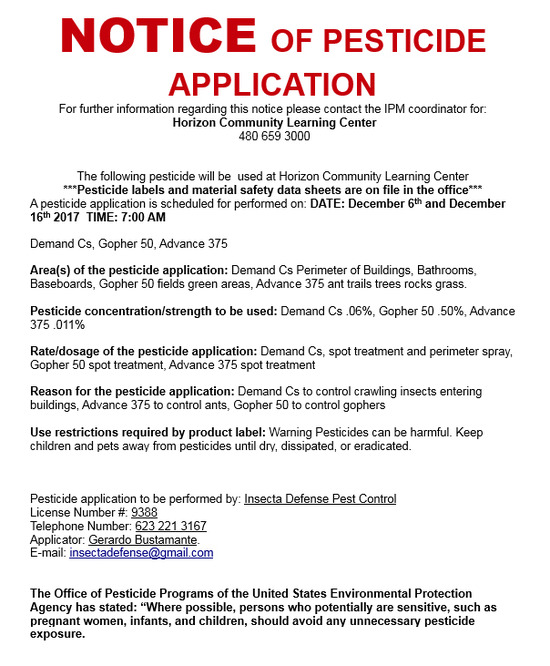 ---