Western Watersheds Project awarded the James A. St. Amant Special Award by the Desert Tortoise Council
~ Jon Marvel


Friends,
At a meeting in Las Vegas last weekend the Desert Tortoise Council awarded its James A. St. Amant Special Award to Western Watersheds Project in recognition of WWP's work to protect Desert Tortoises from the negative impacts of livestock grazing and industrial solar projects on tortoises and their habitats in the American Southwest.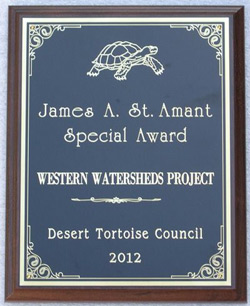 Western Watersheds Project's California Director Dr. Michael J. Connor was present to receive the award on behalf of WWP.

Read Western Watersheds Project's News Release

I would like to express my admiration and thanks to Dr. Michael J. Connor for his hard work to protect desert tortoises in all of their southwestern habitats. It is an honor to have Mike on the WWP team and this award would never have been awarded to WWP except for Dr. Connor's fantastic work and extensive achievements.

Thank you Mike !



Banner: Desert Tortoise Habitat, Ivanpah Valley, California photo: Dr. Michael Connor, WWP


Desert Tortoise © Dr. Michael Connor, WWP
Take this opportunity to spread the word.
"Heading for Cover"
Click to view Youtube Video

Like What We Do? Let others know:
Forward this message to a friend
Receive this email as a forward from a friend ?