THE LIBRARY IS LOVEABLE!
We have a little of something for everyone
If you like books, authors, music, crafts, excercise, eating light, getting your taxes done right... we have a program for you! We are a community resource providing a wide array of FREE events to enrich your life!
BOOKS: We have them in paper, on disc, in a Playaway, by digital download in both eBook and Audiobook formats, and if you don't yet own an eDevice, we loan those, too -- loaded with best sellers, romances, sci-fi, suspense and more!
Just learning about our eDevices? No worries! To check one out, just do a catalog search with the keyword "NOOK" to see what is available today!
Still mastering your own smart phone reading apps or eDevices you received for Christmas? Not a problem! Check out our event calendar for our computer and eDevice workshops, or keep an eye on our Facebook page for an online Q&A segment!
PRODUCER/DIRECTOR VISIT: We bring you the books and movies, of course! But we are also bringing you the people that write and direct the books and movies! There's a lot of value and satisfaction to meet, talk to, and discuss the works with the people that create them. SSJCPL is proud to partner with the Library & Literacy Foudation for San Joaquin County to provide our customers that opportunity! The next Live at Cesar Chaves event is scheduled at Cesar Chavez Library, Monday, February 25th, at 5pm, and will be with director and producer Tyrone Young.
Tyrone Young will be on hand to discuss his documentary, "Filling the Gap: Forgotten Chapter of American History," following a viewing of the movie. The movie will be shown at 5pm. Mr. Young's presentation will begin at 6:30pm. Come enjoy the presentation and meet the man that made the movie.
MUSIC: Of course you can check out a wide variety of music CDs from any branch, or you can come to a program and listen to musical greats such as Ken O'Malley. Ken is a recognized Irish folk singer and songwriter and will be the featured musician for this magical evening of songs in both English and Irish Gaelic. At Cesar Chavez, March 4 at 6pm.
EXERCISE: We know the importance of staying fit and strong; how else would you be able to carry all the books that you check out from the library? Therefore, we have several branches that work with the community to provide classes such as Zumba, Pilates, Yoga, Line Dancing (it's exercise!) and more. On February 16th, at 2pm, there will be Line Dancing at Troke; every Wednesday, at 6pm, at Ripon Library there is a Pilates/Yoga class; every Friday, at 4pm at Weston Ranch Library there is a Zumba class. ALL FREE!
LIBRARY TOURS: Want to know more about the Library? We have a program for that, too! Every Wednesday, 4pm, at Cesar Chavez Central Library, you can meet at the Customer Service Desk to take a tour of the library. Learn to search the catalog, see the resources we have available, see behind the scenes, and so much more!

---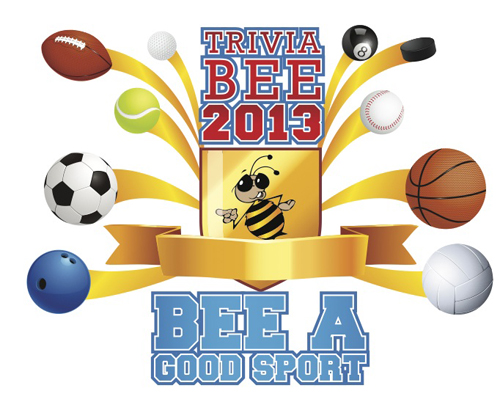 SAVE THE DATE: 22nd ANNUAL TRIVIA BEE
Bee a Good Sport on Friday, March 15, 2013
On March 15th the Stockton Civic Memorial Auditorium will be filled with literacy lovin', costume crazy, fundraising superstars! Sport superstars to go along with this year's theme of "Bee a Good Sport". It's not too late to register your team, join an existing team, or buy tickets to be a spectator at this awesome and annual event!
The Trivia Bee is the largest fundraising campaign hosted by the Library & Literacy Foundation, and we are happy to encourage all our readers to SAVE THE DATE for this fun and purposeful event!
The mission of the Library & Literacy Foundation for San Joaquin County is to support programs in our communities that foster literacy and promote the power of reading to enrich lives.
The Foundation was incorporated in 1990 as a non-profit, tax-exempt organization in response to the specific need to fully fund the Stockton-San Joaquin County Public Library's Adult Literacy program. The Foundation has since expanded to support family and community literacy programs and assist with sustaining the Library's book budget and a wide variety of community literacy events and programs.
Gather your teams, construct your costumes, tout your table decor on Friday, March 15, 2013, at the Stockton Memorial Civic Auditorium, and help the Foundation raise money for a great cause!
Doors open at 5 p.m. ● Dinner at 6 p.m. ● Trivia Bee begins at 7 p.m.
THEME: BEE A GOOD SPORT
BEE a TABLE (support a team): Enjoy the event as a spectator and purchase a table for 8 for only $250! That will give you a fun filled night and dinner for the group! Jazz up your table in a sporty theme and participate in the BEST DECORATED TABLE contest!
BEE a TEAM: Sign up now to secure your team spot. Each team of three answers trivia questions to win the coveted Bobble Head Trophy. The cost per team, including dinner, is $550.
BEE a SPONSOR: You and your company can sponsor the 20th Annual Trivia Bee at varying levels with benefits and recognition relative to the sponsorship.
Sponsors: $5000 ● Gold Sponsors: $2500 ● Silver Sponsors: $950
BEE a DONOR and/or VOLUNTEER: Consider donating to the silent auction, the wine auction, and raffle baskets. Or volunteer to help before, during, and after the Trivia Bee.
BEE a PARTICIPANT: Come join us for dinner, a silent auction, wine auction, raffle, and, of course, the Trivia Bee! Prizes available for best costume, table decorations, and spirit! Costumes are encouraged and enthusiasm is a must!
For More Information call (209) 957-7277
---



SSJCPL STAFF ARE ALSO BLOGGERS!
We are proud to announce that the Library BLOGS! Topics range from books, travel, and parenting to food, book awards, and changing oil in cars! You name it, and we have either wrote about it or will write about it!
The bloggers extraordinaire are: Beverly, Candace, Lisa, Lori, Osvi, Panteha, Peaches, Rena, Suzy and Tara!
The SSJCPL blog started in October of 2012, and in less than 4 months we have had over 10,000 page views, lots of comments, and several customers tell us in person that they love our blog! If you aren't one of the 10,000, maybe today you can be?
Check us out right here: SSJCPL BLOG
Don't be shy! Feel free to comment on a blog that speaks to you and tell us what you like!
---

THE TROPHY IS COMING TO STOCKTON!
Not sure if you have all heard this or not, but the San Francisco Giants WON THE WORLD SERIES IN 2012!!! And just like in 2010, the WORLD SERIES TROPHY is on tour across California (presented by Bank of America) - and STOCKTON is one of the stops!
On Wednesday, March 6 from 5pm - 7pm the Giants World Championship Trophy will be on display at the Stockton Memorial Civic Auditorium. This is a FREE event.
In 2000, Major League Baseball commissioned Tiffany & Co. to create one of the most celebrated awards in all of sports: the World Series Trophy. The Commissioner of Baseball presents this trophy to the winning team of the annual World Series. That winning team is no other than the GIANTS!
Want to learn more about baseball, the trophy, the Giants, winning, sports in general? Stop by the library and check out some great books that detail all this information!
To learn more and prepare for your visit, check out the MLB Trophy Tour page!
---
CUTENESS IS ABUNDANT AT THE LIBRARY
This newsletter wouldn't be as cute without some pictures from the PRINCESS STORYTIMES that were held at several SSJCPL branches in January! Check out these cuties from Troke Branch Storytime with Christine: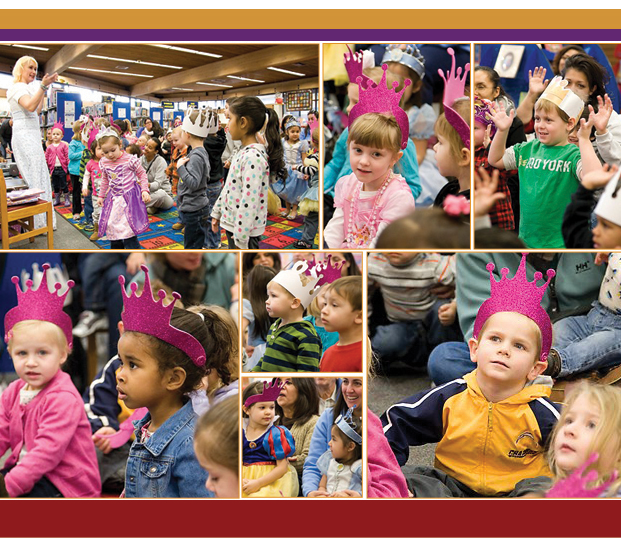 ---
NEW AUDIO AND EBOOKS TO CHECKOUT!
Audiobooks and eBooks continue to be a big hit for our customers! Circulation numbers grow each month! Here are the covers of some of our newly added Ebooks and Audiobooks – see something you like? Check it out today, and have it loaded to your preferred device!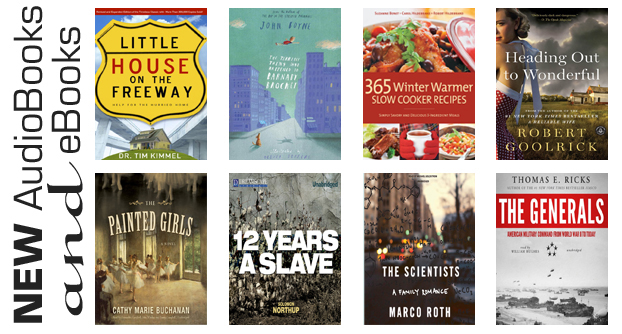 Don't forget! We have NEW NOOKS, too! They are in ciruclation and easily searched in our catalog. Just type "Nook" for the search term and find all the available devices. Each device has about 12 books, and that number will continue to grow! Devices are categorized by reading genre. Check out fiction, non-fiction, mystery, romance, and more! These are great to check out for business trips, road trips, and weekend getaways! Finish one book? No problem, just keep reading through all the titles on one simple device!



---
Contact the Library at (209) 937-8221 or email heather.mompean@stocktongov.com to learn how
you or your organization can support the Stockton-San Joaquin County Public Library.
Support the Library by sharing our news! Forward this to a friend who might be interested! Or, if you received this from a friend and would like to subscribe to receive your very own email, click here!
The Stockton-San Joaquin County Public Library would like to thank the Friends of the Stockton Public Library for their generous donation to sponsor the Let's Connect newsletter.

The Friends of the Stockton Public Library, the Friends groups in Escalon, Lathrop, Linden, Manteca, Mountain House, Ripon, and Tracy, and the Library & Literacy Foundation for San Joaquin County are non-profit agencies that collaborate, support, and financially assist with the programs and services we provide to our communities.