As of October 1, Stockton-San Joaquin County Public Library launched a newly redesigned website and showcased a new logo via an easier to remember URL: www.ssjcpl.org
Check out this screen shot of the pretty-ness that is now our new digital home - or better yet, click the image to be taken directly to our redesigned website and cruise around to see the new blog posts, a quick view of current events, and more.
For over a year, we have been offering eBook and Audiobook downloads so customers can load their own devices with reading material, and beginning October 22, we will be offering the actual electronic devices for checkout!
If you are not yet an owner of your very own Nook, don't despair. SSJCPL will be offering the devices, loaded with books, to checkout just like you would any other book.

Chris Freeman, SSJCPL City Librarian, said e-readers are just another way to meet the needs of our readers. "We want to encourage reading in any format available," he said. "Whether a customer likes the feel of a bound book in their hands or enjoys the ease of swiping a finger across a screen to turn pages, SSJCPL will have what our diverse customers want."

There will be 54 Nooks featuring 9 different genres that will begin circulating October 22, 2012. Originally, the Library was able to purchase 18 Nooks. However, after a generous donation from the Friends of the Stockton Library, the number increased to the current inventory of 54. "After reviewing the rental history of the devices, we will evaluate the goal of adding more Nooks and more genres of titles to our collection," said Susan Johnston, Supervising Librarian. She continues, "We are pretty sure this will be a big deal for our library card holders, and we are incredibly grateful to our Stockton Friends group for graciously providing additional funding to make more devices available to our community of readers."

The Nook eReaders will come in a pouch that also contains the battery charger and instructions. They can be requested from the Library's online catalog system or from any branch location. When using our catalog, simply search for "Nook". It is important to note the Nooks must be returned to the desk of any library branch versus book drops to eliminate damage to the electronic devices.

SSJCPL's purchasers are busy as bees, bees buying books, thanks to recent donations by both the Friends of the Stockton Library and the Library & Literacy Foundation for San Joaquin County.
In July 2012, the Friends donated $75,000 to purchase books, films and music for the Stockton-San Joaquin County Public Library's 2012/13 fiscal year. At the same time, the Library & Literacy Foundation donated $40,000 to augment the materials collection budget. These funds will directly benefit library users by providing more materials to enhance their lives in a variety of ways, both personal and professional.

The Friends of the Stockton Public Library was incorporated in 1958 "To cultivate a closer relationship between the citizens and the library," with the specific purpose "To promote knowledge of the functions, resources, and extension and improvement of library services and resources, and to develop adequate housing of library facilities in the city of Stockton, California."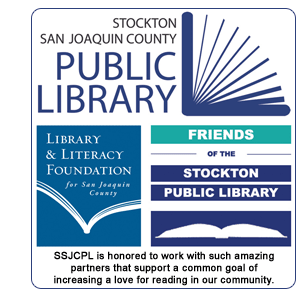 During their many years of service, the Friends have been involved in many activities and accomplishments; leading the charge to pass a bond for construction of the Cesar Chavez Central Library; assisting in the Buy-A-Book Campaign when Proposition 13 reduced funding for libraries; promoting the Local Author Series, Mystery Readers Conference, and the Home Borrowers Service; operating a successful used book store; and organizing popular fundraisers.

With varying membership counts, the Friends have provided consistent and continued support and funding sources for more than 50 years, culminating in half a million dollars of funding for programs and materials in the past 5 years alone. The programs they support reach more than 3000 people a year. This wondrous achievement and endless dedication are, more than ever, an integral part of the Stockton Public Library success.

The Library and Literacy Foundation for San Joaquin County was incorporated as a non-profit, tax-exempt organization in 1990 in response to the specific need to fully fund the Stockton-San Joaquin County Public Library's fledgling adult literacy program. In more recent years, the Foundation has not only focused on literacy programs but also on providing funding for library materials. The Foundation's primary fundraising event is the annual Trivia Bee, now in its 21st year, held in March of each year.
"We are so grateful to have support organizations such as the Friends and the Library & Literacy Foundation groups who understand the needs of the Stockton-San Joaquin County Public Library and who want to make our system stronger and better," said Chris Freeman, City Librarian.

---
OCTOBER IS TEEN READ WEEK!
Beginning October 14 through October 21, 2012 SSJCPL will join a national campaign to celebrate reading for fun and to encourage teens to take advantage of reading in all its forms —books and magazines, e-books, audiobooks and more — and become regular library users. Who wouldn't want to be a regular library user (see above articles that show-off all our coolness)?
If you are a teen reading this, you hit the JACKPOT!
If you know a teen, can you share all this great information!
If you have an electronic device, likely we can get you a book on it! Check out the SSJCPL Digital Download Center!
If you don't have an electronic device, no worries! We now let our card holders check out NOOKS preloaded with several genres of books including sci-fi, fiction, young adult, fiction, mystery, etc. Just search our catalog for "NOOK". There might be a wait, but it's worth it!
Haven't an idea what to read next and would like a little teaser of some good books that SSJCPL can make available to you? Get yourself to the TEEN READ WEEK page!
Oh... and remember, don't be too scared by our spooky banners advertising this great reading campaign!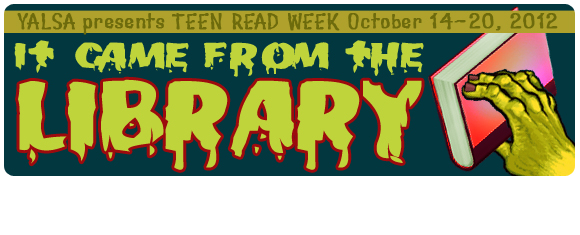 ---
NEW AUDIO AND EBOOKS TO CHECKOUT!
Audiobooks and eBooks continue to be a big hit for our customers! Circulation numbers grow each month! Here are the covers of some of our newly added books – see something you like? Check it out today, and have it loaded to your preferred device!
---
REFLECTING ON ONE BOOK, ONE SAN JOAQUIN
Written by Suzy Daveluy
Youth Services Coordinator & Literacy, Outreach and Programming
I feel fortunate and, yes, blessed, to live in this community filled with so many thoughtful, thinking, and wise people. I met many of them during the month-long One Book, One San Joaquin reading event which featured book discussions and programs based on Rebecca Solnit's book, A Paradise Built in Hell: The Extraordinary Communities That Arise in Disaster. Before I share my reflections and lessons learned, I want to thank our funders for making One Book, One San Joaquin possible: Cal Humanities, in partnership with California Center for the Book, Friends of the Stockton Public Library, and Library & Literacy Foundation for San Joaquin County. Thank you, thank you, thank you.
From the Seaport Woodwind Quintet, who prepared and presented a beautiful musical program at the kickoff event, I learned how literature and music can come together to enrich an experience. The Quintet quoted Jack London writing about the 1906 San Francisco Earthquake: "While the whole city crashed and roared into ruin….I saw not one person who was panic stricken. The most perfect courtesy obtained." They followed this quote with a beautiful performance of Morning Serenade, by Darius Milhaud.
Since Dr. Bob Benedetti, Jacoby Center for Public Service and Civic Leadership, made his remarks at the kickoff program, I've been reflecting on this question: "Are we selfish, grasping, devoted to getting and spending, or are we altruistic, caring, and longing for purpose and meaning?"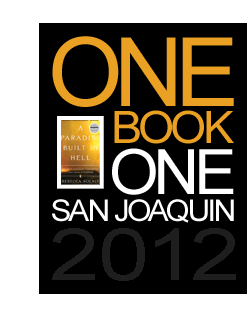 From the wonderful panelists at the "What Happens if the Levees Break" discussion, I gleaned some crucial information about the beautiful Delta. From Dr. Julie Damron, I learned invaluable information about what to do for pets in an emergency. From the participants at the "How We Survived the Floods of '96-'97," I learned about true resiliency in the face of overwhelming loss. At the Community Town Hall Social Gatherings, I saw how small groups of people can truly make a difference. It's happening everywhere in our community. As one participant summarized at one of the gatherings, "We need to listen to each other, to stand up and be heard, and to reach out."
In the months leading up to One Book, One San Joaquin, I was truly overwhelmed by the generosity of community members to give of their time and expertise to contribute to this important event. Three of those, Dr. Lou Matz and Dr. Bob Benedetti, from University of the Pacific, and Dr. Matt Wetstein from San Joaquin Delta College, prepared and presented two book discussions that were, from all accounts, simple outstanding. From Dr. Matz I was encouraged that even during this difficult time, Stockton and San Joaquin County have a lot of social capital to improve our community; taking action to help the community will also lend meaning to our personal lives. From Dr. Wetstein, I was reminded of the importance of establishing solid bonds with work colleagues and neighbors, for it is selfless altruism within those bonds that one day might save my life or the life of someone I love.
The theme of the Cal Humanities grant was "searching for democracy." Dr. Benedetti brought the discussion and programs full circle when he commented, at the final program before the culminating event: Citizens are capable of caring, not just competing; decisions made at the grassroots level can increase sensitivity and creativity; and leaders and media should assume greater capability among constituents and resist the temptation to focus on anti-social behaviors.
One of the most rewarding parts of One Book, One San Joaquin was the youth essay contests for students in grades 4 through 12 who were asked to write about community, courage, and what citizens owe one another in time of emergency. The submitted essays were outstanding; they truly evidenced the high-level thinking and the capacity for caring in our community's youth.
Finally, we were most fortunate to have the author of A Paradise Built in Hell, Rebecca Solnit, as the guest speaker at our culminating event. She recounted the many instances of selflessness and altruism in time of disaster which she encountered in her research and interviews. In her eloquent style, she reminded us all, young and old, of our inherent capacity for kindness and for caring for one another.
As I said at the beginning: I feel fortunate and, yes, blessed, to live in this community filled with so many thoughtful, thinking, and wise people.
Essay Writing Winners are as follows:
Malery States (4th grade), Troy Brogan (5th grade), Zaina Maryam (6th grade), Rahul Rajeev (7th grade), Anthony Bayonne (8th grade), and the high school winners were Ngozi Elobuike, Lorena Vazquez, Jazmina Chavez, and Nataly Calvo.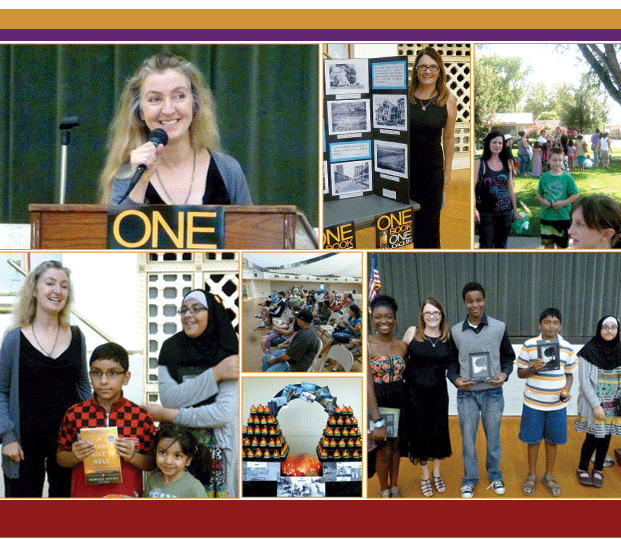 Support the Library by sharing our news! Forward this to a friend who might be interested! Or, if you received this from a friend and would like to subscribe to receive your very own email, click here!
The Stockton-San Joaquin County Public Library would like to thank the Friends of the Stockton Public Library for their generous donation to sponsor the Let's Connect newsletter.

The Friends of the Stockton Public Library, the Friends groups in Escalon, Lathrop, Linden, Manteca, Mountain House, Ripon, and Tracy, and the Library & Literacy Foundation for San Joaquin County are non-profit agencies that collaborate, support, and financially assist with the programs and services we provide to our communities.