► COUNTDOWN TO WORDCAMP BIRMINGHAM 2012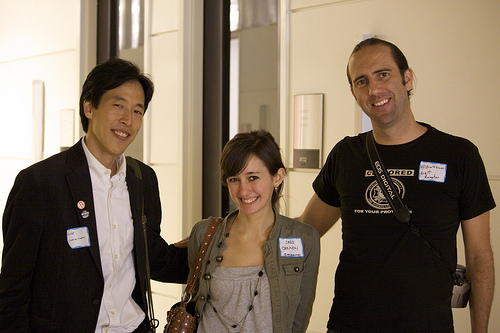 Last night, the 6 months of planning and work started for WordCamp Birmingham 2012. Sara Cannon of Birmingham ad agency Scout Branding will be leading the way. (She's pictured above, along with Brett Bumeter, one of our fave developers from North Carolina.)

If you've been keeping track, the fourth WordCamp will not happen in 2011. But the extra time will make for a great 500-person winter WordPress/blogging conference. That's right: 500 attendees from across Alabama and the Southeast.

Lots of ideas have been floated for topics, tracks, sessions and speakers. My favorites so far (and by no means guaranteed to make the final cut):

Return of the Genius Bar, with special sessions for upgrading WordPress, and for switching from other platforms and systems.
A debate on a timely topic in the WordPress community, instead of a keynote.
A kids' track, teaching younger attendees the ways of blogging and development.
Developing a WordPress community year-round, beyond WordCamps.
Hey, I don't want to give away all the goodies — we have to save something for the announcements in the coming months.

Beginners will have plenty of sessions, as well as business people and developers. I love WordCamp, and I'm looking forward to helping with another one in my hometown.

And because it's never too early to call for sponsors or volunteers, let me sound the first horn. If your company is interested in sponsoring WordCamp for $1,000, $5,000 or more, please contact me. Sponsorships will go fast, and they're not limited to Birmingham organizations.

Or if you're interested in volunteering, whether at the event or in the many meetings and work sessions leading up to it, contact me. It's a great way to meet the WordPress community from the inside.

I'll see you at WordCamp Birmingham in early 2012.



---
► DAILY BLOG TIPS GALORE
All throughout August, I'm offering a special twist on my #DailyBlogTip on Twitter: how to get started blogging. Each day offers advice on site design and strategy. (Even if you're not on Twitter, you can follow along on the Web.)

And my July tips have been posted to the site ... 31 tips from the dead of summer on SEO, content, uses, conferences and more.
Check out the great pointers you missed
while on vacation ...

---
► HELPFUL LINKS I SHARED ON TWITTER LAST WEEK
For more good links, follow me on Twitter at @WadeOnTweets.

---

How public speaking can guide your business.
---

If you received this from a friend, subscribe to this free weekly e-mail newsletter today.

Forward this newsletter, please!
© 2011 Birmingham Blogging Academy