Atlas Corps Fellow, Arturo Gonzalez, named Young Professional of the Year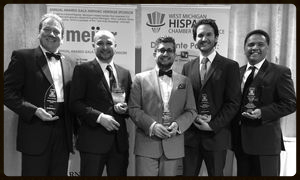 Grand Rapids, Michigan - In less than a year of service in the United States, Arturo Gonzalez (Mexico, Host: Kids' Food Basket) demonstrated such excellence in service that he earned the West Michigan Hispanic Chamber of Commerce (WMHCC) Young Professional of the Year Award. Arturo, (pictured, second from right with other WMHCC 2015 awardees), received the honor for being an outstanding Hispanic professional who has served as a role model to Hispanic professionals and youth and who has shown a strong commitment to the Hispanic community. His service at Kids' Food Basket has seen him planning, implementing, and monitoring projects such as the Family Engagement Initiative, Human Capacity Analysis, and most recently, the Go Orange: Childhood Hunger Awareness Campaign.
"Those who dedicate their lives to making deep, structural and holistic social change that creates significant improvements in people's lives, and honors their dignity," reflected Arturo, who described the award as one of the highest honors he has attained, "those are the people who inspire me every day to emulate them and to seek a place among them."

Follow Arturo's Fellowship journey on his Atlas Corps Blog.