Good Morning ,
November is truly a month to be thankful. Whether you celebrate the Muslim holiday of Eid, the American tradition of Thanksgiving, or other celebrations of gratitude, Atlas Corps shares these feelings of appreciation. In fact, we experienced a cornacopia of great news in November! We received three significant honors: 2010 EXCEL Award by the Center for Nonprofit Advancement and the Top 10 International Voluntary Service Organization and 2010 Citizen Diplomacy Award by the U.S. Center on Citizen Diplomacy. These awards recognize the strength of our entire network. In addition, we received more than 900 applicants for our March 2011 Fellow positions! A big THANK YOU for helping us achieve these honors.
These recognitions also provide the energy to fuel our expansion. In 2011, Atlas Corps will launch our 50 in the 50th campaign - to engage 50 leaders from 25 countries in 100,000 service hours. Join our 50 in the 50th campaign! Become a volunteer, supporter, candidate, or Host Organization. Visit www.atlascorps.org for more info.
Happy Thanksgiving! Thanks for the ongoing support,
Scott & the Atlas Corps Team
---
Atlas Corps Leadership "Excels" at Nonprofit Management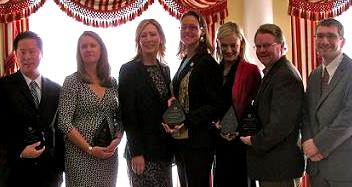 Atlas Corps is proud to announce that Founder and CEO, Scott Beale, is one of three recipients of the 2010 EXCEL Award as announced by the Center for Nonprofit Advancement. The EXCEL Award recognizes excellence in chief executive leadership in DC-area nonprofits operating on a budget under $10 million. This competitive award spotlights outstanding nonprofit leaders in the Washington area for outstanding nonprofit chief executive leadership. Each award winner receives a $5,000 professional development account to use in their role as an organization's chief executive and a $2,000 grant to provide professional development opportunities for their staff.
*Abby Flottemesch, Development & Engagement Director, (pictured fourth from left) accepted the award in honor of Scott Beale who was out of town traveling during the awards ceremony.
About the Atlas Corps 50 in the 50th Campaign
In 2011, Atlas Corps celebrates our fifth anniversary. In the same year, the U.S. Peace Corps - the organization that demonstrated the valued of international voluntary service and an Atlas Corps Host Organization - celebrate their 50th. We will mark these momentous milestones with a special campaign: 50 in the 50th. The goal is to engage 50 international nonprofit leaders from 25 countries in 100,000 hours of service and 6,500 training hours. It is a bold expansion strategy that doubles what Atlas Corps accomplished in our first four years in one year! (From 2006 to 2010, we achieved 53 Fellows from 18 countries. In 2011, we will achieve 50 Fellows in one year!) We are ready for the challenge and, with the support of our network, this vision will become a reality. Be part of the Atlas Corps 50 in the 50th campaign! Become a volunteer, supporter, candidate, or Host Organization.
Support our 50 in the 50th campaign with a special contribution.
Fellow Profile: Communication Transcends Borders to Build Networks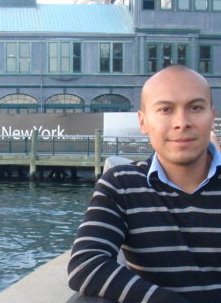 Alejandro Bonilla, Atlas Corps Fellow from Mexico, understands communication. Alejandro holds a Masters in Corporate Communications Management and previously worked at CARE and Children International. As a current Fellow, Alejandro lends his skills as the Deputy Communications Director at Service For Peace. "The Atlas Corps opportunity arrived in the exact moment when I sought international exposure in my professional portfolio," explains Alejandro. "I appreciate the Atlas Corps opportunity as a means to learn AND to share my professional skills." During his year of service, Alejandro plans to develop a strategic communications plan for the organization and increase their collaboration with corporations. Professionally, his long-term goal is to work on a regional level in Latin America on international development issues. He views the Atlas Corps fellows as a positive step toward making his professional goal a reality. He offers the following advice for other potential Fellows, "DC is the perfect city to make contacts. Atlas Corps provides great outlets to build that network. As a Fellow, it is important to take initiative and be proactive on developing your contacts and skills both in your Host Organization and on a personal level. "
---
Alumni Profile: Atlas Corps Knowledge Applied at Home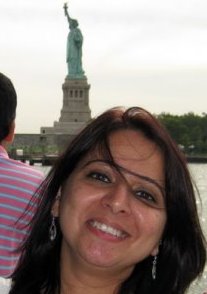 Atlas Corps recently received great news Meher Rehman, 2008-09 Atlas Corps Fellow from India. She became a full-time employee at Family Health International(FHI), India Country Office. FHI is an international organization committed to global health and development issues. "I feel great that I landed at FHI, an organization that is contributing tremendously to global health, particularly Health Systems Strengthening, and that they value such important issues as gender," shares Meher. She credits her experience as a Fellow at Population Action International in helping her achieve this position, "I gained a greater capacity to affect change and a more positive view of the U.S. as a Fellow. I also developed a more hopeful view of how the world can work together to achieve development goals. My Atlas Corps Fellowship helped me gain knowledge, skills, and self-confidence."
---
Looking for Holiday Gift Ideas? Visit www.fairtradecolombia.com. Support local Colombian producers and Atlas Corps! Designate Atlas Corps as your "organization to support" when you make your purchase and we receive 5% of sales.
For the first time, designate Atlas Corps in the CFC #35006.
Refresh Everything! On December 1, Atlas Corps enters the PepsiRefresh Challenge. Help us win $50,000 with the click of a button! Email info@atlascorps.org to join.