Congratulations !
This award is one that honors an initial vision, propelled into action by the inspiration and energy of all of you who are part of the Atlas Corps network!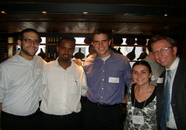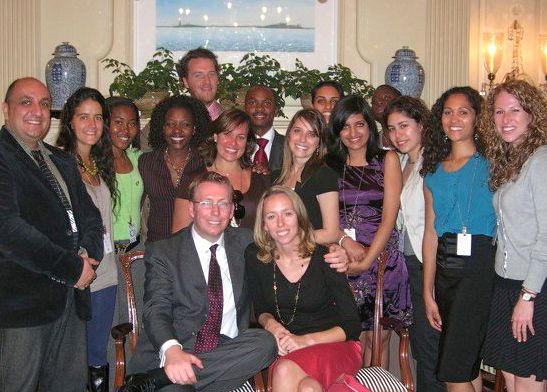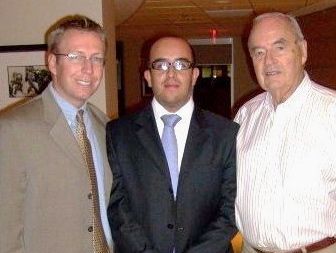 ---
The Value of Promoting Diplomacy "One Handshake at a Time"
Atlas Corps is proud to announce that Founder and CEO, Scott Beale, is one of the seven recipients of the 2010 National Awards for Citizen Diplomacy as announced by the U.S. Center for Citizen Diplomacy. Honorees are recognized for their extraordinary work to increase American citizen engagement in international affairs and their outstanding contributions to fostering cross-cultural understanding.
I am proud to be honored as a Citizen Diplomat and hope this award will put a spotlight on the Atlas Corps Fellowship and highlight how important it is that we serve side by side with people from around the world to address critical social issues. Everyone, in the U.S. and around the world, has the capacity and the opportunity to make the world a better place by building bridges across cultures and countries and pursuing our common aspiration to create a world free from disease and war with a cleaner environment, with more social justice, and with less hunger and poverty.
-Scott Beale, Founder & CEO of Atlas Corps
Mr. Beale joins a list of accomplished honorees, which includes:
Scott Beale, Founder & CEO of Atlas Service Corps, Inc.
Jenny M. Buccos, Director, Producer and Founder of ProjectExplorer.org
Judith Jamison, Artistic Director of the Alvin Ailey American Dance Company

R

obert Redford, Oscar-winning actor, environmental activist, film director and Founder of The Sundance Institute
James Rolfe, D.D.S., Founder of Afghanistan Dental Relief Project, Inc.
Sahar Taman, Director, Religion and Society Program of the National Peace Foundation
Richard A. Webb, Co-Founder of ProWorld Service Corps
The U.S. Center for Citizen Diplomacy released the following information regarding the award:
Through their unique vision, ingenuity and dedication, this year's honorees demonstrate how individuals can make a tremendous difference in shaping U.S. foreign relations - one hand shake at a time. Each of these year's honorees are inspirations for us all and we congratulate them. These citizen diplomats are making positive impacts every day by facilitating one-on-one dialogues with people of different cultures, religions and ethnicities. Through their efforts, these citizen diplomats are building a reservoir of sustainable goodwill among the citizens of the United States and other nations and are excellent examples of citizen diplomacy at work.
-Ann Schodde, President and CEO of the U.S. Center for Citizen Diplomacy (USCCD).
---
About the National Award for Citizen Diplomacy
The U.S. Center for Citizen Diplomacy received more than 40 award nominations this year. A committee of representatives from a range of sectors including business, education, academia and the Foreign Service selected the honorees.
The criteria for the National Awards for Citizen Diplomacy were based on the goals of the Fulbright- Hays Act. Accomplishments and/or activities must have increased mutual understanding, strengthened ties, promoted international cooperation and developed peaceful relations between people of the United States and another country or countries. Activities/accomplishments must reflect a commitment to promoting global understanding.
The U.S. Center for Citizen Diplomacy will make a $5,000 donation to a citizen diplomatic program or non-profit organization in each honoree's name. In addition, honorees will be recognized at a ceremony on Wednesday, November 17 in Washington, D.C. The event, entitled Inspire!Diplomacy, will take place during the Summit For Global Citizen Diplomacy November 16 through 19.
About the U.S. Center of Global Citizen Diplomacy
Established in 2006, the U.S. Center for Citizen Diplomacy is a non-profit, nonpartisan organization that promotes and expands opportunities for all Americans to be citizen diplomats and affirms the indispensable value of citizen involvement in foreign relations. For more information about the 2010 award honorees, please visit www.uscenterforcitizendiplomacy.org.
---
Join the Atlas Corps network of "citizen diplomats"! Become a volunteer, supporter, candidate, or Host Organization. Visit our www.atlascorps.org for more info.
For the first time, designate Atlas Corps in the CFC #35006!
Are you looking for a high caliber, experienced professional to join your team?
Atlas Corps is now accepting applications for host organizations in Washington, DC, and New York City! Our next Class arrives March 2011.
Contact Sara Potler, sara@atlascorps.org for more info.
---
Are you an experienced, nonprofit leader looking for an overseas opportunity in DC, NYC, or Bogota, Colombia?
Atlas Corps accepts applications year-round for individuals interested in serving as Atlas Corps Fellows in Washington, DC; New York, NY; and Bogota, Colombia!
Visit http://www.atlascorps.org/apply.html
Email apply@atlascorps.org.
---
100% of your donation goes to directly support our Atlas Corps Fellows.
---
Atlas Corps Fellows Are Citizen Diplomats in Action
See more at facebook.com/atlascorps
---
Atlas Corps
1133 19th Street NW, 9th FL
Washington, DC 20036