Good Afternoon ,
Happy International Day of the Volunteer!

Yes, I realize that the official day occurred on Monday, December 5. Though, there is still reason to celebrate! At Atlas Corps, we believe that every day is an opportunity to recognize our volunteers and we often don't do it enough. We believe that our Fellows are amazing. We feel the same way about our volunteers! I want to take this opportunity to celebrate YOU and the other individuals and groups that really make it happen. Atlas Corps volunteers are involved in every aspect of the organization from recruiting candidates to reviewing applications to welcoming new Fellows to financially supporting these efforts. Learn more about our volunteer opportunities.

Volunteers, today and every day, we celebrate you! Atlas Corps is a growing network of 100 Fellows strong...supported by an ever-expanding volunteer network of 1,000s!

Thanks and Happy Holidays!

Scott & the Atlas Corps Team

PS Ready to get more involved in Atlas Corps? In December, our critical need is financial support. As you reflect on your "end of year giving", consider investing in these amazing nonprofit leaders. 100% of your donation supports the Fellows! Donate online.

---
Atlas Corps Network, We Salute You!
Have you ever nominated a candidate? Invited a Fellow to a networking event? Donated to Atlas Corps? Read our newsletter? (Wait! You are doing it right now.) Consider this note a "virtual pat on the back." You inspired Atlas Corps to become what we are today - a network of 100 Fellows from 30 countries engaged with more than 50 Host Organizations (such as Ashoka, Grameen Foundation, Points of Light Institute, Susan G. Komen for the Cure, Special Olympics, and the U.S. Peace Corps).
---

Thank You to the Local Ambassadors,
Recruitment Volunteers, Interns, and more...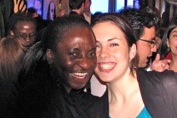 "Being a Local Ambassador is fun, rewarding, and you end up learning more than you teach!"
- Meaghan Morris, Local Ambassador
Atlas Corps volunteers and interns help with every stage of the Fellowship process. Our Nominator Network includes more than 2,000 individuals, lo
cated throughout the world, with connections to entities like Ashoka, the U.S.
State Departm
ent, and the United
Nations. They multiply our ability to share this opportunity with new individuals and in new regions. Our Volunteers Readers assist with the initial screening of candidates. Our more than 100 Local Ambassadors are a "first friend." They introduce Fellows to the community, invite them to events, and share unique perspectives. Together, this dynamic group of thousands of individuals, who span the globe, multiply our reach to engage new nonprofit leaders.
---

Gracias to the Donors, Supporters, Virtual Friends, and more...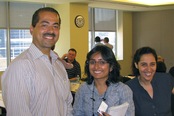 "We are thrilled to support Atlas Corps....
These Fellows will have a unique opportunity to help to shape this increasingly globally connected nonprofit world, and their ability to lead will be critical to the sector's long-term success.
"
-Timothy J. McClimon, President,
American Express Foundation
Atlas Corps values the contributions of the individual along with the large corporate donors. In addition to large funders like the American Express Foundation who became a funder in 2011, more than 2,500 individuals have contributed to Atlas Corps and that number continues to grow. Whether you donate for an event, sponsor a Fellow, or make a major contribution, 100% of your contribution support the Atlas Corps Fellows. In addition, our "virtual network" of more than 12,000 spreads our message and shares the experiences of our Fellows. Together, we are strengthening the global nonprofit network!
---

Our Gratitude to the Trainers, Mentors, VIP Speakers and more...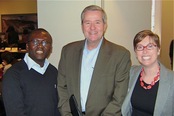 "The nonprofit sector must be the voice of the people."
-Brian Gallagher, President and CEO,
United Way Worldwide
The Atlas Corps Fellowship is more than service. It is also professional development. It is a comprehensive learning experience. Our Fellows participate in the Atlas Corps Nonprofit Management Series, a 12-part series on effective practices in nonprofit management as shared by industry leaders (including professionals from the American Red Cross, Center for American Progress, Independent Sector, and more). Most recently, Brian Gallagher (pictured above), president and CEO of United Way Worldwide, shared his personal journey from the field of social work to leading one of the nation's largest organizations as part of our VIP Lunch Series. The opportunity to share knowledge is another example of the benefits of being a Fellow and being part of the Atlas Corps network.
---
Give the Gift of Service - Sponsor a Fellow!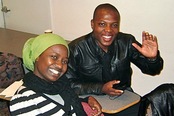 Will you invest in an international nonprofit leader for as little as $10?
www.razoo.com/sponsorafellow
Unite with our Atlas Corps network! You've met our Fellows, read about our volunteers, now we invite you to take action. Support Fellows like Wanjiku (Kenya, serving at InsideNGO) or Windy (Haiti, serving at American Jewish World Service) as they embark on this comprehensive learning journey that is our Fellowship. For as little as $10/month, you can share in the remarkable experience of an emerging leader from Colombia, Sudan, the Philippines, and more. It is as if you are taking a Fellow out to lunch each month while supporting an experience that leaves a life-long impression.
Sponsor a Fellow. Act local. Impact global.
---
Support Atlas Corps (#35006) in the CFC!